Best quinoa bowls in Singapore
A convenient, all-in-one grain bowl is the trendy dine-in or takeaway option these days, hence the reason for the mind-boggling choices available. But we're not interested in just any ordinary grain. We're bowled over by one of the most underrated superfoods — the healthy and humble super grain — quinoa. Packed with fibre, vitamins, antioxidants and nutrients, this glutenfree South American staple is the more superior alternative to bulghur wheat, couscous and rice. We've inhaled copious bowls to bring you the best quinoa combinations in town.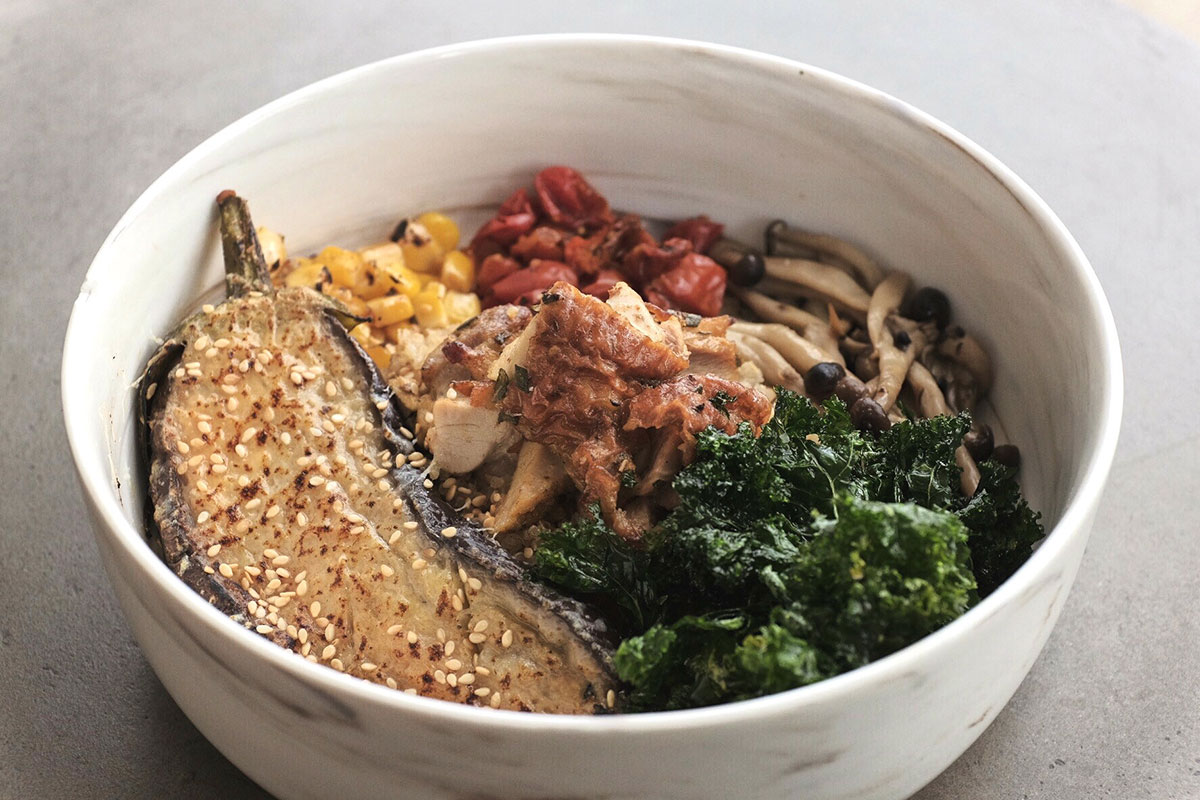 ATLAS COFFEEHOUSE
The Atlas Super Bowl features an ample portion of crispy kale chips, shimeiji mushrooms, cherry tomatoes, buttered corn and slow-roasted rosemary chicken laid over a bed of quinoa that's toasted to perfection to give a pleasant bite. The star ingredient, however, is the umamirich slow-roasted eggplant, glazed with miso and then torched before serving. 6 Duke's Road. Tel: 6314 2674. Book a table at Atlas Coffeehouse with Chope.
THE POPULUS COFFEE & FOOD CO.
This Neil Road joint offers just three grain bowl varieties, but when they're so well put together, we're not complaining. Our favourites are the pulled pork and Wagyu beef options — the mix of quinoa, bulghur wheat and pearl barley soak up the tantalising juices of the succulent meats. Each bowl is also accompanied by a balanced mix of furikake, baby corn, red cabbage and apple slaw, roasted zucchini and butternut squash, sautéed cherry tomatoes and mixed mushrooms. 146 Neil Road. Tel: 6635 8420. Book a table at The Populus Coffee & Food Co. with Chope.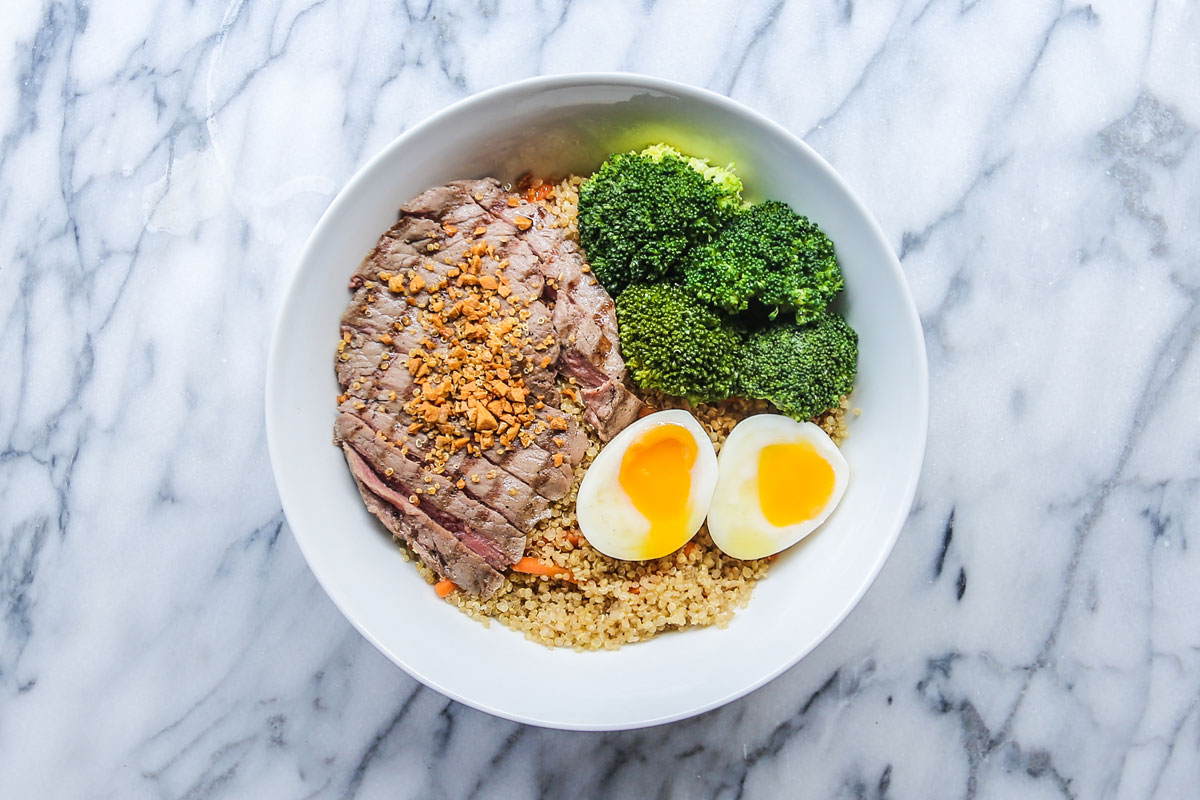 SPROUT – SALAD BAR
Of the many grain bowls we've tried, Sprout's wholesome bowls of goodness stand out for their freshness, well-thought out flavour combinations and fine execution. We're fans of the Beef Bowl, which consists of juicy sous-vide sirloin strips and a wobbly onsen egg on a bed of tender kale, broccoli, carrots and quinoa. The punchy soy-ginger-garlic dressing and crispy quinoa and garlic garnish add extra flavour and texture. The Ahi Poke Bowl featuring chunky cubes of sashimi-grade yellowfin tuna with rocket, avocado, juicy pineapple, red onions and Japanese cucumbers tossed in wasabi-soy-sesame dressing, and garnished with toasted sesame seeds and seaweed strips also gets our vote. 41 Duxton Road. Tel: 6221 1227.
SALADSTOP!
We're impressed with the freshness of the ingredients here. The vegetarian options of Gardens By The Grain and Yogi Goji are satisfying. The former includes quinoa, mushrooms, baby spinach, feta, warm seasonal vegetables, cherry tomatoes and toasted almond flakes tossed in balsamic vinaigrette, while Yogi Goji is a dairy-free mix of quinoa, Tuscan kale, baked mushrooms, roasted cauliflower, tofu, sultanas, capsicum and a warm quinoa patty, dressed in gojiberry vinaigrette. For meat eaters, we recommend the Chihuahua, a moreish bowl with freerange roasted chicken, quinoa, avocado, black beans, cheddar, jalepeños and cherry tomatoes mixed with smoked pimento vinaigrette. #01-21A Great World City, 1 Kim Seng Promenade. Tel: 6735 5528.
THE DAILY ROUNDUP
The meat-free Moroccan Spiced Quinoa Salad is a simple, virtuous medley of fresh baby spinach, crunchy walnuts, shaved Parmesan, juicy grapes and pomegranate served on a bed of quinoa that has been tossed with an aromatic mix of ground chilli, paprika, pepper, cardamom, mace, star anise and ginger. The kick of acidity from the balsamic vinaigrette gives this bowl the lift it needs. #01-02, 1 Keong Saik Road. Tel: 9780 2920. Book a table at The Daily Roundup with Chope.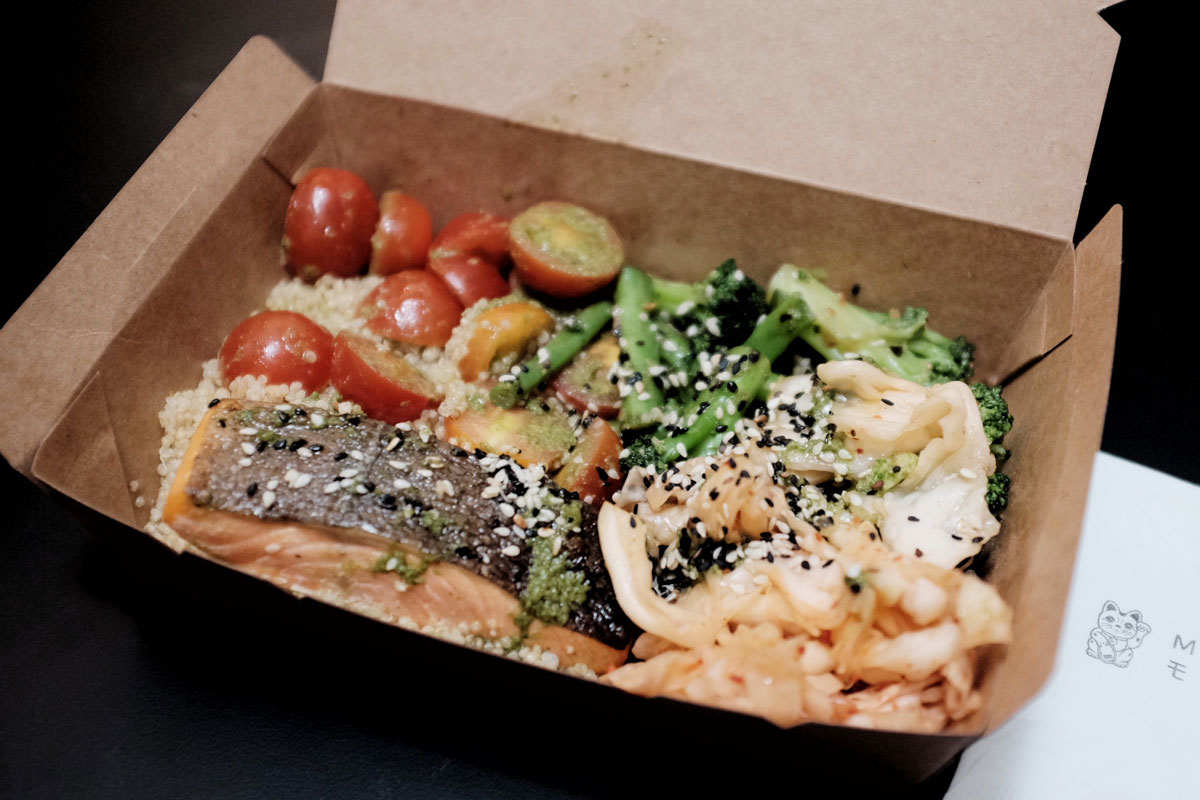 MOJO
Mix and match quinoa with proteins such as salmon, tilapia, beef steak or shrimp at MOJO, the newest addition to Telok Ayer Street. We're partial to the chicken thigh option — the locally sourced fowl is non-GMO fed and boasts a juicy and full flavour. Matched with the chewy bite of quinoa, charred corn with garlic confit, crispy shallots and a soft, half-boiled egg, each mouthful yields a delicious mélange of texture and taste. 204 Telok Ayer Street. Tel: 6220 0723.
OPEN DOOR POLICY
The Quinoa Salad at this 100 percent gluten-free, dairy-free venue features homegrown vegetables from ODP's vertical indoor gardening pillars. Enjoy fermented baby root vegetables such as purple and golden beets, turnips and carrots atop chewy white quinoa, which is then liberally dusted with powdered garlic soil and chunky olives, making for a cohesive burst of flavours and textures. Garden herbs and an earthy basil pistou complete the dish. 19 Yong Siak Street. Tel: 6221 9307. Book a table at Open Door Policy with Chope.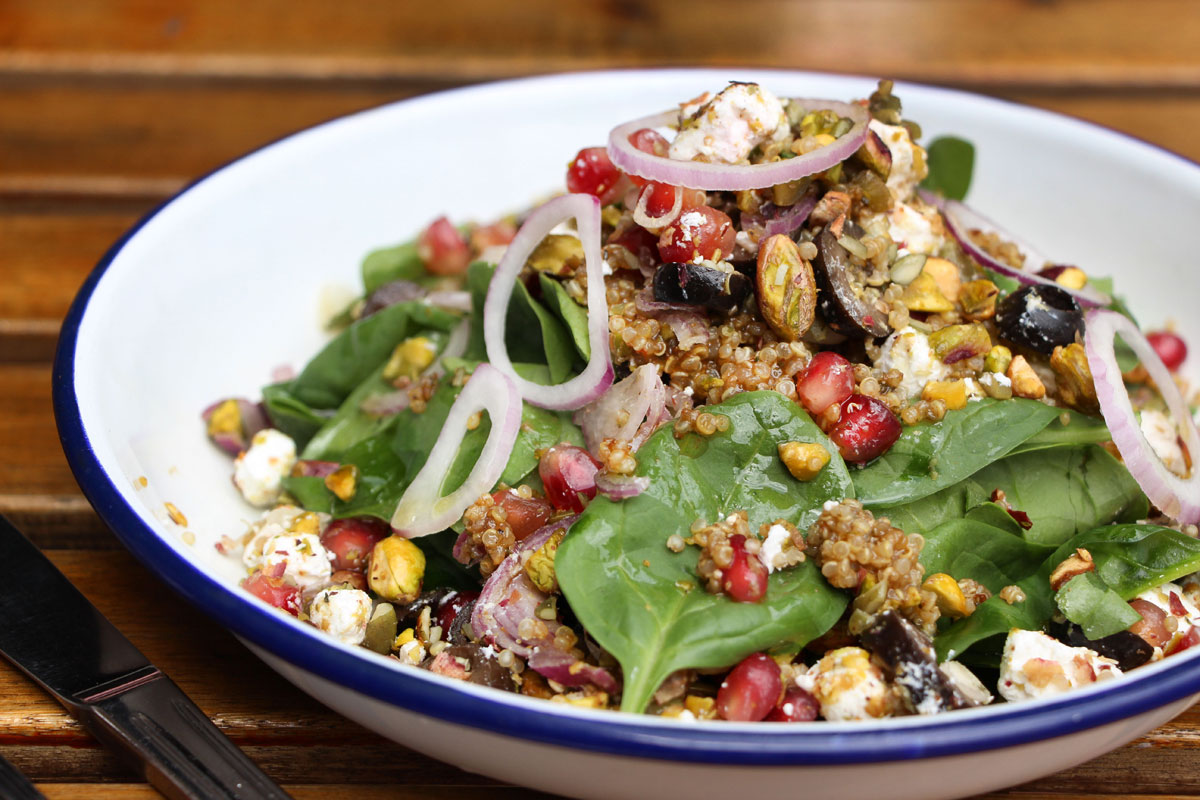 SARNIES
Sarnie's Quinoa Salad proves to be a riot of sumptuous flavours. Slicked with cumin dressing, each mouthful delivers an earthy yet spicy kick, while the creamy Greek feta cheese, sweet pomegranate and sliced olives awaken the palate with their sharp tang. Lending the refreshing dish added texture is a smattering of shallots, pistachios and pumpkin seeds. 136 Telok Ayer Street. Tel: 6224 6091. Book a table at Sarnies with Chope.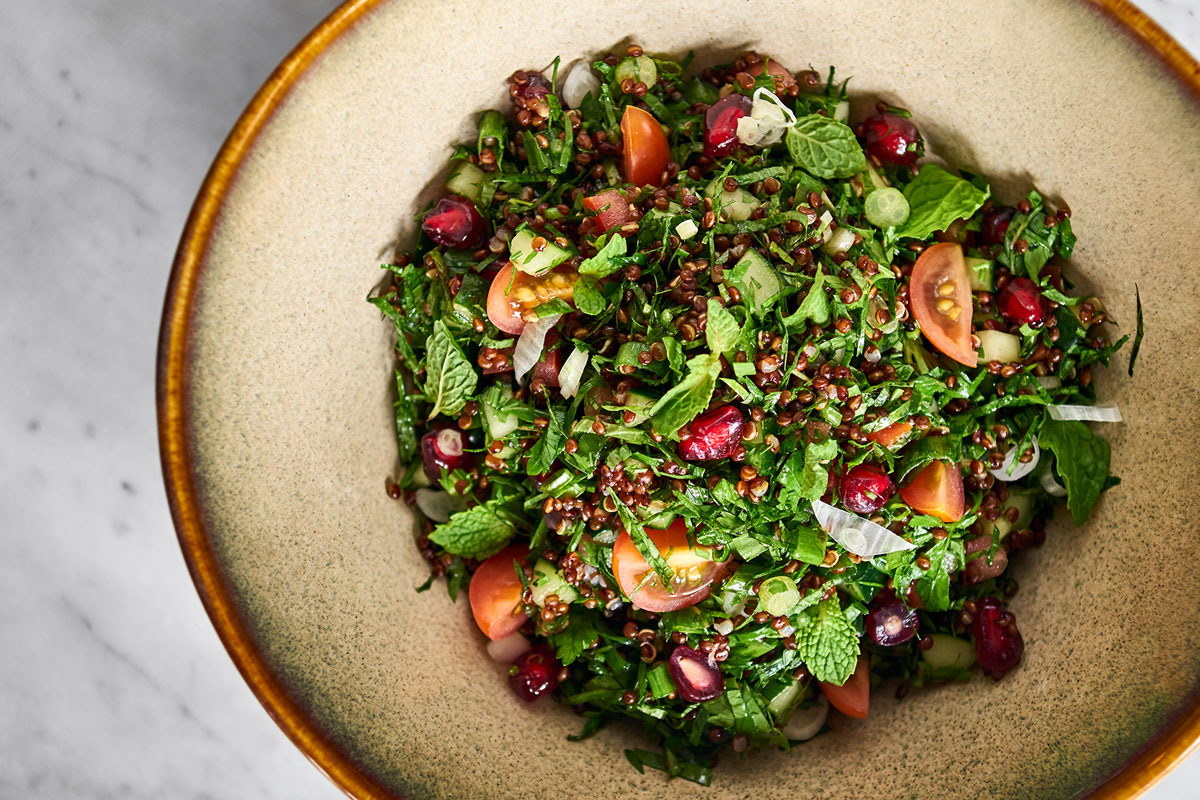 FAT PRINCE
Thanks to the bright flavours from the fresh mint and long leaf parsley, Fat Prince's Quinoa Tabbouleh is an invigorating bowl that whets the appetite. Here, red quinoa is used, giving the dish a vibrant splash of colour, while the juicy tomatoes and pomegranate punch up the flavours of the dish. #01-01, 48 Peck Seah Street. Tel: 6221 3683. Book a table at Fat Prince with Chope.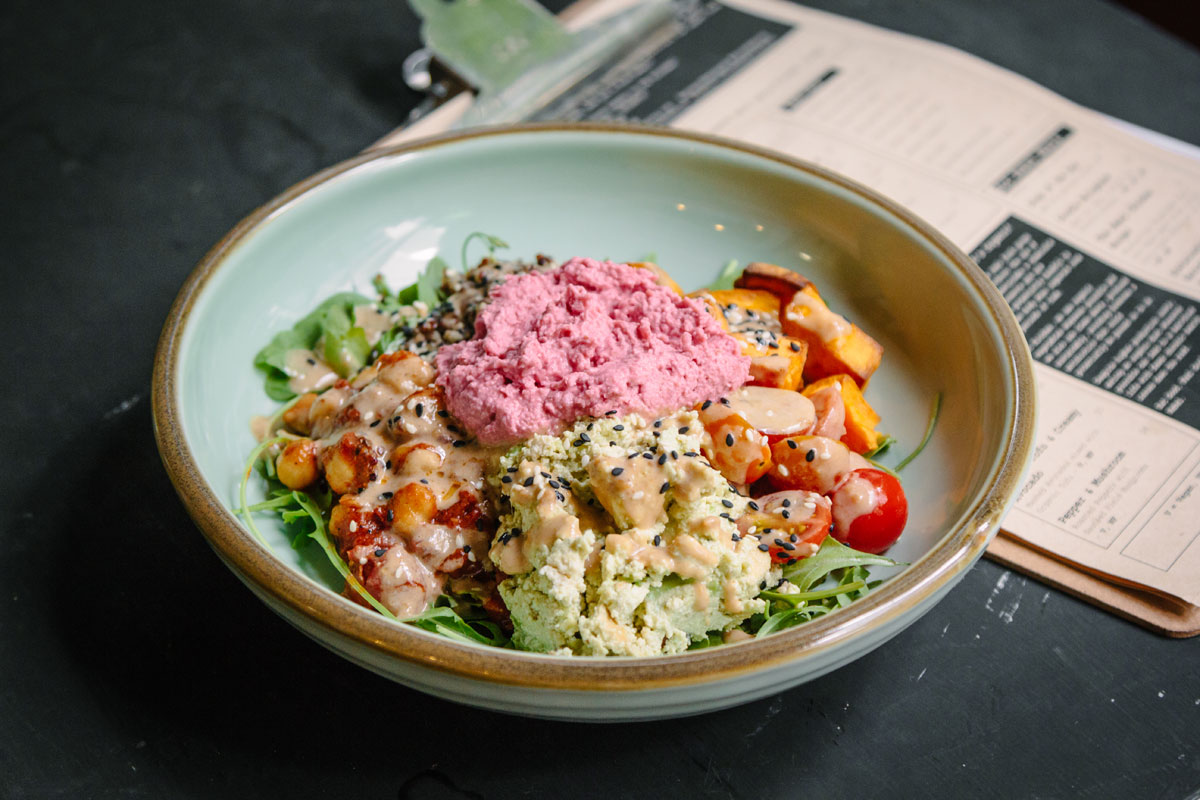 KITCHEN BY FOOD REBEL
Husband and wife duo Richard and Elika Mather proves that healthy food can be both scrumptious and filling. Their Vegan Sweet Potato & Chickpea bowl is perfect for vegans, and is also gluten and nut-free. The bowl is brimming with beetroot hummus, tofu-avocado mix, pomegranate, rocket leaves, chickpeas and quinoa. Accentuated with their house-made tahini dressing, each mouthful is a textural delight. 28 Stanley Street. Tel: 6224 7088.