Best crème brûlées in Singapore
Delicate, yielding custard beneath a thin sheet of shatteringly crisp torched sugar topping… add to that the sweet scent of vanilla beans and toasty notes of burnt sugar crystals, and that just about sums up the definition of a sublime crème brûlée in our books. The origins of crème brûlée aren't clear. Some reports point to Trinity College in Cambridge, England, as the birthplace of the dessert (known as burnt cream) and claims that it first came about after the college crest was burnt into sugar on top of a custard with a hot iron. Over in France, the first recorded recipes for the French version were discovered during the 17th century, while crema catalana, the Spanish variation, was found a century later. History aside, what's important for the enjoyment of a classic crème brulée is that the texture of the custard must not bring to mind curdled eggs, the torched sugar topping not too thick that it takes effort to crack with the back of a spoon, and the ramekin should be wide and shallow (not narrow and deep) as a bigger surface area means more of that delicious caramelised topping to break into.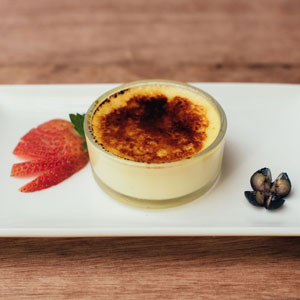 THE QUARTERS
In The Quarters' novel interpretation of the classic dessert, which it dubs the Duriancanboleh, Mao Shan Wang durian is added to the custard, giving it a robust flavour and undeniable creaminess. The result is a velvety, yet not overly sweet dessert with a balanced proportion of caramelised sugar to decadent custard. Tart strawberries and blueberries on the side refresh the palate and cut through the crème brûlée's richness. #01-09 Icon Village, 16 Enggor Street. Tel: 6834 4174. Book a table at The Quarters with Chope.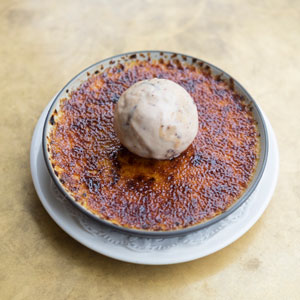 BOCHINCHE
Chef Diego Jacquet's addition of fragrant, house-made banana ice cream studded with dark chocolate bits to Bochinche's dulce de leche crème brûlée is the reason it's one of our favourites. Add to that the balanced ratio of burnt sugar to delicate custard, and he's got a winner. The portion is generous and good for two. #01-02, 115 Amoy Street. Tel: 6235 4990
LA VENTANA
There's no denying the appeal of La Ventana's Catalan crème brûlée, which is made with mousse instead of cream (rendering the custard fluffier than the French variation) and flavoured with lemon, orange and cinnamon instead of vanilla. Within the custard, you'll find a scoop of toffee ice cream, which pairs well with the caramel and milky notes of the crème brûlée. As is Catalan tradition, the sugar topping is caramelised with a Pala de Quemar iron from Spain instead of a blowtorch. 16A Dempsey Road. Tel: 6479 0100. Book a table at La Ventana with Chope.
AU PETIT SALUT
We can polish off the entire portion of Au Petit Salut's Crème Brûlée even after a full meal. Served in a shallow, oval gratin dish, the version at this established French outfit is beautifully light, and boasts a perfectly cooked custard that's flecked with Madagascan vanilla beans and crowned with a generous amount of brittle caramelised sugar topping. 40C Harding Road. Tel: 6475 1976
NAUGHTY NURI'S
We can't find fault with Naughty Nuri's Gula Melaka Crème Brûlée. The well-caramelised layer of sugar juxtaposed against the creamy gula melaka and vanilla custard keeps you going back for more. We especially love the addition of gula melaka to the traditional French dessert, which gives the classic dessert that extra oomph. #01-84 Capitol Piazza, 15 Stamford Road. Tel: 6384 7966. Book a table at Naughty Nuri's with Chope.
ROCK URBAN GRILL + BAR
Rock Urban Grill + Bar has got the classic crème brûlée down pat – luscious vanilla cream custard topped with an evenly torched caramelised sugar crust. The addition of pineapple, strawberries and blueberries lend a refreshing mouthfeel and just the right amount of acidity to counter the creamy richness. #02-01/02 The Sail @ Marina Bay, 2 Marina Boulevard. Tel: 6438 4404. Book a table at Rock Urban Grill + Bar with Chope.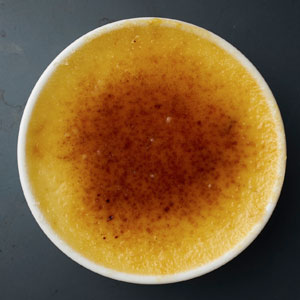 AWFULLY CHOCOLATE
White chocolate can be cloyingly sweet, but we enjoy this dessert chain's crème brûlée. The pleasantly sweet custard gets a rounded, lingering backnote from the inclusion of white chocolate. Served in a shallow ramekin, the portion is just right for one. #02-02 Greenwich V, 1 Seletar Road. Tel: 6556 0656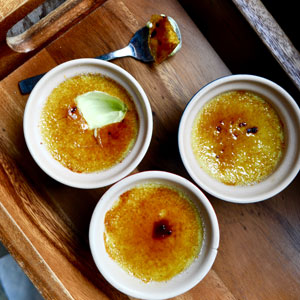 COCOTTE
Though there's more custard than caramelised sugar topping, Cocotte's Pistachio Crème Brûlée wins us over with its silky smooth custard redolent with aromatic pistachios and a thin sugar crust. The dessert comes in a pretty small ramekin, which means you'll polish it off with ease. The flavour changes monthly, so keep a lookout for what's coming up next. 2 Dickson Road. Tel: 6298 1188. Book a table at Cocotte with Chope.
OTTO RISTORANTE
The crème brûlée at OTTO Ristorante boasts textbook-perfect textures – a crisp and thin torched sugar layer that shatters to reveal lusciously dense and creamy, vanilla-flecked custard. But what makes this rendition unique is the addition of Del Borgo aged balsamic vinegar strawberry wedges, which enhance the fruit's sweetness and tartness so that the dessert isn't overwhelmingly rich. #01-02/03 Maxwell Chambers, 32 Maxwell Road. Tel: 6227 6819
KRAVE
Infused with aromatic chempedak, Krave's fruity, Asian riff on the crème brûlée is what draws its regulars. The brittle caramelised layer breaks open to reveal the fragrant chempedak custard beneath, which is studded with a generous amount of toothsome fruit. We also like that the torched topping isn't overly sweet, and allows the flavour of the fruit to shine. 28 Bali Lane. Tel: 9856 4249