Monkswood
Our team goes undercover to suss out the latest and most talked about restaurants in town
After Char's relocation to Jalan Besar earlier this year, their former Guillemard Road site has been filled by British bistro, Monkswood. A concept by Anthony Ung – one half of the Vietnam-born brother team behind the roast meat joint – and his wife Karan Low, the casual restaurant and bar serves as an ode to Ung's fond memories of growing up in Woking, Surrey, and digging into pub grub in the U.K.'s ubiquitous watering holes.
Named after the first house the Ungs stayed in, Monkswood doesn't quite mimic the same atmosphere as a typical British pub with its mod-industrial interiors, but offers an impressive menu of quintessential pies, mains, beers and ciders. Strangely, there are a few out-of-place items such as Spaghetti Bolognaise ($10, for kids under 12) and Vongole Pasta ($18).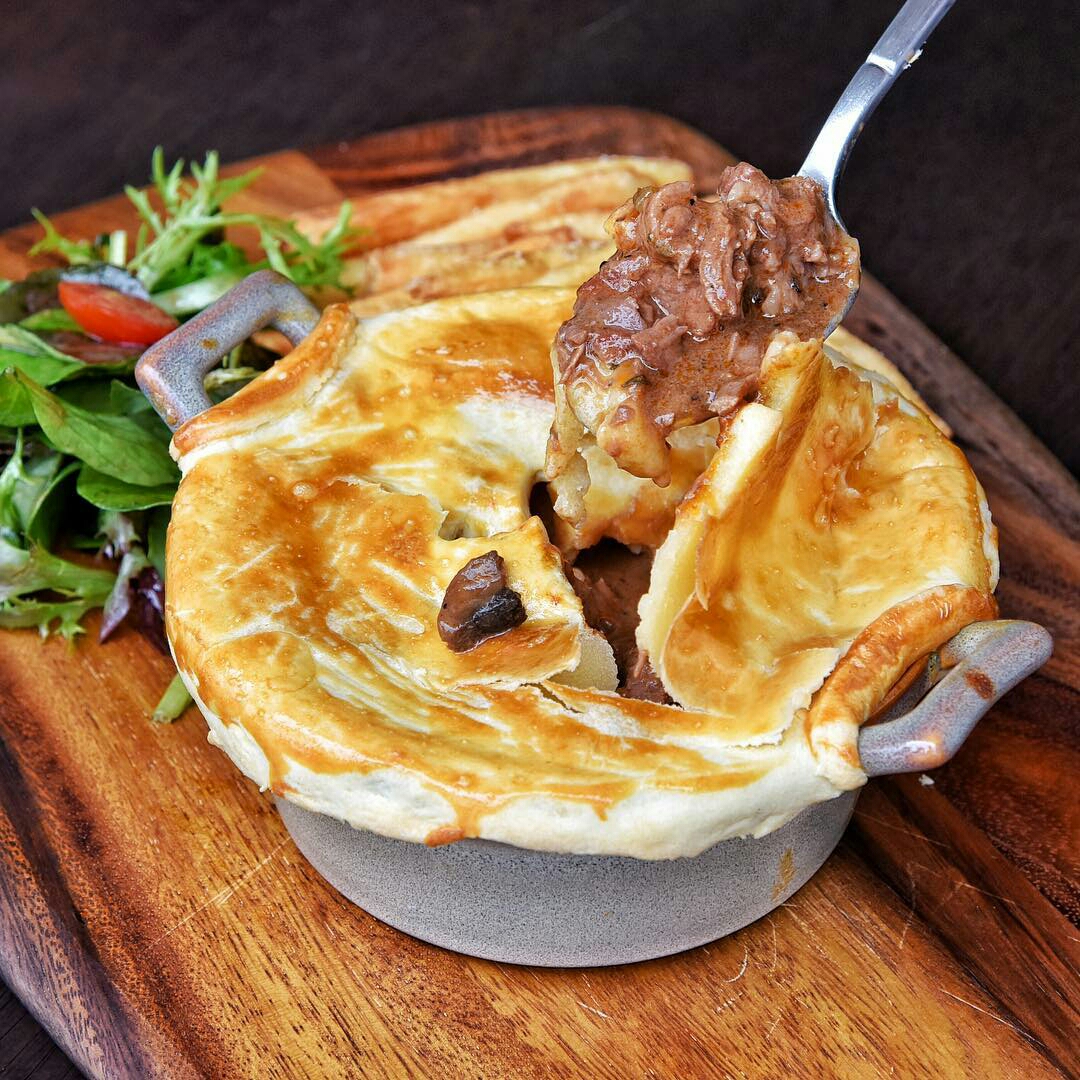 We started with a mesclun salad tossed with burrata, cherry tomatoes and a balsamic vinaigrette ($14), the mild cheese and tart smack of not-too-sweet tomatoes whetting our appetites for a hearty meal. The portions at Monkswood are generous – during an overambitious lunch, my companion and I ordered a pie and two mains, which we struggled to finish.
Disappointingly, flaky, layered and airy pie crust was nowhere to be seen on the Steak & Ale Pie ($19). Instead, only the thinnest of pastry shells stood between our forks and overcooked beef and bland gravy, quickly becoming soggy from steam. The Shepherd's Pie ($15) fared better with its contents of rich and gamey minced lamb under a velvety crown of mashed potatoes, though a little more time in the oven (or a blowtorch) would have rendered the top layer of spuds deliciously crusty. We were also partial to the Fish Pie ($18), in which bay leaf and nutmeg-scented white sauce rendered each mouthful of smoked haddock wonderfully comforting.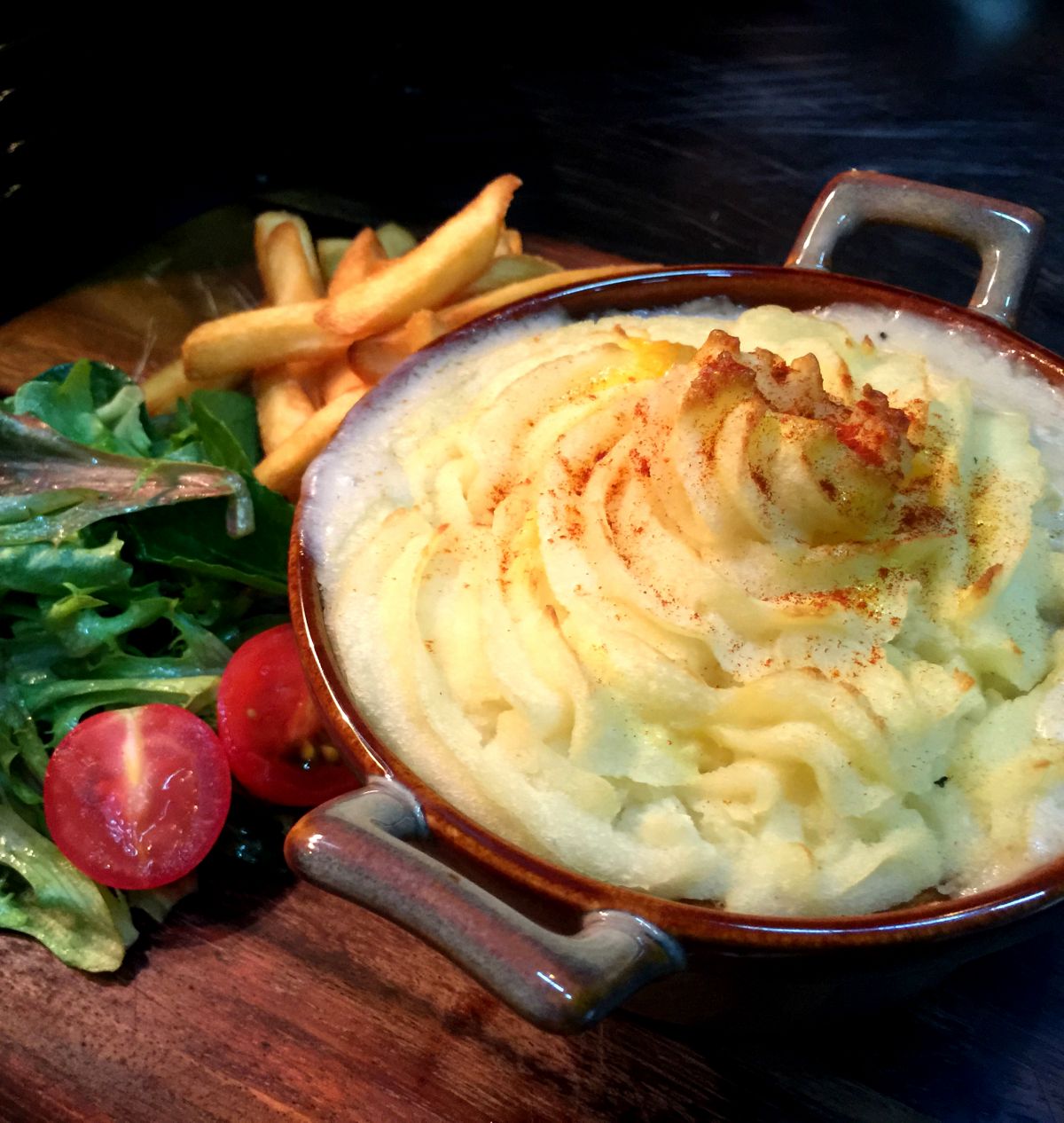 The battered Atlantic cod in the Fish and Chips ($22) was lacklustre, though the triple-cooked chips with crisp exteriors and fluffy insides, and chunky pea mash on the side made up for it. The pork and beef bangers in the Toad in the Hole ($18) appeased with their satisfying snaps and moreish fillings of fatty meats, but we would have preferred the Yorkshire pudding batter to be baked such that it hugs the sausages as it inflates in the oven, as per tradition.
For weekend brunch, skip the flat-flavoured roast beef with tasteless Yorkshire pudding ($32) and instead order The Fry-Up, in which a double sunny-side up, home-cured bacon, sautéed mushrooms and grilled tomatoes serve as foils to perfectly buttered and browned toast. For dessert, you're better off with the Bread and Butter Pudding ($11) drizzled with viscous, creamy custard than the Apple Crumble ($12), which was all mush and no texture.
The reverence for meats at Char is unfortunately not quite present at Monkswood, as is evident by the sides and desserts often outshining the supposed highlights at the bistro. Still, with more time and mastery, Monkswood could still deliver an authentic British grub experience in the heartlands. 393 Guillemard Road. Tel: 9030 8392
Food: 6/10
Service: 6/10
Ambience: 6/10
Average dinner bill for two, with drinks: $120
Must-tries: Shepherd's pie; Bread and butter pudding.