Best yam rings in Singapore
Like yu sheng, the yam ring is a uniquely Singapore dish. Its popularity has sealed its status as a tze char staple; the colourful ingredients and bountiful filling also ensure its repeat appearance on Chinese New Year menus.
First created as a vegetarian dish, yam rings have undergone multiple incarnations, with kung pao chicken and crystal prawns added into the mix. And it's hardly an easy dish to execute, requiring the chef's deft control of the wok and an optimal deep-frying temperature to render the texture just right. The yam ring itself has to be crispy but not too oily or thick, the yam paste smooth and creamy, and the accompanying ingredients such as prawns, celery and cashew nuts fragrant and crunchy. Here are the 10 restaurants that got our votes.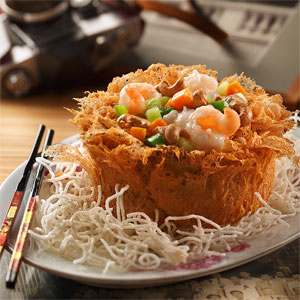 SPRING COURT
Spring Court's yam ring is chock-full of stir-fried prawns and boasts a moist, fragrant interior. It's also more flavourful than most versions, the result of using specially sourced tubers from Thailand. And of course, getting the proportion of wheat starch to yam and the deep-frying temperature right is key to their thin, crunchy and puffed exterior – the chefs use a 1:5 ratio and fry the yam ring at a controlled 90°C. 52-56 Upper Cross Street. Tel: 6449 5030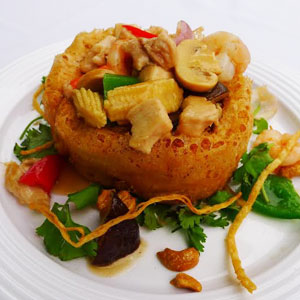 POR KEE EATING HOUSE
Por Kee's Yam Ring is not featured on its menu but is available upon request. The yam basket is filled with a colourful medley of capsicums, sweet snap peas, carrots, baby corn and chicken. The batter coating is also crunchy and thin. Add fresh, crunchy crystal prawns and three types of mushrooms and you get a very satisfying tze char gem. #01-02, 69 Seng Poh Lane. Tel: 6221 0582
DRAGON PHOENIX RESTAURANT
No yam ring round-up would be complete without Dragon Phoenix Restaurant's – after all, the Yam Basket Prawns was invented by its restaurant founder, Hooi Kok Wai, as a proposal dish to his wife in 1958. Deep-fried to golden perfection with nary a hint of greasiness, the crispy exterior surrounding the mashed yam is thin, allowing the earthy-sweet flavour of yam to shine. Pulling the dish together is a generous topping of red and green capsicums, button and Chinese mushrooms, cashew nuts,  baby corn and crunchy, sweet crystal prawns. 6F Novotel Clarke Quay, 177A River Valley Road. Tel: 6238 0110
RED STAR RESTAURANT
A crowd-pleaser at this old-school Chinese restaurant is their yam ring, which appeals with its textbook perfect texture. Although slightly thicker than usual, we love how the shatteringly crisp yet not overly greasy exterior gives way to a fluffy core. It's topped off with a heaping mix of prawns, cubed chicken and cashews. #07-23, 54 Chin Swee Road. Tel: 6532 5266
LAI WAH RESTAURANT
If you want to get into your granny's good books, make a reservation at Lai Wah, which has been serving traditional, authentic Cantonese Chinese cuisine since 1963, and whose two founders – who make up half of Singapore's Four Heavenly Kings – have set the benchmark for yam rings. Lai Wah's version is a crisp, golden hued yam basket, with soft and not-too-overly mashed yam, and a liberal amount of prawns, cashew nuts, capsicums, shimeji mushrooms and onions. #01-1436, 44 Bendemeer Road. Tel: 6294 9922/6298 4460
LONG BEACH SEAFOOD RESTAURANT
Ask any Singaporean about Long Beach Seafood Restaurant and they will tell you that this Chinese restaurant revolutionised the famed Chilli Crab. What is also good is their Scallop with Yam Paste – an individual two-bitesized portion, the pan-seared juicy scallops are paired with perfectly deep-fried yam and accompanied with a tangy, spicy tom yum mayo to add punch. #03-07 IMM Building, Jurong East Street 21. Tel: 6566 9933
GU MA JIA
Gu Ma Jia's Homemade Yam Ring with Kyoto Pork Ribs is a pleasant departure from the traditional yam ring filling. Apart from a nice crunch and a soft and creamy centre that is true to its root vegetable taste, their signature pork ribs meld well with yam, with the tartness of the tomato based sauce balancing the richness of the fried dish. Sennett Estate, 45 Tai Thong Crescent. Tel: 6285 2023
WAN HAO CHINESE RESTAURANT
The Yam Basket is one of Wan Hao's best-kept secrets; you have to place orders three days in advance. It boasts a crispy bite with a soft, creamy texture, and a scrumptious filling of diced chicken, bell peppers, Chinese mushrooms, cashew nuts and prawns coated with a lovely savoury sauce. Singapore Marriott Tang Plaza Hotel, 320 Orchard Road. Tel: 6831 4605. Book a table at Wan Hao Chinese Restaurant with Chope.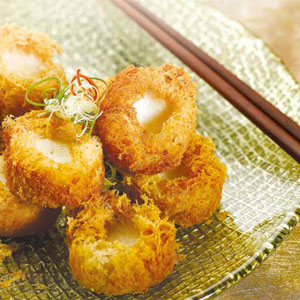 JUMBO SEAFOOD
Served in dainty portions of six; the Scallop in Yam Basket is a refreshing take on the traditional dish. Thai yam is used, as it is not too wet or sticky, giving the yam rings a comparatively crisp outer layer when fried. The succulent scallops, which are sourced from Australia, are fresh and pair well with the moreish taro and accompanying sweet dark soya sauce. Available at all outlets including #01-07/08 East Coast Seafood Centre, 1206 East Coast Parkway. Tel: 6442 3435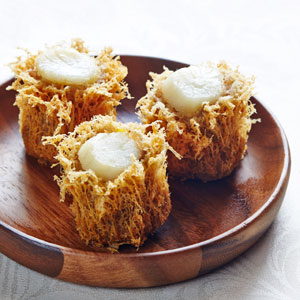 SI CHUAN DOU HUA
These little morsels look unassuming and different from the typical plated yam ring, but small as they might seem, the Scallop Yam Rings are addictive. Topped with a piece of succulent mollusc, these are a dim sum must-have. #60-01 UOB Plaza 1, 80 Raffles Place. Tel: 6535 6006. Book a table at Si Chuan Dou Hua with Chope.