The art of dining
Under the unlikely arcades of Brussel's Square conference facility lies a hidden artistic masterpiece: the enchanting, truffle-meets-caviar Kwint restaurant and its larger-than-life copper centrepiece.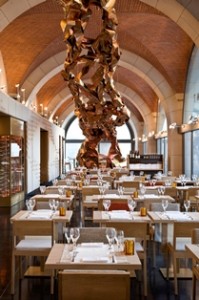 In a city famed for works by old Flemish masters such as Rubens and Pieter Bruegel the Elder, one might be surprised to hear of a new artistic icon in town that features just as prominently on the itineraries of locals and tourists in the know. Kwint restaurant's location is unusual, on the upper terraces of the conference centre occupying the old Congress Palace, originally built for the 1958 World Expo. But with the place renamed Square and recently renovated into a striking conference facility, Belgian architect Arne Quinze and his studio were called on to work his magic on what previously was one of its old-fashioned colonnade arcades. Their efforts have turned a neglected public alleyway into an haute cuisine destination that's well worth the sidetrack into this part of town.
Kwint Restaurant Mont des Arts 1 1000 Brussels, Belgium Tel: +32 (0)2/505.95.95
Excerpt from the October issue of epicure.