Best pecan pies in Singapore
Treacly, rich and crowned with a layer of toasted pecan halves, pecan pies are a joy to savour. And there's more reason to do so this time of the year when it makes its appearance on many Christmas menus. A quintessential Southern festive dessert, it's believed to have been created in the late 19th century. Variations abound and when you've got your hands on a scrumptious one, enjoy it with sips of Bourbon or relish it like we do, with freshly brewed coffee. Here's our round-up of the best in town.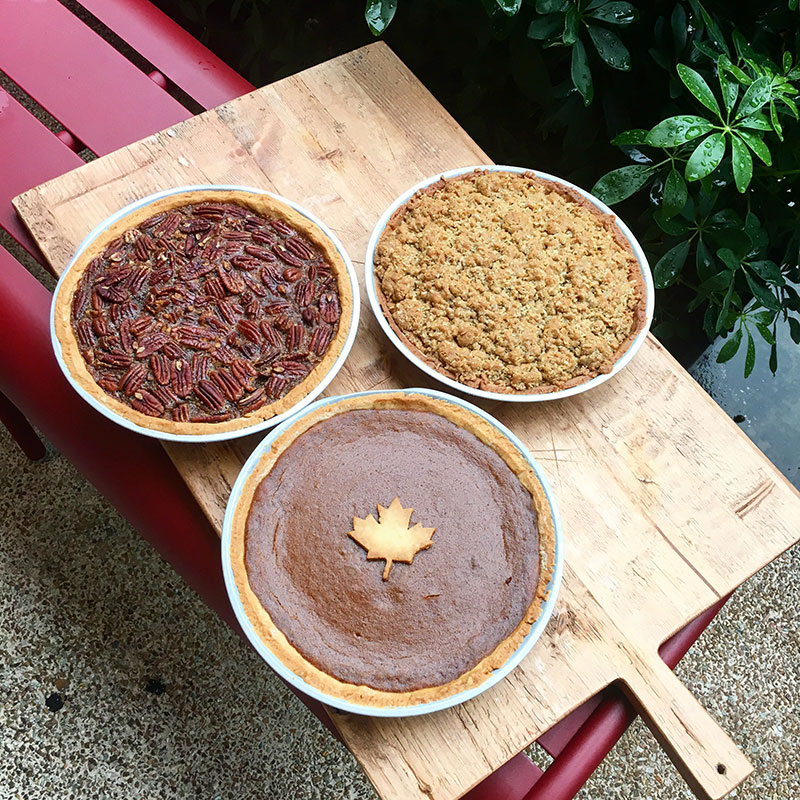 CLINTON STREET BAKING CO.
The Maple and Bourbon Pecan Pie here is what we imagine a Southern grandma would bake – unapologetically buttery (both the filling and shortcrust), comforting and wholesome. It also comes with a boozy Bourbon twang, which adds extra depth to the addictive, slightly chewy filling made with Grade A maple syrup and a generous heaping of crunchy, aromatic pecans. Have this pie warm, as the filling takes on a molten-like texture when heated. 31 Purvis Street. Tel: 6684 4845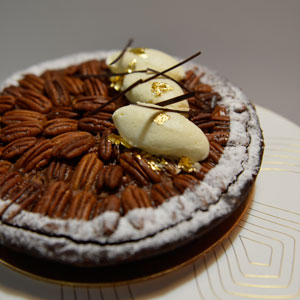 COLONY
Chocolate and pecans are an irresistible combination and The Ritz-Carlton, Millenia Singapore's Colony serves up a droolworthy Chocolate Pecan Pie. Smooth Valrhona chocolate complements the beautifully roasted nuts and quenelles of gold-flecked cream lend a velvety counterpoint to the sweet, chocolaty treat. Colony prepares just three pies a day, so make sure to call ahead to order. 7 Raffles Avenue. Tel: 6434 5288. Book a table at Colony with Chope. 
JACOB'S CAFÉ
Jacob's Café's Pecan Pie comes with a generous two-inch-thick layer of pecans. Each bite is wonderfully delish with a distinct, nutty crunch and a sticky filling that isn't cloyingly sweet. #01-2049, Block 5, Changi Village Road. Tel: 6542 7500 / 6543 1106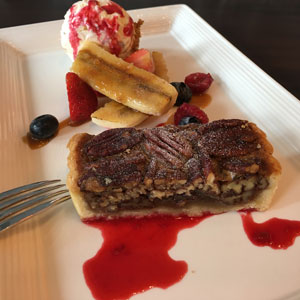 THE MARMALADE PANTRY
A chewy, syrupy filling with vanilla nuances, caramelised bananas and a smattering of Californian pecans on a thick yet crumbly crust – The Marmalade Pantry's rendition is served with a refreshing raspberry and white chocolate ice cream, which cuts through the richness of the dessert. While most pecan pies tend to sit heavily in the tummy, this one's easy to polish off in a single sitting. #03-22 ION Orchard, 2 Orchard Turn. Tel: 6734 2700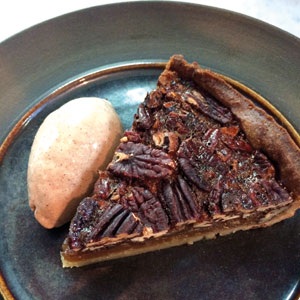 EL MERO MERO
El Mero Mero knows the way to our greedy little hearts – a thin-crusted pecan pie loaded with toasty pecans, soaked in Don Julio Anejo tequila and served with house-made cinnamon ice cream. It's the perfect boozy Christmas dessert for the annual festive meal. You may thank us later. #01-21 Chijmes, 30 Victoria Street. Tel: 6337 1377. Book a table at El Mero Mero with Chope.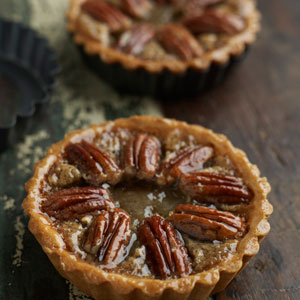 BAKER AND COOK
Rich, sticky and buttery are the three words to describe Baker and Cook's petite Pecan Pie, which is ideal for those with smaller appetites and who don't like theirs jam-packed with nuts. We recommend ordering a cuppa to cut through the richness. InterContinental Singapore, 80 Middle Road. Tel: 6825 1502
WINDOWSILL PIES
Windowsill Pies' Pumpkin and Pecan Pie boasts a buttery mealy crust and a lip-smacking coffee-infused pecan and pumpkin filling. Every bite delivers a moreish medley of textures and you might be tempted to bag more than one. 95 Soo Chow Walk. Tel: 9004 7827
THE LINE SHOP
The Line Shop's Pecan Pie has just the right amount of sweetness and an aromatic (if slightly gritty) crust. What seals the deal for us is the generous amount of pecans that are evenly spread out, making each mouthful a nutty, toothsome treat. Best served warm. Lower Lobby, Shangri-La Hotel, Singapore, 22 Orange Grove Road. Tel: 6213 4275
COOK & BREW
Cook & Brew knows that a pie's crust makes or breaks the dessert and in their case, the hint of salt in the golden buttery crust complements the treacly filling. The crunchy, well-roasted pecans crowning the pie adds a delightful toasty aroma. Level 33 The Westin Singapore, Asia Square Tower 2, 12 Marina View. Tel: 6922 6948
THE BEAST
The inclusion of Maker's Mark in this filling gives this pie a slightly boozy aroma, thanks to the caramel and cinnamon notes of the wheat bourbon. The main draw, though, is the delectable toasted pecans embedded in the gooey, caramelised filling. Holding everything together is a traditional graham cracker crust, which adds yet another textural dimension. 17 Jalan Klapa. Tel: 6295 0017