Swiss ambition
Pixie-haired Irma Dütsch returns for this year's Chefs with Altitude and tells Jasmine Tham why the word retirement doesn't exist in her dictionary.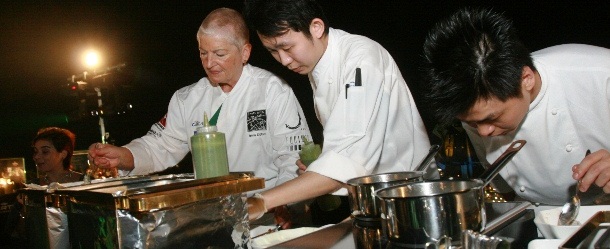 The last time Irma Dütsch brought classical European food from the Swiss Alps to Singapore; it was in 2008. Two years on, the 66-year-old Valais resident is back to wow local diners at the same venue—Chefs with Altitude 2010 takes place in Swissôtel the Stamford from 10-16 October.
Although officially a retiree and having sold off her Fletschhorn Restaurant in Saas-Fee in 2005, which she headed for 30 illustrious years, Dütsch, Switzerland's first female Michelin starred chef, is busier than ever.
Prior to her stop in Singapore, she will be gracing Swissôtel Nankai Osaka's 'Swiss Week', where she plans to conduct a cooking class for 40 ladies and whip up scrumptious signatures for the hotel's guests from 3-6 October.
And if that's not a whirlwind schedule, she has also found time to publish two books on the subject of Swiss cuisine, Esprit de Cuisine and her latest Amitié Gourmande (written with 23 chefs who are personal friends). Aside from Chefs With Altitude, the chef
is also currently preparing for the annual Salon Suisse des Goûts et Terroirs (Swiss Exhibition Taste and Traditions) held in Gruyère in October. The largest Swiss gastronomy trade fair presents the best and newly discovered ingredients from regional producers in Switzerland.
Excerpt from the October issue of epicure.