Best gourmet chicken burgers in Singapore
We did all the groundwork to source out 10 best gourmet chicken burgers in our Little Red Dot.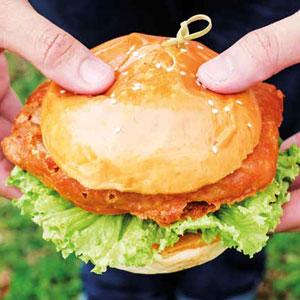 While the classic beef burger is popularly lauded as the ultimate comfort food, its white meat cousin, the chicken burger is an underrated alternative that deserves more limelight. Of late, restaurants are adding creative twists to the classic chicken burger – and with good reason. Whether it's a juicy pan-fried chicken thigh, a perfectly marinated grilled chicken breast or a freshly ground minced chicken patty sandwiched between soft bread, the options are certainly droolsome to say the least.
GRUB
The construction of this burger is simple – a large chicken thigh patty, tomato, lettuce and squishy glazed buns. The lean, crisp boneless chicken thigh patty is marinated for eight hours in har cheong gai paste before frying, resulting in a patty redolent with the characteristic funk of fermented shrimp paste. While there is a conspicuous lack of sauce in the burger, the chicken is moist and flavourful enough to hold its own. 510 Ang Mo Kio Ave 1. Tel: 6459 5743. Book a table at Grub with Chope.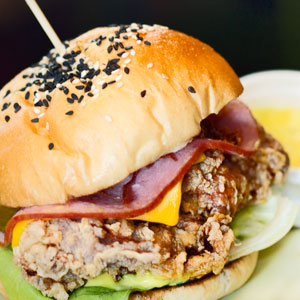 KAW KAW SG
Kaw Kaw's Permaisuri Burger, which means the Queen's burger, features a lightly-battered fried chicken stacked together with turkey ham slice, melted cheese and chicken floss. The pillowy soft sesame bun is slathered with mayo, and holds the fillings perfectly in place. Not for diners who are spice-averse, the chicken is evenly coated in a picante sauce made of turmeric, cream and a concentrated spice blend of the lemak chilli padi. 28 Aliwal Street. Tel: 6444 8349. Book a table at Kaw Kaw SG with Chope.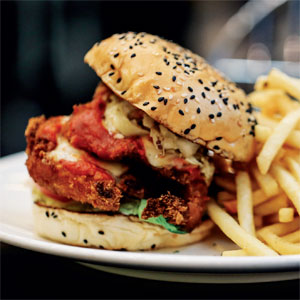 P.S CAFÉ
It's the frills inside this Chicken Schnitzel burger that make all the difference. Breaded chicken is accompanied by herb mayonnaise, mozzarella, chunky tomato sauce, lettuce and artichoke pickles, all wedged between toasted sesame seed buns. It's a flavour explosion with the sharpness from the artichokes and tomato sauce that's well balanced by the creaminess of the mayo and cheese. #03-41/44 Paragon Shopping, 290 Orchard Road. Tel: 9297 7008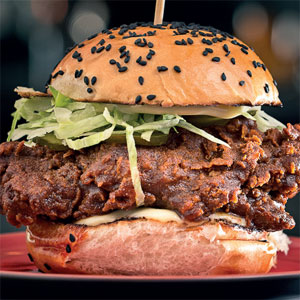 MEAT SMITH
This redhead is not to be trifled with. We are talking about the Nashville Fried Chicken sandwich that is glazed all around with chilli. In between the soft handmade buns is a slathering of soothing mayonnaise that cuts the heat, while the pickles and lettuce give a crisp and welcome crunch. 167/169 Telok Ayer Street Tel: 6221 2262. Book a table at Meat Smith with Chope. 
BREWERKZ
Replacing the deliciously fried Golden Chicken Burger on the menu is the new and healthier Grilled Chicken Burger. Sink your teeth into a succulent, jerk-marinated boneless grilled chicken thigh topped with melted American cheese, and further crowned with sautéed onions and mixed bell peppers before being sandwiched between homemade sesame-sprinkled brioche buns. Plus, it comes with one free side of potatoes, onion rings or side salad. Various outlets. www.brewerkz.com
BLACKBIRD BISTRO & BAR
This chicken burger is probably the only one in town that serves the meat between soft homemade charcoal brioche buns, making the black coloured contrast of the sweet bread a welcome change. A tender charbroiled chicken thigh sits atop silky avocado, tomato slices and lettuce before being layered with thinly sliced Brie. It also comes with a salsa, which isn't really necessary as the creaminess from the cheese and the avocado help keep any dryness at bay, while cutting the sweetness that comes from the seed-crusted brioche bun top. 6 Handy Road, #01-01 The Luxe. Tel: 6337 3448
THE MARKET GRILL
The CW Chicken Burger packs a succulent skin-on whole chicken thigh within sesame buns. With criss-cross grill marks and caramelised bits from being fired on a charcoal grill, the thigh remains juicy while doused in herb, cumin and spice seasoning. Chopped gherkins and a mayo-based sauce add a sweet tang to every bite, while skinny fries are a welcome accompaniment. 208 Telok Ayer Street. Tel: 6221 3323. Book a table at The Market Grill with Chope. 
THIRD & SIXTH BISTROBAR
While the menu doesn't mention that it's a chicken burger, the Pesto Papa creation contains a thick, well-seared chicken patty in a deliciously chewy sesame and sunflower seed bun. Its unusual components – basil pesto, rocket leaves, Swiss and Parmesan cheese and balsamic reduction – give it a fresh, vibrant flavour. 36 Seah Street. Tel: 6336 1248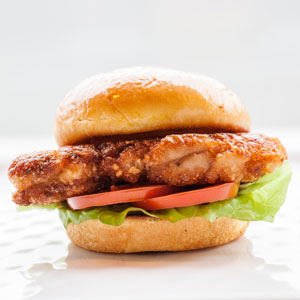 OMAKASE BURGER
This homegrown brand serves up serious burgers, and their Omakase Chicken Sandwich is no less of an innovative creation. The extra crispy fried chicken fillet provides a toothsome bite and contrast against the soft and fluffy bun which is kept purposely small to get a larger and more satisfying mouthful of the meat. The finishing touches come from their trade secret umami Omakase sauce, which provides texture and a touch of sweetness to the sandwich. #01-02/03/37-41 Wisma Atria, 435 Orchard Road. Tel: 6737 3218
MEATLIQUOR SINGAPORE
Get ready to indulge in sin with the HDB Burger. The fried chicken patty is topped with hash browns, slaw, jalapenos, cheese and Russian sauce in between two soft buns. The tangy sauce and vegetables pull the burger together and cut through all the fried components, giving the burger a wholesome feel with every bite. 99 Duxton Road. Tel: 6221 5343