Small plates, big taste
For a dose of conviviality and authentic Spanish fare, here's our pick of the best tapas bars in town.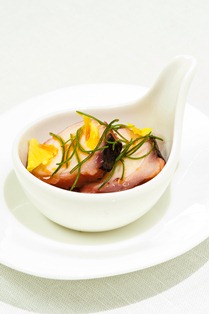 Santi
Santi Santamaria, the three Michelin-starred Catalan chef elevates Spanish comfort food into an elegant affair, offering diners a microcosmic view of his seasonal, ingredient-driven Mediterranean fare. Adding some panache is the eight-seat bar counter by the restaurant entrance and the attentive and knowledgable service of his staff. You can choose from two set menus ($60 and $90) that feature four to five dishes each—they appear more like surprises from a degustation menu.
Signatures: The langoustine with sofrito and migas (bread crumbs) is a perky blend of textures, with the small crustacean a burst of freshness on the palate, while the razor clam stew impresses with briny hints and a velvety character.
Sangria: There are no Sangrias offered here but the staff are more than happy to recommend wines to go along with your bites.
Specials: The olive oil, a first pressing from Ciurana, Catalunya, which is served as a condiment, is the silent star. Its powerful, alluring scent hits your nose the moment it's brought to your table.
Casino level 2, Marina Bay Sands. Tel: 6688 8501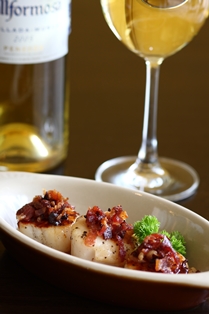 Don Quijote Spanish Restaurant
Its flagship restaurant at Lorong Kilat has proven to be so popular with diners that weekend reservations can no longer be met with surety. The conundrum has since been resolved with a new 120-seater outlet at Dempsey Road with two private dining rooms and the widest bar offering on the hill: 100 Spanish wines, 40 whiskies, 10 vodkas and eight beers.
Signatures: Garlic Shrimps Rolled in Eggplant ($10), Oven-baked Whole Scallops with Bacon Bits ($19) and Tenderloin Steak Cubes with Blue Cheese ($18)—a dish with its roots in Asturias, an area renowned for Cabrales (a strong Spanish blue cheese).
Sangria: A choice of red, white and sparkling whites ($55-$65 a jug).
Specials: Their special side menu of sweet and succulent seafood sourced daily from the local markets. Sunday brunch offers an a la carte buffet of over 30 tapas dishes with free flow of Sangria and wine ($48).
Block 7 Dempsey Road #01-02. Tel: 6476 2811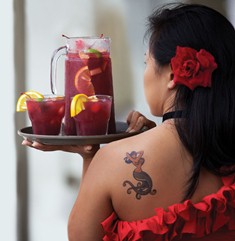 Octapas Spanish Tapas Bar
The former Tapas Tree gets a menu revamp thanks to chef consultant Javier Lecumberri of San Sebastian who has devised new dishes from different regions of Spain—think Andalusian seafood, Basque piquillo peppers and Valencian paella. The food is served by affable wait staff spotting mermaid tattoos (the restaurant mascot) on their shoulders.
Signatures: Minced chicken stuffed in roasted piquillo peppers ($14), grilled squid served with a balsamic vinegar reduction ($15.50) and bacon wrapped shrimps with tomato salsa ($14.50).
Sangria: The white wine-based blackberry sangria ($15) stands out from the red and white sangria options.
Specials: Order three or more tapas from the menu and get the lowest priced item free (12 – 6pm daily). Red and white sangria, and housepours at $8 nett (12 – 8pm daily).
Blk D, #01-08 Clarke Quay, River Valley Road. Tel: 6837 2938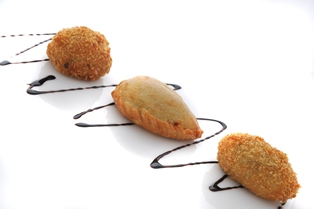 Serenity Spanish Bar and Restaurant
With its pub-like setting and harbour-facing location, Serenity is worth seeking out. Its tapas run the gamut from flatbreads to Spanish omelettes, and there is even a sizeable bar housing a collection of over 80 Spanish wines.
Signatures: Roasted potatoes with romesco and aioli sauce ($10.80), grilled fresh octopus ($16.80) and croquettes stuffed with tuna, chicken, and tiger prawns ($12.80).
Sangria: Try the sangria dela fresa made with white wine, fresh strawberry puree and Cointreau ($15).
Specials: The whole roasted suckling pig ($288, enough for six and requires a day's advance order) yields a crackling carapace and fork-tender meat.
1 Harboufront Walk, #01-98/99 VivoCity. Tel: 6376 8185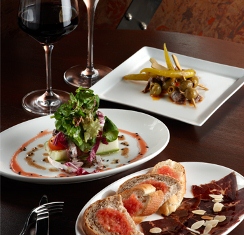 Bodega Y Tapas
Flanked by its adjoining sibling restaurant Esmirada in Orchard Hotel, this tapas bar is frequented by the after-work crowd who are fans of Spanish chef Roberto Hernandez's creations . Burnished orange walls and warmly-lit interiors create an understated cosiness, encouraging diners to linger a little longer.
Signatures: Pan-seared European Cod in Leek Puree and Confit Mushrooms ($17), Manchego Cheese Platter ($20), and Seared Tuna with Marinated Tomatoes ($15).
Sangria: The sangria especial cocktail ($14) is made with red wine from Riojia and comes topped with tequila and lemonade.
Specials: Choose three tapas from a menu of eight for $20 (12 – 3pm, Mondays to Fridays), and receive a 10 percent discount off the total bill from Sunday to Thursday with OCBC credit cards.
442 Orchard Road, #01-29 Orchard Hotel. Tel: 6735 3476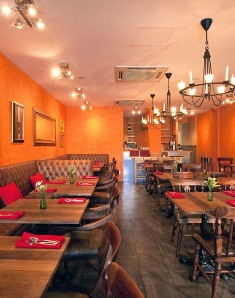 My Little Spanish Place
At this quaint 50-seater eatery, tapas served are a collection of chef-partner Maria Sevillano's favourite recipes from her hometown of Castilla y Leόn. Cured meats and hearty stews help to combat the region's harsh winters, explaining their dominant presence on the restaurant's menu.
Signatures: Creamy Jamon-stuffed Croquettes ($6), Chickpeas Stewed with Chorizo ($10.50) and pork skewers cooked a la plancha (grilled on a metal plate, $19).
Sangria: Classic red, white and cava sangrias only.
Specials: Barcelonian singer and guitarist Carlos Sendros (a performer in the Mosaic Music and Singapore Latin festivals) serenades Sunday's regular dinner crowd on September 26) while Sevillano impresses with fiery dance moves during Flamenco Nights (her next performance is on October 16).
619 Bukit Timah Road. Tel: 6463 2810. Visit www.mylittlespanishplace.com.sg for details.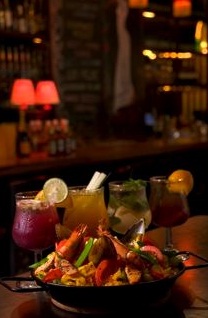 La Viva Spanish Bar and Tapas
La Viva boasts a lush Mediterranean style courtyard with custom made cobalt mosaic tabletops but if you prefer air-conditioned comfort, you can sit by the indoor bar counter and choose from a range of delectable nibbles display on the countertop.
Signatures: Chorizo sausages marinated in sangria and pan-fried ($12), Green Asparagus Rolled with Serrano Ham ($13) and eggplants baked with goat's cheese ($12).
Sangria: With its fruity notes, sangria is to prepare of chorizo tapas, and to poach whole pears for dessert and in house cocktails. Sip on the sparkling cranberry sangria ($16)—brandy steeped cranberries, red wine and Champagne.
Specials: Four fixed menus that make ordering a breeze. Centred around different regional fare, the Barcelona, Valencia, and Madrid sets feature10 dishes for two ($86) and three diners ($120) to share. Thumbs up to the restaurant for catering to vegetarians with their special Veggie menu ($82 for two, $110 for three).
30 Victoria Street, #01-12 Chijmes. Tel: 6339 4290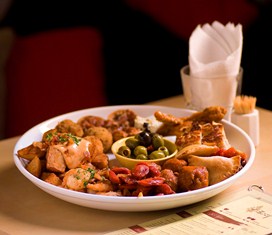 Zsofi Tapas Bar
Owner Christopher Tan was inspired to set up his own tapas bar after a backpacking trip to Granada. It was there that he met Zsofi, a free-spirited traveller whom he named his hip attic-styled joint after. It resides cheek by jowl with hostels along Little India and plays host to the neighbouring backpackers.
Signatures: Pimiento stuffed olives marinated with lemon and garlic ($6), homemade Spanish style meatballs in a thick tomato sauce ($12) and Bilbao Chorizo ($12).
Sangria: Choose from four, between red and white, and sparkling or still. ($38-$48 a jug).
Specials: A complimentary choice of tapas with every purchase of alcoholic beverage (not applicable with any existing in-house promotions).
68 Dunlop Street. Tel: 6297 5875