Kite
Our team goes undercover to suss out the latest and most talked about restaurants in town
If you've shuddered over small plate cuisine that inevitably consists of five skinny sticks of asparagus stuck into a dip, or deconstructed desserts comprising blobs of cream, chocolate and crumbs, then Kite may not be your next destination.
But you'd be missing out on an enjoyably down-to-earth meal with big heart.
Located at a corner shophouse unit in Craig Road, the airy space has an undemanding, clean feel with faux brick tiles and cement, and Peranakan ceramic tiles that hint at head chef Dannen Krishnan's multi-ethnic background. Modern comfort food is his forte, with subtle techniques gleaned working with Ivan Brehm (Bacchanalia) and Leandros Stagogiannis (ex-Saint Pierre). Add to that a well-thought out cocktail and wine programme, and Kite is well-situated to cater to aspiring gourmands.
Kite itself was named after a favourite childhood activity – appealing to the 'good old days'. The menu draws on Asia, with crowd-pleasers such as the cold somen ($14) flavoured with rich lap cheong oil and topped with warm prawns – a fun, affordable alternative to Gunther's or Les Amis' cold angel hair pasta with caviar.
Don't look for carb elsewhere on the 20-plus item menu. Krishnan keeps things safe and casual with six small bowls, seven small plates and three desserts, along with some snacks. Bourbon glazed chicken skins and puffed pig skins ($6 each) were crisp and light, but it was sweetbreads ($12) turned into dainty nuggets in curry sauce that stays in your memory, resembling an updated MacDonald's experience.
Vegetable creations are innovative, so you won't feel like you're missing out. The mushrooms and corn dish ($12) is excellent, comprising polenta that's been cooked to liquid consistency with creamy corn and earthy mushrooms punctuating each mouthful – there's a very similar dish at Bacchanalia. For more fibre, the Dirty Vegetables ($12) comprises aforementioned sticks of Thai asparagus and French carrots in a brown butter and coffee 'soil' – a tad trite for jaded palates, but still carried out with enthusiasm and freshness.
Of the three meat dishes, Wagyu beef cheek ($18) was much too tender for our liking, while black Spanish pig ($18) cooked medium rare as recommended meets carnivorous expectations with its full-on flavour. Uncle William's quail ($16) is a good introduction to this gamey bird, well accompanied by barley and spiced jus. Krishnan has a knack with seafood so don't miss the tenderly sous vided Ubin sea bass ($14) surprisingly accentuated with sunflower seed pureed into a sauce. On our second visit, he had also replaced the salmon 42deg ($14) with ocean trout, a welcomed alternative with a less oily profile.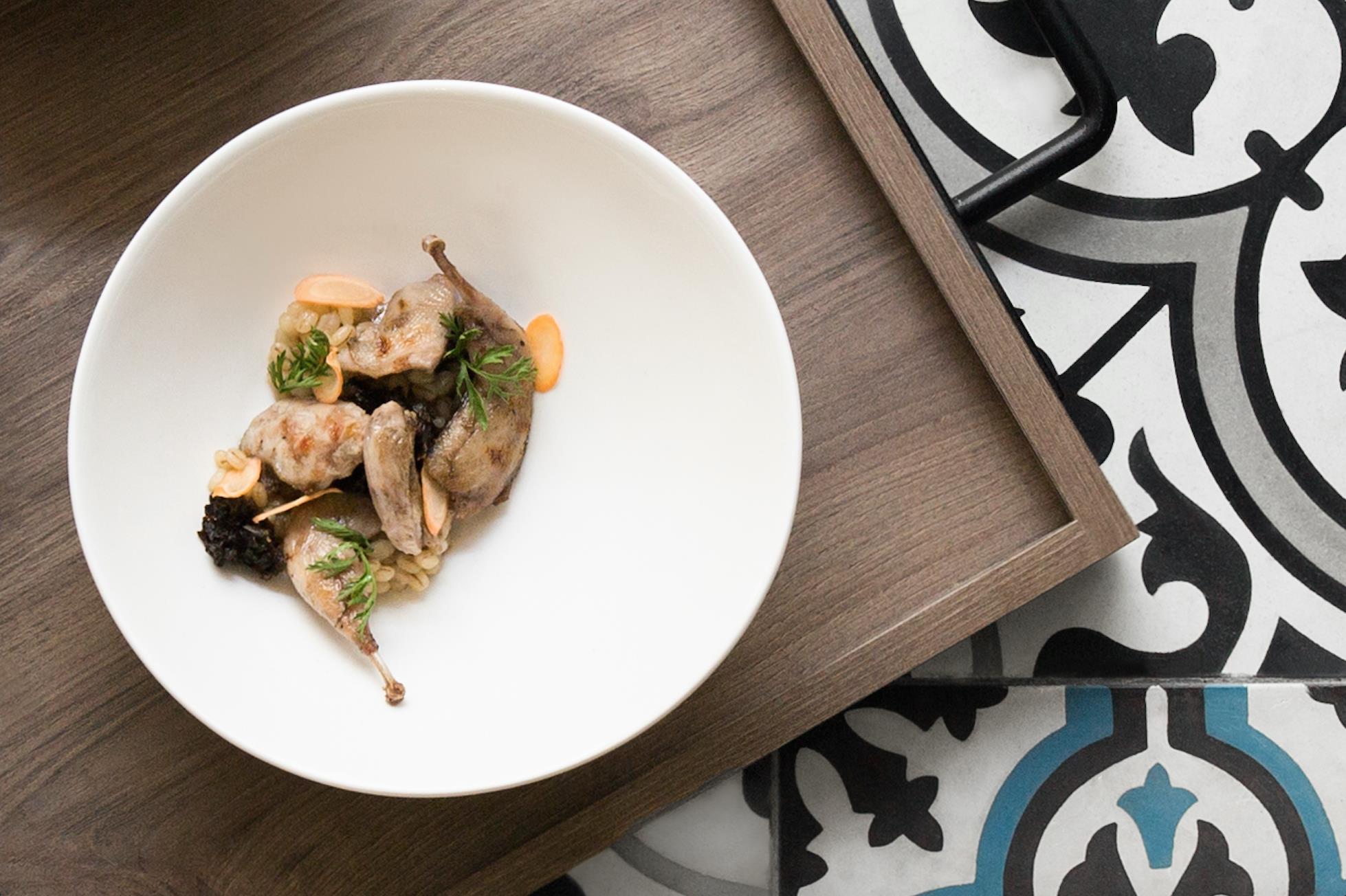 Allow for six to eight dishes between two diners, and you'll be adequately full. We liked the value-for-money $30 lunch set (four dishes and a good cup of coffee) though there are more choices at dinner. Service is generally upbeat and friendly, with the odd young waiter that has no clue but gamely checks on wines and ingredients when queried. Our main grouses are the comically tiny tables – far too small to accommodate even small plates – and the echoing din that ensues when the space is packed. Kite, like its hipster-pop music, will appeal to the young and aspiring yuppie, with some surprises thrown in for the more sophisticated crowd to take them back to their comfort zone. #01-01, 53 Craig Road. Tel: 9729 7988
Food: 7/10
Service: 7/10
Ambience: 6.5/10
Average dinner bill for two, with drinks: $150
Must-tries: Somen with lap cheong oil and prawns; Ubin sea bass; mushrooms, polenta and corn 'soup'
Book a table at Kite with Chope.