Best Thai steamed fishes in Singapore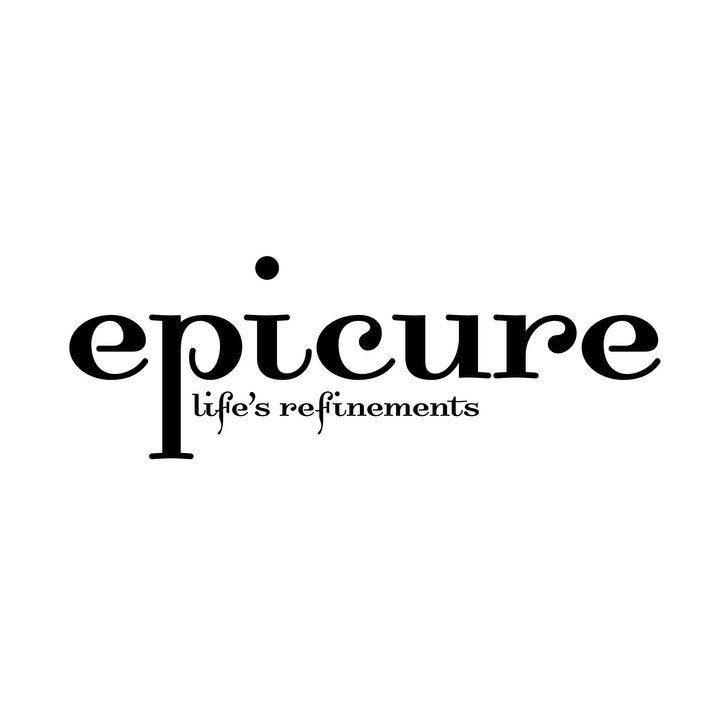 · 4 May 2016
·
Food
Pla neung manao, otherwise known as steamed fish with lime, is a must-have on the dining table at any Thai restaurant. Immersed in a sapid and potent sauce of chilli, lemongrass, lime slices, coriander, and garlic cloves, the fish (typically tilapia, sea bass, grouper or snapper) is scaled, scored and heated, then served over a portable furnace in a fish shaped dish. Its flesh should flake off the bones and melt in your mouth, and be accompanied by the spicy and tangy citrus flavours of the sauce.
*Updated on Friday, 11 Nov 2016
NARA THAI CUISINE
Sourced from Jurong Fishery Port, the fresh and tender steamed sea bass is served on a metal plate immersed in an accompanying sauce; the latter is made more tangy by a dose of Thai garlic, red chillies, galangal and lime. Overall, the flavours are zesty, sour and spicy at the same time, stimulating our palates greatly. #B3-21 ION Orchard, 2 Orchard Turn. Tel: 6634 5787. Book a table at Nara Thai Cuisine with Chope.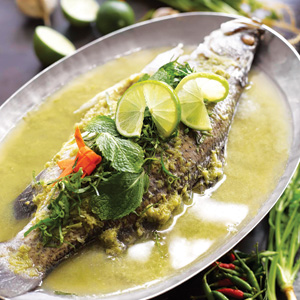 SABAI FINE THAI
This fine dining restaurant facing the Marina Bay waterfront offers a choice of sea bass or cod for its pla neung manao. While the sea bass is perfectly cooked and silky, it's the latter that yields bite after bite of milky, buttery flesh. Sabai uses the more potent bird's eye chilli for a real kick. Couple that with the generous amounts of garlic and fresh lime juice in the consommé and there's never a question of the cod being too rich. #01-02 Customs House. Tel: 6535 3718
ROCHOR THAI
Farmed fresh off the waters of Pulau Ubin, Rochor Thai's sea bass has a lovely, delicate taste, which is further enhanced by the spicy lime sauce. The sauce is made of palm sugar and fish sauce, red chillies and pickled garlic. A splash of hua diao wine for steaming adds dimension to the flavours. #01-03, Novena Regency, 275 Thomson Road. Tel: 6440 3270. Book a table at Rochor Thai with Chope.
JOE'S KITCHEN
Husband and wife team, Joe and Jamie, runs the homely no-frills establishment, which opened in 2006, serving humble Thai dishes. The flaky and tender steamed sea bass comes swimming in a broth made from Thai chilli peppers, garlic, red onions, ginger, lemongrass and lime, to create a harmony of sour and spicy flavours. #01-182, Blk 125 Bukit Merah Lane 1. Tel: 6270 8484
SIAM SOCIETY
The sapidity of Siam's Society piquant chilli lime sauce in its pla neung manao has us savouring every last drop. A tangy flavour and fiery heat greet you with every bite. The steamed sea bass is also cooked to perfection with its flesh peeling off the bones. 15 Jalan Riang. Tel: 6286 8603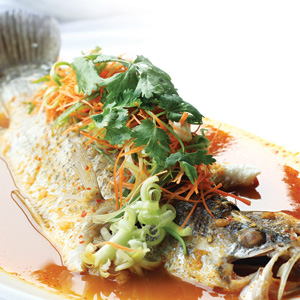 JIM THOMPSON
Pla neung manao is undoubtedly influenced by the Chinese style of steamed fish, but what makes the Thai version distinct is the use of kaffir limes, which are more aromatic. At Jim Thompson, a whole sea bass is deboned and splayed out to maximise contact with the garlic, lime and chilli stock it comes bathed in. It's a pleasure to eat without navigating through minute bones. There is also the option to cook the fish with shredded ginger and soy sauce, but we recommended sticking with the former for its mellow heat and citrusy nuances. 45 Minden Road. Tel: 6475 6088. Book a table at Jim Thompson with Chope.
MAI THAI RESTAURANT
A safe bet for reliably delicious Thai fare, the restaurant is better known for crowd favourites such as their beef panaeng, but the pla neung manao shouldn't be missed too. Kept hot throughout the meal with a flame burning underneath the steel plate, the sea bass is a tad dry due to oversteaming but more than makes up for it with its refreshingly lighter but no less aromatic sauce with vesicles of lime pulp, zest shavings and fresh coriander. Aware that the sour and spicy dressing is a hit among diners, the staff will also provide an additional cup of sauce for dipping. #01-58 Chip Bee Gardens, 44 Jalan Merah Saga. Tel: 6474 3108
FOLKS COLLECTIVE
The restaurant and bar, which is fashioned like an 1920s brasserie, doles out an impressive steamed sea bass doused in a piquant sauce. The characteristic tongue tingling spiciness – enough to make our eyes water but not numb our senses – and distinct acidity of lime juice aside, the dish also packs a garlicky punch with a hint of the mild sweetness of pearl onions. Altogether, it's mouthwateringly addictive. #01-01 Asia Square Tower 1, 8 Marina View. Tel: 6443 9820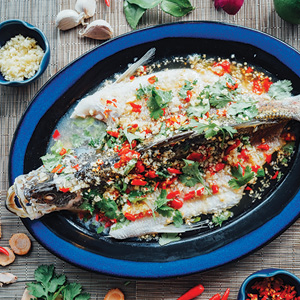 SAWADEE THAI CUISINE
What sets Sawadee's rendition of the classic Thai steamed fish apart from other establishments is its sauce. Comprising a delicate balance of spicy heat, zesty tang and the added fragrance of lemongrass, the clear sauce was also notably sweeter than usual, though not overwhelmingly so. Spooned over fork-tender sea bass flesh with nary a hint of fishy odour, it's a winning combination that will keep you going back for more. #01-01, 9 Tan Quee Lan Street. Tel: 6238 6833. Book a table at Sawadee Thai Cuisine with Chope.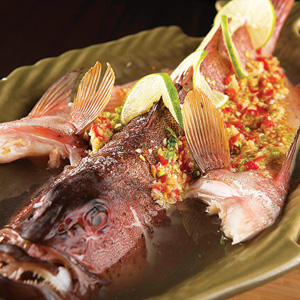 YHINGTHAI PALACE
With over 20 years of history, YhingThai Palace has a knack for executing authentic Thai dishes. The pla neung manao is served in a ceramic dish over a burner, and is enhanced by a sauce with subtle seafood notes. A generous sprinkling of garlic and chilli adds to the spicy flavour. 36 Purvis Street. Tel: 6337 1161. Book a table at Yingthai Palace with Chope.
SHARE