Best gin fizzes in Singapore
Drink to the New Year with this carbonated gin-based highball. The gin fizz, which originated in America, is the most well-known tipple from the fizz family and can be likened to a sparkling sour courtesy of its fresh, citrusy notes. Its popularity peaked in the late 19th and early 20th century, and gave rise to variations such as New Orleans' Ramos gin fizz, named after its creator, and the sloe gin fizz, which uses the deep red spirit flavoured with blackthorn plums.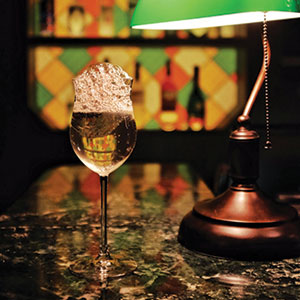 GIBSON
The Crystal Ramos Gin Fizz at Gibson takes 72 hours to make, bar programme director Aki Eguchi reveals. The secret is a gin milk punch of green tea, dry gin, spiced rum, coconut
rum, absinthe, lemon juice, orange and lemon peel, cloves, star anise and cinnamon that is clarified twice and combined with No. 3 Gin, water and sugar. The mixture is then carbonated. This delicate transformation of the heavier New Orleans classic is poured into a rosé glass and garnished with orange flower bubbles for a funnelled olfactory burst before each creamy and satisfying sip. 2/F, 20 Bukit Pasoh Road. Tel: 9114 8385. Book a table at Gibson with Chope. 
THE SECRET MERMAID
Popular with CBD executives winding
down after work, this tasting room and cocktail bar doesn't have a gin fizz on the menu but don't let that stop you from ordering it. Known for using rare, small- batch, handcrafted spirits, the bartender shakes up a variant with Half Moon Orchard Gin distilled with wheat and apples by Tuthilltown Spirits, New York's first whiskey distillery since Prohibition. Botanicals in the New World dry gin infuse the bubbly beverage with aromas of bergamot and elderberry, making for a wonderfully refreshing post-work tipple. B1-08 Ocean Financial Centre, 10 Collyer Quay
THE BAR AT WAKU GHIN
Specialising in Japanese cocktails, The Bar at Waku Ghin's menu states milk alongside gin, lemon juice, syrup and soda as the ingredients for gin fizz. The bartender explains that a famous Japanese rendition of the tipple adds milk. Here, the highball glass is first laced with milk before the cocktail is built up. The addition of milk mellows the drink and tones down the level of tartness. L2-01 Atrium 2, The Shoppes at Marina Bay Sands, 10 Bayfront Avenue. Tel: 6688 8507
BAR & BILLIARD ROOM
Raffles Singapore makes their gin fizz truly unique with the use of bespoke Raffles
1915 Gin, created in Sipsmith's copper pot distillery. The spirit is a medley of botanicals inspired by the Malaysian Peninsula – jasmine flowers, fresh pomelo peel, lemongrass, kaffir lime leaf, nutmeg and cardamom – on top of the classic juniper, coriander and orris root. Instead of being mixed at the bar, Raffles' version of the cocktail is mixed, carbonated and bottled, so that the drink's effervescence is bracingly crisp at first taste. With each sip, the gin fizz grows on you, revealing hints of the spirit's notes. Raffles Singapore, 1 Beach Road. Tel: 6337 1886.  Book a table at Bar & Billard Room with Chope.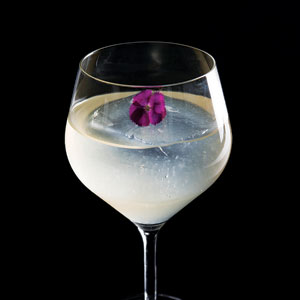 FLIGHT BAR & LOUNGE
When gin fizz is made with sparkling wine, it's known as a French 75. FlightBar's signature French 57 – a play on the 57th floor location – takes the classic to another level. Yuzu umeshu and acacia honey lend smoothness to fresh tart lemon juice, with refinement from dry, full-bodied Piper-Heidsieck Champagne and Tanqueray 10 gin, chosen for its pronounced citrus rather than juniper profile. To prevent the drink from diluting too quickly at this outdoor bar, it's elegantly served in a wine glass with a crystalline block of ice. Level 57 Sands SkyPark, Tower 1 Marina Bay Sands, 10 Bayfront Avenue. Tel: 6688 9977
JIGGER & PONY
The cocktail bar does Henry C. Ramos proud with their rendition of the Ramos Gin Fizz, taking special care to get the delicate balance of flavours just right. Served in a wine glass, the fizz boasts a substantially frothy head, a result of shaking with egg white, and a subtly sweet floral fragrance from just a few drops of orange blossom water. Sugar tames the crisp, acidic notes of Tanqueray London Dry Gin as well as lemon and lime, while cream helps the drink go down smoothly. 101 Amoy Street. Tel: 6223 9101
MANHATTAN BAR
With its orange hue, The Veit looks nothing like the other clear and carbonated gin fizzes we've tried. This is thanks to the base of Monkey 47 sloe gin, which maintains the dry characteristic of gin but gives the cocktail a welcoming fruitiness. Bar manager Philip Bischoff reveals that the usual syrup is eschewed and house- made grenadine – made with pomegranate – is used instead, to act as a natural sweetening agent and to bring out the fruitiness of the sloe gin. Level 2 Regent Singapore, 1 Cuscaden Road. Tel: 6725 3377. Book a table at Manhattan Bar with Chope.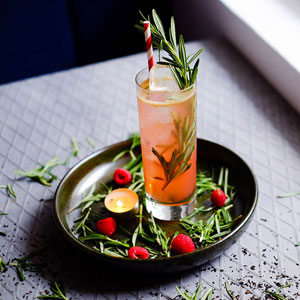 JEKYLL & HYDE
A variation of the 1980s London's Bramble, Jekyll & Hyde's version of Mary Berry, too, very much encapsulates spring with its uplifting berry and citrus notes. Chambord Liqueur, an infusion of red and black raspberries, Madagascar vanilla and XO cognac is added to the gin-based tipple, enhancing the fruity notes of the raspberry tea gomme and providing a subtly sweet vanilla finish. Other elements that give the drink balance and elegance are rosemary, lemon juice and soda. 49 Tras Street. Tel: 6222 3349
CATALUNYA
[CLOSED]
It is only fitting
that The Botanist,
with its 22 foraged
botanicals from the Isle of
Islay, is used in Catalunya's
Botanical Gin Fizz. Other
components of the tipple
include homemade orgeat
syrup (almonds, sugar and
orange flower water), a
citrus mix (lime, lemon and
orange juice), dash of egg
white, heavy cream and soda
water. The result is a very
likeable layered interplay of
the citrus fragrance, almond
essence and foam, through
which the gin emerges,
radiant. The Fullerton Pavilion, 82 Collyer Quay. Tel: 6534 0188/6
TAPAS39
Featuring two types of gin – Old Tom
and Tanqueray, the Camerini Fizz here is a masterclass in balance. The usage of two different gins combines the strength of a slightly aged Old Tom gin with the strong juniper flavours of the Tanqueray to enhance the tipple's aromas. Indeed, it's pleasantly fragrant, with herbaceous aromas complementing the refreshing citrus notes. 39 Duxton Hill.
Tel: 6221 4235