Best kushiyakis in Singapore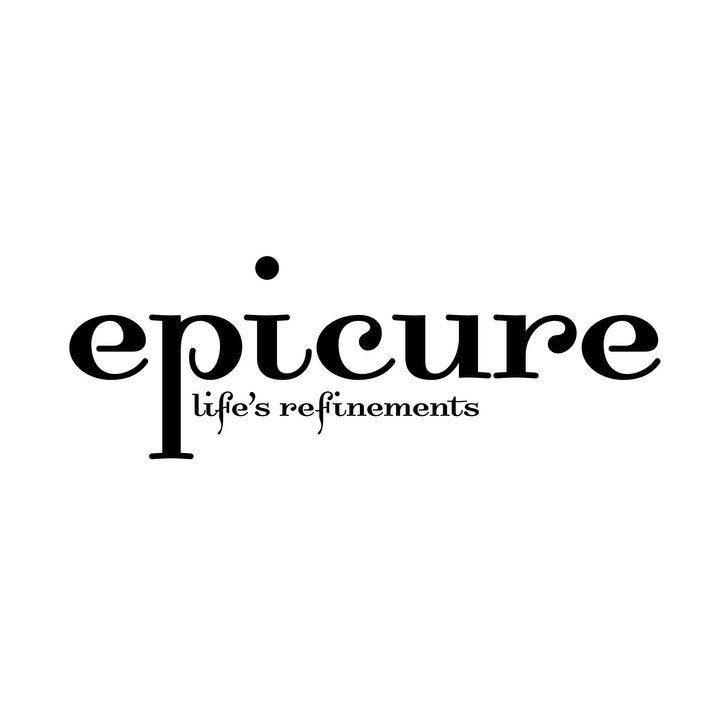 · 2 October 2015
·
Food
You may think of kushiyaki as simple skewered meats and vegetables, but their unpretentious presentation belies the precision that go into grilling them. A kushiyaki done well should yield a woody or smoky aroma, and ingredients that explode with flavour. There's a certain charm in the partaking of kushiyaki – your senses heighten the moment the skewers are served right off the grill and onto your plate. Few things can beat the tactile satisfaction of pulling off chunks of tender, succulent meat off the wooden sticks. For this column, we tried the entire range of kushiyaki, from the commonly sighted yakitori to more premium varieties like grilled foie gras, and round up 10 establishments that make the cut.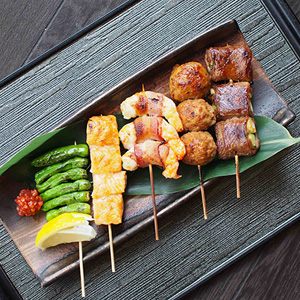 *Updated on Wednesday, 23 Nov 2016
KEYAKI
Keyaki's Kushiyaki Moriawase set consists of five grilled skewers: minced chicken (meatball), prawn with bacon, salmon belly, asparagus wrapped in beef and Japanese green pepper. If there was an award for most visually appealing kushiyaki, this set would easily bag it. But it's not just style over substance as even the conventional salmon belly was fantastic, moist and perfectly seasoned. Another palate pleaser was the asparagus wrapped in beef; the vegetable's mild bitterness was richly complemented by the savouriness of the slightly charred beef. Level 4, Pan Pacific Singapore. 7 Raffles Boulevard. Tel: 6826 8240. Book a table at Keyaki with Chope.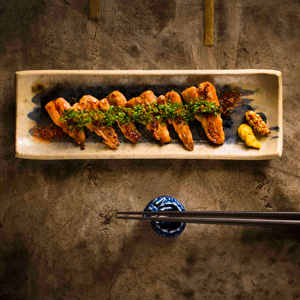 BINCHO
We'll drop the technicalities just this once: the yakitori served at this hole-in-the-wall restaurant-bar may come without skewers, but they are just as conveniently bite-sized as their traditional counterparts. There is good reason behind this choice of presentation: the yakitori here come with a thoughtfully selected variety of seasonings and sauces – mushroom salt, yuzu koshu, and freshly grated wasabi, for example – and using chopsticks (or your hands) instead of skewers make for easier dipping. We loved the tender chicken breast, as well as the chicken heart, which was soft and chewy. Reservations are highly recommended. 78 Moh Guan Terrace Tel: 6438 4567. Book a table at Bincho with Chope.
HANA HANA
Started by chef Yamashita Teppei, the founder of eponymous restaurant Teppei, this modestly-sized eatery doesn't accept reservations. Depending on the day, be prepared to queue to get in. Hana Hana has the most expansive range of kushiyaki – besides the usual chicken, they prepare all kinds of produce, including seafood, vegetables and other types of meat. Chef Teppei, who honed his grilling skills in yakitori capitol Fukuoka, uses Japanese bincho-tan charcoal to grill the kushiyaki, which helps infuse a smoky aroma to the yakitori and leaner cuts of beef. Their chicken liver was one of the standouts, suitably sweet, but tinged with just the right amount of bitterness. #01-17 Orchid Hotel, 1 Tras Link. Tel: 6222 7363
KAZU SUMIYAKI
The classics don't disappoint at this two decade-old eatery in Cuppage Plaza. Wagyu cubes with just the right amount of marbling melt in the mouth, and even humdrum chicken thigh is jazzed up with swipes of wasabi or ume cleverly tucked within. But it is the less common house specialities that are more memorable. The Kazu Oknomiyaki renders the conventional Japanese pancake into a single golf ball-sized omelette topped with Kewpie mayo, while bacon-wrapped cherry tomatoes pop with the perfect balance of sweet, tangy and savoury flavours. #04-05 Cuppage Plaza, 5 Koek Road. Tel: 6734 2492
TSUKUNE ICHIGO
The meatballs at Tsukune Ichigo definitely live up to their hype. Juicy, packing a slight crunch, and bursting with flavour, they aren't shaped conventionally like globes, but rather formed into long oblong blocks. The tsukune comes with different types of sauces, but we recommend going for the shiso mentai version for that extra zesty zing. Tsukune Ichigo serves the entire gamut of chicken parts, from the neck to the heart to the liver, and carries quite a range of sake to wash your yakitori down with; we recommend some chicken liver after the sake has kicked in. 399 River Valley Road. Tel: 6736 1340
RAKUICHI JAPANESE RESTAURANT
The kakuni, or pork belly braised in soy sauce and dashi, gratified with its caramelised glaze and melt-in-the-mouth layers. We also enjoyed the Omi beef, with its delicate marbling and balanced char. This was simply seasoned, without a marinade, for bovine connoisseurs to savour each chunk of the prized premium beef. Various outlets, including #03-11 Far East Shopping Centre, 545 Orchard Road. Tel: 6737 0757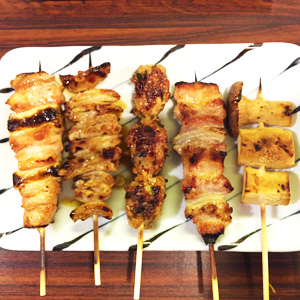 OTOWA
A regular haunt among Japanese salarymen and enlightened foodies, this 10-seat eatery packs in a full house most evenings – even without a signboard. Crowd favourites such as tsukune pass muster with textbook tenderness, but it's their grilled vegetables that really shine. A few seconds on the coals coaxes out the naturally sweet flavours of the ko nasu or baby eggplant, while skewers of Japanese eringi yield bursts of umami juices with every bite. For something a little more unusual, go for the grilled provolone cheese from Napoli, Italy or Kuroge Wagyu from Kagoshima's famed black hair cows, grilled ever so slightly to retain plenty of juicy chew. #03-16 Orchard Plaza, 150 Orchard Road. Tel: 67335989
AKANOYA ROBATAYAKI
Akanoya Robatayaki's tender, moist Omi Gyu Kushiyaki, a highlight of the restaurant, won our hearts with its perfect doneness. The three modestly-sized cubes of gently-marbled meat glided off the stick into our mouths and, unadorned with extraneous toppings, allowed us to savour every succulent morsel of flesh. Their Tontoro (grilled pork shoulder) offers more mouthfeel for those who love a solid chew. #01-01 Orchard Parade Hotel, 1 Tanglin Road. Tel: 6732 1866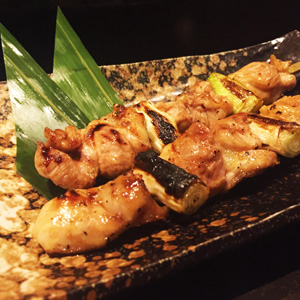 TAMASHII ROBATAYA
Their area of speciality might be robatayaki, but Tamashii Robataya's expertise with charcoal grilling also serves them well when dishing out kushiyaki. Their small selection of skewers covers most crowd favourites such as bacon-wrapped cherry tomatoes that burst with sweetness and yakitori with a hint of black pepper. But our favourite by far was the Gyuniku skewer of beef strip loin from Saga-Gyu in Kyushu prefecture, coated in a layer of its own savoury oils. #02-01, 12 North Canal Road. Tel: 6222 0316. Book a table at Tamashii Robataya with Chope.
SHARE