Best quiches in Singapore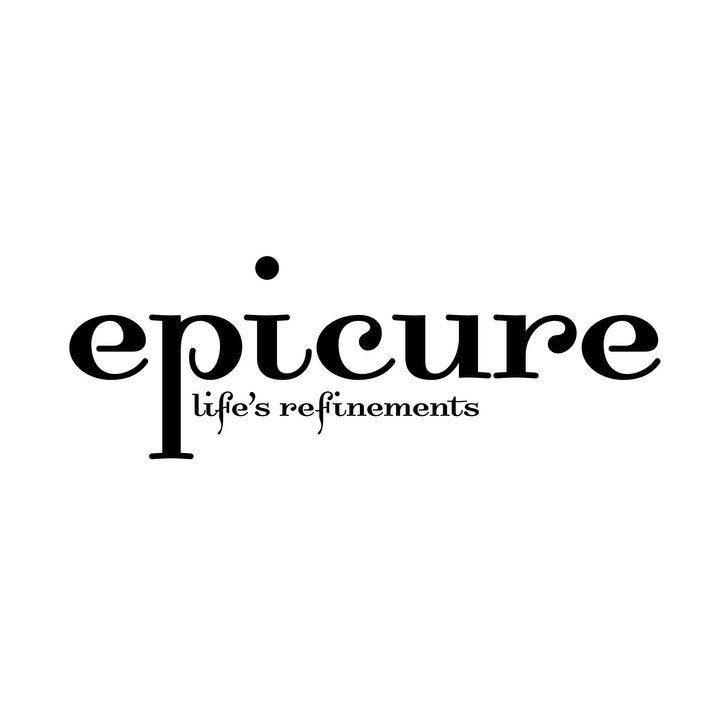 · 1 July 2015
·
Food
When it comes to this savoury tart, there's no concession for store-bought dough. Crusts (often a pâte brisée or flaky pie dough) should be handmade and preferably blind-baked to stay crisp enough to contain the slightly quivering custard within. Yet, its buttery richness should crumble and melt in your mouth. This is not the time for calorie-counting either – full-fat dairy makes for eggy fillings that are almost soufflé-like. Lastly, no matter the toppings, they should all be cooked separately to render their full flavour before they get tossed into the mix.
*Updated on Tuesday, 25 Apr 2017
SHELTER IN THE WOODS
[REMOVED FROM THE MENU]
You don't often think of a quiche as dinner food, but since this traditional rotisserie restaurant only opens in the evening on weekdays, theirs is a savoury pie you would gladly eat late into the night. You'll smell it before it even reaches your table – a redolent pie of forest mushrooms and Gruyere cheese. To minimise air bubbles in the filling, the custard rests for at least an hour at room temperature, and is poured into the crust only upon reaching the oven to minimise unnecessary movement. If you prefer to eat quiche for breakfast, know that it holds up perfectly well till the next day – fragrant toppings, crispy crusts and all. 22 Greenwood Avenue. Tel: 6466 6225. Book a table at Shelter in the Woods with Chope.
JAVA+
The quiches at Java+ are generous wedges and equally good even when served cold. We tried the spinach and bacon flavours; the former had a good mix of the iron-rich greens interspersed with custard and the latter sat very well with cured meat assenters. Executive pastry chef John Evans divulged that both are swaddled in a salt dough crust that comprises cake flour, and the filling is made more robust with nutmeg and a cheese mixture (cheddar, mozzarella, parmesan). Swing by in the mornings and afternoons for that's when the pastries are freshly turned out from the kitchen. Lobby Level, Singapore Marriott Tang Plaza Hotel, 320 Orchard Road. Tel: 6831 4605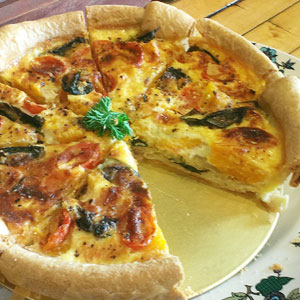 CARPENTER AND COOK
There is everything to love about their quiches. The ratio of crust to custard is perfect; the former is a pâte brisée made with French butter, and the latter gets its moreish savoury notes from the addition of Emmental cheese. Eggs and cream are combined in a 2:3 ratio. Baked fresh daily, flavours rotate constantly. We settled for the classic Quiche Lorraine, a generous but balanced medley of smoked bacon and caramelised onions in a gorgeous crumbly shell (do we hear best crust award?). #01-06, 19 Lorong Kilat. Tel: 6463 3648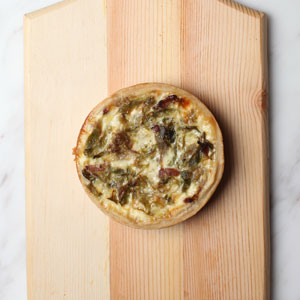 ARTISAN BOULANGERIE CO.
This café by executive baker Eran Mayer perfectly executes the tried-and-tested classic quiche combination of bacon and leek. It's a mouthful of meaty and salty American country ham bacon with the subtle onion nuances of the summer vegetable dancing on your palate, encased in a unique inverted puff dough and pâte brisée crust, and all held together with French butter. #01-01, 118 Killiney Rd. Tel: 6444 8130
DRIPS BAKERY
[CLOSED FOR RENOVATIONS]
Drip Bakery's bacon and cheese quiche is shaped as a blocky wedge, with a wall of custard housed within its firm, thick crust. They are similarly generous with the filling, which is extremely rich and has a strong eggy flavour. It is the highlight of the quiche, running for stretches without other ingredients in its way and glides down the tongue with its smooth, silky texture. #01-05, 82 Tiong Poh Road. Tel: 6222 0400
LA PÂTISSERIE
La Pâtisserie's quiches have a crust that strikes the perfect balance between sturdy and crumbly. When we bit into the asparagus quiche, the crust felt firm at first, but it soon collapsed quickly in our mouths. The fleshy stalks symphonises with the custard, giving the quiche a distinct flavour without masking the egginess. The crunchiness of the crust also lends some mouthfeel against the softness of the custard. Lobby Level, The St. Regis Singapore, 29 Tanglin Road. Tel: 6506 6860
CHOUPINETTE
For the perfect crust, Choupinette bakes its quiches in a stone oven, carefully tweaking the top and bottom heats to equilibrium temperature. The bottom heat is slightly higher since the crust takes longer to cook, while the gentler top heat ensures the generous lid of cheese doesn't brown too quickly. Because Elle & Vire butter is rubbed into the crust, there are pockets of light crumbliness even within the sturdy shell. The traditional Quiche Lorraine holds just the right amount of bacon so it doesn't overpower with saltiness. 607 Bukit Timah Road. Tel: 6466 0613
DOLCETTO BY BASILICO
We'd gladly go vegetarian for the spinach with ricotta and walnuts quiche. The walnuts are carefully toasted for 90 minutes at precisely 110°C to maintain the nut's essential oils and to retain its crunch. A standout feature of the savoury open-faced pastry is its crust: crisp on the outside, soft on the inside and flavoured with a specially concocted herb mix and prized Normandy butter. Each delicious rectangle is baked in a customised oven that can cater 190°C on top and 185°C at the bottom for perfect quiches sans burnt undersides. Lobby Level, Regent Singapore, 1 Cuscaden Road. Tel: 6720 8000
PATISSERIE G
A stickler for quality, pastry maestro Gwen Lim churns out disarmingly rich versions with smoked salmon, spinach and zucchini, mushrooms, or bacon. She blind bakes shortcrust pastry that is crafted from Normandy butter and opts not to bake the quiches over a water bath as that would compromise on the slightly caramelised exteriors she prefers to impart. #01-40 Millenia Walk. Tel: 6338 7578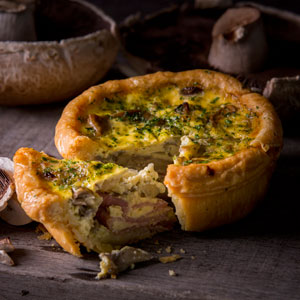 CEDELE BAKERY CAFÉ
Like most of Cedele's offerings, their ham and mushroom quiche is a generously sized winner you can always fall back on. Our knife slices through the flaky crust with a crackle, revealing plump juicy mushrooms and savoury slivers of ham that benefit nicely from the sweetness of the onions. Even when served cold, the quiche doesn't lose its hearty flavour. #B1-01 Raffles City. Tel: 6334 4828
SHARE