Delicious festive takeaways to celebrate Christmas at home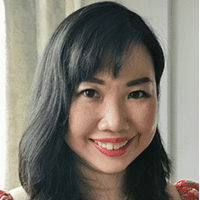 · 4 December 2021
·
Dining
Speculoos Mousse Cake, Turkey Wellington with Cranberry Sauce, Ruby Chocolate Yule Log with Raspberry, and more
Perhaps you have a big family and going out to a restaurant to feast just won't do. Well, this year, there are still plenty of #stayhome options as restaurants, cafes, bakeries and grocery stores have ramped up their takeaway and delivery menus. Not only do they have traditional roasts, they also offer new and interesting creations to whet your appetite.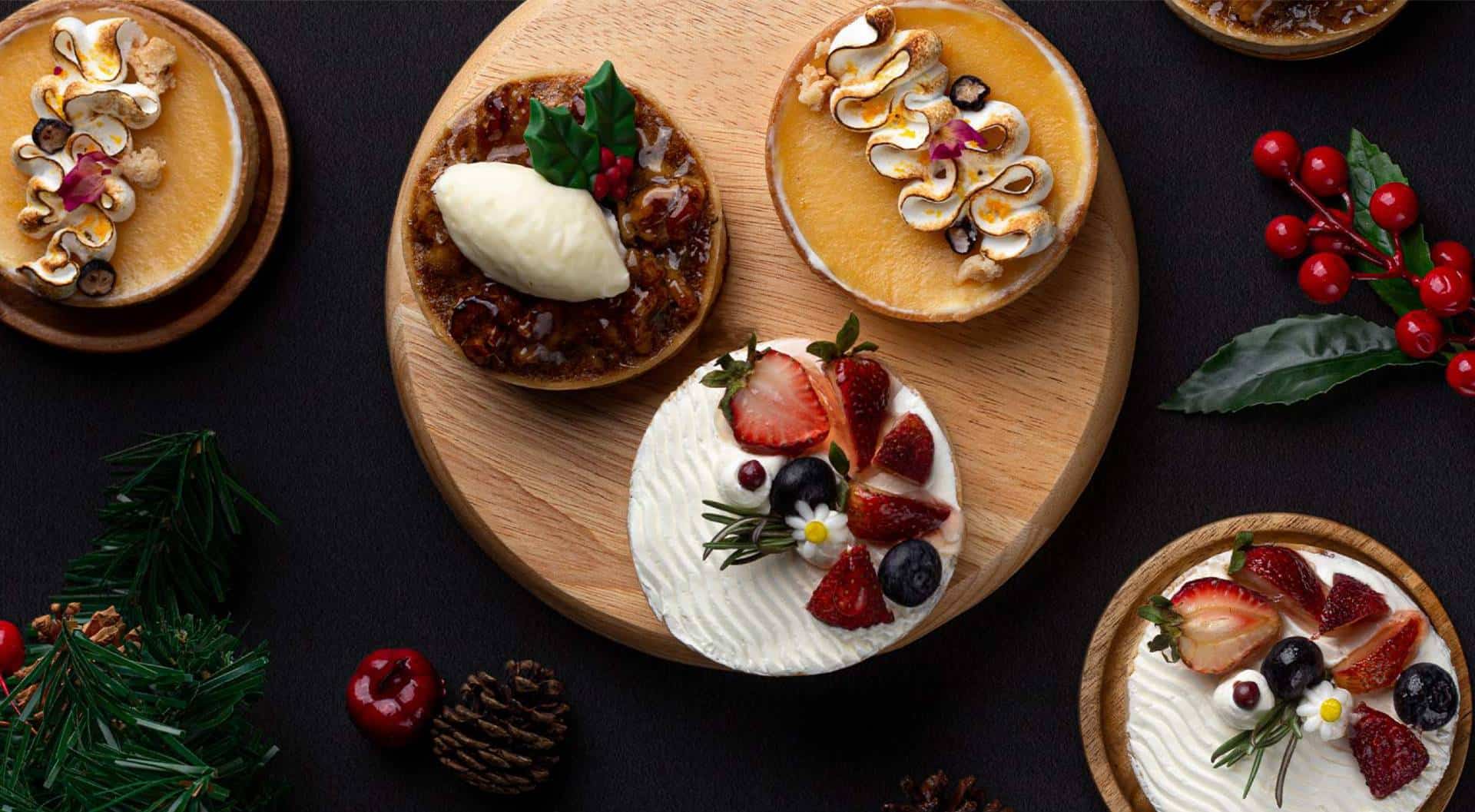 From luxurious chocolate cakes to the perfect Christmas cookies, Baker's Brew's festive offerings will make Christmas a memorable one. Highlights include the Hazelnut Feuiletine Forest Cake with smooth hazelnut mousse sandwiched between moist chocolate cake layers on a crisp feuilletine base, and fresh forest berries on top for a splash of colour; and Blackforest Cherrybomb Yule Log, a classic filled with cherry compote cream in between chocolate cake layers.
As for gifting ideas, we suggest the dense and flavourful Mini Fruit Cake Loaf; Baker's Brew Christmas Cookie Signature Deluxe Gift Set featuring five delicious flavours (Salted Duo Chocolate, Black Truffle, Matcha Azuki, Maple Pecan, and Yuzu Cranberry Pistachio); or Festive Tarts (Maple Almond Walnut, Yuzu Meringue Passionfruit Curd and Strawberry Cheese Pistachio).
Get 10 percent off when you place your orders before 10 December. Use code XMASEB2021 at checkout. Order here. Alternatively, visit Baker's Brew Cafe at Paragon from 1 to 10 December to enjoy 10 percent off retail price.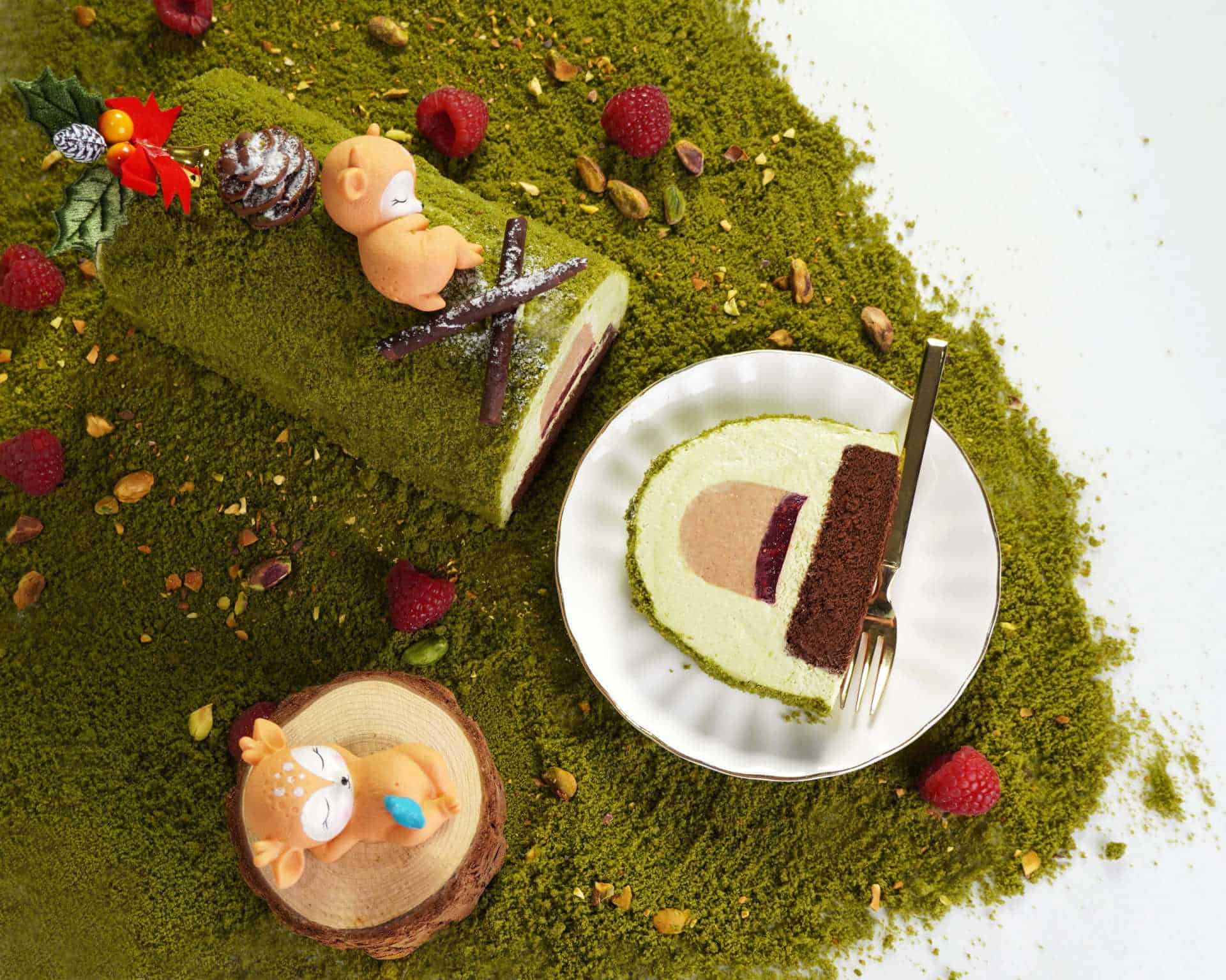 How can you not smile when you have a dessert named Yule Hee Hoo! (exclamation mark included)? This new log cake by Cat & the Fiddle is nutty, sweet and tangy, featuring a hazelnut chocolate praline base with velvety pistachio cream cheese mousse enveloping a chocolate cream cheese and fruity raspberry ruby centre. Covered in aromatic and bittersweet matcha green tea sponge crumbles, this creation also comes with an adorable miniature reindeer topper.
Best of all, it's halal-certified which means more people can enjoy the Christmas treat. Get 20 percent off from now till 12 December. Get 15 percent off from 13 to 19 December. Order here or at its 12 retail outlets islandwide.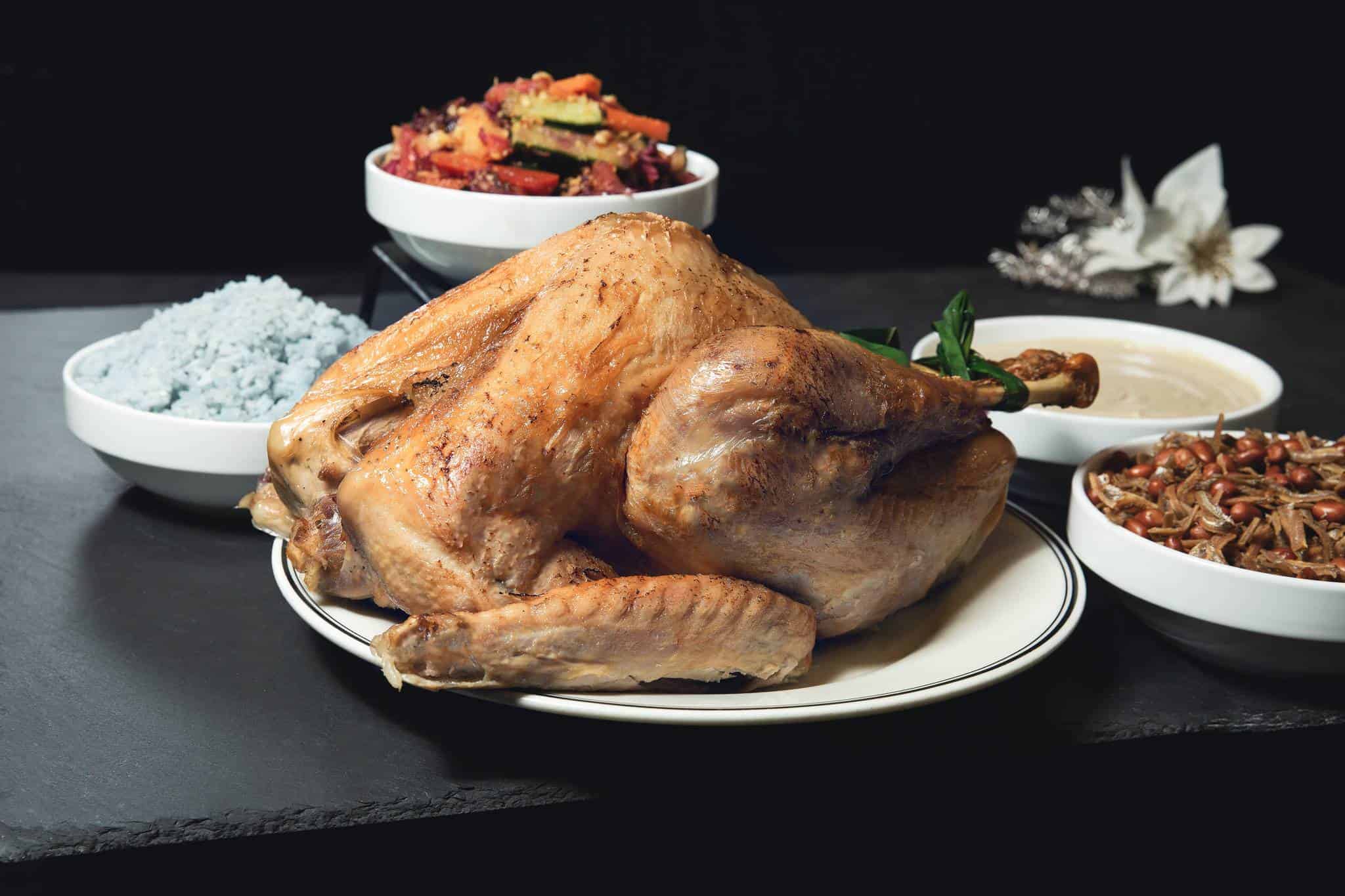 If you were a fan of Paul's 2020 Christmas menu, you'll be thrilled to know that some of the highlights are making a comeback again this year. Just order up the White Curry Roast Turkey to please the local in you, or go for some Sriracha & lemon turkey ham if you think you can handle some spice. Hosting a small get-together? Then choose Paul's savoury pastry boxes comprising mushroom, lobster roll and duck breast tartlets. Pre-orders available here.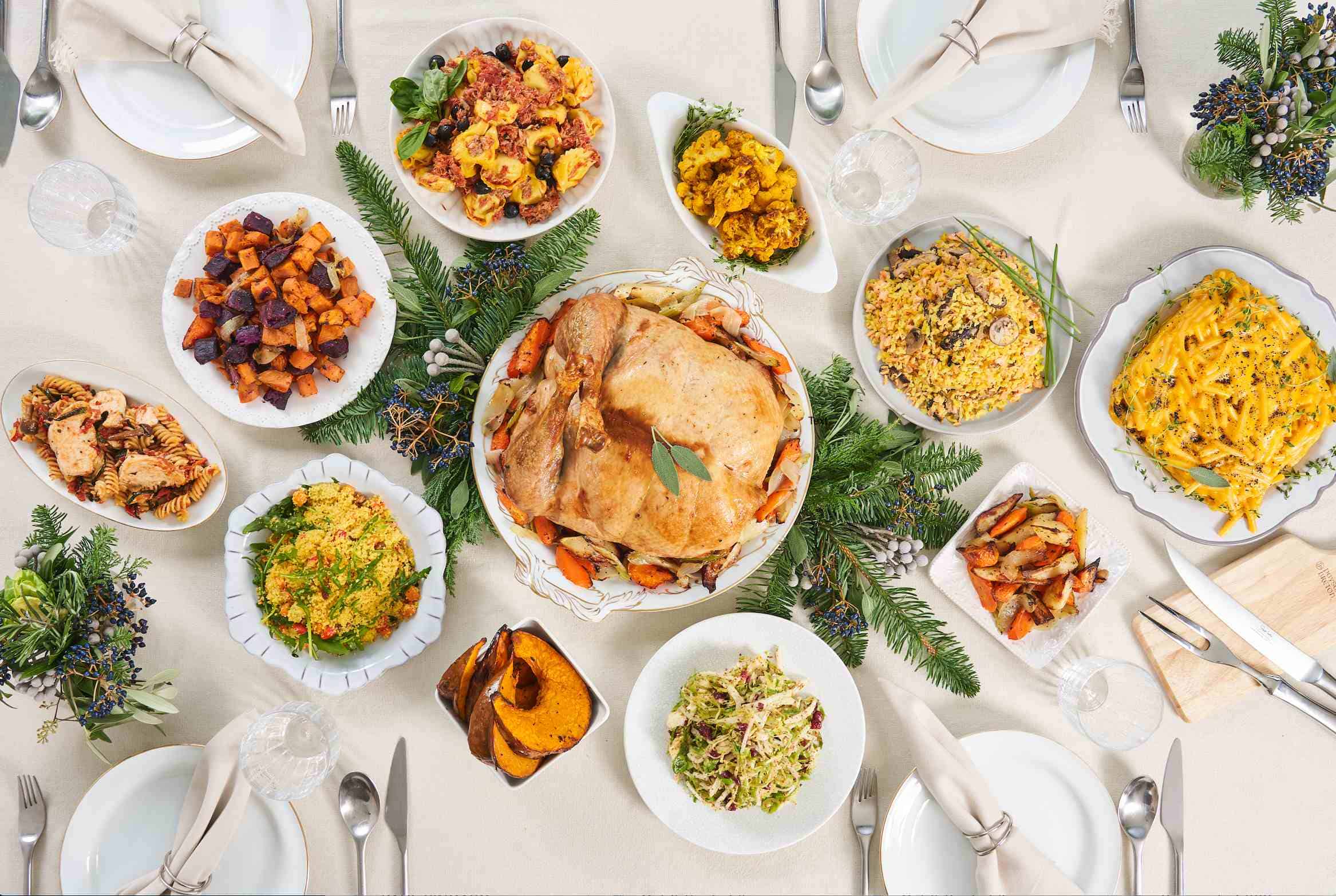 Enjoy a charming yet convenient Christmas meal with the fam thanks to Da Paolo Gastronomia, which is doling out everything for the holiday season – from gifting options to hosting necessities. The star of their takeaway menu this year is without a doubt the Double-stuffed Deboned Roast Turkey, that features two deliciously different stuffings. That means you can easily carve into a 3.5kg bird packed with Italian spiced sausage as well as vegetables that lends a lighter finish.
Longtime patrons of the deli and restaurant chain will also be delighted to know that the cafe's popular side salads are part of their festive line-up too, completing a satisfying but healthy feast. Order Da Paolo Gastronomia's festive goodies here. Available from now till 26 December.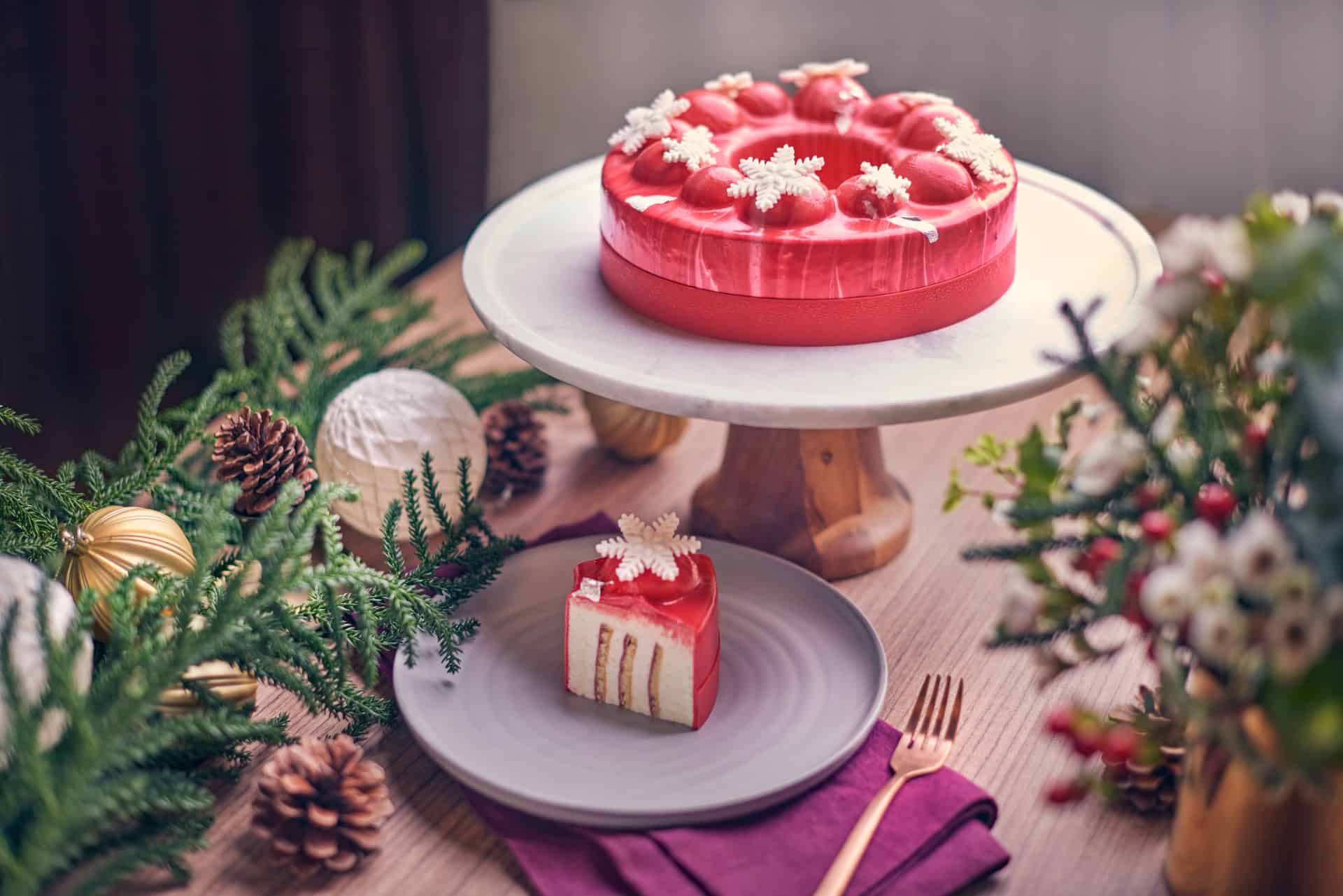 This year, the hotel offers an incredible selection of takeaways for a homely celebration. Try the new Asian-inspired renditions of the festive bird such as Coffee Turkey with Flavoursome Fried Rice, Curry Turkey Potato Pie, Deep-Fried Turkey Roll in Mala Style, Deep-fried 'Hong Zao' Turkey Breast Strips, and Chilled Smoked Turkey Breast, Beancurd & Ikura with Mala Sauce.
As for cakes, well, it'll be a fruity Christmas. The White Enchantment Log Cake is a tangy dessert with pistachio sponge, pear mousse, yuzu cream and white chocolate baubles, while the Assorted Berries Baked Cheese Loaf is generously topped with blueberries, raspberries, and strawberries. But the most striking is the Festive Fruity Mousse Cake, a vibrant pink cake shaped like a Christmas wreath. Homemade raspberry jam is layered between Viennese sponge cake, lychee-whipped white chocolate ganache, and apple mousse. Order here.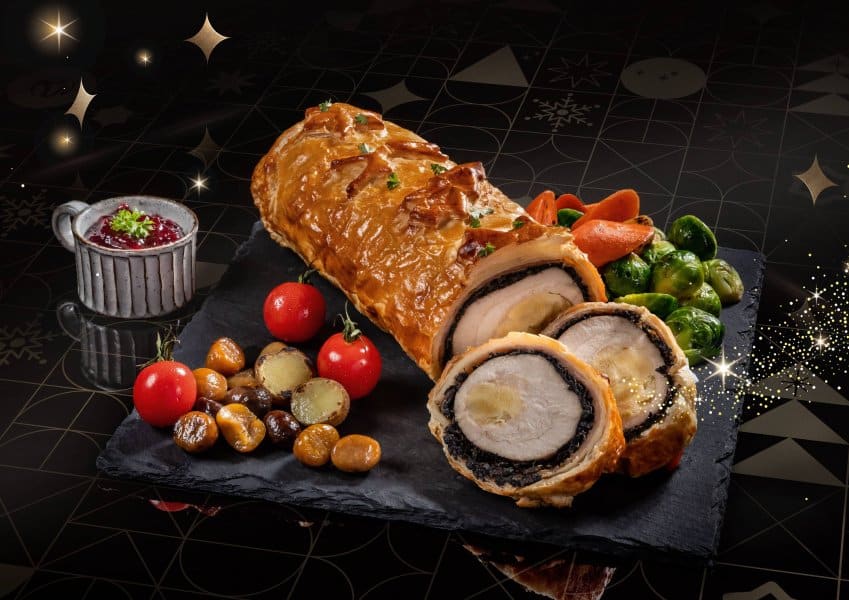 Wow your guests with exquisite festive roasts and desserts from Resorts World Sentosa. Indulge in their premium Festive Tomahawk Roast for two to three persons or take on their 4kg Turkey Wellington with Cranberry Sauce, marinated with in-house spices and serves up to 10. Finish off your meal on a delightful note with their vibrant Ruby Chocolate Yule Log with Raspberry. Mastercard holders get to enjoy exclusive discounts. View their takeaway brochures and order here.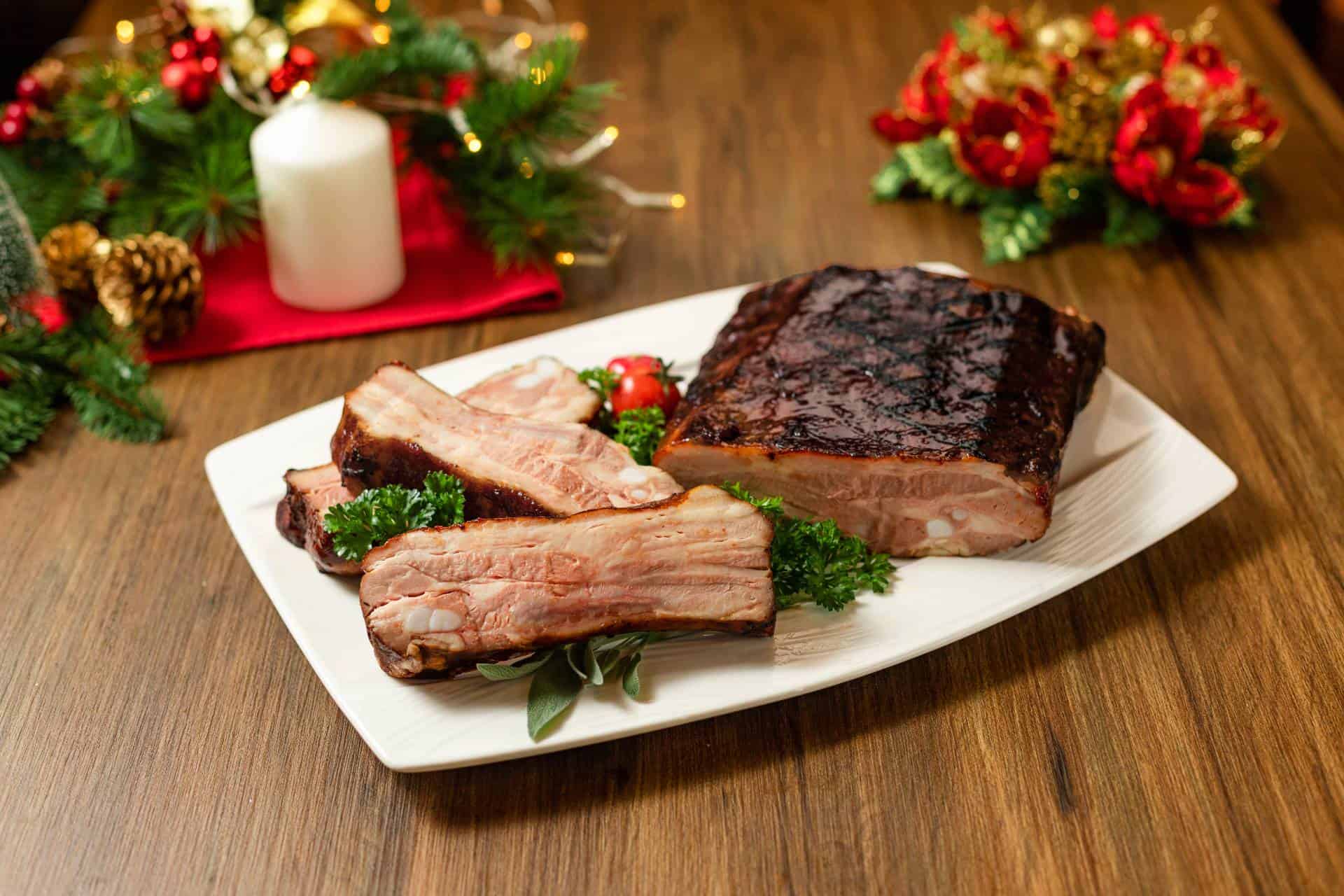 If you are looking for organic, allergen-friendly and preservative-free dishes to enjoy at home, specialty foods store Ryan's Grocery has it all. This year's offerings include Honey Smoked St. Louis Ribs prepared with Borrowdale Carbon Neutral Free Range Pork, gluten-free Ryan's Bone-in Gammon Ham, and Wagyu Striploin Roast. Conveniently pre-roasted or cooked, then chilled, simply heat them up in an oven and they are ready to serve. Order here.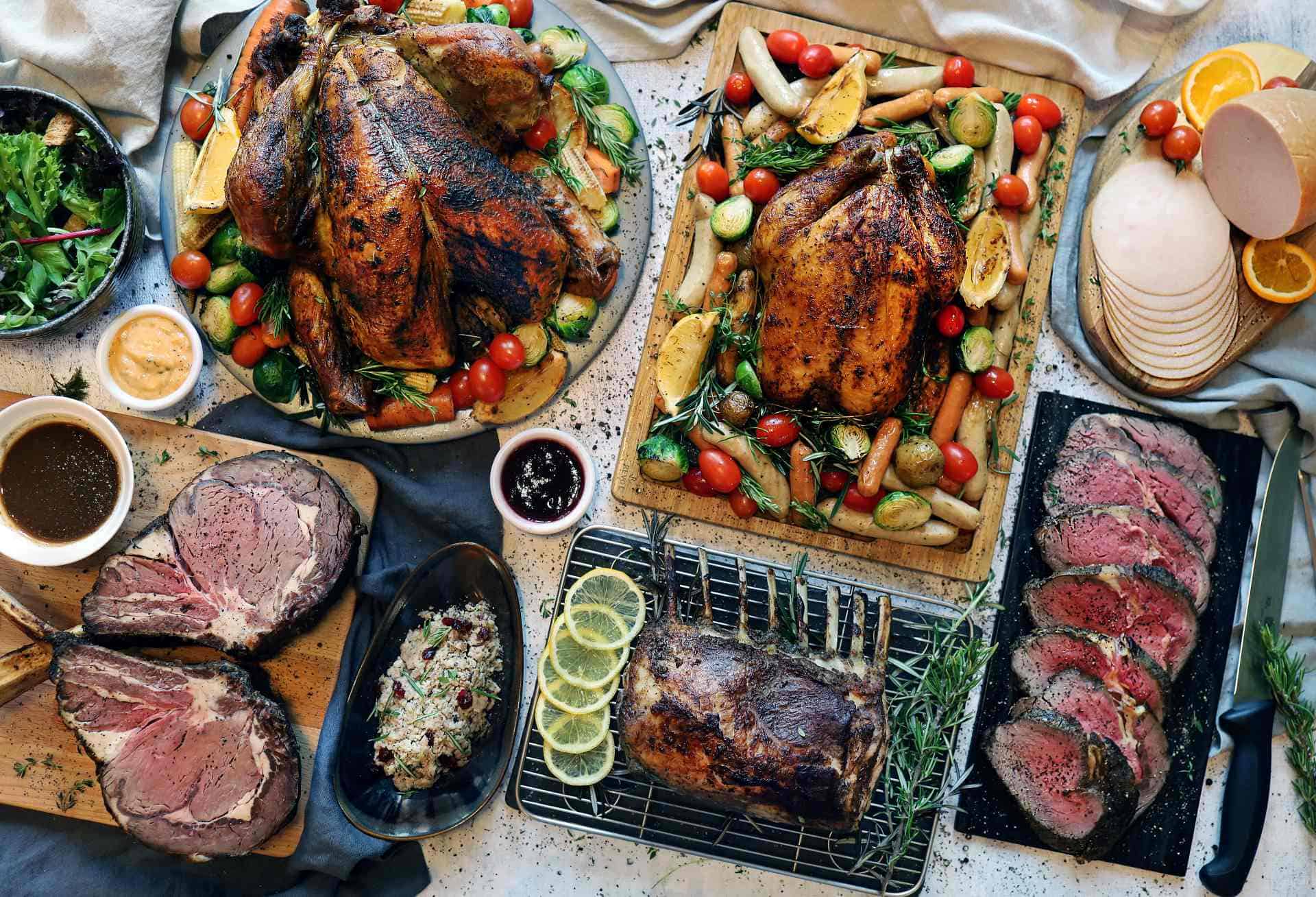 For a halal-friendly feast for the whole family, go with Swissbake's new festive platters and takeaway items. Part of their Joyous Yuletide Feast offerings, the Konditorei-inspired bakery will boast bundles like The Modernist for smaller families that prefer roast chicken, as well as The Traditional which beckons with a whole turkey, ham ball, chicken pies and salad.
Alternatively, The Gastronomy would be good for beef lovers as a ribeye steak is included. All festive eats can be ordered here, from now till 20 December. View the full Christmas catalog here.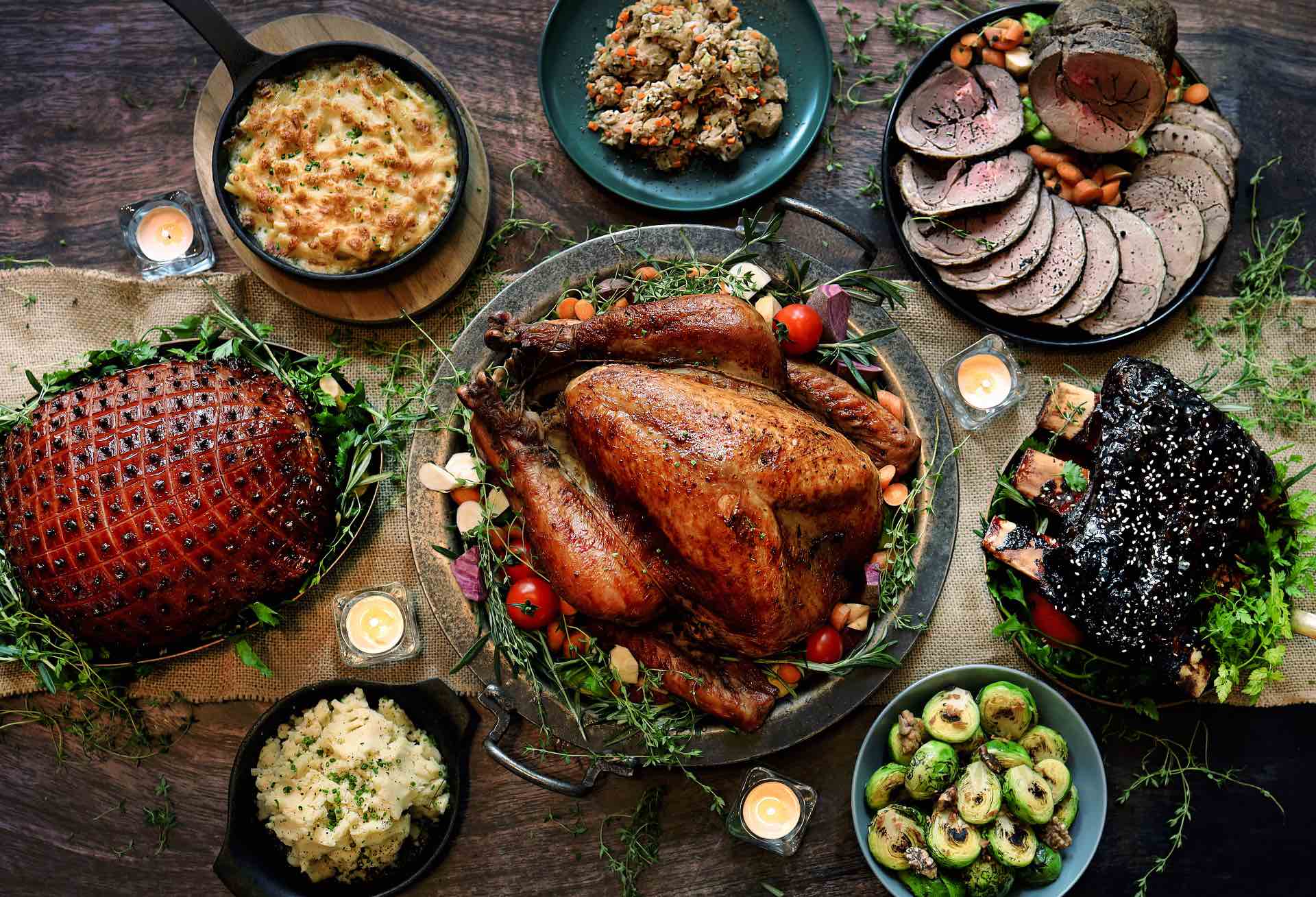 Spread the festive cheer loud and wide with none other than classy bistro concept The Marmalade Pantry. Presenting its 2021 Christmas In The Woods holiday highlights, all will get a chance to pig out thanks to enticing takeaway and delivery selections. We recommend the all-new Char Siew Beef Short Ribs and Moroccan Roasted Boneless Lamb, on top of all-time favourites such as the Maple and Clove Glazed Gammon Ham and Traditional Whole Roasted Turkey with Fresh Herbs.
You wouldn't want to miss out on sides either, as moreish dishes like the Brussels Sprouts, Mac & Cheese and Garlic Mash await. The Marmalade Pantry's festive gourmet highlights are available for orders from now till 22 December at all outlets. Make your selections here.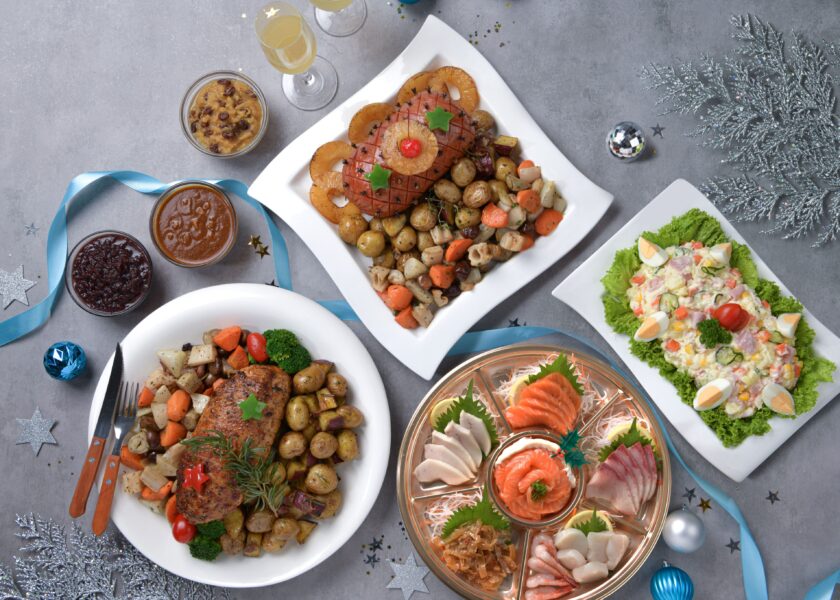 Choose from 19 Christmas takeaway offering from Ichiban Boshi, Ichiban Sushi, Kuriya Japanese Market, and Gokoku Japanese Bakery (under RE&S Enterprises). Among the sashimi and sushi platters is the Merry Maki Platter, thematically arranged in a shape of a Christmas tree. For a fun family activity, go with the Do You Want to Build-a-Sushi? DIY Sushi Set.
A la carte main choices include the four-hour Red Wine Beef Stew ($68.80); Yuzu Mustard Baked Salmon for Norwegian salmon basted with a yuzu-mustard mixture and accompanied with a tangy dill sauce; or go for the Christmas Spiced Roast Chicken roasted with six different herbs and spices, and served with house-special red wine brown sauce and sour spicy cranberry kosho sauce. All mains come with roasted baby potatoes, root vegetables and Japanese chestnuts. Finish with a trio of Bûche de Noël logcakes (Chocolate Hazelnut, Strawberry and Matcha Azuki) from Gokoku Japanese Bakery. Christmas bundles for more savings start from $88 for four persons onwards. Order at https://christmastakeaways.res.com.sg/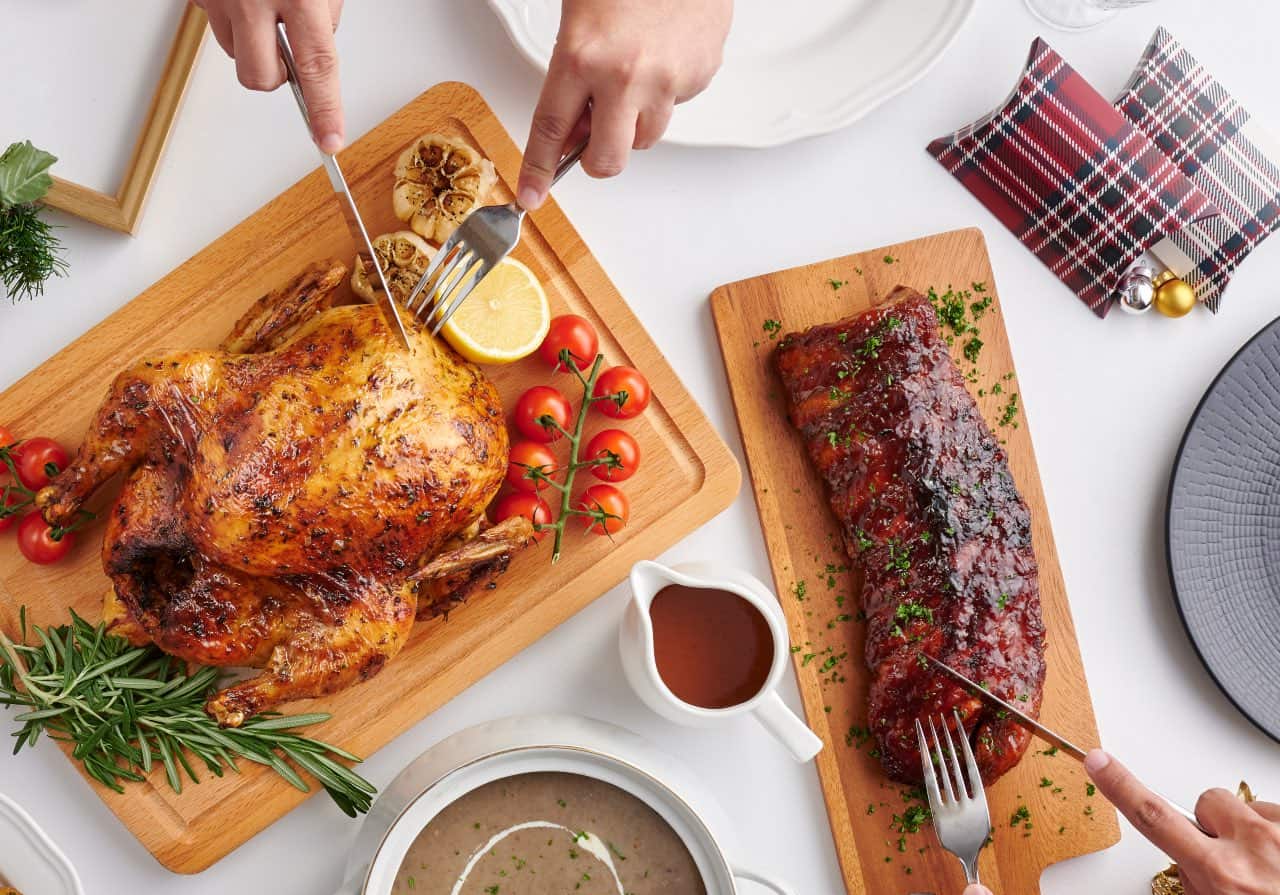 Indulge in the perfect home feasting festivities with a slew of specially curated new bundle highlights from York Hotel. "York's Celebration Bundle" serves four to five and features specials such as Oven Baked Fajita, Slow-smoked Barbecued Pork Rib, Homemade Mushroom Soup, Vegetable Lasagne and Roasted Vegetable. Alternatively opt for Festive Gourmet Bundle which includes the Celebration Bundle, as well as the Seafood Harvest in a Bag featuring salt-Crusted Salmon and an array of seafood. Other classics (they can be purchased a la carte or as part of a bundle) include Herb Roasted Chicken with Truffle Jus, Crab Bisque with Cognac, among others. Order here and enjoy 10 percent off festive treats till 2 January 2022.
A version of this article first appeared on SG Magazine.
SHARE