Best croquetas in Singapore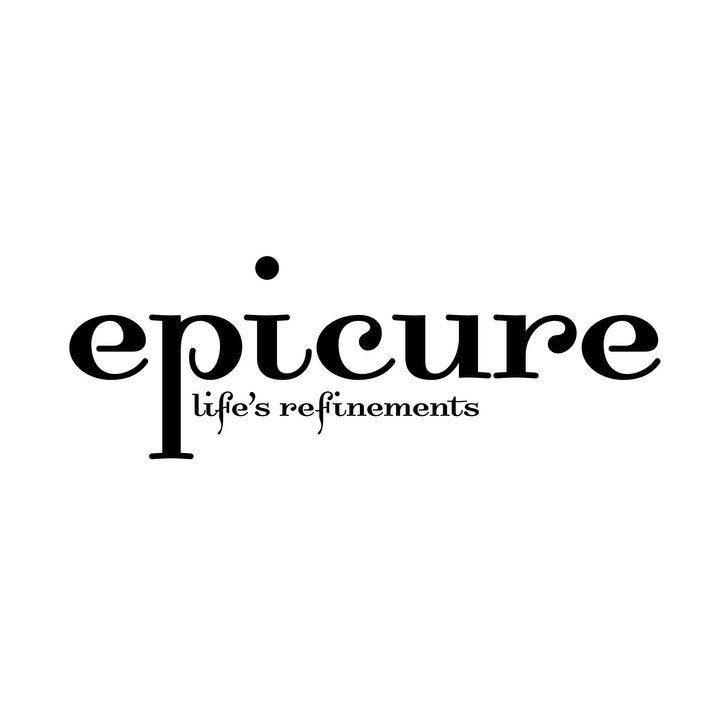 · 27 March 2015
·
Food
The Spaniard's rendition of the French croquette, these fried poppers are a staple on tapas menus. Eat them hot – crisp breadcrumbed exteriors give way to molten centres of velvety smooth béchamel, the perfect foil to chunks of salty jamón, earthy setas and rich seafood. We've rounded up our top picks of the addictive starchy morsels.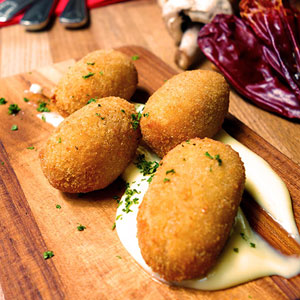 MY LITTLE SPANISH PLACE
A lighter roux – made from olive oil instead of butter – makes these croquetas stand out. In addition to flour and salt, the roux is also specked with cured, chopped ham, then generously crumbed in flour, beaten egg and bread crumbs. After surfacing from a sizzling pool of vegetable oil, the croquettes stayed crispy throughout and the centres remained perfectly molten. 619 Bukit Timah Road. Tel: 6463 2810. Book a table at My Little Spanish Place with Chope.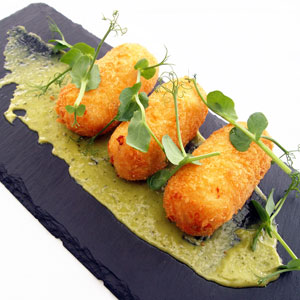 SALT TAPAS & BAR
We're partial to the jamòn and manchego cheese croquettes at Salt Tapas & Bar if solely for the silky soft potato insides. The secret? Spuds are baked on a bed of rock salt to retain their moisture, resulting in fluffy rather than crumbly flesh. Matched with jamón ibérico de bellota from Spain's Sierra de Francia region and rich Manchego cheese with just a touch of nutmeg and black pepper, plus a basil – mayo dip on the side, it's a combination that works. #01-22A Raffles City Shopping Centre, 252 North Bridge Road. Tel: 6837 0995. Book a table at Salt Tapas & Bar with Chope.
DON QUIJOTE
There are some 30 offerings on Don Quijote's hot tapas menu but the croquetas are palate teasers without diminishing your appetite for the main event. They're small enough to pop in your mouth but also big on flavour, with a crisp, crumbed coat that breaks open to reveal a creamy roux and strips of thin, salty iberico. #01-02, 7 Dempsey Road. Tel: 6476 2811. Book a table at Don Quijote with Chope.
BARRAKA BAR & RESTAURANT
We ordered both the Black Squid Ink Croquetas and the Ham & Cheese Croquetas – with the former arriving at the table earlier. The dark-crumbed spheres crisply gave way to a delicious black abyss within, with tangible chewy morsels of the squid's flesh bathed in the mild peppery flavour of the ink. Similarly, the Ham & Cheese were served piping hot with satisfying chunks of Spanish ham, wholly aromatic but light on the palate. Neither needed additional condiments nor sauce, and rightly so, none were given. #01-18/29, 11 Unity Street. Tel: 6737 9130
VIDA VINO
[CLOSED]
The kitchen is run by chef Victor Caballé Molina, who trained in three Michelin-starred restaurant Chez Nico on London's Park Lane. In hearty Spanish fashion, the Ham Croquetas had a generous crust that was ever-so-satisfying to cut into. The molten béchamel middle bore one-centimetre cubes of ham that were garnished with balsamic vinegar and chives. 29 Keong Saik Road. Tel: 6222 1963
BODEGA Y TAPAS
[CLOSED]
When it comes to something as rich as deep-fried croquetas, it takes real dexterity to serve a portion of 10, and not have your guests experience palate fatigue. Each morsel makes for just two bites, delivering punches of creamy roux and jamòn iberico. It comes sided with a tangy tomato sauce that bears just a slight tinge of heat when the saltiness starts to build up, refreshing the palate for yet another bite of creamy goodness. #01-29 Orchard Hotel. Tel: 6735 3476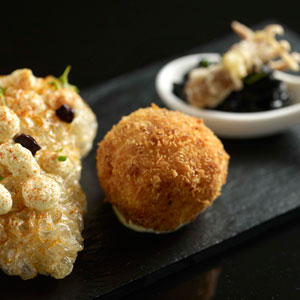 UNA
Chef Jean-Philippe Patruno doesn't just employ Cinco Jotas (5J) jamòn in his croquetas – he's generous with it too. Every bite contains multiple cubes of the acorn-fed ham nestled in a freshly-made roux of milk, butter and flour. Overnight house bread is kept dry, then crushed in a blender to coat each ball before they're fried to a crisp in canola oil. 1 Rochester Park. Tel: 6773 0070. Book a table at UNA with Chope.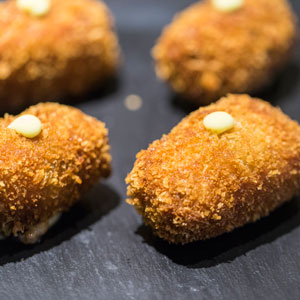 FOC
While the ibérico ham croquetas at FOC are top notch, we'd recommend you also try the less common Croquetas de Setas. Stuffed with button and cèpes mushrooms sourced from France, the crunchy morsels break apart to yield a hearty meaty and nutty aroma (typical of the porcini variety) infused in the creamy béchamel filling. 40 Hongkong Street. Tel: 6100 4040. Book a table at FOC with Chope.
ZSOFI TAPAS BAR
We were a little hesistant as Zsofi's Croquetas de Queso con Jamon had unevenly fried breadcrumbed textures. But the thin crispy coat revealed a light but still smooth and velvety béchamel filling, a welcome break from the usual richness of the white milk and roux sauce. Cubes of jamon punctuated the fritters with salty bursts of flavour. 68 Dunlop Street. Tel: 6297 5875. Book a table at Zsofi Tapas Bar with Chope.
LOS PRIMOS
You cannot miss this restaurant and tapas bar – its eye-catching yellow awning will usher you inside. We tried both the Croqueta de Jamon Iberico and another version, the Croqueta de Pollo. Both boast the satisfying smack of salt, and are excellent with beer, but we were partial to the ham for its standout flavour and topping of crisp jamon bits. #01-01, 81 Club Street. Tel: 6423 1773
SHARE