Ready, set, lunch
When time is of the essence, set lunches are a quick way to sample a restaurant's signature dishes.
MODERN EURO-INDIAN
Where: Krish. 9 Rochester Park. Tel: 6779 4644
What: Launched last November, Krish was opened for dinner only. But from 1 September, the restaurant will offer a set lunch menu featuring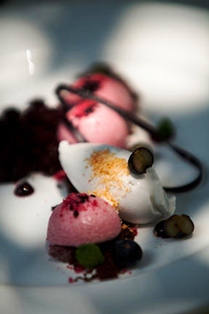 modern European cuisine with South Indian accents. Be warned: portions here are generous, and coupled with the restaurant's tranquil setting in Rochester Park, you might be tempted to take a snooze after lunch.
Hits: Spiced Carrot Ravioli—a gorgeous dish of ravioli in a ginger-brown butter emulsion topped with pink pomegranate gems. Warm carrot puree is perfumed with a rich melange of Indian spices and enveloped by little blankets of pasta.
Misses: Milk and Cookies—six pieces of palm-sized cookies (chocolate chip, and oatmeal raisin) stacked clumsily alongside a tall glass of ice-cold milk, is a tad too heavy going for dessert. The Blackberry Parfait and Chai Masala Creme Brulee are better alternatives.
Price: $28++ for a 3 course and $42++ for a 4 course.
You heard it here first: It's not on the menu but if you ask for the Evolution of the Caprese ($24), chef Matthew Baker will make you a brilliant remake of the traditional Insalata Caprese—green and red heirloom tomato sorbets on a crostini, drizzled with Taleggio fondue.
CHINESE
Where: Xi Yan. 38A Craig Road. Tel: 6220 3546
What: It's a great private dining restaurant but it comes with its fair share of conditions. You have to find a posse to fill a dinner table of eight, and even then it's almost always booked with its limited seating. With its new express set, just a party of two diners can enjoy a delectable lunch in under an hour.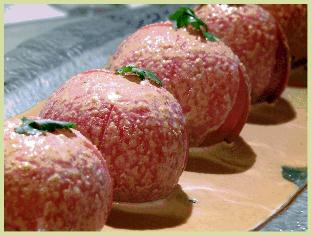 Hits: Greenhouse Tomatoes with Wasabi Sesame Sauce, Xi Yan's signature dish, is offered as a lunch appetiser. Plump succulent tomatoes are glazed with a rich and intense sesame sauce with slight wasabi nuances.
Misses: Tofu Ice Cream on Pandan Rice with Coconut Cream—unintended as a complicated mish-mash of flavours, this dessert turned out to be just that.
Price: $28++ for 3 course.
You heard it here first: Originally intended for just a one-month promotion, Xi Yan's set lunches are here to stay. The menu will be updated every couple of months.
ITALIAN
Where: Trattoria Milano. 3 Chu Lin Road, Bamboo Grove Park. Tel: 6760 3534.
What: Nestled in the quaint Hillview area off Upper Bukit Timah Road, this new Italian diner is a welcome escape from city buzz. This is where you'll want to to enjoy authentic, hearty Italian food. Bonus: Chef Domenica Truglia changes the set menu daily and ensures a range of choices to cater to his diners' dietary requirements.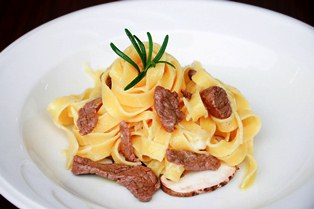 Hits: Fettucine alla Piedmontese—every mouth is a delight as tender strips of beef tenderloin, mushrooms and a touch of truffle oil are tossed with al dente fettucine and served in a velvety cream sauce.
Misses: Pannacotta. Don't get us wrong, on its own, the thick, cooked cream with just the right wobble was wonderful but the lemon and strawberry mixture it was served with was too diluted. A syrupy berry coulis would have worked perfectly in its place.
Price: $22++ for a 3-course.
You heard it here first: Chef Truglia does more than just flip pizzas or chat with guests to make sure everything is in order. The Milan native also produces the music that you hear at the trattoria. An avid singer and composer who has released three albums, his compositions range from slow rock to jazz.
FRENCH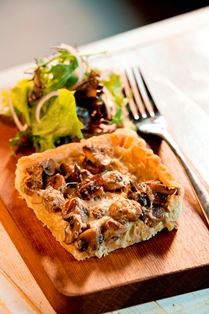 Where: Cocotte. 2 Dickson Road. Tel: 6298-1188.
What: Housed in the Wanderlust boutique hotel—the newest project from hip hotelier Loh Lik Peng serves up hearty French country fare and is also one of the best places for an afternoon caffeine fix. The La Pavoni coffee machine uses a traditional piston-driven system to brew a fine espresso.
Hits: Tart du Jour. It really doesn't matter what the tart of the day is, the flaky buttery pastry is made from scratch and is the perfect base for a savoury custard and toppings like mushrooms and sun-dried tomatoes. A sizeable wedge satiates hunger pangs.
Misses: Apple Tart Tartin—very French but very ordinary. The upside-down caramelised tart with vanilla ice-cream is another version of the ubiquitous apple pie a la mode. Try the Citron Tart instead, equally French but more refreshing, and with candied lemon peel adorning the pale yellow lemon cream.
Price: $28++ for a 3 course.
You heard it here first: Head chef Anthony Yeoh places heavy emphasis on local ingredients even though his menu offerings are rustic French . The pan-seared sea bass comes from Tekka Market. He explains his rationale: "I've gotten to know the fish stallholders really well and they supply quality produce. Besides, I think it's important that we support local businesses."