Mooncakes for all
Whether you are hankering for the familiar taste of traditional multi-egg yolk mooncakes to snowskin and alcohol-spiked flavours, the 'something for everyone' adage still holds true.
Peach Garden brings back its signature mooncakes—Premium Lotus Paste with Macadamia Nuts and Premium Lotus Paste with Four Yolks. The nuts provide a welcomed buttery crunch that contrasts well with the smooth lotus paste whilst the four yolks tucked snugly in velvety lotus paste is so popular that one week pre-orders are needed. New introductions are the Snow White Lotus Paste with Crunchy Black Pearl and Snow White Lotus Paste with Champagne Truffle—pristine white snow skins cover smooth lotus paste dotted with dark chocolate crisps and a champagne-filled chocolate truffle respectively.
From $45 – $52 for a box of 8.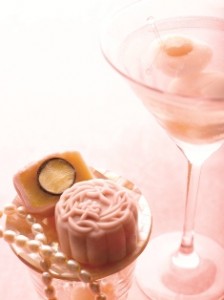 Available from 9 August to 22 September 2010. Visit www.peachgarden.com.sg for a list of outlets.
Mandarin Orchard Singapore's Snow Skin Quartet features four mini mooncakes—Tiramisu, Mango, Green Tea and Melon and Lychee Martini. The latter is a smooth white chocolate ganache with a hint of vodka within a dark chocolate core, enveloped by pale-pink lychee-infused snow skin and white lotus paste.
$48.80 for a box of 8.
Available from 16 August to 22 September 2010 at the Mooncake Deli Counter, Level 5, Mandarin Orchard Singapore, 333 Orchard Road. Tel: 6831 6320.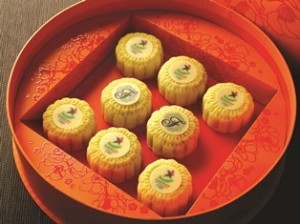 Fairmont Singapore's Pink Panache is an ambrosial mini snow skin mooncake with a Swiss chocolate and crunchy organic muesli filling. Also new is the Golden Qi—a blend of lotus puree mixed with tart figs, wolfberries and Ligusticum Chuan Xiong (a wild Chinese herb believed to promote the proper flow of Qi within the body). The hotel is also offering a limited edition Singapore Youth Olympic Games (YOG) 2010 Mooncakes—champagne truffle and chocolate ganache mooncakes crowned with the YOG logo in white chocolate.
From $50 – $68 for a box of 8.
Available from 13 August to 22nd September 2010. Visit www.fsfestiveorders.com or call 6338 8785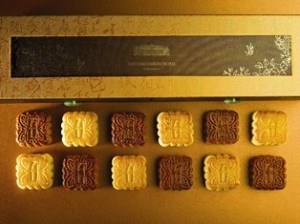 New offerings from The Fullerton Hotel Singapore include Rose Red Bean, Lavender Macadamia Green Bean, Hibiscus Strawberry and Osmanthus White Lotus snow skins. Our vote however goes to the Fullerton Auspicious Black and Gold Mini Mooncakes, the custard and black sesame fillings encased in dainty baked crusts melt in your mouth.
$55 for a box of 4. (Box of 8 for the Fullerton Auspicious Black and Gold Mini Mooncakes)
Available from 16th August to 22nd September at The Fullerton Hotel. Tel: 6877-818