Best beef pho in Singapore
Thin-sliced beef, fragrant herbs and an aromatic broth are the hallmarks of a great Vietnamese noodle soup.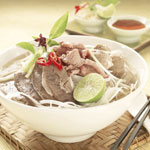 THE ORANGE LANTERN
The piping hot bowl of pho bo is refreshingly light, and will delight your tastebuds with its subtle hints of cloves and cinnamon. The eatery imports their dried rice flour noodles from a selected brand in Vietnam, and to flavour the soup, the chef concocts his own special recipe that includes star anise, coriander, basil and spring onion. Beef marrow bone, large onions and ginger are left to simmer for at least 18 hours before the broth is ready to be served. #02-52 , IMM Building, 2 Jurong East St 21 . Tel: 6896 2640. Book a table at The Orange Lantern with Chope.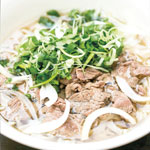 SAIGON BISTRO
Previously called NUOC, this chic and modern Vietnamese restaurant nestled near Orchard Road offers a jumbo-sized bowl of freshly made noodles replete with copious amounts of chewy beef tenderloin. The chefs grill ginger, shallots and onions before adding these ingredients into a pot of beef broth to boil for a minimum of five to six hours. 24 Mount Elizabeth, The Elizabeth Hotel. Tel: 6884 6808
SANDWICH SAIGON CAFÉ
This bustling hole-in-the-wall café may serve a small portion of beef noodles, but it packs a powerful punch. Chef-owner Kelly Nguyen uses fresh noodles, and boils beef bone and oxtail for seven to eight hours to make the savoury broth. The restaurant also uses five different spices—star anise, cloves, cinnamon, cardamon and coriander seeds, to bring out a light hint of spiciness in the dish. 93 East Coast Road. Tel: 6345 3849
LONG PHUNG VIETNAMESE RESTAURANT
This Joo Chiat outfit won't score any marks for its décor and ambience. However, they do know how to whip up some tasty Vietnamese treats. The Pho Nam is chockfull of tender beef slices and brisket, onions and Thai basil. Add a little squirt of fish sauce and a sprinkle of red cut chilli, and you'll have a bowl of delicious, invigorating broth. 159 Joo Chiat Road. Tel: 9105 8519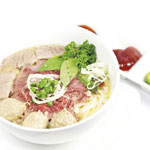 SEN RESTAURANT & WINE BAR [CLOSED]
Replete with three textures of meat, the pho here features a thicker chew of brisket alongside tender, thin-sliced beef. Pick the springy beef balls out from the soup (simmered with spices for eight hours) and dip them liberally in tau xi, a sweet black bean sauce. Instead of traditional iced coffee, try washing down the noodles with one of the restaurant's French wines. Order the Chateau Moulin de Roquette 2009. It is a perfect pairing with the red meat and complements the herbaceous notes of Asian basil and long parsley. 704 Geylang Road. Tel: 6841 5653
NAM NAM NOODLE BAR
There's always a queue to get into Nam Nam Noodle Bar, even when you arrive after the lunch and dinner hours. The wait, however, is worth it, especially if you have a weakness for fragrant broths. Nam Nam's pho comes in a variety of flavours, and the best pick has to be the Pho Beef Combination, an offering of rice flour noodles, beef steak slices, beef balls, shank, tendon and honeycomb tripe nestling in a perfumed, translucent broth. The small amount of vegetables means it lacks a little of the herbaceous note found in other phos loaded with greens. But that is a quibble as the juicy and wobbly beef tendon and tripe make this pho irresistible. #B1-46/47 Raffles City Shopping Centre. Tel: 6336 0500
VIET LANG [CLOSED]
The proof of a good beef pho is in the stock. Made from beef bones and meat simmered for six hours, the steaming hot broth has plenty of depth and body. Fresh herbs like basil and lime produce incredible aromatics while beansprouts add texture to the bowl of simmering rice noodles. The generous portion of sliced beef completes this soul-satisfying meal. #01-03 The Arts House, 1 Old Parliament Lane. Tel: 6337 3379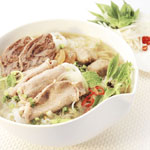 SO PHO
The first thing that catches the eye when a bowl of this noodle soup is set on the table is the slightly pinkish tinge of the beef brisket. The thin beef slices with layers of sinewy fat and the beef balls retain a tenderness that is good to the bite. But what really highlights the bovine goodness in the bowl is the richly flavoured broth, boiled with beef bones and a mix of spices that include cinnamon, star anise, and ginger. #B1-15 Nex, 23 Serangoon Central. Tel: 6636 8195
HANOI VIETNAMESE RESTAURANT
Master chef Van Nguyen's 15 years of culinary expertise in authentic Northern Vietnamese food shows through this steaming bowl of Hanoi beef noodle soup. The aromatic soup base is boiled for 48 hours using rib eye beef from Australia, and 18 different kinds of herbs such as star anise, cardamom, ginger and more. The accompanying homemade chilli sauce is a finely ground mixture of chilli padi, pepper, sugar, tomatoes, oil and lemon juice cooked together for an hour. #03-13B, 100am, 100 Tras Street. Tel: 6444 4406
SAIGON VIETNAMESE DELICACY [CLOSED]
You can always spot the signs of an authentic Vietnamese joint: the décor is nondescript, the owners have trouble understanding you, and the menu is usually riddled with spelling errors. But you can always count on the food to be fabulous. Generous slices of brisket and sliced beef came swimming in a large bowl of slippery rice noodles and soup, which was just a touch sweet, having been simmered with cinnamon, star anise and charred onions. Big as the serving was, we had no trouble reaching the bottom of our bowls. 749 Geylang Road. Tel: 9680 4363
Excerpt from the April 2014 issue of epicure.