Best croissants in Singapore
There's no lack of bakeries serving this well-loved French pastry, but these 10 places get our vote.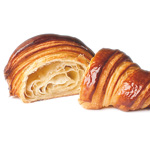 ARTISAN BOULANGERIE CO.
If only we could get hold of the croissant recipe at Artisan Boulangerie Co. What we do know is that the chefs prepare them a day early, leaving the dough to rest for 24 hours before the shaping process begins. The puff dough is chilled for at least one hour before it is baked in small batches throughout the day, so customers get to savour these petite, dark mahogany delights at their freshest. The bakery uses a French butter with 84 percent butterfat, and the pastry is brushed with egg wash before it is placed in the oven. #01-01, 118 Killiney Road. Tel: 6444 8130
Advertisement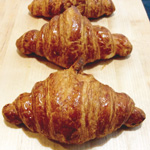 BÉCASSE BAKERY [CLOSED]
Bécasse Bakery folds its dough in such a way that the resultant airy layers inside create a plump sea-shell shape instead of the usual crescent curve. Imagine tearing away the crispy ends of the pastry to reveal feather-like layers that bear a toasty caramelised taste. #04-27-32, ION Orchard. Tel: 6238 6373
MAISON KAYSER
The strong aroma of creamy butter just out of the oven was unmistakable, with the golden brown crust giving way into crackling crumbs. The sweet dough beneath the crispy caramelised crust pulls away smoothly with just enough resistance for an elastic interior. It's impossible to eat just one. #B2-01, 501 Wheelock Place. Tel: 6636 3672
HEDIARD FRENCH CAFÉ & DELICATESSEN BOUTIQUE [CLOSED]
We are impressed with the skilled craftsmanship of Hediard's bakers as this slice of butter heaven is not only a feast for the taste buds but for the eyes as well. The curves along the pastry form a perfect crescent shape, which is not easily achieved in Singapore's humid climate, where many croissants soften easily. How Hediard manages to get their croissants to be so crispy on the outside and chewy inside remains a mystery, save for the fact that the ingredients come from top French suppliers. 123-125 Tanglin Road, Tudor Court. Tel: 6333 6683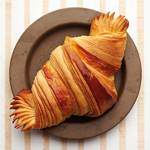 TIONG BAHRU BAKERY
These morning snacks from the famous Tiong Bahru Bakery need no special introduction. The chefs here use celebrity baker Gontran Cherrier's recipe to dish out these golden hued pastries. Baked with traditional French techniques and high quality French flour and butter, the bread has a crisp, well-formed and beautiful structure. Compared to other bakeries, the croissants have a matte appearance, and are brushed with a simple egg wash. #01-70, 56 Eng Hoon Street. Tel: 6220 3430
PARIS BAGUETTE CAFÉ
We found another teatime favourite in one of South Korea's top bakery chains known for its famous 'Royal Pudding' and wide assortment of pastries and cakes. Those with a sweeter tooth will take to the layer of sugar syrup smeared over the distinct dark crust to present a glossy exterior. Below the sugar coating is a slightly overdone top layer, which brings out a noticeable burnt aftertaste. Great with a cup of coffee. #02-48/53, Wisma Atria Shopping Centre. Tel: 6836 2010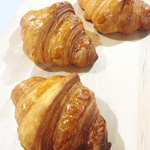 BAKERY ARTISAN ORIGINAL
The viennoiserie pastries here are unusually large, not that we are complaining. They are made using French butter from Normandy, and glazed with a mixture comprising egg yolk, eggs, and milk. Baker Christophe Grilo also supplies these golden brown treats to The Providore café. He says the key is to apply the egg wash and allow it to dry before baking. Go there early: the team currently only produces about 100 croissants daily. 37 Mactaggart Road. Tel: 6280 0158
THE BREAD PROJECT [CLOSED]
The chefs at this modest, unpretentious shop like their croissants flaky and airy, instead of having too much of a doughy texture. The bakery is meticulous about the temperature during the baking process, which is measured frequently to ensure the pastry comes out just the way it's supposed to. Although we detected strong hints of almond essence, we were nonetheless impressed with its sweet, buttery deliciousness, crunchy crust, and flaky bites. 174 Joo Chiat Road. Tel: 6440 9228
CHOUPINETTE
The croissants here don't have the fluffed-up appearance of its competitors, but they make up for it with their stretchy interior for an easier chew. Each bread is toasted to light golden brown perfection with a tint of gloss on the crisp exterior and a rich buttery goodness at its core. 607 Bukit Timah Rd. Tel: 6466 0613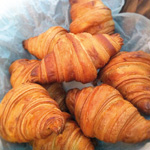 CARPENTER AND COOK
These flaky pastries are made in-house and baked fresh everyday at the eclectic patisserie cum vintage shop. The croissants come in a dark caramel shade and have a toasty bite to them. The mildly burnt underside gives off an aromatic, nutty flavour and adds a surprising element to the texture. #01-06, 19 Lorong Kilat. Tel: 6463 3648
Excerpt from the February 2014 issue of epicure.