Best unadons in Singapore
There's nothing quite as mouth-watering as a plump, glistening unagi nestling atop a bed of fragrant rice.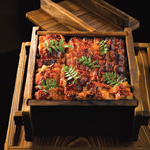 MIKUNI
Thumbs up for a stellar presentation and a generous portion of unagi that vaguely resembles glazed pork ribs at first glance. The sweet, savoury smell of grilled unagi is in itself an incredible appetiser. The freshness of the fish shone through with its tenderness but the rice was a tad little compared to the generous unagi serving. We are not complaining though as this is definitely one of the top-notch unagi don sets in town. 80 Bras Basah Road, The Fairmont Singapore, Level 3. Tel: 6431 6156
SHIN KUSHIYA
Every slab of unagi in this rice bowl is alternated with a pristine slice of salmon sashimi. The latter's clean taste balances bites of barbecued eel drenched in a thick glaze of dark soya and sweet mirin. Like the kushiyaki specialities here, the freshwater fish is prepared over bincho white charcoal, which imparts a welcome smoky flavour and crisp skin. #02-120 VivoCity, 1 Harbourfront Walk. Tel: 6275 8766
Advertisement
CHIKUYOTEI
This Singapore outpost of the renowned unagi specialist in Tokyo's Ginza is a favourite haunt among Japanese expatriates. The restaurant uses only live eels imported from Kumamoto and Kagoshima. Grilled, steamed and then grilled again with a homemade tare sauce, the eel is plump and slightly springy, and its flesh is pillowy-soft and subtly sweet. The tare—based on a secret recipe—gives an umami lift to the hearty eel and fragrant short grain rice. #01-01 Intercontinental Singapore, 80 Middle Road. Tel: 6825 1064
KEYAKI
It's widely known for its sushi and teppanyaki, but the Unajyu Ozen Set is something of a hidden gem. The eel—imported from Japan's coastal region of Kochi Prefecture—is first lightly steamed before it is grilled for 10 minutes. During the grilling process, the in-house unagi sauce (made of soya, mirin, sake and eel bone) is spread onto the eel five times, allowing the flavours to seep deep into the fish. This results in an eel with a sweet, slightly crisp and glistening skin, and a moist, melt-in-your-mouth flesh. Pan Pacific Singapore (Level 4), 7 Raffles Boulevard, Marina Square. Tel: 6826 8240. Book a table at Keyaki with Chope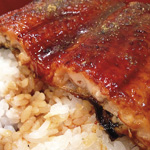 AKASHI JAPANESE RESTAURANT
We can't believe that we skipped the Unajyu Set during the several times we visited this establishment in the past (blame it on the excellent sushi). The Unajyu set gets our nod of approval for its generous serving of unagi. The eel is hot and moist, and perfumed with a sweet aroma from the rich tare sauce, which lends a glistening sheen to the fish. #B1-01 Paragon Shopping Centre, 290 Orchard Road. Tel: 6735 8887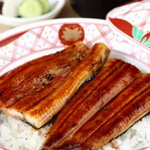 HAN [CLOSED]
This kushikatsu specialist also serves up an excellent unadon set. The fresh, plump unagi is juicy and soft, and the tare sauce is sweet and aromatic without being cloying. The complimentary starter of chilled pumpkin soup also does its part in refreshing your palate for this hearty meal. #01-04, Odeon Towers, 331 North Bridge Road. Tel: 63362466
IKOI JAPANESE RESTAURANT
The à la carte buffet menu here is extensive but we opted for the Unatamadon, a heaping rice bowl of Japanese pearl grains topped with an equally hearty portion of unagi. The eel is well-filleted and bears no trace of tiny spindly bones—just tender tare-glazed chunks that flake off with ease. Before tucking in, break into the coddled eggs with your chopsticks and swirl their soft tendrils around every melt-in-your-mouth morsel. #01-01 Hotel Miramar, 401 Havelock Road. Tel: 6887 3788
NADAMAN [CLOSED]
The unagi don set at Nadaman may be one of the priciest on our list but it is worth every penny. Two palm-sized eel fillets are grilled till perfection over hot coals and served charred over a steaming bowl of rice. The eels are imported from Kochi Prefecture of Japan, because head chef Koichi Ota says the meat is "more tender and there is no river smell". A savoury glaze of homemade sauce comprising eel bones, eel heads, and sake brings the dish over the top. Sprinkle a little Sansho pepper on the eel for extra kick. 22 Orange Grove Rd, Shangri-La Singapore. Tel: 6213 4571
KINKI
The unagi donburi at Kinki Japanese restaurant checks all the boxes of an A-plus unagi don. It has a caramelised sweet sticky sauce and the flesh of the eel is delicate and tender. What's different is the generous garnish of thinly slice Japanese leeks and frizzled ginger that adds another layer of flavour to the grilled eel. Don't confuse this classic staple with the Ungai Yaki Meshi—a modern take of fragrant unagi fried rice—which Kinki also serves. 70 Collyer Quay Tel: 6533 3471. Book a table at Kinki with Chope
TAMPOPO
'Fragrant' doesn't just define the slab of crisp-on-the outside, tender-on-the-inside eel atop our unagi bento, it's also an apt descriptor for the accompanying Koshihikari rice from Uonuma. Harvested in Niigata prefecture, the crop is cultivated using pure water of melted snow from the Echigo Mountains. #01-23 Liang Court, 177 River Valley Road. Tel: 6338 3186
Excerpt from the November 2013 issue of epicure.