Best lasagne in Singapore
With a hearty combination of pasta, meat sauce and melted cheese in every bite, this classic Italian dish is comfort food at its best.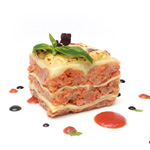 SENSO RISTORANTE & BAR
Instead of beef or pork lasagne, Senso serves up a yummy lobster variation that bursts with the flavours of the ocean in each mouthful. In between layers of homemade lasagna sheets are chunks of fresh and juicy Boston lobster meat, held together with a creamy béchamel sauce infused with shredded 20-month-old Grana Padano cheese. Though tasty enough on its own, the Bolo'bster Lasagna sits on a dollop of sweet tomato coulis.
21 Club Street. Tel: 6224 3534. Book a table at Senso Ristorante & Bar with Chope.
RISTORANTE DA VALENTINO
A reservation at this friendly family-run establishment is exceedingly difficult to come by on weekends, and a bite of its signature Italian dishes makes it easy to see why. To make his lasagne, chef Valentino stews his Bolognese sauce for over three and a half hours, and adds two secret spices into his béchamel before layering his homemade pasta sheets with parmesan cheese and fresh mozzarella. While the layers of pasta here were thicker than others on this list, the sheets were pleasingly al dente. 200 Turf Club Road, #01-19. Tel: 6462 0555
PIZZERIA MOZZA
We'll be more than happy to make our way down to Pizzeria Mozza on a Sunday especially for their piatto del giorno domenica (Sunday dish of the day)—Lasagna Al Forno. For this three-day labour of love, executive chef Karla Mendoza shares that fresh spinach pasta is made in-house on the first day, rolled into sheets on the second, then baked on the third. Meanwhile the meat for the Bolognese is ground on the first day, cooked on the second and rested on the third to allow the flavours to develop. Assembled together, the lasagna is topped with besciamella and grated Parmigiano Regiano, then baked to perfection.
#B1-42-46 The Shoppes at Marina Bay Sands, 10 Bayfront Avenue. Tel: 6688 8522
TRATTORIA NONNA LINA
Lucky diners have Grandma Lina to thank for this version, made from scratch using fresh tomatoes and homemade egg pasta. To make the filling, beef tenderloin is minced in house and cooked with a touch of white wine before being layered with a combination of fresh mozzarella, parmesan cheese, and béchamel sauce. The whole thing goes in the oven for two hours at a low temperature of about 100˚C, yielding an oozy, full-of-cheese-and-crispy-edges result. 61 Cantonment Road. Tel: 6222 0930. Book a table at Trattoria Nonna Lina with Chope.
PASTA BRAVA
Owner Rolando Luceri has been making this well-loved family recipe for 20 years. His version is served in a deep dish, with a generous serving of tomato sauce that is baked with the lasagne for 20 minutes before being brought to the table—a bubbling, lip-smacking combination of fresh mozzarella, parmesan cheese, homemade Bolognese sauce and perfectly-cooked dried pasta.
11 Craig Road. Tel: 6227 7550. Book a table at Pasta Brava with Chope.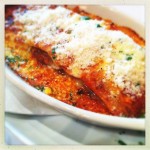 PREGO
The best lasagnes are rustic, rich and generous just like the ones offered at Prego, which are served in black Staub cocottes. Pasta sheets are layered with thick stew-like Bolognese sauce that has been simmered for a laborious five to six hours. And there is definitely enough cheese in this lasagne: every mouthful is a bite of chewy Mozzarella and grated Parmesan, tart tomatoes and abundant minced meat.
80 Bras Basah Road, Level 1 Fairmont Singapore. Tel: 6431 6156. Book a table at Prego with Chope.
OTTO LOCANDA [CLOSED]
Otto Locanda makes a delicate and small-portioned lasagne for those who are more peckish than famished. The sheets of pasta are made from durum wheat semolina flour, which are better able to absorb the umami flavours of porcini mushrooms and homemade black truffle paste. Finely diced carrots and Datterini cherry tomato sauce add a touch of natural sweetness to the dish.
32 Maxwell Chambers. Tel: 6224 0978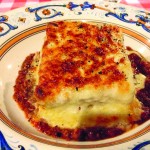 PETE'S PLACE
The checkered red and white tablecloths in Pete's Place scream the 80s, but this old timer in the Italian restaurant scene shows it still has the chops to dish out great la cucina italiana, mamma-style. Presented on a plate, the lasagne's thick, gooey layers of mozzarella hug delicious bits of beef bolognaise, while an aromatic béchamel sauce accompanies its crusted top dotted with slightly burnt bits of parmesan cheese. It's worth the 30-minute wait for it to be baked upon your order.
Grand Hyatt Singapore, 10 Scotts Road. Tel: 6732 1234
LA BRACERIA
Residents in Greendale Avenue can just pop into this much underrated trattoria whenever they want their Italian fix. Chef Fabio Iannone makes a lasagne that is finished off in the eatery's brick-fired oven, giving the pasta's bed of parmesan cheese a smoky, burnt touch that smells absolutely appetising. The lasagne, served in a baking dish, sits in a little pool of Bolognese sauce, which is soaked up the soft, luscious layers of mozzarella.
5 Greendale Avenue. Tel: 6465 5918. Book a table at La Braceria with Chope
INITALY
Chef Mario Caramella sure has a way with pasta; we were impressed with his Ravioli di Brasato and Spaghetti All'Aragosta on our previous visits, and this time we were equally taken with his vegetarian baked lasagna. The sheets of al dente lasagna held together layers of yummy basil pesto and zucchini. All other elements of the dish came together nicely: the freshness of the basil, the tart and sweetness of the tomatoes, and the saltiness from the generous shavings of parmesan cheese.
38 Craig Road. Tel: 6423 0918. Book a table at inItaly with Chope.