Show your love in different ways
From Persian to Catalan cuisine, whisk your loved one away on a culinary journey this Valentine's Day.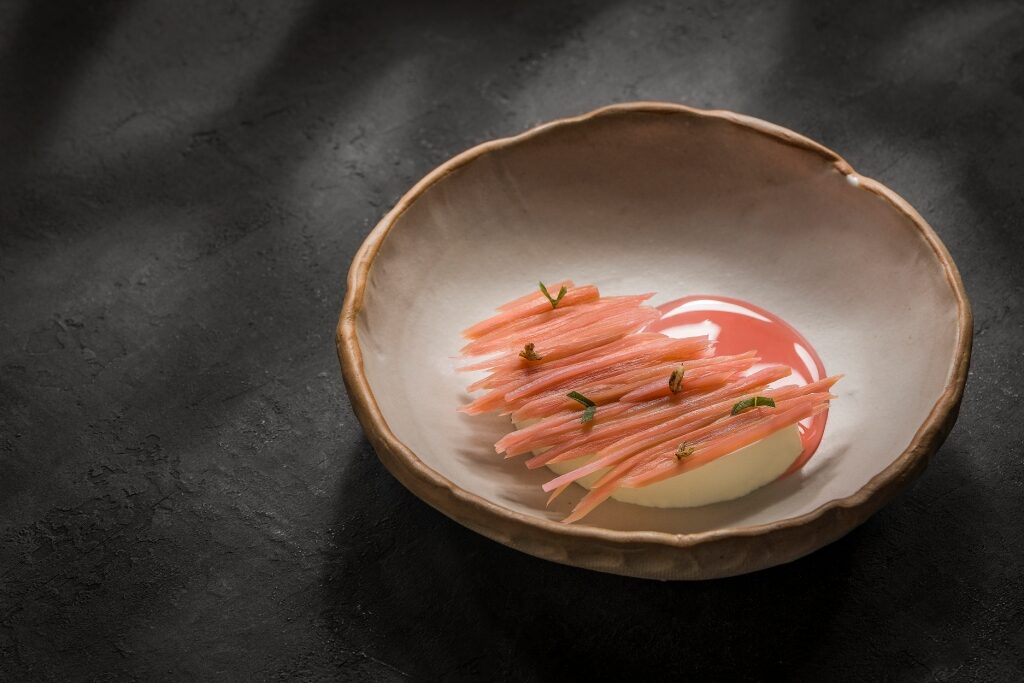 Get the CURE for love
Commemorate the romantic occasion with lunch or dinner at CURE. Whisk your loved one away to savour the Irish flavour of Nua Valentine's Day menus. Trust Chef Andrew Walsh to create menus that delightfully starts with Guinness-infused Soda, Stout & Treacle Bread and Potato Crisp Sandwich. Move on to oceanic delights such as the wild-caught Irish Brown Crab, Gallagher Speciale Oyster and Irish Blue Mussels. The latter is harvested off Shetland Isle and turned into chowder infused with cider mussel stock, root vegetables, parsley oil and lavender sorrel leaves.
The dinner menu also includes a five-day aged Silverhill Farm Duck, Native Berries, Salted Duck Egg. End the meal in sweet notes by sharing sweet bites like Avonmore Buttermilk as well as Oat Cookie and Jameson Cream. Lunch is $108++/person (beverage pairing is available at $88++/person), from 12pm until 2pm. Dinner is $248++/person (beverage pairing is available at $150++/person), 6pm-8-pm (first seating) and 8pm – 10ppm (second seating). Tel: 6221 2189 or email reserve@curesingapore.com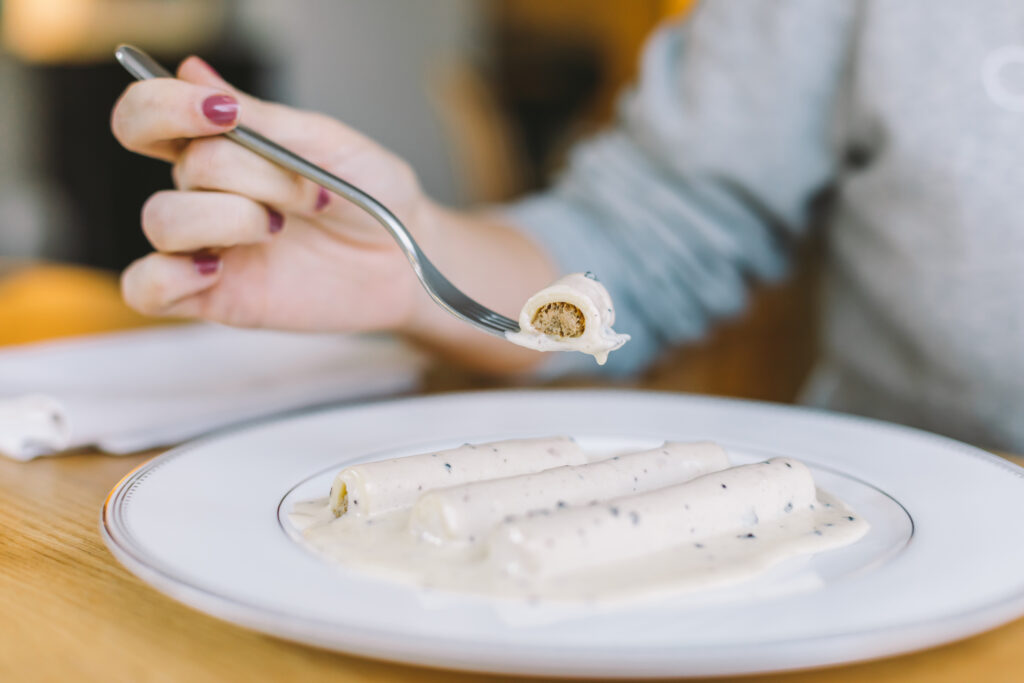 Romancing at Restaurant Gaig
Ask your loved one to sign up for a six-course Catalan dinner ($168++/person). Curated by Chef Martí Carlos Martínez, the saucy gourmet treats is all about passion and romance. Start off with a toast of cava before moving on to bites of Foie Gras with green apple foam, Mushroom Soup topped with crispy pork skin and Gaig's signature Cannelloni. The seduction continues all the way to the mains which feature Périgord black truffle. The mains are Sole Fish with Black Winter Truffle and Venison Tenderloin with Périgueux Sauce, complimented with hints of liquorice from Valrhona Araguani Dark Chocolate 72 % and caramelised nuts. A lovely serving of housemade sorbet, Valrhona Ariaga Dark Chocolate 66% with crispy mint close the sensuous journey. 6pm to 10pm. Tel: 9771 2674 / 6221 2134. Reservations can be made through https://singapur.restaurantgaig.com/contact/
A fiery evening at Blue Jasmine
Rekindle the fire with a robust Thai-Peranakan cuisine this Valentine's Day. Choose between two three-course menus, each served with complimentary house pour wine and a teasing bite of Chili Crab Crostini as the amuse bouche. Begin the feast with the Starter Trio (Cha-om Eggs Roll, Deep Fried Thai Fish Cake and Kueh Pie Tee), move on to Grilled New Zealand Ribeye topped with Asian green chimichurri, and Lava Cake with Coconut Ice Cream. Otherwise, opt for the second spicier menu: Starter Trio (Pan Seared Thai Crab Cake, Papaya Salad and Spicy Wings), piquant Whole Lemongrass Fish Fillet as mains, and last but not least, a creamy Chocolate and Strawberry Ice Cream with Crushed Peanuts as dessert. $129++/couple. 6 pm -10 pm. Tel: 68248851 or email hello@bluejasmine.co.sg
Dally delicately at Akira Back Singapore
Available at $138++/person, the five-course menu features Akira Back's favourite signatures. Have a complimentary glass of champagne before starting with the first treat of the evening: Tuna Mushroom Pizza. A succulent Toro Tataki follows next with a playful sting of wasabi miso. Move to Sake Steamed Sea Bass before arriving at the star of the show – a MB8 Tajima Striploin. My Sweet Valentine ends the evening with its intricate layers of housemade infused lychee jelly. A sake and wine beverage package is available at $88++/person. 6pm – 10pm. Tel: 68181914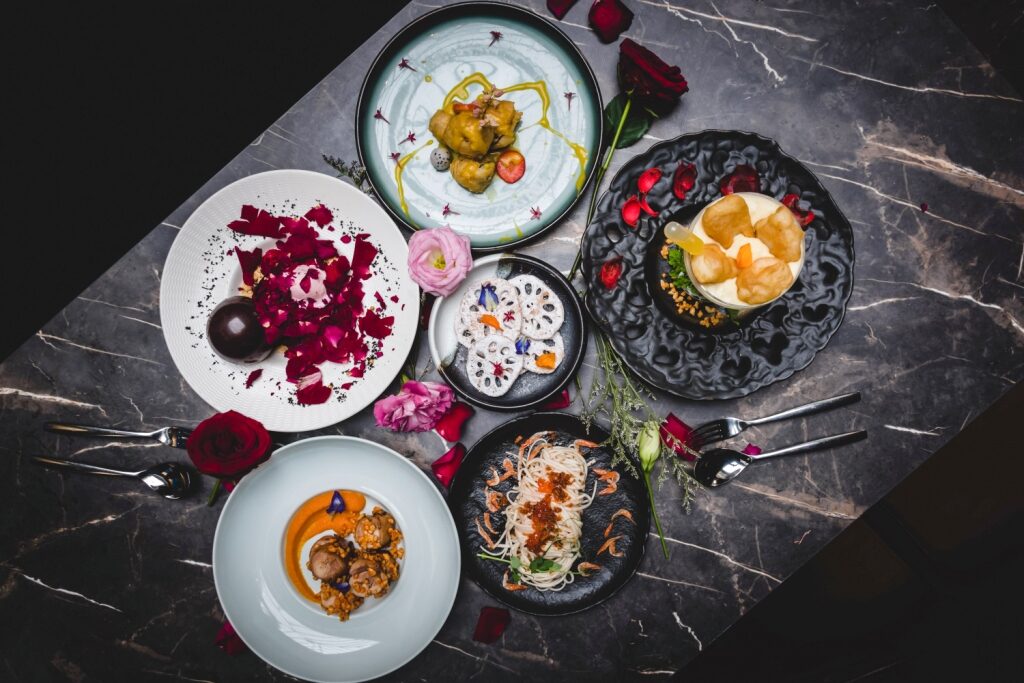 Write your love story at Mimi at the Riverhouse
Indulge in a curated four-course Chinese-inspired tasting menu on Valentine's Day. Designed by Head Chef Weijie, the romantic indulgence is priced at $168++/couple, inclusive of a house-brew "love potion" called Love at First Sip. Start with Sweet Biscuit of lotus root before a taste of the delightful Oyster Tempura with Mango Puree. For the mains, opt for either the Caramelised Roasted Chicken Ballotine with Aged Tangerine Peel or the decadent Champagne Roasted Cod & Mashed Truffle. Each lovebird gets La Mian with Ikura & Sakura Shrimp before dessert. Expect a playful Surprise Chocolate Ball with Edible Nitrogen Rose to end the memorable dinner. Available on 13 and 14 February, with two seatings (6pm – 8pm, 8.30pm – 10.30pm).  Tel: 88790688 or email mimi@theriverhouse.sg
A Middle Eastern affair at Shabestan
From 12-14 February, spoil your significant other at Shabestan, the award–0winning Middle Eastern Restaurant, with its specially curated 4-course Valentine's Dinner Menu (from $88++/person). Start off with the Love Potion, a glass of Cranberry, Pineapple and Lime Juice topped with Prosecco. The meal begins with Garden of Eden salad, with arugula, cherry tomatoes, cucumbers and black zeytoon tossed lightly in a pomegranate lemon dressing. Next up is the Tureen of Love, a cream of beetroot soup with thin beetroot petals. For mains, choose between the hearty Shabestan's Bakhtiari Platter, Beef or Lamb Bakhtiari with Chicken Shish Kebab; or the Jewel of the Sea, for Charcoal Grilled King Prawns and Seabass Kebab marinated with Saffron. Both the mains are served with Persian Saffron Rice. End on a sweet note with a Persian Muhalabieh crafted by Executive Chef Hany Mustafa, featuring a traditional milk pudding dressed with strawberry coulis with crushed pistachios. The menu includes tea or coffee, served with a special heart-shaped praline. Tel: 6836 1270 or book through www.shabestan.sg/reservation
Greek love at Zorba
Enjoy alfresco riverside dining at this Greek tarverna. On 13 and 14 February, the restaurant offers a three-course Rendezvous by the River ($98++/couple or $128++/couple for the riverside view). With a glass of Prosecco, start the culinary journey with Mezze Platter (hummus dip, taramasalata dip, calamari, spanakopita, and pita bread) and dream of future trip to Santorini. The Mediterranean Seafood Stew comes up next, a hearty bounty from the sea made of succulent grilled prawns, octopus, oysters, sea bass fillet, tomato, and olives. The dinner is available in two seatings, 6pm – 8pm and 8.30pm – 10.30pm. Tel: 88790688 or email reservation@zorba.sg