Best gourmet fries in Singapore
The humble French fry is getting star billing at restaurants these days. Think added flavours and tasty dips as accompaniments.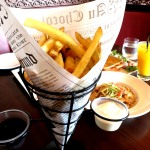 AU CHOCOLAT [CLOSED]
We like how the truffle fries from Au Chocolat are presented in a big cone of faux newspaper: it makes us feel like kids getting an indulgent treat at a carnival. The perfumed fries are crisp, snapping rather tensely like a stick with each bite. The fries are fried, tossed with premium white truffle oil, then finished off with truffle salt. They are so good on their own that the mayonnaise and barbecue sauce condiments are superfluous. L1-03, The Shoppes at Marina Bay Sands. Tel: 6688 7227
BALZAC BRASSERIE [CLOSED]
The flimsy shoestring fries from Balzac Brasserie may be the plain Jane among the other flavoured ones that we have shortlisted, but they are so seriously addictive, they almost diverted our attention away from our main course. Chef Jean-Charles Dubois deep fries the hand-cut thin strips of Idaho potatoes twice in sunflower oil, giving them a golden sheen and irresistible aroma. #01-01 Rendezvous Gallery. Tel:6336 0797
THE COASTAL SETTLEMENT
We visited this eatery in a quiet nook of eastern Singapore on a weekend evening, and it was packed to the rafters, which probably explained why our Truffle Fries took quite a while to arrive. But the wait was worthwhile: served in a retro mess tin, the fries were crisp enough, and the saltiness and truffle aroma were balanced, without overpowering each other. The dish also comes with a bittersweet tomato relish. 200 Netheravon Road. Tel: 6475 0200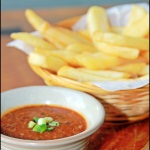 THE QUEEN & MANGOSTEEN
If you like having a variety of textures in your fries, make a beeline for these thick-cut beauties with varying sizes. These golden-brown gems are served piping hot, with a thick crust of exceptionally crispy skin and a steamy soft interior. The chilli crab dip, made fresh daily, comes with generous chunks of crabmeat, and its sweet, salty and spicy flavours make it a delicious accompaniment to the dish. #01-106/107 Vivocity. Tel: 6376 9380. Book a table at The Queen & Mangosteen with Chope.
NOVUS RESTAURANT & BAR [CLOSED]
Novus Restaurant & Bar was once known for their triple-cooked fries—a tedious offering that requires the spuds to be first steamed, frozen and then deep-fried. But it has since been replaced by equally delicious truffle fries that are served in a rustic bucket. Idaho potatoes are deep-fried once at 138°C then lightly tossed in white truffle oil and a fine dusting of parmesan cheese. #01-02 National Museum of Singapore, 93 Stamford Road. Tel: 6336 8770
HOUSE
First it was their legendary truffle fries—thin-cut strips of potato goodness topped with sprinkles of salt and lashings of white truffle oil. Then came their addictive sweet potato nibblets, lovingly dusted with sesame seeds. Now HOUSE has dreamed up a new quartet of fries, of which the curry mustard version—straw-cut potato fries seasoned with paprika powder, curry powder and a drizzle of mustard oil—got us ordering a second batch even before we finished our first. 8D Dempsey Road. Tel: 6475 7787
THE FACTORY [CLOSED]
This hole-in-the-wall café understands that condiments can make all the difference in the world when it comes to fries. Their fat chips, crispy shoestring fries, or a mix of both, are served with eight different sauces. Dress up your deep-fried potato with marmite honey aioli, sweet onion and bak kua, smoked cheddar and blue cheese, tartare with chopped gherkin, laksa pesto with roasted cashew, spicy roasted tomato with chinchalok, curry mustard aioli and vegetarian chilli crab. The fun is in trying all the dips. 22 Lim Tua Tow Road. Tel: 6283 7680
SPATHE PUBLIC HOUSE
We came to this hip restaurant to taste its signature Mohamed Sultan Meter Dog, but the garlic fries were an undisputed hit. To achieve an even golden colour, chef Claudio Sandri uses young Russet and Désirée potatoes for the optimum sugar and starch content, and soaks the batches in cold water before frying so they come out perfectly crisp without being greasy. Coated with a piquant spice blend of garlic, oregano, black pepper and a few other secret ingredients, these are the ultimate shoestring delights. 8 Mohamed Sultan Road. Tel: 6735 1035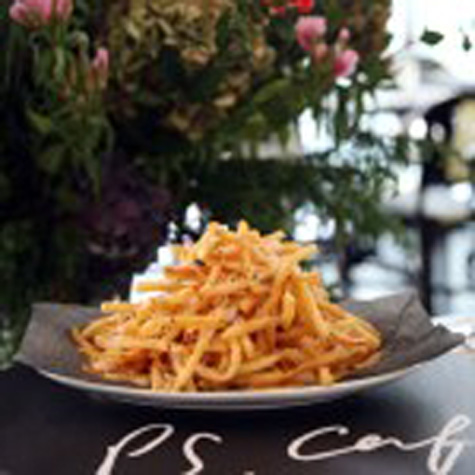 PS. CAFÉ
While the chic café also serves chunky fries with garlic aioli and tamarind dips, we love the truffle shoestring version. It's a generous portion—all 600g of potato that has been deep-fried to crunchy, crispy perfection. These fries are coated with grated parmesan cheese and boasts a notable aroma of fragrant truffle oil. 45 Ann Siang Road, #02-02 Ann Siang Hill Park. Tel: 6222 3143
&MADE [CLOSED]
It might be the burgers taking centrestage at &Made, but the garlic and vinegar fries certainly put up an outstanding supporting act. Chef Bruno Menard uses B15 potatoes, a flavourful hybrid variety of potato developed from the French Belle de Fontenay and German Flava potatoes. Once the straw-cut potatoes are deep fried, they are topped with a seasoning of homemade roasted garlic oil and Xérès vinegar. #01-04-06 Pacific Plaza, 9 Scotts Road. Tel: 6690 7566