Welcome the Year of the Ox
Toss to a new year of abundance and prosperity at your favourite Chinese restaurant.
Cassia, Capella Singapore
This contemporary Chinese restaurant uses the finest seasonal ingredients to serve traditional Cantonese dishes with a modern twist, so expect the same excellent standard and quality with its CNY ala carte and set menus.
Highlights include the Prosperity Lo Hei, a delightful salad with kumquat sauce and salmon; Dim Sum Trio featuring Steamed Siew Mai Topped with Scallop, Steamed Barbecued Avinyo Omega 3 Pork Bun with Black Truffle, and Deep-fried Lobster Dumpling with Mayonnaise; and Steamed Glutinous and Jasmine Rice with Chinese Sausages served with Grilled Eel.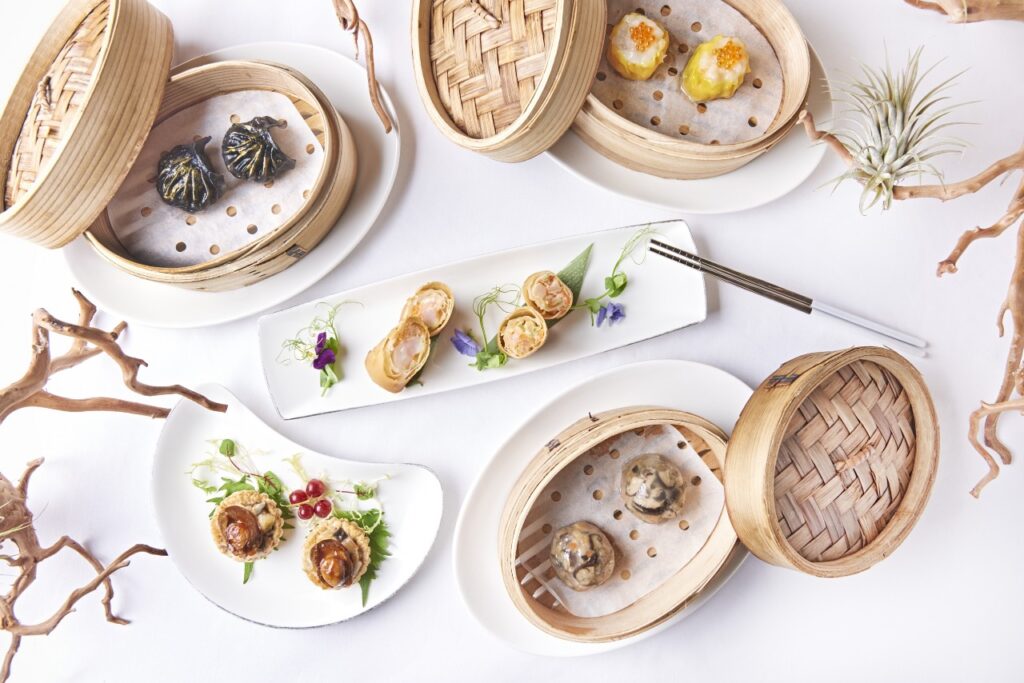 End your meal on a comforting note with Homemade Red Date Tea with Peach Resin and Sesame Dumpling. Reunion set dinners start from $149 while CNY lunch/dinner menus start from $89 per person.
For orders and reservations, call 6591 5045; or go online.
Feng Shui Inn, Resorts World Sentosa
Savour a sumptuous repertoire of dishes by executive chef Li Kwok Kwong at this Cantonese fine dining destination. Among the festive menus available is the Eternal Fortune Set Menu ($288 per person with a minimum of four diners), an indulgent spread that includes Abalone Yusheng with Sea Grapes and Japanese Sakura Dried Shrimp; Braised Imperial Bird's Nest Soup; Fortune Claypot Deluxe with 6-head Abalone and Golden Sea Cucumber; Steamed Giant Grouper in Hong Kong Style; and Sliced Roasted Chicken with Foie Gras.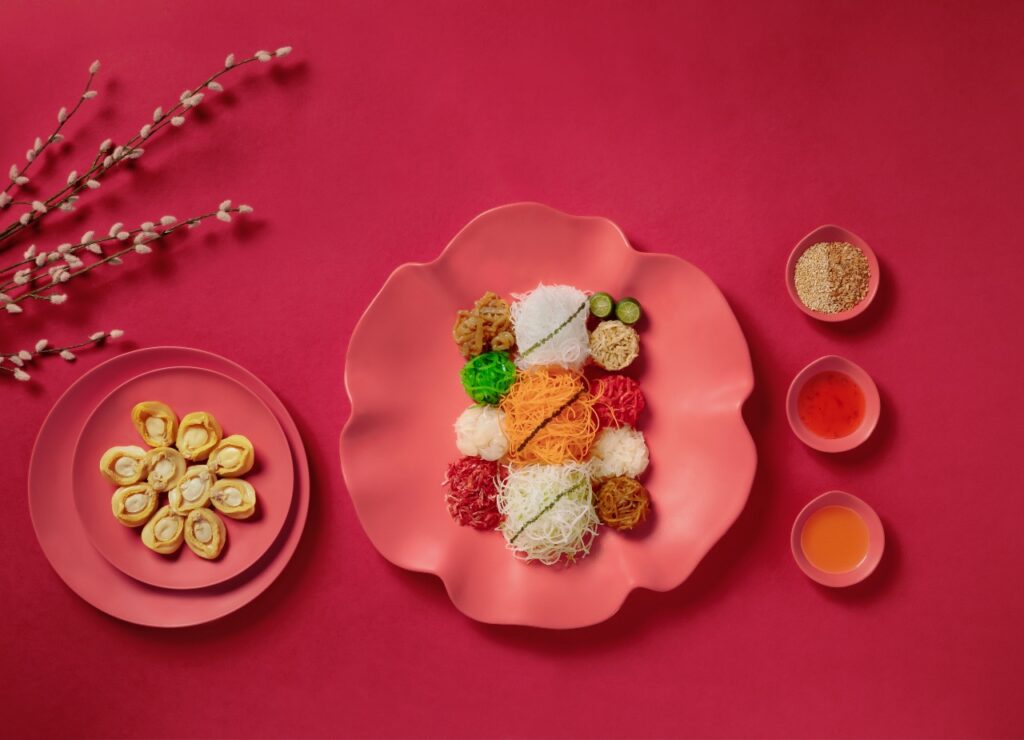 Abalone Yusheng with Sea Grapes and Japanese Sakura Dried Shrimp
If you and your family are more health conscious, consider the Everlasting Happiness Set Menu. It includes Double-boiled Lotus Root Soup with Dried Oyster, Sea Whelk and Bamboo Pith, and Sauteed Hokkaido Scallops. It's also more affordable at $128 per person (also with a minimum of four diners).
For orders and reservations, call 6577 6688; email dining@rwssentosa.com; or go online.
15 Stamford by Alvin Leung Restaurant, The Capitol Kempinski Hotel Singapore
Look forward to a bullish run this year with a different interpretation of a Chinese festive feast. Expect to be delighted by a blend of modern techniques and ingredients with traditional flavours. The 6 Course Prosperity Chinese New Year Set Dinner ($168) features starters such as Razor Clams, Australian Abalone, followed by Guinea Fowl with foie gras foam and five spice jus; Wagyu Beef Cheeks; Atlantic Cod; and a refreshing Chrysanthemum Mousse.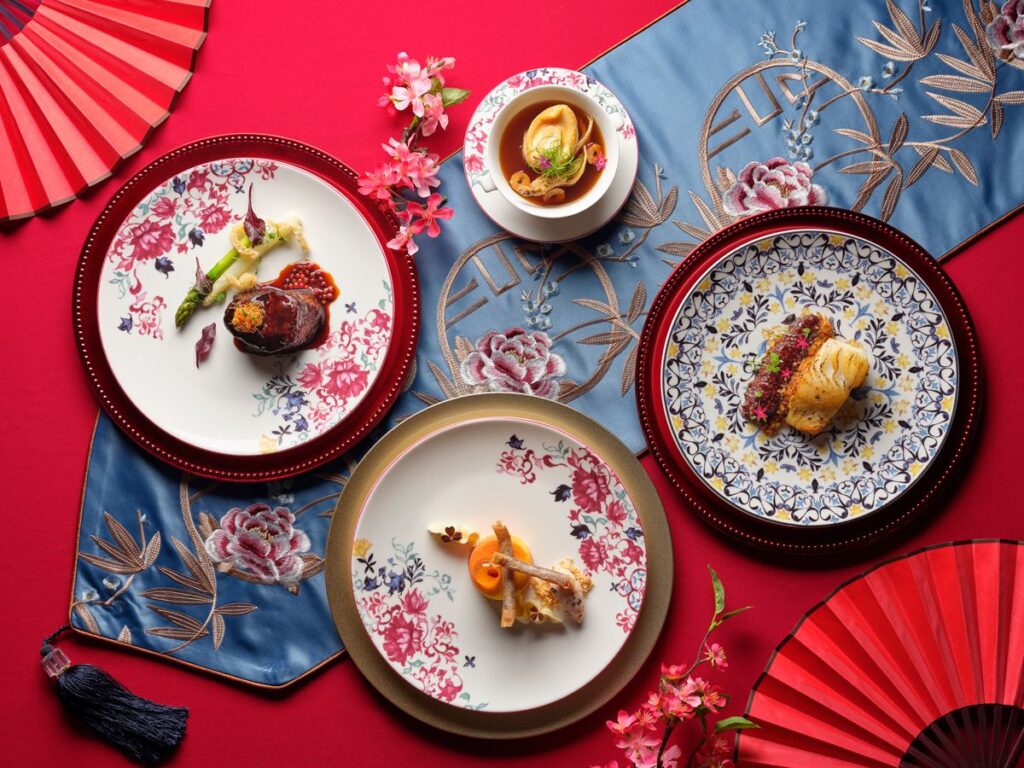 For home dining celebrations, order the Salmon Yu Sheng Platter (from $88), which comes with a refreshing and tangy plum sauce dressing the meaty bites, topped by crispy fish skin. Make it more meaty with Hiramasa kingfish, Hokkaido scallop or Maine lobster as add-ons. There's also the Treasures in a Pot Pen Cai ($268) to complete your opulent feast; it's packed with Abalone 10 head, sea cucumber, fried fish maw, oysters, black moss, flower mushrooms, roasted duck, pork knuckle, cabbage, lotus root, yam, bean cake, black fungus, dried scallops and prawns.
For orders and reservations, call 6715 6871; email reservation.15stamford@kempinski.com; or go online
Hai Tien Lo, Pan Pacific Singapore
Perfecting refinement and modernity in the classics, Executive Chef Ben Zeng presents an exquisite menu of 10 auspiciously named set menus from 25 January to 26 February. It ranges from the Blossoming Spring 6-course set menu ($128) to the Joyous Abundance 7-course set menu ($338.80). Expect a symphony of intense notes lifted by delicate nuances that keep the palate intrigued with highlights such as Sliced Barbecued Beijing Duck with Pan-fried Foie Gras, and Stewed Lobster with Inaniwa Udon in Signature Homemade XO Chilli Sauce.
Your feast wouldn't be complete without a Hai Tien Lo treasure pot; select either the Classic Treasure Pot (from $268) blessed with 8 head abalone, bird's nest, Sakura chicken, dried scallops, wontons and broccoli; or the Premium Wealth Treasure Pot (from $468) with 8 head abalone, dried oysters, sea cucumber, dried fish maw, pork knuckle, lobster, goose web, dried scallops, boiled chicken, pork dumplings, bean gluten, Chinese mushrooms, black moss, sliced lotus root and broccoli.
There are also five yu sheng platters available for dine-in or takeaway, ranging from the Abundance Yu Sheng with Abalone and Lobster (from $128) to the luxurious Blossoming Treasures Yu Sheng with Gold and Silver Flakes, Lobster, Scallops, Black Caviar and Shredded Vegetable Salad in Passion Fruit (from $168).
For orders and reservations, call 6826 8240; email dining.ppsin@panpacific.com, or go online
Jade, The Fullerton Hotel Singapore
Artistry and tradition take on new dimensions with Executive Chef Leong Chee Yeng, who dazzles with his culinary expertise as well as his sophisticated art pieces. He recreates Chinese New Year specialities with significant meanings for bliss, prosperity and togetherness.
Start the celebration in style with the Gold Rush Salmon Yu Sheng (from $78) elevated by champagne jelly, shallot oil and kumquat dressing for a vibrant taste profile, or opt for the extravagant premium version at $688, available with a minimum of 3 days' advance order.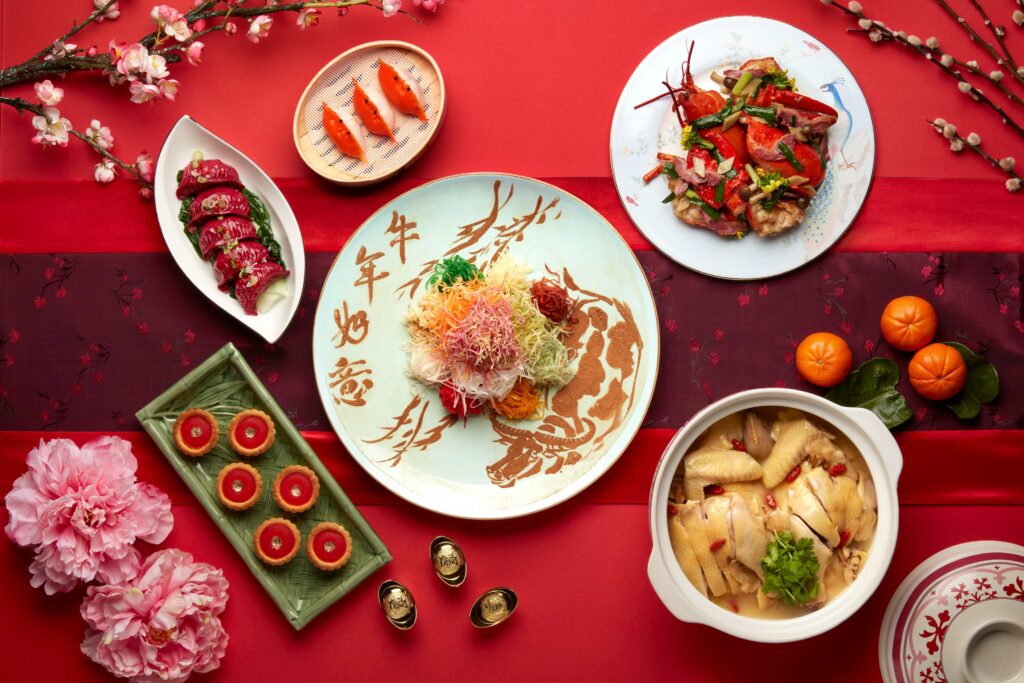 The Cornucopia of Wealth pen cai ($88 per pax) fosters togetherness with a bounty of premium whole abalone, fish maw, sea cucumber, dried scallops, braised pork trotter, dried oysters, flower mushrooms and more. Larger groups may opt for the Great Treasures Braised Pen Cai ($88 per pax; minimum 6 pax)with more premium ingredients.
A feast at Jade would be incomplete without trying Chef Leong's inventive dishes such as the Wok-fried Boston Lobster with Preserved Duck and Ginger Spring Onion; Braised Bird's Nest with Crab Meat, Crab Roe and Truffle Jus in Superior Broth ($48); or the Poached Wagyu Beef and White Radish Dumpling ($16 per pax), which are shaped like auspicious gold ingots.
Jade's Lunar New Year menus start from $118 for the Family Style Set Menu (5 persons) and $98 for the Individual Set Menu.
For reservations, call 6877 8911/8912 or email dining-rsvp@fullertonhotels.com.
Man Fu Yuan, InterContinental Singapore
Cow-nt blessings Usher in a Niu year as Man Fu Yuan ups the ante on Lunar New Year celebrations with specially created delicacies and a variety of prosperity prix-fixe menus by Executive Chinese Chef Aaron Tan, available for dine in or take away until 26 February.
Celebrate with festive yu sheng masterpieces and exclusive specials crafted for the Year of the Ox, including the new 60-inch Blossoms of Spring Prosperity Yu Sheng adorned with Hokkaido scallops, salmon, crispy fish skin, shaped in the form of the Chinese character 'Chun' to symbolise renewal and a blossoming of fresh and new beginnings. Or opt for the Treasures Beef Yu Sheng boasting Beef bak kwa, salmon, crispy fish skin, golden yuzu and plum sauce, shallot oil (from $88).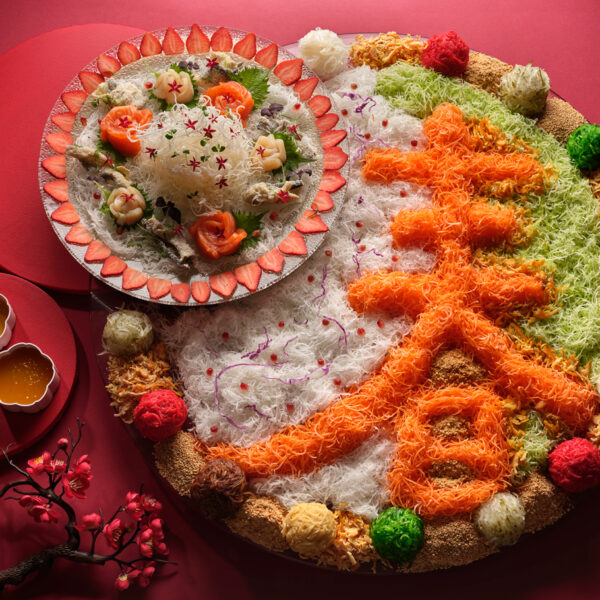 Feast on Man Fu Yuan's classic Braised Beef Pot featuring a variety of beef cuts such as Beef Tendon, Louver and Brisket, all packed with robust flavours; as well as the restaurant's award-winning signature Roasted Suckling Pig with glutinous rice ($428), and Man Fu Yuan's signature Smoked Duck with truffle sauce ($108).
Also available is the premium five-course Wealth menu ($2388/8 pax), featuring superior crab meat and pumpkin bisque with bird's nest and crab roe in a pumpkin husk; and signature Man Fu Yuan Pen Cai brimming with over 18 premium ingredients including 10-head abalone, Canadian lobster, Hokkaido scallops, pig's trotters and black trumpet mushrooms.
Meanwhile, the Abundance menu ($328/person) offers premium Salmon Yu Sheng with Japanese Omi A4 Wagyu Beef and Hokkaido scallops; Braised three-head abalone with sea cucumber, truffle and pumpkin abalone sauce; and Braised lobster tossed with signature X.O. sauce topped with ikura.
For reservations and to place orders, email sinhbmanfuyuan.manfuyuan@ihg.com
Min Jiang, Goodwood Park Hotel/Dempsey
Celebrate with an elegant feast at the newly renovated Min Jiang at Goodwood Park Hotel or at Dempsey, starting with the Auspicious Abundance Lo Hei ($268), available for dine-in and takeaway. It's a delightful medley of sweet, savoury flavours and textures that makes for a perfect bite. The steamed Alaskan crab leg meat, baby abalones, flying fish roe, peaches, crunchy rice cracker, romaine lettuce, wild arugula and other vegetables gave a modern spin with its refreshing mix of ingredients, finished off with plum sauce dressing for a light touch of sweetness and tartness.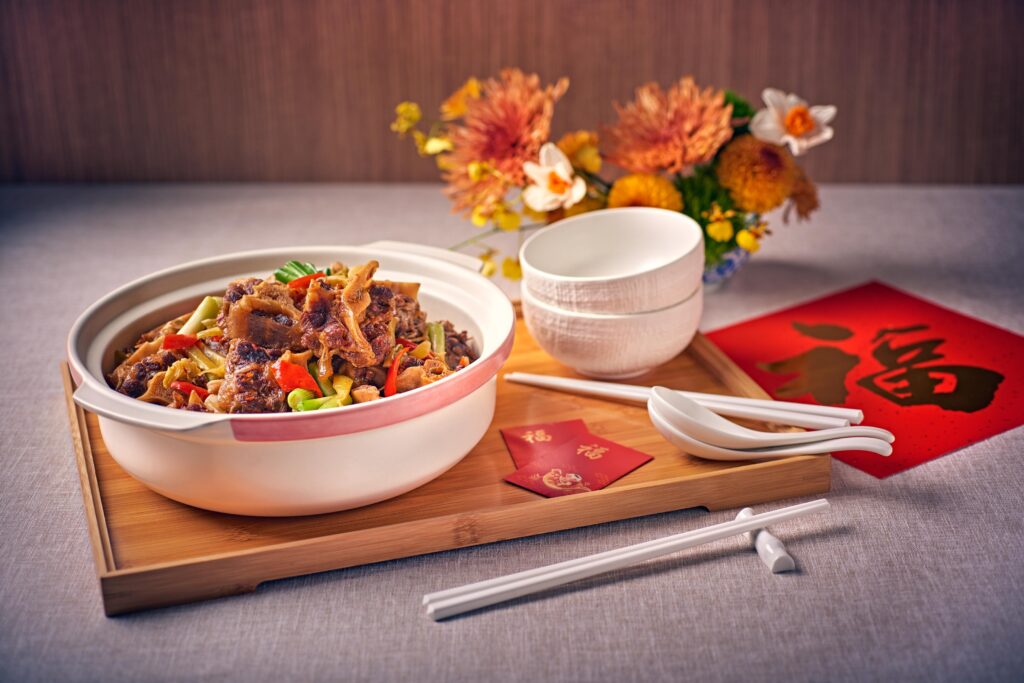 Min Jiang serves up elevated renditions of classics that will delight palates, and must-haves are the Double-boiled Abalone Soup and Eel Fish Maw with handmade Prawn Dumplings and Minced Pork Balls in Claypot ($265); Braised Pork Belly, Meatball with Crabmeat in Beancurd Pockets and Sea Treasures in Claypot ($394); and Slow-braised Spicy Oxtail with Pickled Mustard and Enoki Mushrooms in Claypot ($255). Suitable for at least six pax, these claypot masterpieces are a tribute to the chefs' dedication to the multi-layered techniques of preparing these dishes and the resulting delish morsels of premium ingredients. For family members who cannot do without rice, the Stewed Rice with Minced Chicken, Dried Scallops, Baby Abalone and Liver Sausage in Stone Pot (from $78) is the perfect pleaser with its comforting flavours.
For orders and reservations, call 6730 1704/Email: min_jiang@goodwoodparkhotel.com (Goodwood Park Hotel); or call 6774 0122/Email: mjdempsey@goodwoodparkhotel.com (Dempsey).Go online here.
Summer Pavilion, The Ritz-Carlton, Millenia Singapore
Usher in the Lunar New Year and celebrate the Joy of Spring with cosy reunion dinners at one Michelin star Summer Pavilion. Indulgent lo-hei celebrations include tossing up premium Australian greenlip abalone with salmon roe yu sheng.
Other exclusive Lunar New Year culinary highlights include the sautéed Japanese wagyu beef with black truffle; double-boiled sea whelk soup with fish maw, chicken and wild mushroom; and baked wagyu beef puff. Six- to eight-course set lunch and dinner menus (from $118/person) available till 26 February. All diners celebrating the first 15 days of the Lunar New Year at Summer Pavilion also receive a set of limited edition Ritz-Carlton red packets and a pair of Mandarin oranges per reservation. Vegetarian yu sheng and the signature Summer Pavilion pen cai are also available for takeaway.
For reservations and to place orders, call 6434 5286 or email rc.sinrz.summerpavilion@ritzcarlton.com
Summer Palace, Regent Singapore
Get into a bullish mood at Summer Palace with ox-themed dishes such as Traditional Stewed Beef in Casserole ($50) and Stir-fried Diced Tenderloin of Beef with Black Pepper and Asparagus ($46) for savoury tender bites of choice beef, tendon, omasum and tripe.
To intrigue the palate, begin the feasting with a choice of versatile yu sheng renditions ranging from the traditional Smoked Salmon ($98) and Lobster ($168) to creative combinations such as Bird's Nest and Pear ($168), Roselle with Fish Lip $108) and Purple Cauliflower with Lily Bulbs ($98). Not to be missed are specialities that only make an appearance during Chinese New Year, such as Braised Dried Oyster with Sea Moss and Bean Curd Skin ($48), Stewed Pork Leg with Sea Cucumber and Sea Moss ($138), and Braised Sea Cucumber with Goose Web and Vegetables ($108). Set menus range start at $108 per pax (min 4 pax).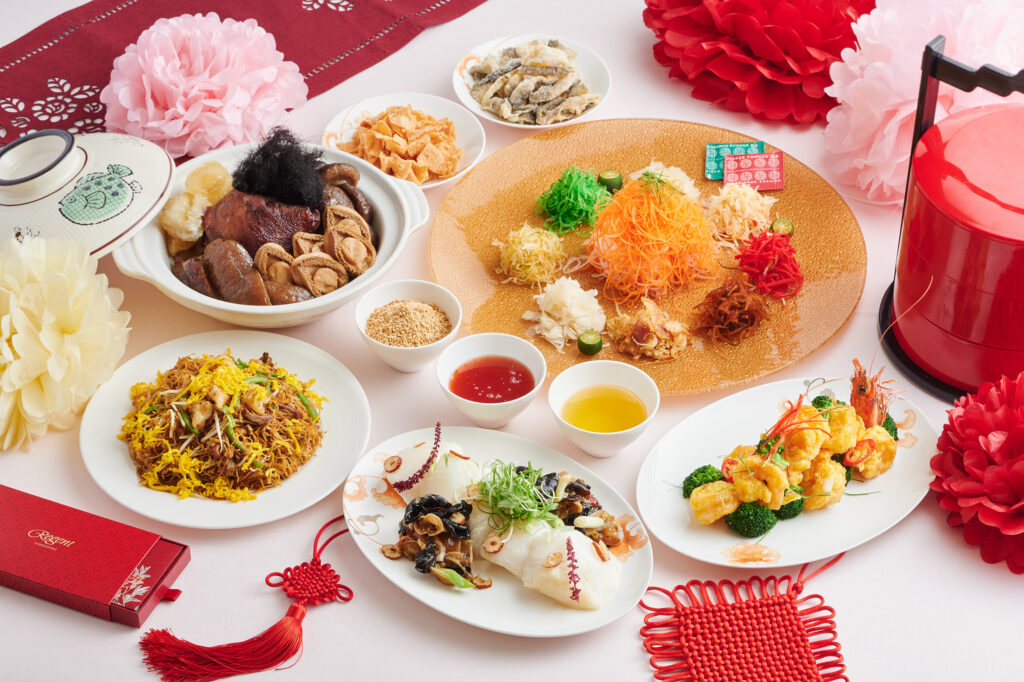 Order takeaways in style this year, with three 5-course sets that come elegantly presented in a tiffin carrier with dishes such as Smoked Chicken with Jasmine Tea Leaves and Steamed Cod Fish with Fungus and Red Dates.
For orders, email takeregenthome@regentsingapore.com.sg.
For reservations, call 6725 3288; email summerpalace@regentsingapore.com.sg; or go online
Si Chuan Dou Hua, PARKROYAL on Kitchener Road/PARKROYAL on Beach Road/TOP of UOB Plaza

Headlining this year's festive line-up is the Prosperity Pufferfish Yu Sheng ($198) with bitter gourd and fresh greens, skilfully prepared to blend the bitterness with the sweet, available only at TOP of UOB Plaza. Other highlights are the Prosperity Beef Tongue Yusheng ($98) at PARKROYAL on Beach Road and the Prosperity Exotic Garden with Bolete Mushroom in Homemade Bolete Mushroom and Osmanthus Sauce ($98) at PARKROYAL on Kitchener Road.
The sterling cast of dishes from the three outlets are stars in their own rights, one of which is the instagrammable Crispy Noodle with Lobster in Egg Gravy ($58) with its gravity-defying presentation of floating chopsticks, available at UOB Plaza. Invented by Consultant Chef Peter Tsang, he perfected the technique of repeatedly drenching the noodles with oil to give it a crispy texture that holds its shape. His other creations include the Hong Kong style Steamed Garoupa with Clams, Baby Octopus and Minced Garlic ($24 per 100g) to signify overflowing abundance.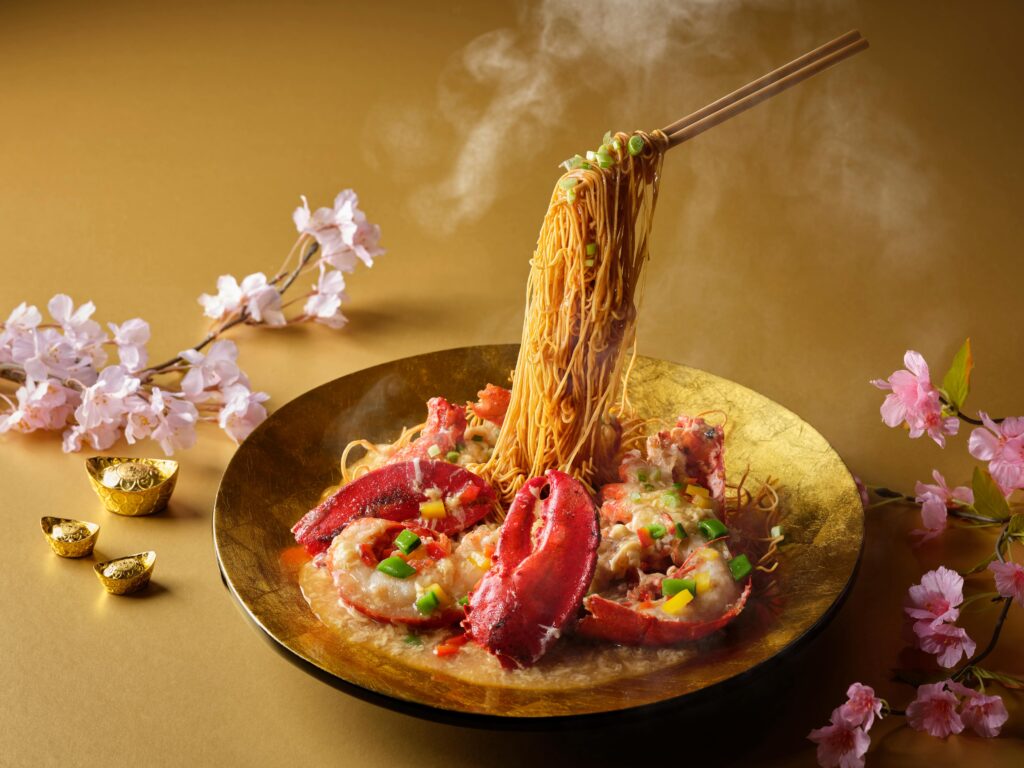 Over at the Beach Road outlet. Executive Sichuan Chef Zeng Feng impresses with his Sautéed Lobster with Sichuan Ma La Sauce and the , expertly presented in the shape of a 'coin' with three intricate layers of pan fried glutinous rice at the bottom, followed by a middle layer of duck and waxed meat and a paper-thin crispy crust at the top. The Braised Minced Ball with Black Truffle is another must-try dish.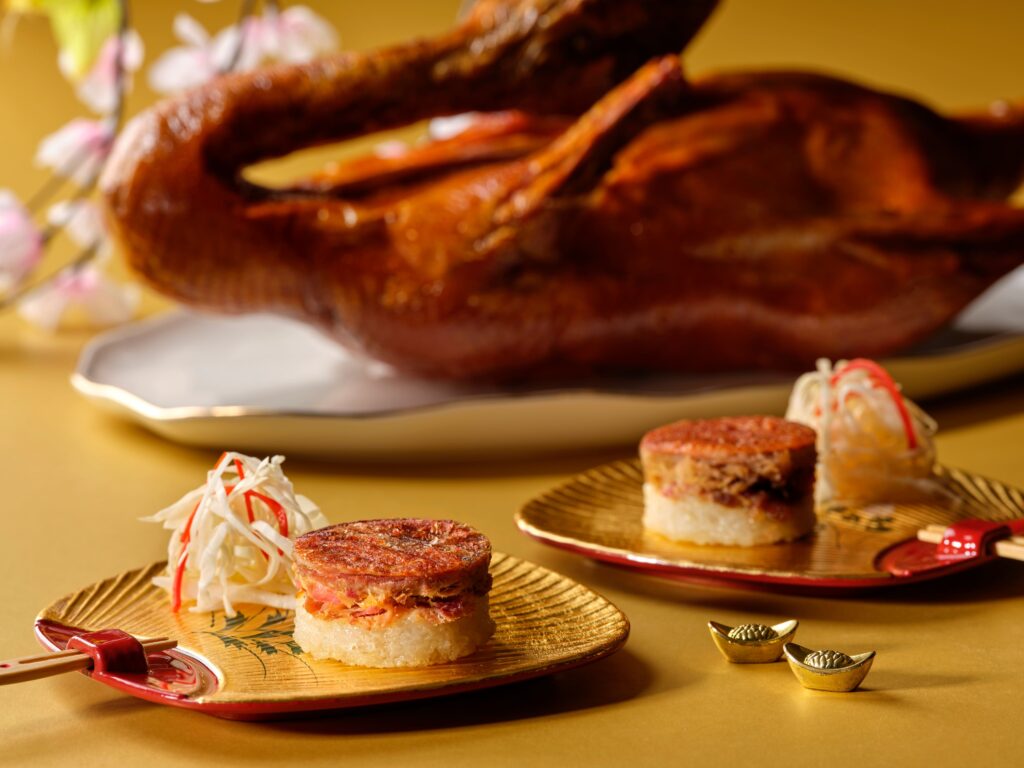 Appealing to the heart with its elevated comfort dishes, Executive Cantonese Chef Leung Wing Chung at the Kitchener Road outlet soothes the palate with the Double-boiled Wagyu Brisket Soup with Matsutake ($30); Braised Ee Fu Noodle with Assorted Seafood ($30); and the Crispy Brown Rice with Two Head Abalone in Superior Stock ($78).
For orders and reservations, email: top@sichuandouhua.com (TOP of UOB Plaza); douhua.prsin@parkroyalhotels.com (Beach Road); douhua.prskt@parkroyalhotels.com (Kitchener Road). Or go online
Wan Hao, Singapore Marriott Tang Plaza Hotel
Make it an extravagant Year of the Ox, starting with the Lobster & Caviar Yu Sheng (from $108) with a choice of Traditional or Mandarin Orange Sauce. Or if you prefer, there are six other types of yu sheng to suit your palate; ranging from Mini Abalone & Crispy Fish Skin Yu Sheng (from $88) and Smoked Duck Breast & Crispy Fish Skin Yu Sheng (from $68) to Pear & Avocado Vegetarian Yu Sheng (from $68). Add-ons such as sea urchin and sliced Australian abalone are also available.
A family feast would be incomplete without the Wan Hao Imperial Pot of Prosperity Pen Cai with Australian 3-Head Abalone & Goose Feet (from $688) to pamper palates with 14 premium ingredients. This treasure pot is packed with 3- Head Australian Abalone, Sea Cucumber, Fish Maw, Conpoy, Crispy Dried Oyster, Goose Feet, Drunken Chicken, Whole Pork Trotter, Black Moss Dace Fish Paste, Baby Chinese Cabbage, Black Moss, White Radish, Beancurd Skin and Broccoli.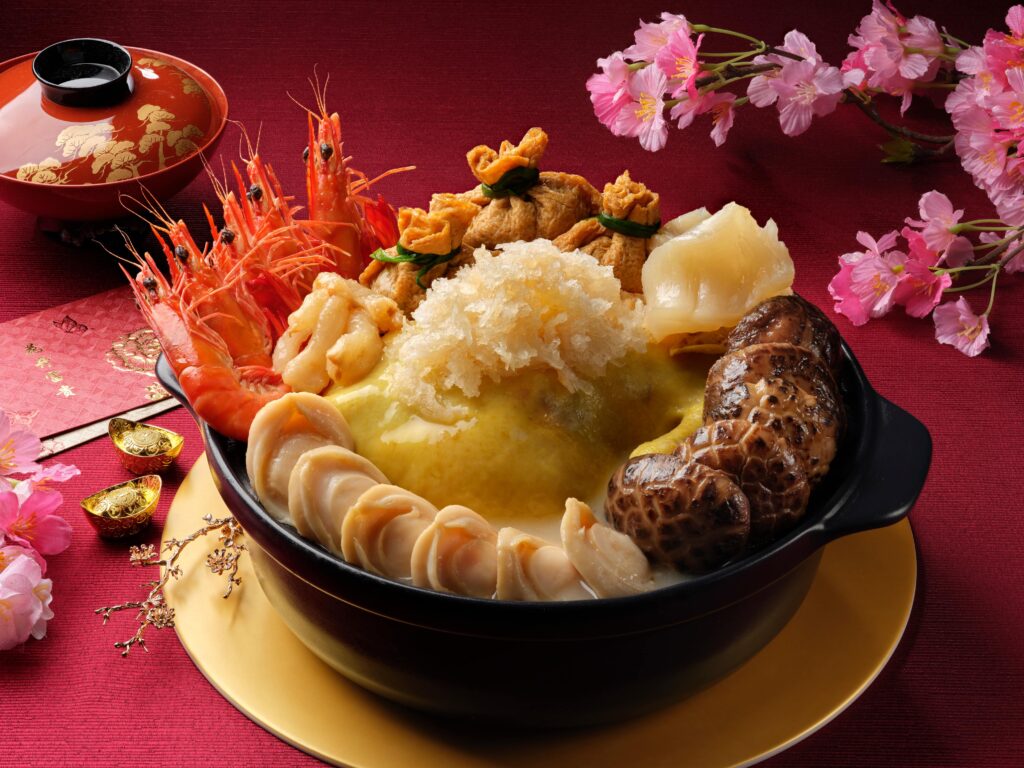 New this year is the Wan Hao Eight Treasures Imperial Pot with Bird's Nest ($788) to bless diners with health and beauty as it is replete with collagen and nutrients. Sitting in a rich broth of chicken feet, old fowl, pork skin and more, the pot contains Bird's Nest, 10-Head Australian Abalone, Fish Maw, Dace Fish Beancurd Bag, Live Prawns, Pork Tendons, Chicken and Japanese Shiitake Mushroom to whet the appetite.
For orders and reservations, call 6831 4605; email mhrs.sindt.fb.reservations@marriotthotels.com; or go online
Yi by Jereme Leung, Raffles Singapore
Toss to abundance with time-honoured traditions at Yì by Jereme Leung with a choice of three exquisite Yu Sheng specials (each serves 8-10 pax), featuring premium ingredients signifying prosperity and abundance. As always, the perennial favourite with Leung's signature homemade Yunnan rose dressing makes a comeback again. Choose to dine in or bring the wealth and harmony home from now until 26 February with the multi-tiered Yu Sheng red boxes, especially crafted for convenience and ease. Yu Sheng choices range between Fortune ($168+) with salmon and crispy fish skin; Longevity ($208+) with abalone, Arctic surf clam and salmon; and Prosperity ($198+) with Asian live lobster Each Yu Sheng.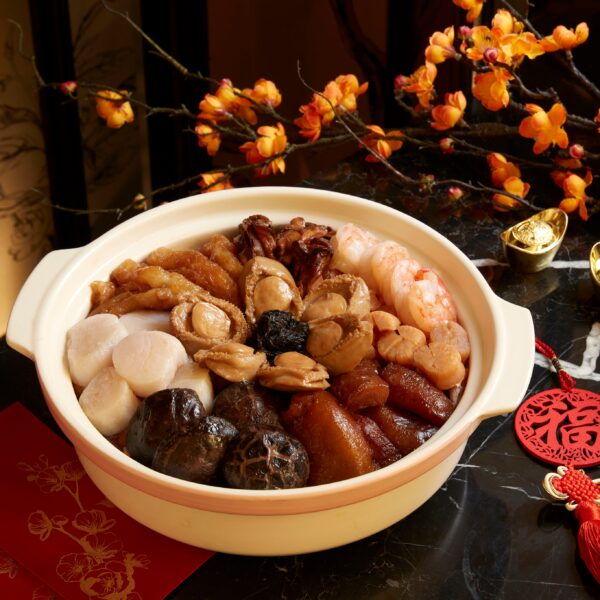 Complete the feasting with other gourmet delights rich in symbolism and flavour such as Chef Leung's Signature Golden Fried Rice with Preserved Meats, and the Bountiful Seafood Treasure Pot brimming with a delectable trove of 10-head abalones, scallops, dried oysters and other delicacies. Decadent Set ($308+/ for 6 pax); Auspicious Set ($728+/8 pax); Bountiful Seafood Treasure Pot ($488+/8 pax). www.yi-restaurant.com.sg
Yan, National Gallery Singapore
Make it savoury and satisfying with the Abalone & Yellowtail with Gold Foil Lo Hei in 'Shun De' Style, which offers textural bites of crispy vermicelli, complemented by shredded purple and yellow sweet potatoes, kailan, and pickled ginger. Slices of yellowtail fish and braised abalone give it a light but meaty profile.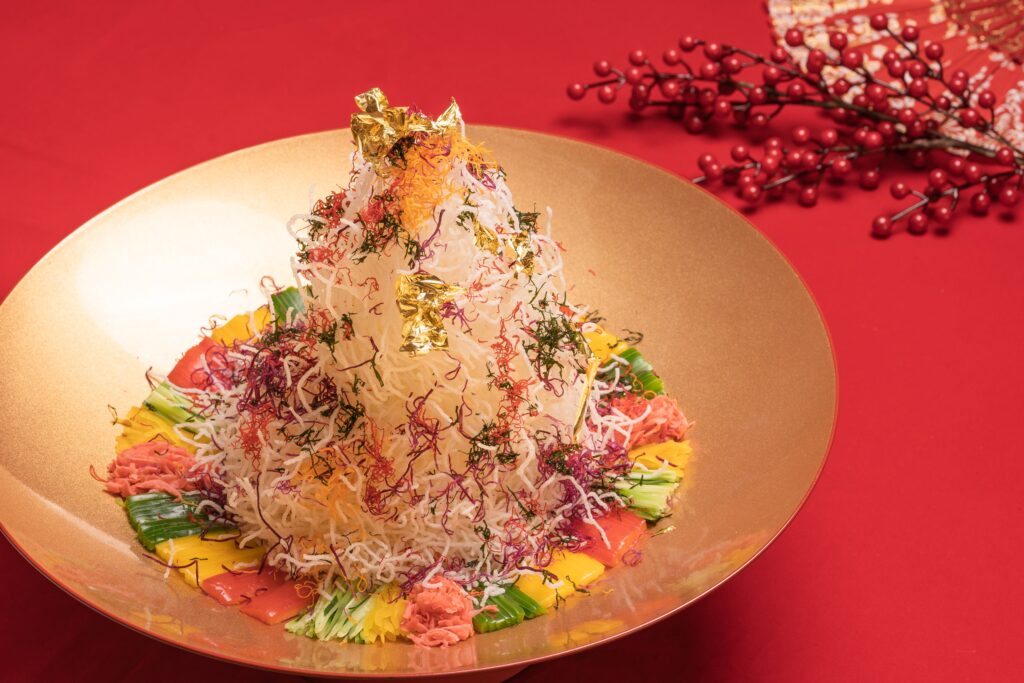 Continue the auspicious feasting with the nourishing Double-boiled Fish Maw, Chicken with Cordyceps Flower, which offers intense flavours from the cordyceps flower, mature hen, Jinhua ham, chicken feet, lean pork, and pork bones. For comfort food, there is nothing more satisfying than the melt-in-the-mouth Braised Spring Chicken with 6 Head Whole Abalone, stuffed with Chinese chives, garlic, and dried shrimps, served whole as a communal dish to represent family bonding.
Another must-have is the Wok-fried Local Lobster with Superior Sauce and Shrimp Egg and Ee Fu Noodles. It's a simply gratifying umami dish with deep flavours. Poached after the lobster in the same superior stock and salt-cured shrimp roe, the ee fu noodles and springy lobster meat serve up the perfect bite. Conclude the feasting with the Double-boiled Bird's Nest with Lily, White Fungus, Wolfberry and Lotus Seed to enhance beauty and vitality.
Six dine-in set menus are available, starting $78, from 15 January to 26 February.
For orders and reservations, call 6384 5585; email reserve@Yan.com.sg or visit www.yan.com.sg/cny/