Pivots and new menus at Clove, Ginger, and Hot Stones
Find out why these restaurants have refreshed their concepts and turned to sustainably sourced farm-to-table ingredients.
It's been a tough year for restaurants and diners alike, and dining out has inevitably evolved across all F&B outlets that are still operating today. On the positive side, many established restaurants have taken the opportunity to refresh their concepts and turn to alternative ingredients as one way of attracting renewed interest. We look at three stalwart restaurants that have innovated and come back even stronger with their new offerings.
(Main image: The revamped Ginger restaurant at Parkroyal at Beach Road)
Shake it up at Clove
Swissôtel The Stamford's former buffet restaurant Clove has recently launched its new Burgers & Shakers concept, think American diner but with some Asian accents like chicken kaarage with garlic Kewpie (mayonnaise), fried chicken wings with Marmite soy glaze or Sriracha lime, and pandan ice cream float.
Sun-lit and high-ceilinged, the spacious restaurant serves burgers, sides and salads incorporating vegetables, herbs and fish grown just a few floors above at Singapore's first hotel urban aquaponics farm – a joint project by Swissôtel The Stamford and sister property Fairmont Singapore.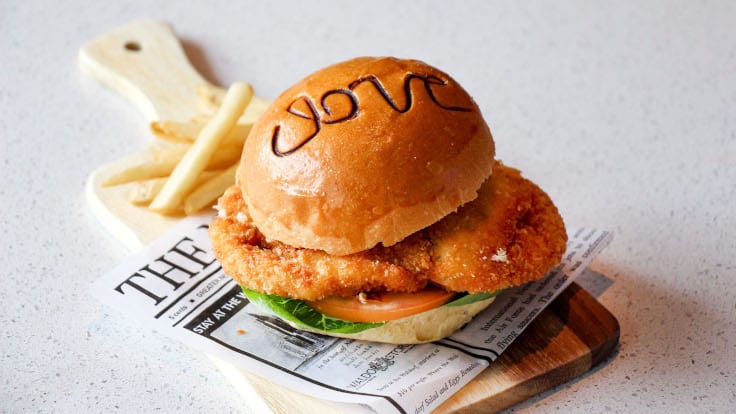 For burgers (choice of kale sourdough, brioche or lettuce), the headliner is Mr. Gordon Blue ($16) featuring crisp fried ham and cheese stuffed chicken patty, cranberry jam and stilton. For beef burger folks, the only beef patty is made from Stanbroke Angus beef from Australia, available in several configurations but the signature is the Double Up ($26) double cheeseburger featuring one beer battered patty and the other grilled. 
Non-meat eaters have a choice between two plant-based Impossible patty burgers (Moo-CHAS Grass-IAS, $18 and Raging Bull, $23) as well as Oink-Moo Duo ($20) with Omnimeat and herb sausage, Lobster Mobster ($28) and Princess Tilapia Van *Aquaponics* ($22). The tilapia croquette patty was a palm-sized piece of medium-firm, mild tasting fish which was breaded and fried to a perfect crisp.
Low-carb eaters will be glad to know they are not an afterthought; there are eight main course salads from The Slim Fit ($14, red and white cabbage, carrot, roasted cauliflower & broccoli) to Caesar's Choice ($14, arugula, spinach, gouda, bacon bits, quail egg) to Middle Eastern Medley ($16, Couscous, roasted apple, beetroot & pumpkin, halloumi goat's cheese with tahini dressing).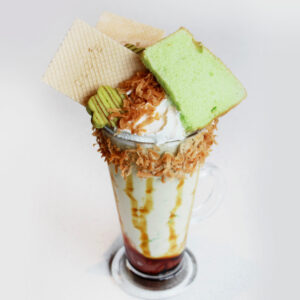 And for a sweet finish, there are thickshakes, concretes and floats, and international craft beers. Aside from classic thickshake options like strawberry and chocolate, the signature and vegan Kale Almond thickshake ($10) blends dehydrated house-grown kale with soy milk, toasted almonds, miso, preserved orange and a touch of sea salt to create a nutty concoction that doesn't taste too grassy. Another dairy-free, locally-inspired concrete (blended sundae) is Avochendol ($14) which combines avocado with gula melaka, jelly, azuki beans and coconut. Boozy thickshakes ($21) are also available in flavours like vanilla with Wild Turkey Bourbon, and coffee with Plantation Original Dark Rum. 
Level 2,Swissôtel The Stamford,2 Stamford Road. Tel: 6338 8585
Open Wed-Sun, 12pm to10:30pm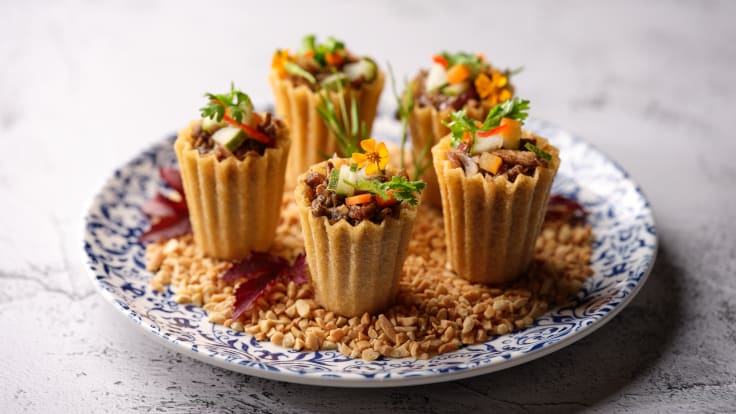 Get pretty at Ginger
Shedding its garden-variety buffet restaurant look, the brand new Ginger has undergone an extensive renovation and reopened in October with an actual tropical garden theme complete with plants, floral arrangements, specially commissioned wallpaper and textiles featuring the eponymous plant and other local flora.
Helmed by the hotel's resident executive chef Vincent Aw, Ginger (as it did before the refurbishment) serves its well known Singapore delights a la carte buffet with up to 50 dishes to choose from. Highlights include a punchy rojak with all the trimmings, a rich laksa broth with river prawn and quail egg, and piquant Singapore chilli crab with fried mantou.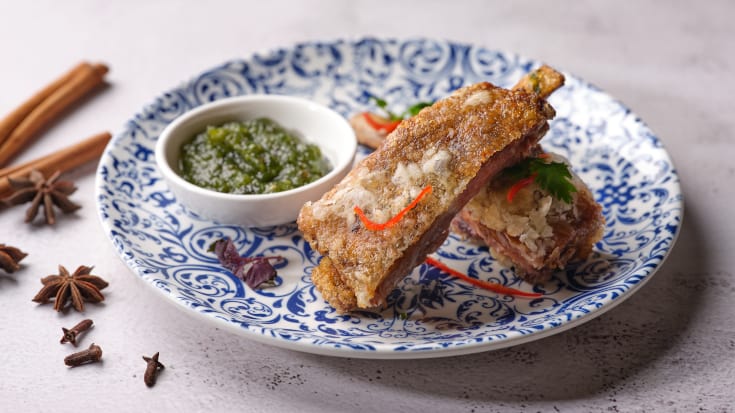 With so much to attract your attention, it's best to make priorities – the Malaysian style stir-fried kam heong (golden fragrant) crab with curry powder and curry leaves is packed with flavour while the aromatic and tender slow-braised beef rendang is surely a crowd pleaser. Be sure to snap up some crispy lamb with Thai mint sauce – one of these deep-fried ribs won't be enough. Save space for the chendol and gula melaka soft serve in a fresh young coconut, topped with sweet corn, kidney beans, chendol and coconut jelly.
While the restaurant features live stations, all dishes have to be ordered via an online ordering system to comply with safe distancing guidelines, and will be served to the table. An a la carte menu is also available for lunch and dinner. Ginger doesn't serve or use any pork products in the restaurant and expects to be halal-certified soon. As part of their reopening special from now to 30 Nov, one diner dines free for every three paying adult. Prices are $48 per adult and $24 per child (6-12 years) for lunch (Sat-Sun), and $58 per adult and $24 per child (6-12 years) for dinner (Wed-Sun). 
Parkroyal on Beach Road, 7500 Beach Road. Tel:  6431 6156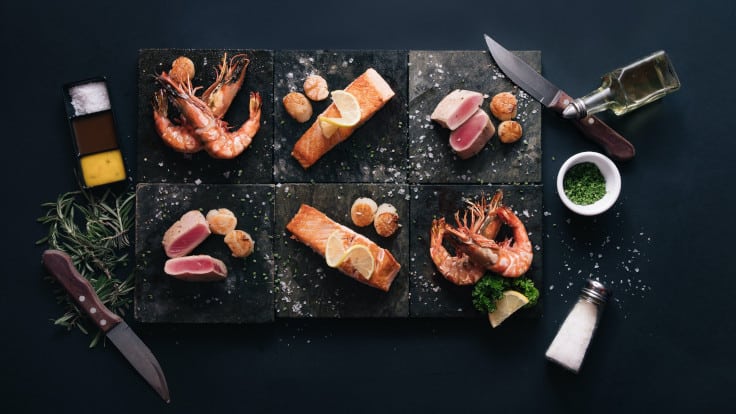 Hot Stones goes Japanese
Well known for its steaks and seafood cooked with sizzling volcanic stone slabs since 1992, Hot Stones has updated its menu to offer a wider selection of Japanese, Australian and USDA beef cuts as part of its revamp to offer a Japanese-inspired yakiniku (meat grilling) experience. While whole steaks were previously available, all the raw beef served will now be in 3-5mm thick slices for optimal grilling on a hot stone.
Located at Clarke Quay, diners can opt for indoor sitting or outdoor sitting under the pod-like shelters by the riverside which we would recommend as the sizzling meat creates some fumes. All raw meat and seafood will be served with a volcanic serpentinite stone slab which is preheated to 230˚C, on which diners can cook the meat to their desired doneness.
With 12 types of beef and 4 types of pork available on the menu, diners can opt for set meals for one or two people to sample a combination of cuts of Japanese Waygu beef ($99/$198), Australian Waygu beef ($59/118), USDA Choice beef ($39/$78), beef and pork ($49/$98) and premium pork ($34/$68). For those who prefer seafood, the seafood supreme ($44/$88) set comprises king prawns, scallops, salmon, tuna, hamachi and swordfish.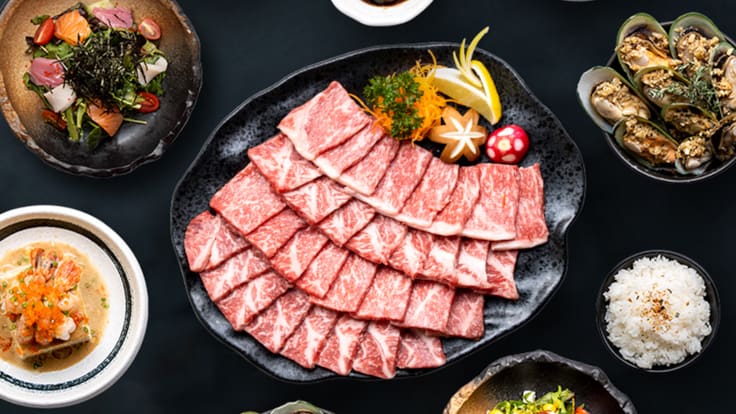 For those looking to spoil themselves with the Japanese Waygu beef set which comprises luscious slices of Miyazaki A4 Striploin, Miyazaki A4 Ribeye, Kagoshima A4 Ribeye and Kagoshima A4 Striploin but have never cooked very well-marbled Wagyu, remember that a quick sear on both sides will suffice otherwise most of the delicious fat will be rendered out. A simple trio of condiments – sea salt, miso sauce and ponzu sauce – is provided to perk up your meat and seafood.
Each person ordering a set will have a choice (included in the price) between cold shrimp tofu or spicy miso salmon, wafu or house salad, mushroom or tomato soup, garlic or steamed rice, and cheesecake or caramel pudding. If you're in the mood, an intriguing Warm High Ball ($16) pairs well with beef, while the peach lychee calpis ($9) will appeal to non-alcoholic drinkers. 
3D River Valley Rd, #01-06 Block D. Tel: 6333 4868
Daily 12-3pm; 5-10pm