Restaurants with great designs
· 14 October 2020
·
Food
Four out of five winners in the F&B design categories were awarded to design and architect studios based in Singapore.
The latest edition of Design Excellence Awards acknowledged the most outstanding professionals in Asia Pacific across 23 categories, with five winners from the Best F&B Design categories. Four of the winning firms are based in Singapore, with the fifth based in Ho Chi Minh, Vietnam.
Three winners for Best F&B Design 2,000sq ft were awarded, with P+A Design Studio taking the Gold award for Hide Yamomoto's restaurants on Sentosa Island; Greymatters taking the Silver for Cloudstreet in Chinatown, and Provolk Architects taking the Bronze for The Elephant Room in Little India. A Bronze award was given to Rockett Studio for Burger & Lobster @ Raffles Hotel, Singapore under the 2,001-5,000 sq ft category; while a Gold award was given to Design & Creative Associates for Ibuki restaurant in Ho Chi Minh, Vietnam under the ³ 5,001 sq ft category.
"The Design Excellence Awards 2020 has seen a tremendous elevation in both the quality and quantity of submissions this year. IDCS received entries from China, Hong Kong, India, Indonesia, Japan, Malaysia, Singapore, Taiwan, Thailand, United Kingdom, USA and Vietnam, all of which displayed significant improvement in the quality and standards of Interior & Spatial Design," said Cameron Woo, President of IDCS.
Gold award winner P+A Design Studio's Founder Peeradet Kangsadalkun shares: "For Hide Yamamoto located in Sentosa Village Hotel, P+A Design Studio's design was to create an alternative, calm world from both hotel bustle and its busy colonial architecture. This is enabled through preserving the original long space and using simple materials in their raw states," shares Peeradet Kangsadalkun, Founder, P+A Design Studio.
"The concept of raw food from Japanese sashimi inspired the design translation. Earth-toned furniture and a screening leitmotif unite both. At Hide, an intricate, alabaster lattice lines the interior; at one end, a plywood wall curves up the ceiling to enigmatically frame the teppanyaki counter – the dramatic gesture celebrating and highlighting the chef's theatrics. At Masa, plywood is again encountered, but as a screen of layered strips turning in various directions as abstracted, shadowed lines of a wild bamboo forest."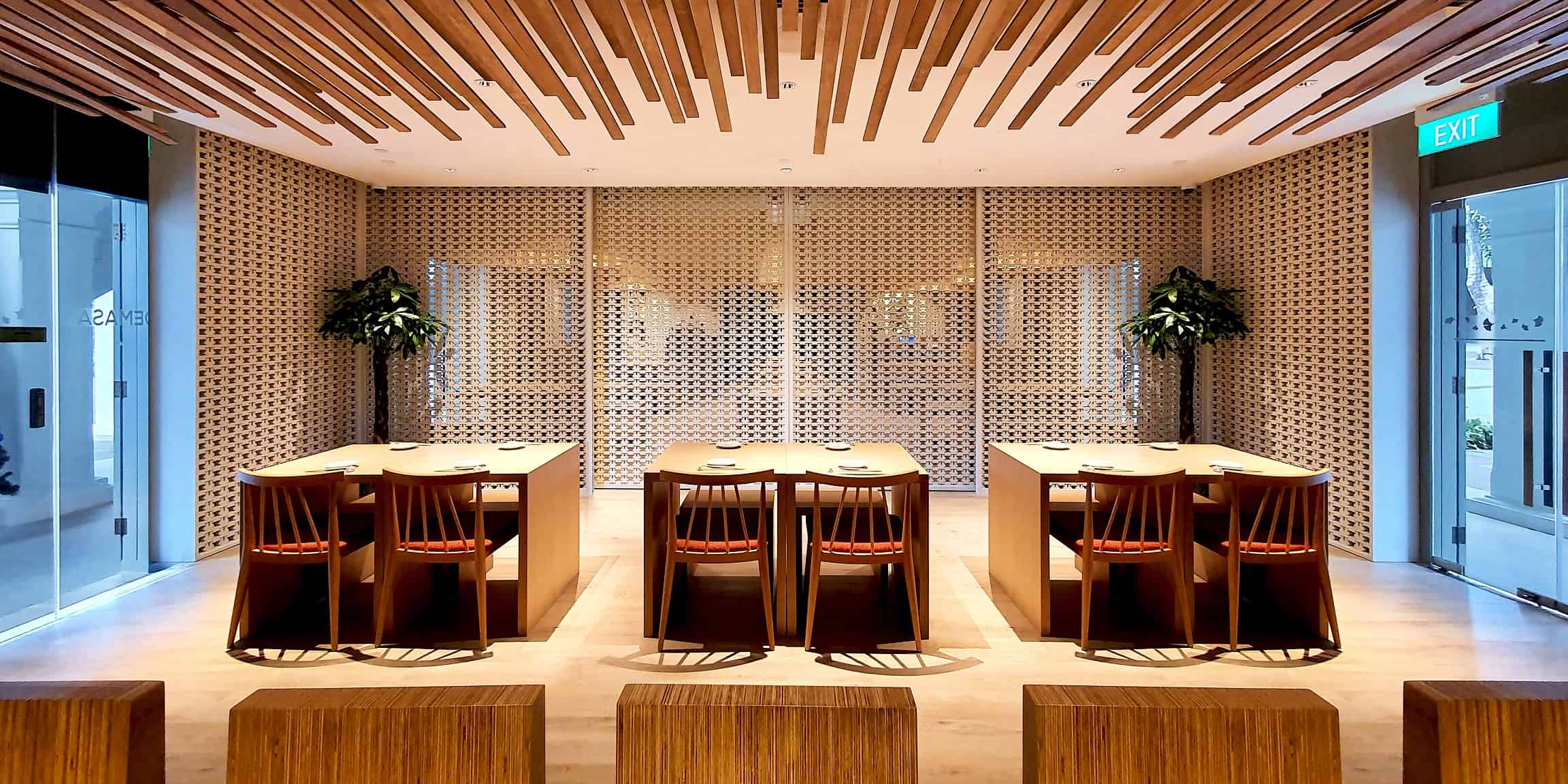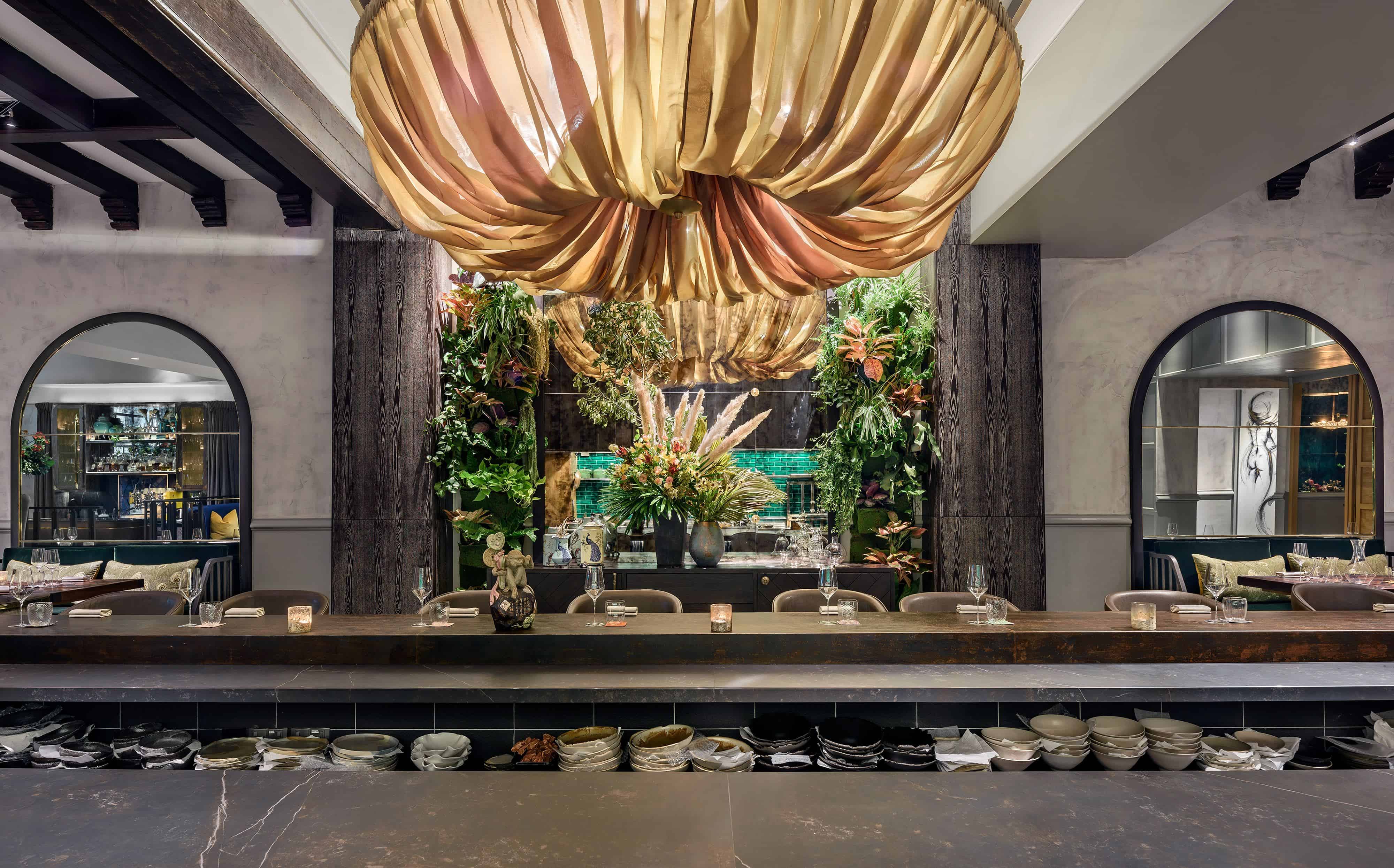 "The restaurant was designed in sumptuous golds, greys and greens, with foliage accents; it's dressed with custom-made and repurposed furniture. Large-scale commissioned-art by Australian painter, Steve Cross, adorn the walls in the restaurant's main dining area, and a stunning custom-made fabric chandelier hangs pride of place from the centre of the room. The kitchen became the star, and we knew nothing was to compete with it, everything was to compliment it. We spent a lot of time accessorising and decorating accordingly. Antique and second-hand stores were scoured for found objects, and an old yellow espresso machine was bought and sent to Australia for reconditioning – it now sits pride of place on the bar." – greymatters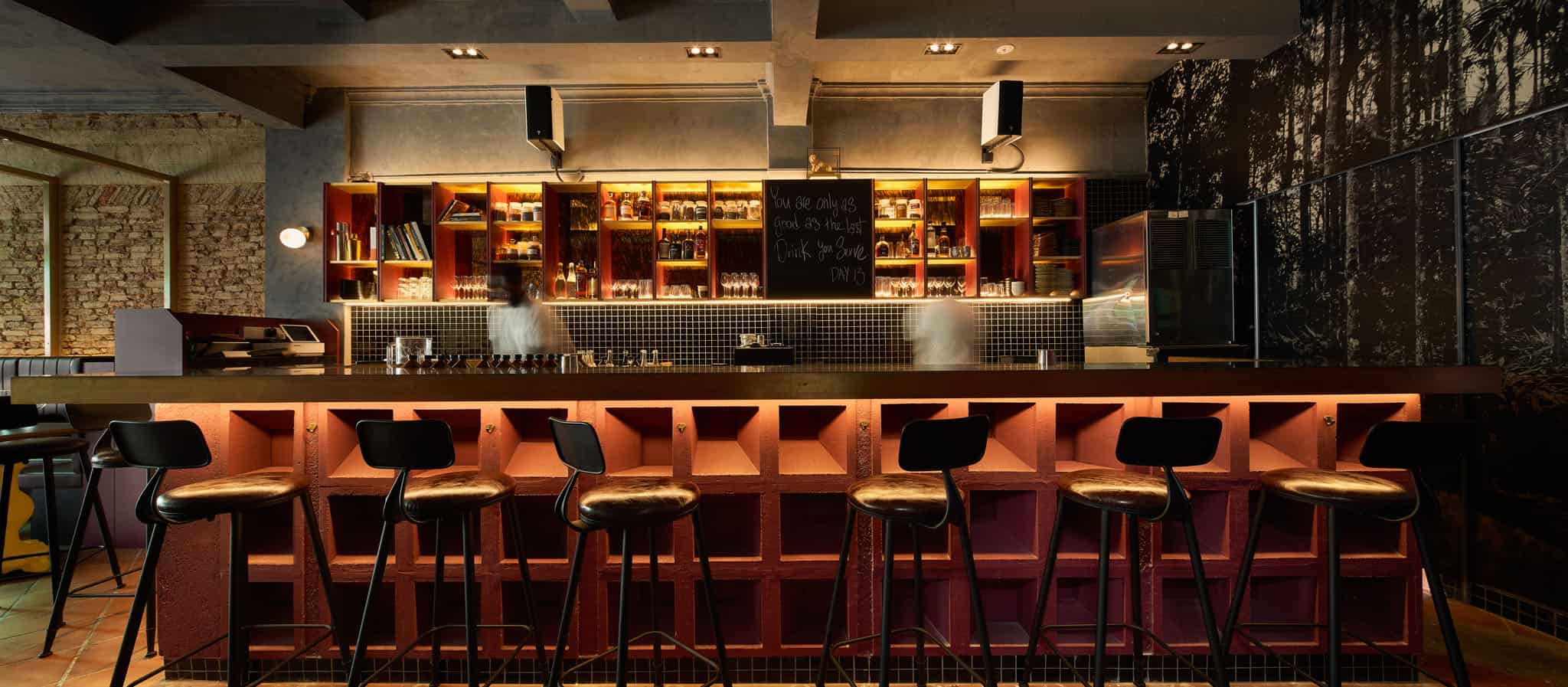 "The name "The Elephant Room" was an interesting name because it's almost like a taboo subject (akin to the phrase, "an elephant in the room" which suggests something like an obvious issue that nobody wants to speak about). From there we started to look at vernacular treatments as an homage to the way how tropical spaces were meant to be. We started off by deciding to keep the original terracotta flooring on the floor after ripping out all the old carpets, with stains and holes in it to give people a sense of "is this supposed to be like this?", then we also shaved off the plaster of the dining area to reveal the original bricks of the party walls as an homage to the vernacular." – Jonathan Poh, Owner, Provolk Architects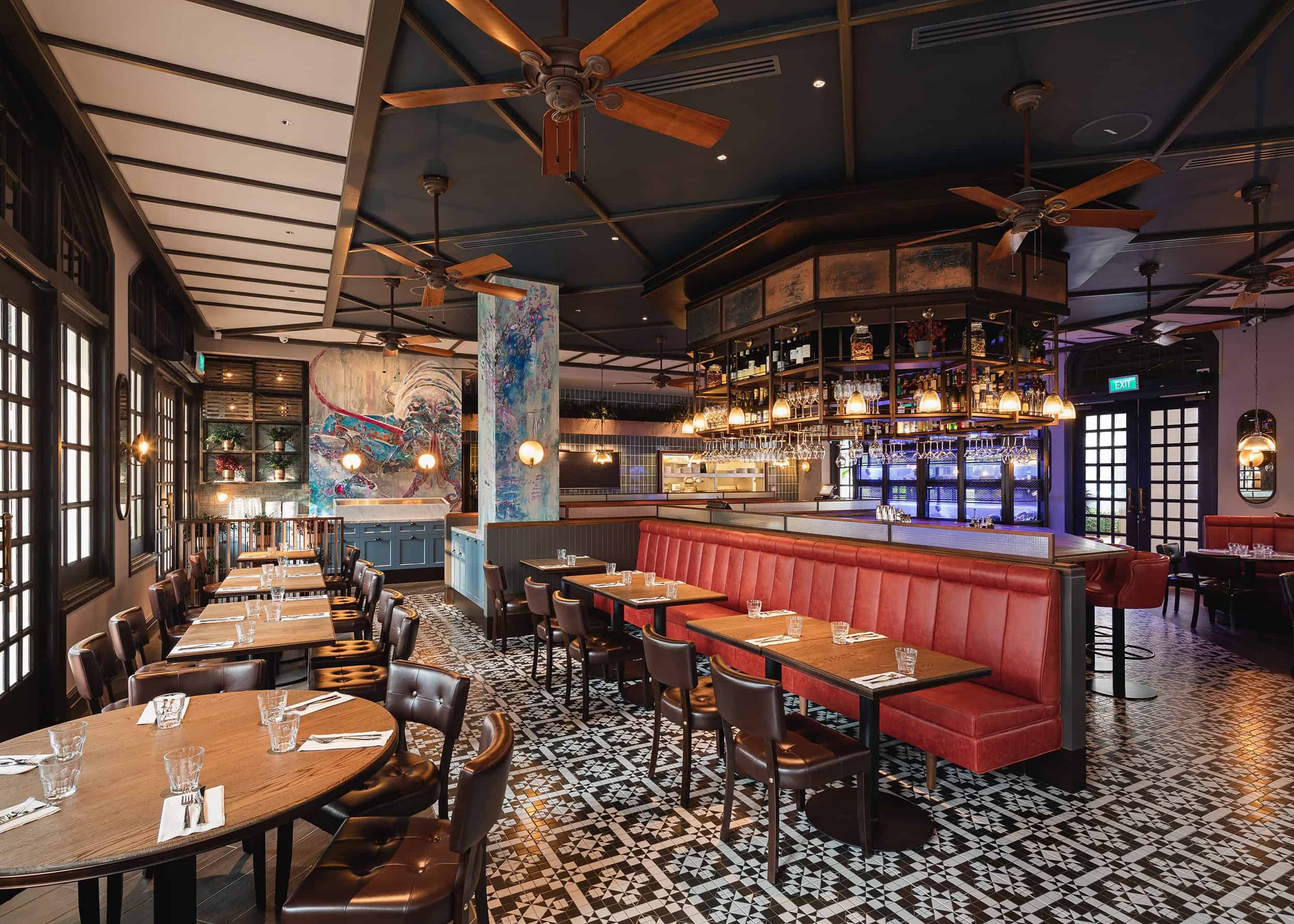 "In creating a bold new look for Burger & Lobster at the iconic Raffles Hotel, the challenge was to elevate the design to suit the prime location, whilst maintaining the relaxed atmosphere of their famed UK sites.  The central bar counter pays homage to the first outlet in a classic pub in London, as is the robust material palette using a mix of rustic timbers, bronze metals, distressed leathers and the feature red banquettes. Such design features are a blend of quality and craftsmanship with a playful, casual and welcoming aesthetic which is what Burger & Lobster are all about." – Geila Daughtrey, Co-Founder & Creative Director, Rockett Studio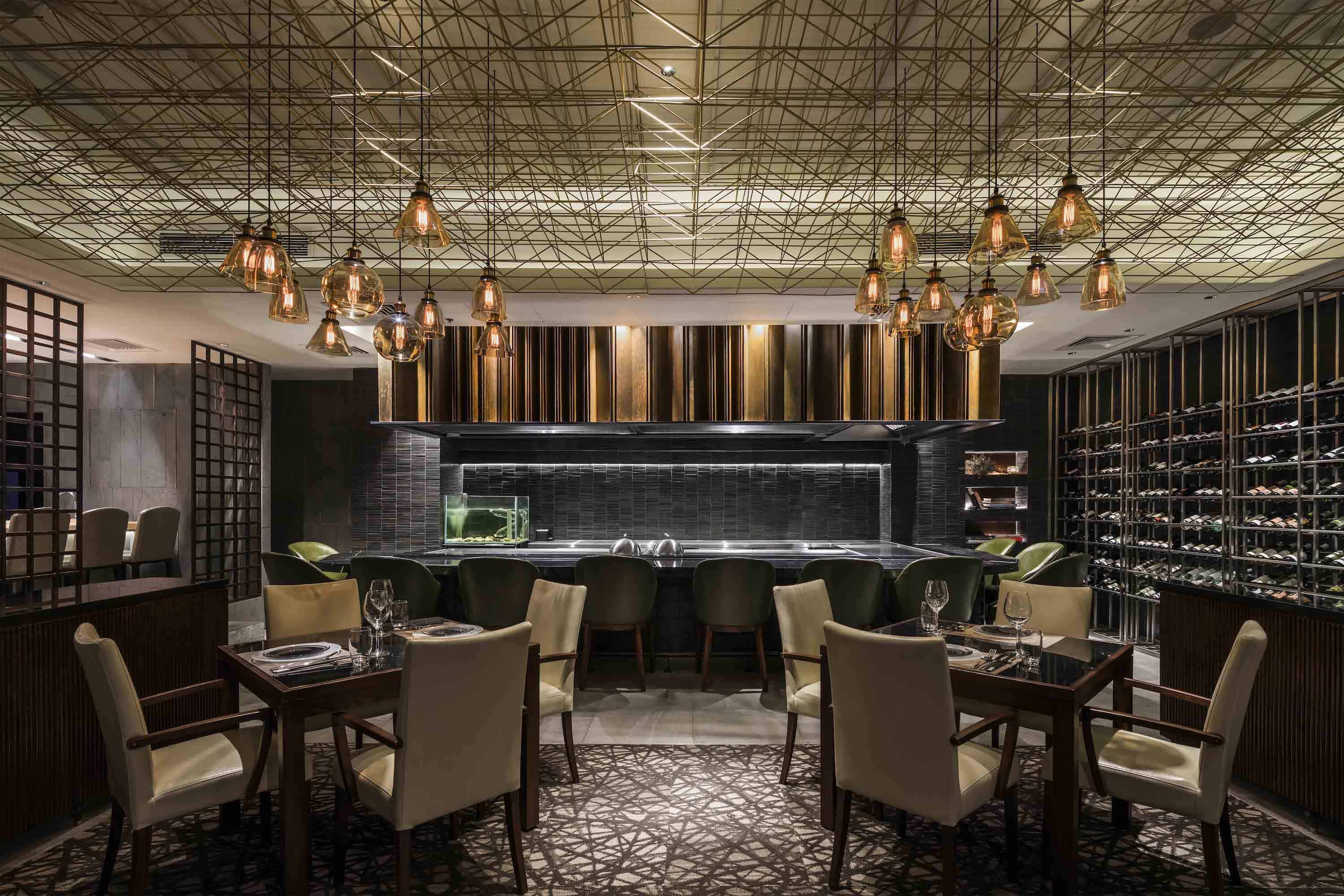 "I made a new attempt at a Japanese way of expression using contemporary materials. Traditionally in Japan, the depth has been expressed by superimposing planes rather than perspective in paintings and stage equipment. This idea is also adopted in this project. Overlaid with various materials. The depth was created by weaving the shadows generated by shining light into the material. In particular, the meshes of various shapes, which are the main materials here, can softly partition the space and blur the outline of the object, creating a rich expression in the space." – Kawaguchi Atsushi, Design & Creative Associates
SHARE