Dining with the underwater world
· 9 September 2020
·
Dining
RWS invites guests to deep dive into its Aqua Gastronomy experience from now to October 31.
It ticks all the boxes. Yes for engaging entertainment. Yes for fine cuisine that pays homage to sustainable seafood. Yes for a cosy, intimate ambience. Yes for social distancing. Resorts World Sentosa (RWS) has transformed its events space at the S.E.A. Aquarium into a creative venue with 8 dining pods and 5 cosy tables for an Aqua Gastronomy experience.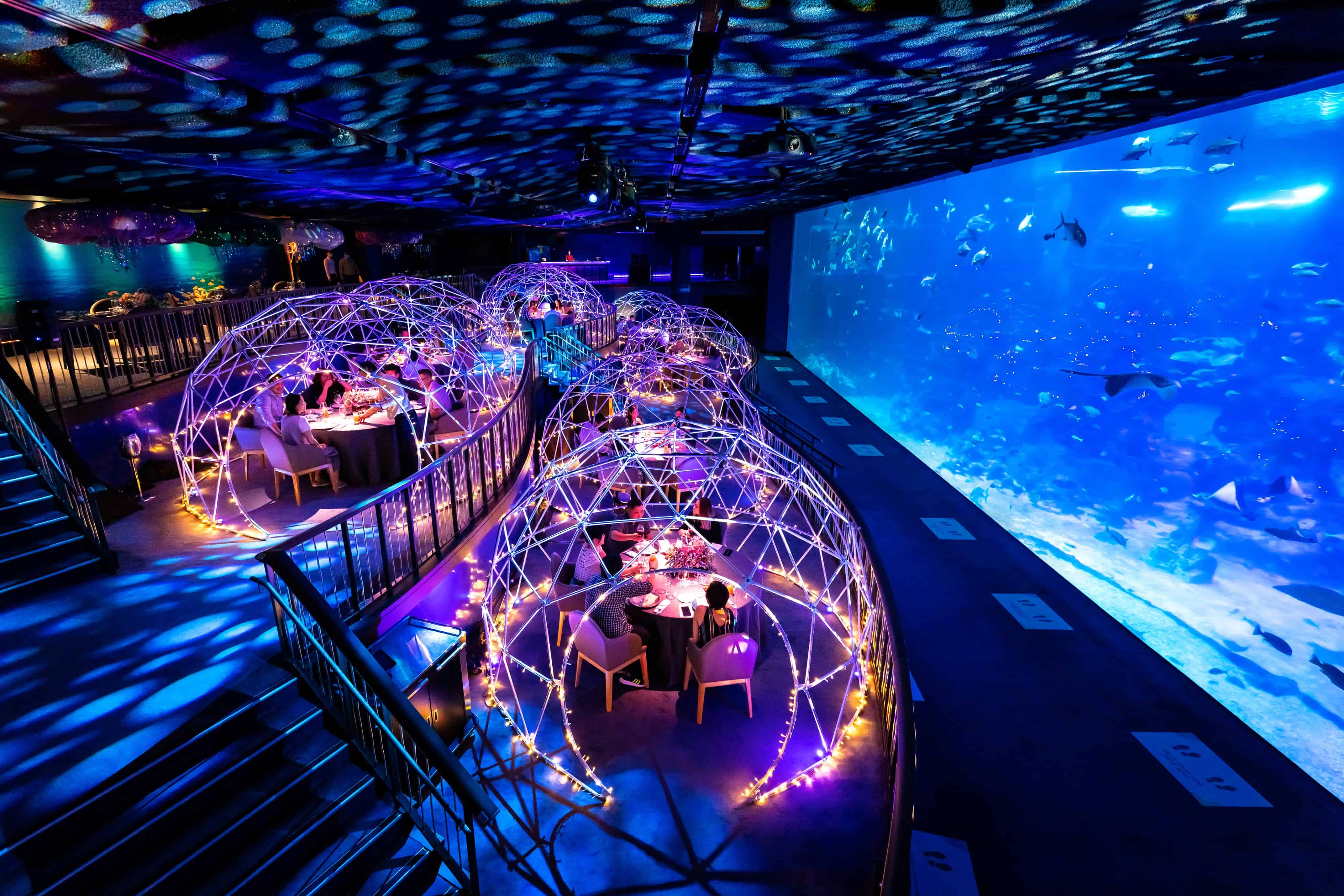 A four-course dinner menu designed by Chef de Cuisine Marvas Huang of Ocean Restaurant and Chef de Cuisine Tony Choo of Forest presents themed dishes such as Misty Morning Sea, Ocean's Reflections, Shining Seas and Treasures of the Ocean to complement the spectacle of the aquarium's centerpiece attraction, the Open Ocean Habitat. Accompanying diners will be over 100,000 aquatic inhabitants such as Reef Manta Rays, Hammerhead Sharks and Giant Groupers, submerged in the underwater terrain.
"Aqua Gastronomy is a spellbinding multi-sensory dining experience that fuses culinary artistry, visual splendour and underwater performances with stringent safe management measures in place. Reimagining the future of dining, we want to create a brand new experience for families, friends and couples to enjoy and discover together by combining dining and immersive entertainment against our dramatic underwater backdrop of beautiful marine life for the first time.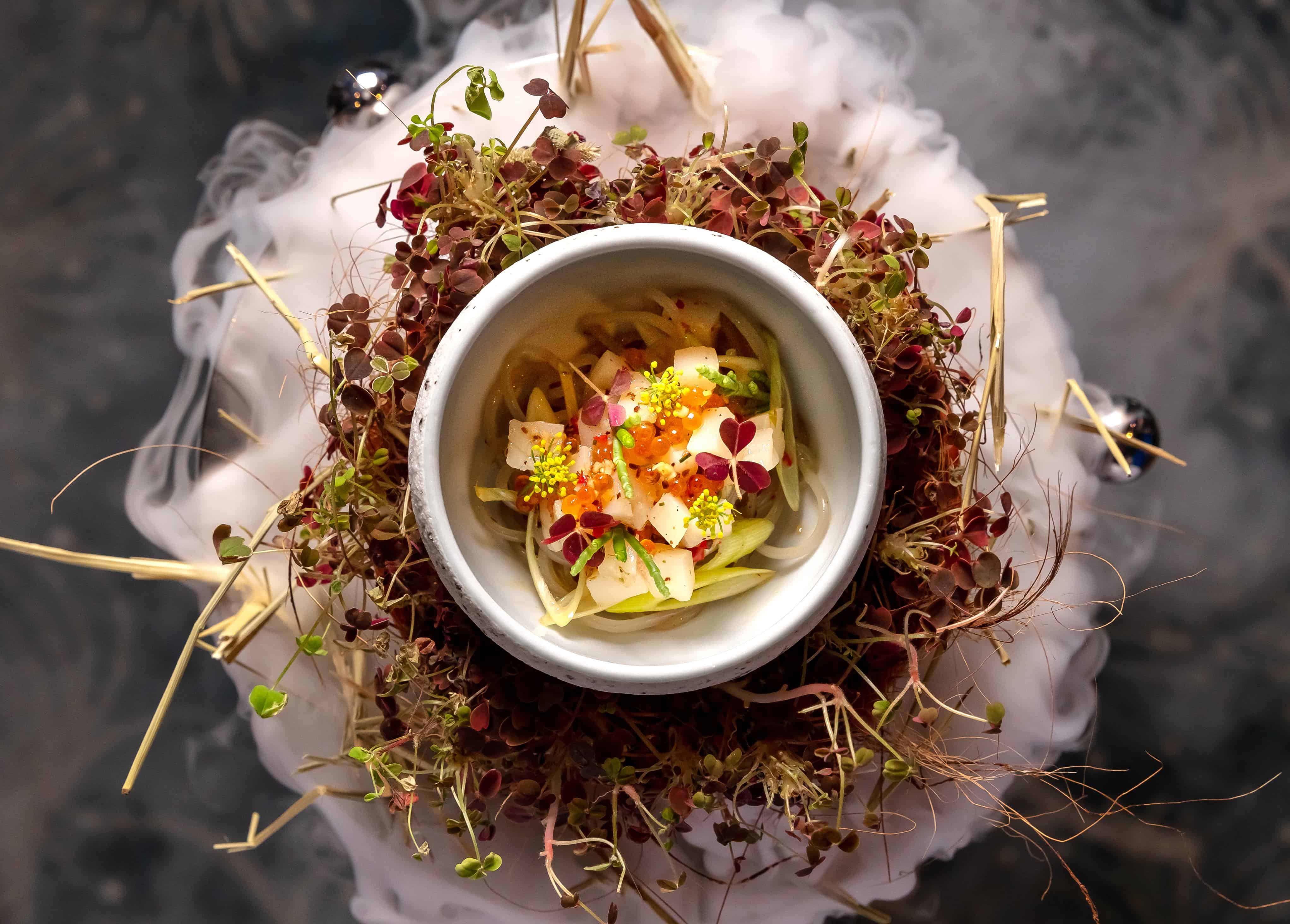 "Never before has dining in Singapore been elevated in such an extraordinary setting in one of the world's largest aquariums. Leveraging our 10 years of creating destination dining experiences unique to RWS, our in-house entertainment team and our award-winning culinary team joined forces to design a magical underwater wonderland complete with a 100% sustainable seafood menu, dive performances and dreamy oceanic lighting and sound effects," says Scott Peterson, AVP, Entertainment, RWS.
Sound and lighting effects were timed to introduce each course as it was served. Making a choreographed appearance were the professional underwater divers of the habitat, who engaged with the marine creatures, much to the delight of diners who took it as a cue for selfies and photo moments.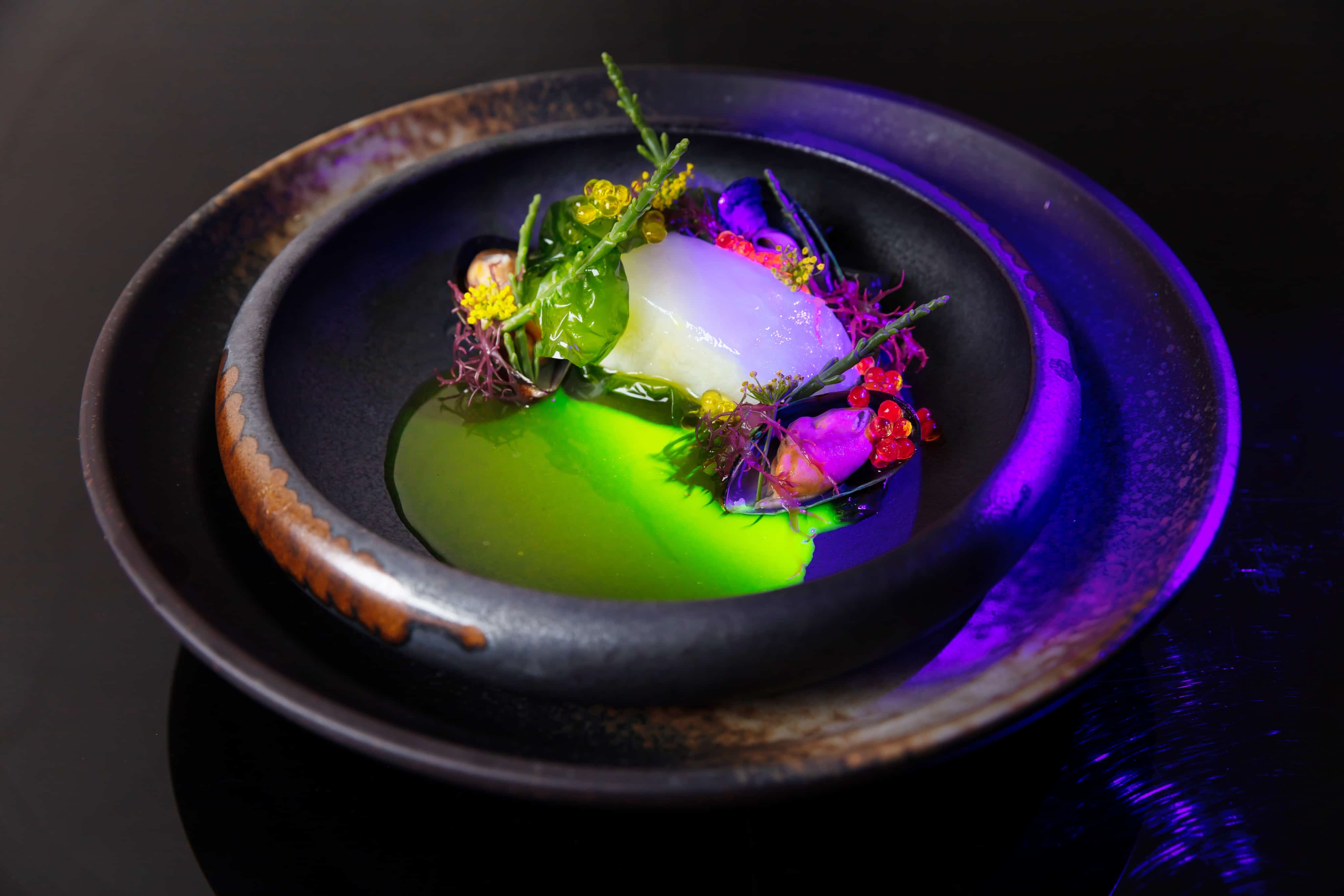 The menu highlighted ingredients that support local fisheries such as Barramundi Asia and Ah Hua Kelong, which farm premium seabass and shellfish. Our dinner started with the Misty Morning Sea, a refreshing starter of MSC-certified Canadian scallop, Thai-style Glass Noodle Salad and ASC-certified Trout Caviar presented in a smoky bowl. Especially intriguing was the Shining Seas, a medley of Kuhlbarra Seabass, Straits Mussels and Clams, Luminous Shiitake Essence and Fried Japanese Fried Rice, a dish that lit up in the dark. Flavours were clean and crisp, with pleasing sauces that were full-bodied yet light, allowing the seafood to shine on its own. Complementing the dishes were a range of vibrant cocktails that reflected ocean flora and fauna.
Aqua Gastronomy's four-course dinner menu is available at S$118++. RWS Members will enjoy the exclusive rate of S$98++. Available from Fridays to Tuesdays with one seating per night from 7.00pm to 9.00pm. Reservations may be placed online.
SHARE