Plant-Based Alternatives Leading The Way
Local brands Country Foods and Growthwell Group come together to launch a new wave of plant-based alternatives.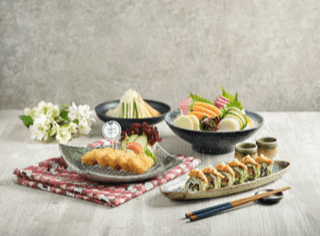 With the attention on plant-based food alternatives and discerning customers becoming increasingly more conscious about consuming a healthier and more sustainable plant-based diet, local brands Country Foods and Growthwell Group have come together to launch a new wave of plant-based alternatives.
The collaboration is the perfect synergy fit for Country Foods, a wholly owned subsidiary of SATS Food and one of Singapore's largest food importers, distributors, and manufacturers. It is also global brands' preferred one-stop go-to-market partner for sustainable and innovative food solutions into Asia, while Growthwell Group is one of South East Asia's leading player for plant-based alternative products.
When asked about the increase in demand from consumers for plant-based alternatives for fish and seafood compared to meat, Growthwell Group Singapore's Colin Chou, business development director said, "We have seen an increase in demand for plant-based substitutes from flexitarian consumers. People are starting to look at healthier alternatives to achieve a well-balanced diet, which includes plant-based seafood and meat alternatives. People are generally concerned about what artificial ingredients they are consuming in processed food, and we have an in-house R&D team that is primarily working on making our products and labels as natural and clean as possible. We believe that the demand of plant-based alternatives will continue to increase in the coming years." Chou also confirms that the health benefits of seafood alternative products include being cholesterol free, high fibre and fat free, while the health benefits for soy meat alternatives are high protein, cholesterol free and high fibre.
As part of Sushi Tei's seasonal Kenko Feast menu (available from now until 13 October islandwide), diners can expect plant-based creations such as Shokobutsu BBQ Ham Roll, Shokubutsu Ebi Roll, Shokubutsu Curry Omurice, and Shokubutsu Fish Nuggets.
Growthwell Group's OKK brand is known for its egg-free ingredients made with soy, mushroom and konnyaku. For instance, diners can look forward to the Shokobutsu BBQ Ham Roll which comprises OKK's plant-based chicken ham, while the Shokubutsu Ebi Roll features OKK's plant-based prawn and minced meat. We especially liked the Shokubutsu Fish Nuggets where OKK's low calorie, cholesterol-free konnyaku perfectly mimicked the texture and mouthfeel of minced fish. And if you're a fan of curry rice, the omurice showcases tender braised beef made from shiitake mushrooms. The plant-based products are currently being produced in an ISO certified plant in Malaysia.
With the current pandemic situation, Growthwell Group's plant-based alternatives offer a timely and effective solution to address the concerns on food security and food sustainability, in line with Singapore's 30-by-30 plan. Growthwell will be setting up a state of the art, end-to-end technology centre in Singapore. The facility will have the latest food technology applications, high-moisture extrusion (HME) capabilities and a fully automatic manufacturing production line to scale production and cater to the strong demand for plant-based meat and seafood alternatives in the region.
Says Elaine Koh, head of marketing, Country Foods, "Plant-based proteins are one of the key pillars to food sustainability, food resilience and food security along with the eco system that includes supply chain and logistics, sustainable sourcing and distribution." Country Foods is now looking at new demand from retailers, supermarkets and convenience stores requesting plant-based protein ready-to-cook and ready-to-eat snacks and meals.