From Italian to Mediterranean
The transformed Riviera Forlino unveils a new style of vibrant elegance in its rebranding and culinary vision.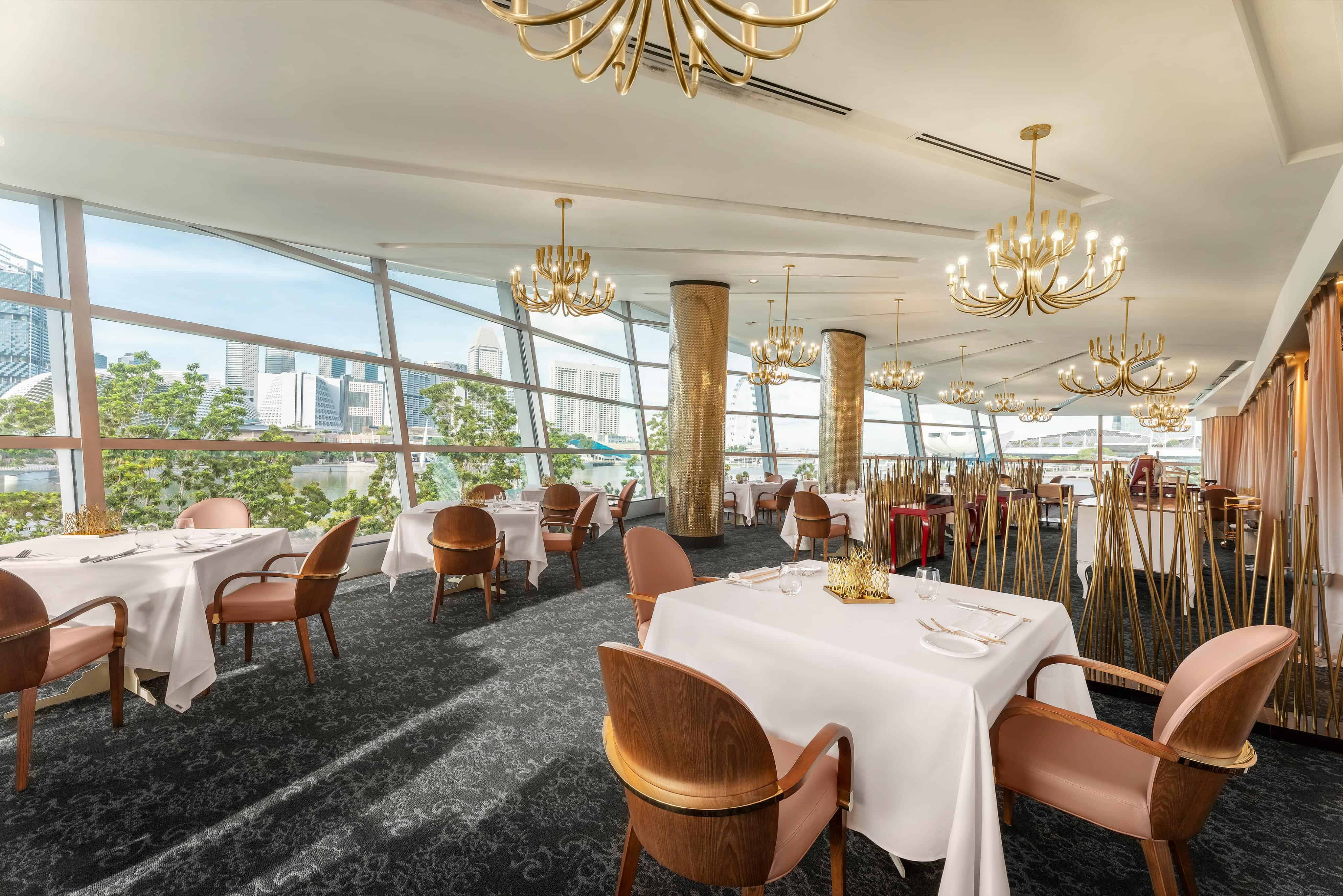 The Forlino of old unveils itself as Riviera Forlino to reflect its emphasis on Mediterranean coastal cuisine. Fronting the brand refresh and culinary transformation are Executive Chef Rémy Carmignani, Executive Pastry Chef Nicolas Vergnole and Maîtresse de Maison Elia Bajrai, making up a young and vibrant team that is setting the tone for the new Forlino.
While sophistication in service and culinary finesse remain the pillars of the Forlino experience, diners will be surprised by the myriad of Mediterranean influences beyond just Italian cuisine. Mediterranean countries include the likes of Bosnia, Egypt and Lebanon to Morocco, Slovenia and Tunisia, to name a few, and for an international chef such as Carmignani, it certainly looks like his experience ticks the boxes for executing an innovative Mediterranean coastal cuisine. His Franco-Italian heritage synergises with over 15 years of experience in Paris, Doha, Marrakech and Singapore where he held notable appointments in the three-Michelin-starred kitchens of Guy Savoy and at five-star palace-hotel La Mamounia.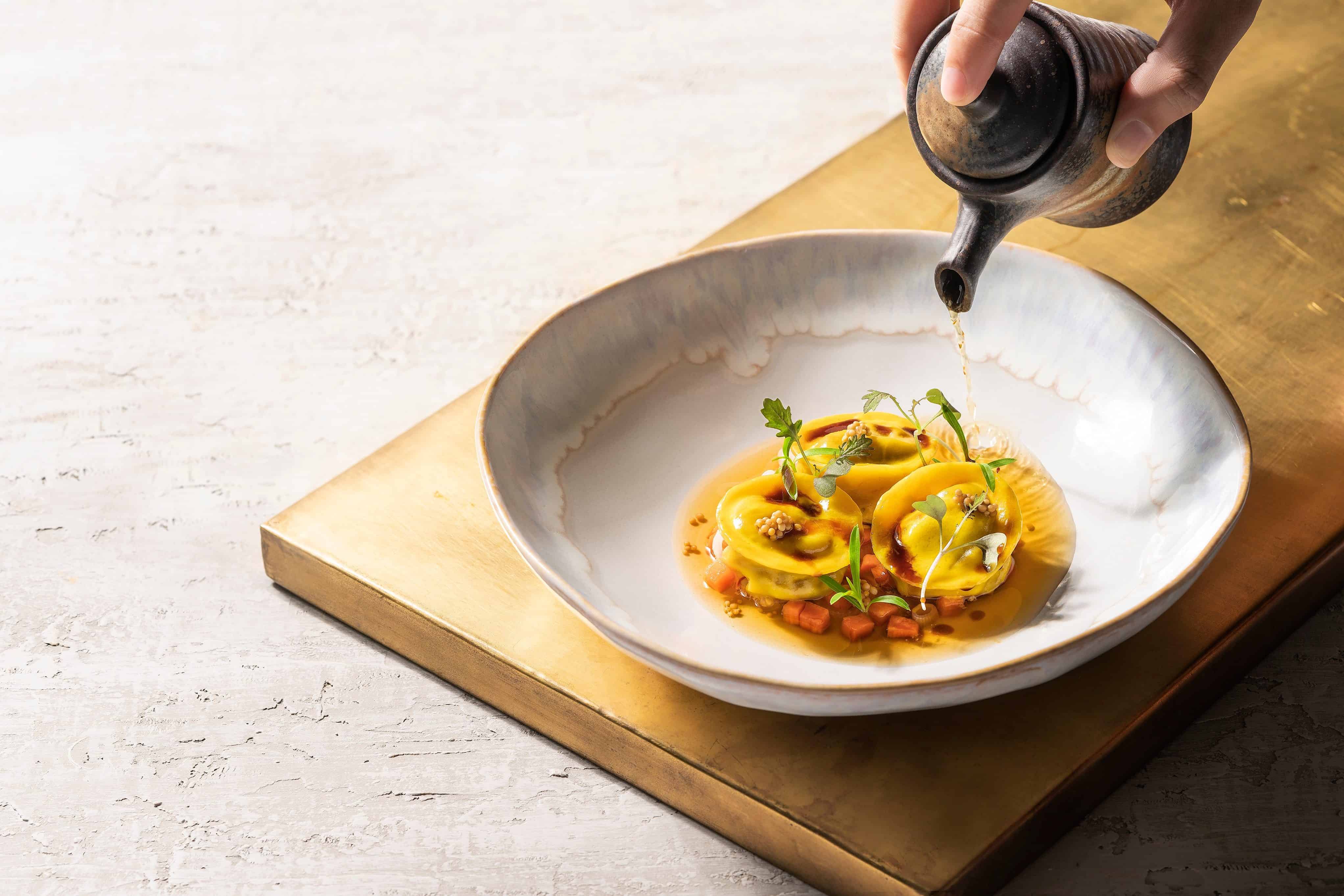 "The dishes at Riviera Forlino not only pay homage to my roots; they also reflect the fresh bounty of the Mediterranean region and my multicultural culinary experiences, presenting a colourful and exciting experience for our guests," says Chef Carmignani.
Vibrant colours and summer freshness defined the starter dish of Wild-caught New Zealand Langoustine, which was served in raw slices topped with tomato jelly and dressed with tomato vinaigrette made from cherry tomatoes, olive oil, xeres vinegar and Dijon mustard to awaken the taste buds with its sweet zingy flavours. Garnishes of kiwi seeds, pomegranate, mustard seeds and leaves finished with basil oil complete the flavour profile. The perfect start to evoke a sense of the Mediterranean coast.
The next dish of Hand Made Tortellini with traditional Moroccan Tangia-style lamb shoulder was inspired by the traditional Moroccan dish of "Marrakchia Tangia", a slow-cooked stew cooked in a clay pot. It was the ideal representation of Chef Carmignani's international background. The lamb shoulder was slow-braised in house-made preserved lemons, thyme, cumin, shallots, garlic, sour cream and parmesan, topped with saffron and goat cheese cream and finished with broth from the braising stock of the lamb shoulder. This rich savoury bite immediately brought me to Morocco; the aromatic notes of the spices and herbs balanced the strong lamb flavour, finished off with a bright hint of zest from the preserved lemons to perk up the taste buds. It was addictive. And addiction came in twos.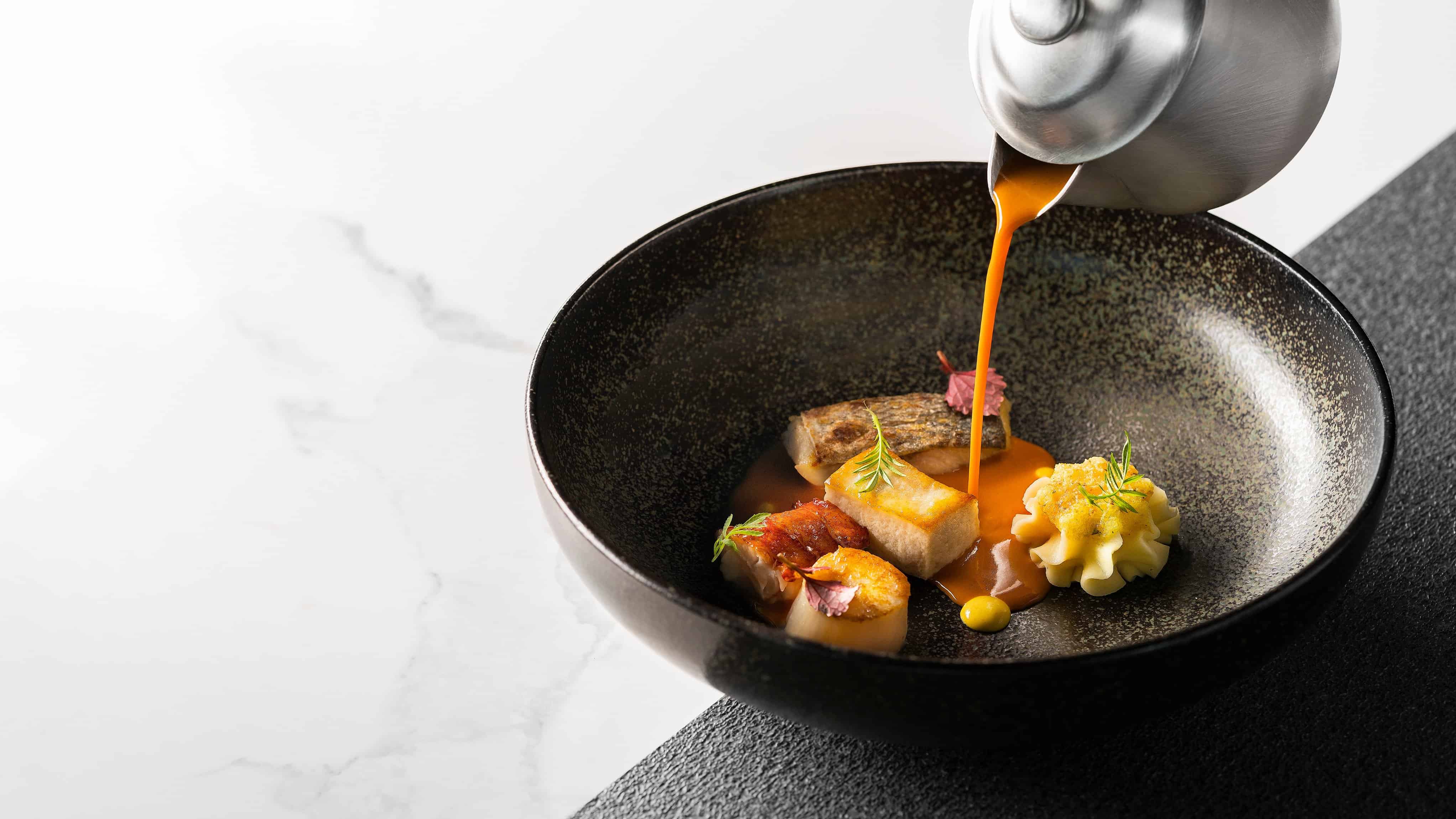 The Lobster & Shellfish Bouillabaisse was a tempting bowl of comfort, a simple dish that represented the chef's childhood memories of his grandmother's signature dish. The delish morsels of lobster and scallop kept company with a mound of garlic Parmentier of rich mashed potato, sitting in the rich, thick, smooth lobster sauce made with fresh lobster, cream, shallots, garlic and thyme, deglazed in the pan and flambéed with a dash of Ricard. Each perfect spoonful of potato, seafood and sauce yielded an addictive medley of beautiful flavours that lingered on my tongue. Rounding up the mains was the moreish Grain-fed Bresse Pigeon, a trio of roasted pigeon breast with beetroot textures and onion blanc-manger; slow-braised pigeon leg with pea shoots; and a "pigeon lollipop" of meat with parmesan cheese and sour cream with chicken liver sauce salmi. A light Goat Milk Panna Cotta of apricot & thyme sorbet, goat milk whipped ganache and hazelnut crumble completed the evening's most memorable indulgence.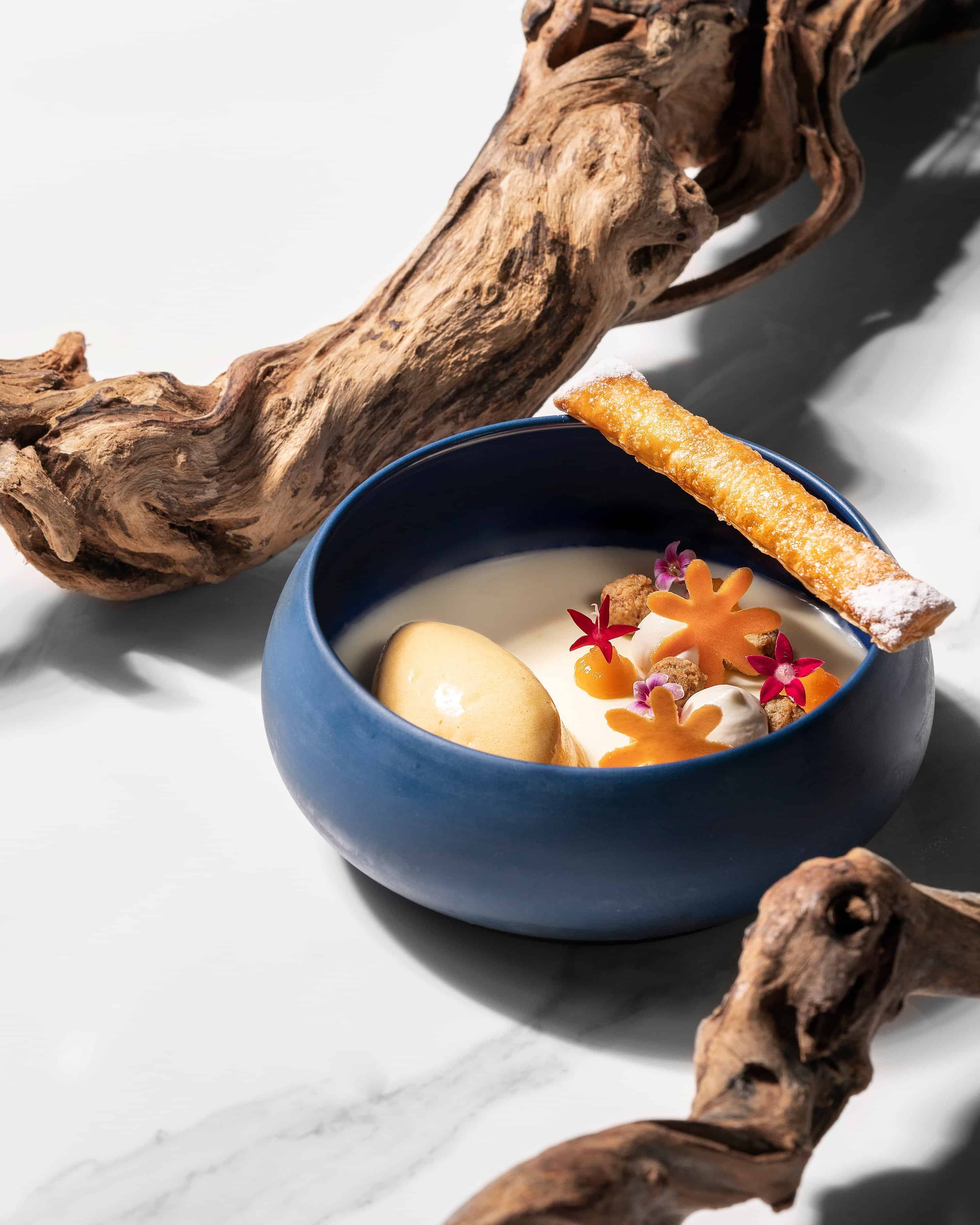 The five-course dinner menu is $148++; the seven-course dinner is $188++.
1 Fullerton Road, #02-06, One Fullerton. Tel: 6690 7564.