Best panna cottas in Singapore
Panna cotta perfection comes comes down to three simple factors: the cream, sweetness, and just the right amount of gelatin. We suss out the best ten.
LATTERIA MOZZARELLA BAR
Latteria's panna cotta has a sweet, citrusy bite from the liberal shreds of zest from plump, unwaxed Amalfi lemons. A crown of fresh strawberries—macerated in balsamic cream to enhance the fruit's sweetness—heightens the tart aromas. For its generous portion, the dessert is surprisingly light, thanks in no small part to the 12-year-old balsamic vinegar in the cream, and the shredded mint leaves, which add a refreshing pop of flavour. 40 Duxton Hill. Tel: 6866 1988
WILD ROCKET
Most will agree that panna cotta is best when made with just vanilla and the freshest dairy, and they'd be right if Wild Rocket didn't come up with the ingenious idea of infusing cream with the subtle, floral notes of pandan. Lightly set so it has just the right jiggle, the delicate, silky pudding sits in a pool of salted gula melaka for a sweet-salty dessert that hits all the right notes at once. Hangout Hotel @ Mount Emily. 10 A Upper Wilkie Road. Tel: 6339 9448
TRATTORIA GALLO D'ORO
There's an written rule in chef Carlo Marengoni's homey trattoria: 'have food, must share'. Scrumptious homemade pastas like the ravioli with veal, served with crispy bacon and sage may have you and your party engaged in a fork fight, but the panna cotta con fragole ($10) is large enough to make its way round the table. When it reaches you, be sure to dig deep into the quivering cream pudding to get a spoonful of luscious strawberry and cream flavours in one delightful mouthful. #01-03 Central Mall. Blk 7 Magazine Road. Tel: 6438 8131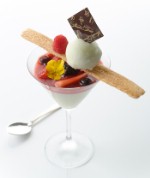 DOMVS
Unlike the usual panna cotta which is luxuriantly creamy, DOMVS's rendition freshens the palate with a zest of lemon infusion. To further lighten this dessert, the panna cotta is also topped with a velvety mixed berries compote and a mini ball of lime sherbet. A strip of puff pastry served alongside adds a lovely crunchy contrasting texture. Sheraton Towers, 39 Scotts Road. Tel: 6839 5622
RISTORANTE DA VALENTINO
Valentino offers three flavours to choose from—vanilla, hazelnut and pistachio—and we like the pistachio one best. The nut flavour is rich, flavourful and the panna cotta is stained a lovely green that assured us that the real deal instead of essence is used to flavour the cream. Panna cotta is hardly available for takeaway but you can take heart, because at Valentino's, it is. 200 Turf Club Road, #01-19. Tel: 6462 0555
ALKAFF MANSION RISTORANTE
Kept rustic, just like how the charming and quaint mansion is, Alkaff's rendition of panna cotta is served only with strawberries dressed in a sweet syrup. The strawberries are ordinary and did little to elevate the flavour of the dessert, but it wasn't like any kind of elevation is needed anyway. The panna cotta is extremely enjoyable on its own and possesses just the right amount of bite that didn't result in its instant disintegration when it entered our mouths, but with a light push by our tongues, melted into a satisfying creamy puddle. 10 Telok Blangah Green. Tel: 6510 3068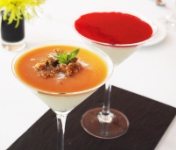 SENSO RISTORANTE & BAR
We had to do a double take when the staff presented to us our Bourbon Vanilla Panna Cotta Duo—the custard was presented in two glasses, one offering a strawberry sauce, the other, a caramel. Executive chef, Yves Schmid, whips up the gelatinous dessert with French cream infused with fragrant bourbon vanilla from Madagascar. The trick here is to resist enjoying each piquant panna cotta as if they were separate desserts (trust us, it's not easy), but to put a scoop of each into your mouth and let the acidity of the strawberries and the sweetness of the caramel intertwine and unfurl seductively on your palate.
21 Club Street. Tel: 6224 3534. Book a table at Senso Ristorante & Bar with Chope.
BONTÁ ITALIAN RESTAURANT AND BAR [CLOSED]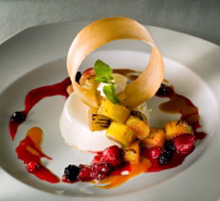 With a delicate round wafer perched gently on a wobbly custard surrounded by a blood-red raspberry sauce dotted with the red fruit, the Panna Cotta here is beautifully presented. The tofu-like, gelatinous texture of the panna cotta serves as the perfect foil to soak up the tart flavours of the sauce. We were very tempted to have a second helping. #01-61 UE Square River Wing, 207 River Valley Road. Tel: 6333 8875
OTTO LOCANDA [CLOSED]
True to the casual family-style of this trattoria, the presentation of the panna cotta here is simple—it's served in a glass with a sugar crusted almond cookie and a red pool of berry sauce. But the proof is in the pudding. The traditional dessert is smooth as tau hwey (soya bean custard) and melts in your mouth like ice cream. We love the lingering taste of vanilla (they use real vanilla bean and lots of it too) that was lifted up by the tangy coulis made from a trio of berries—strawberries, blueberries and raspberries. 32 Maxwell Road. Tel: 6224 0978
FORLINO
Since executive chef Kentaro Torii has taken over the reins of this much loved elegant Italian establishment, he has introduced a few new creations to tantalise diner's palates including the panna cotta. Our dessert arrived, a small, pale wobbly dome aloft a glass plate. Torii's take on the custard creation is an exercise in contrast: sweet cream is enlivened by a tropical passionfruit puree and its voluptuous texture set off by crunchy crumbs of white chocolate amaretti. #02-06 One Fullerton, 1 Fullerton Road. Tel: 6690 7564. Book a table at Forlino with Chope.