Lucali's cult Brooklyn pizzas now in Singapore
Lucali BYGB opens in Kallang with 18-inch pies and stellar wine programme.
Lucali, a legendary NYC pizza spot made world famous after being featured in the first episode of Netflix's Ugly Delicious, has opened its first international outpost in Singapore in a charming 2,500sq ft riverside space. Situated on the mezzanine level of a small building overlooking Kallang River, Lucali BYGB is a partnership by Lucali's chef-owner Mark Iacono and Singapore-based hospitality consultant and native New Yorker Gibran Baydoun.
Fans in Singapore have it good as the restaurant takes reservations. Over at the Brooklyn restaurant, hopeful diners have to arrive around 4 or 5pm, wait in line for an hour or more to put their names down for a table for the evening, mill about the neighbourhood for several hours before being called when a table is ready for them. All to have that legendary pie by Iacono who quit his job as a marble cutter to open his pizzeria in 2006 without having any culinary experience or background.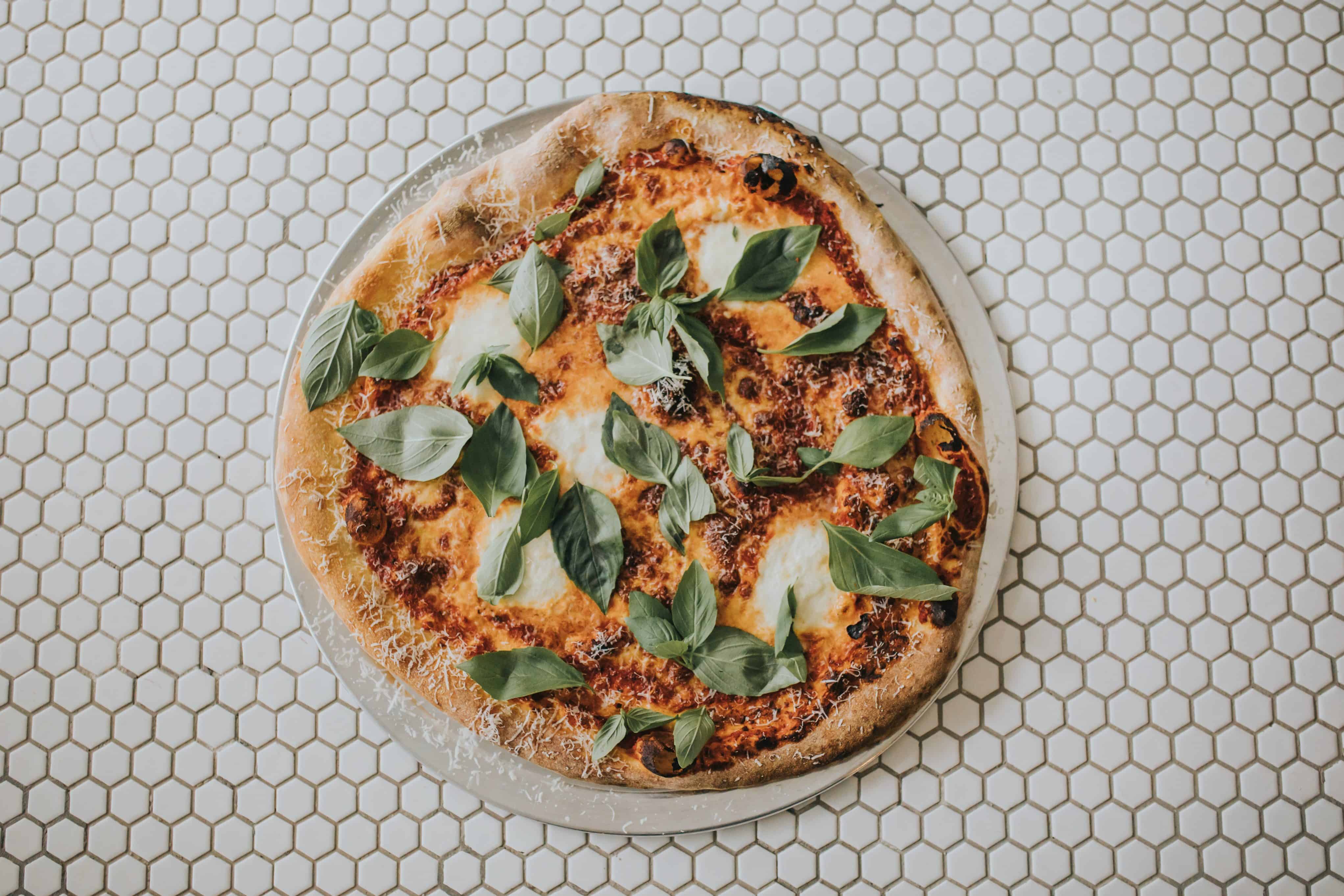 Made in the New York style, the famed classic 18-inch pie ($55) includes the secret 'four-hour tomato sauce' recipe passed down from Iacono's grandmother, buffalo mozzarella and low-moisture mozzarella, and topped with shaved Grana Padano and fresh basil after it's baked. Additional toppings like pepperoni, anchovies, onions, olives and mushrooms ($5 per topping) are currently available, and can be served by the side. The pie is baked in a wood-fired oven which has been designed and purpose-built by the same mason who delivered Lucali's original oven in Brooklyn, using bricks from seven suppliers across South East Asia.
Unlike some pizzas which feature charred blisters and big irregular air pockets, the crust at Lucali's is more uniformed and pale golden, with a crispy and mildly chewy base. Another option is the light as air crispy calzone ($40 full/ $30 half) that's filled with buffalo mozzarella, low-moisture mozzarella and ricotta, served with a tomato sauce on the side.
While the original in Brooklyn serves mainly pies, the Singapore outpost offers pastas, salads and desserts. For diners who love a spicy kick, the spicy rigatoni ($35) in a vodka, tomato cream sauce hits the spot while the cacio e pepe ($35) which uses telephone cord-like fusilli lunghi was fun to eat.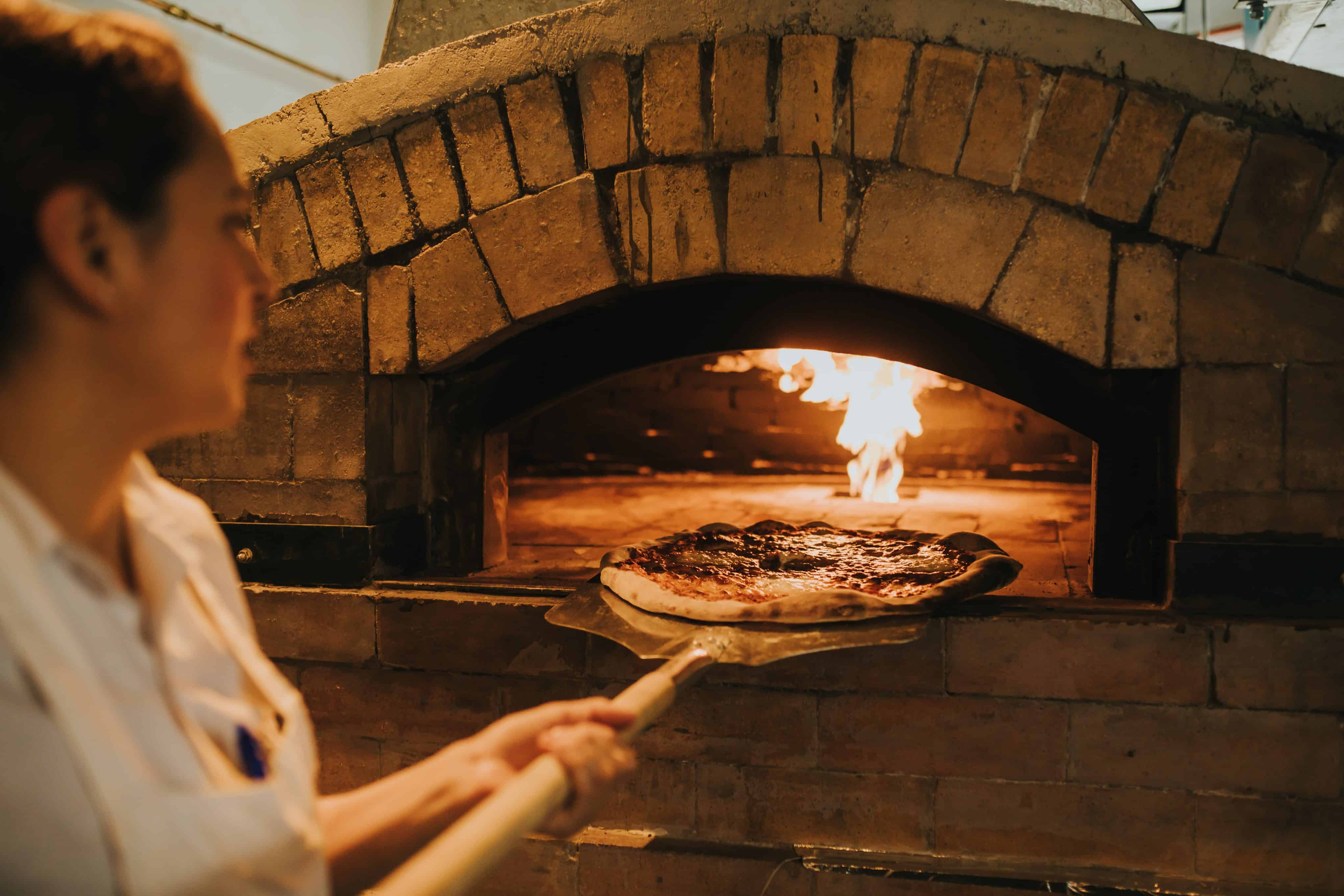 Other specials include the tasty and not too dense meatloaf ($38) and hearty salads, caesar salad ($25), cauliflower ($25) and The BIG Salad ($25) a simply but properly dressed plate of piled high radicchio, asparagus, salami, olives, tomatoes and provolone.
The wine programme deserves star billing, headed up by Marcus Chen (formerly from Jaan by Kirk Westaway). There is no menu or wines by the glass, just rows of cult and natural bottles for you to choose from with fixed prices from $60 to $600. Look out for the house collaboration with Margaret River star Nic Peterkin, whose L.A.S. Vino Skin Contact Sauvignon Blanc ($90) and Malbec ($100) are exclusively bottled for Lucali BYGB. The selection, from Sicilian Occhipinti to New Zealand Kindeli to Burgundies and Napa Valleys, are chosen for their 'crushable' factor and ease of pairing with the food. In this no-frills setting, wines and all beverages are served in plain water goblets, while conversations flow and candlelit tables twinkle all night – at least till the 10.30pm curfew for the time being.
Level M, 66 Kampong Bugis. Tel: 8284 1325