Escape into the underwater world
Ocean Restaurant at Resorts World Sentosa tempts gourmets with its four-hands Modern Asian menu.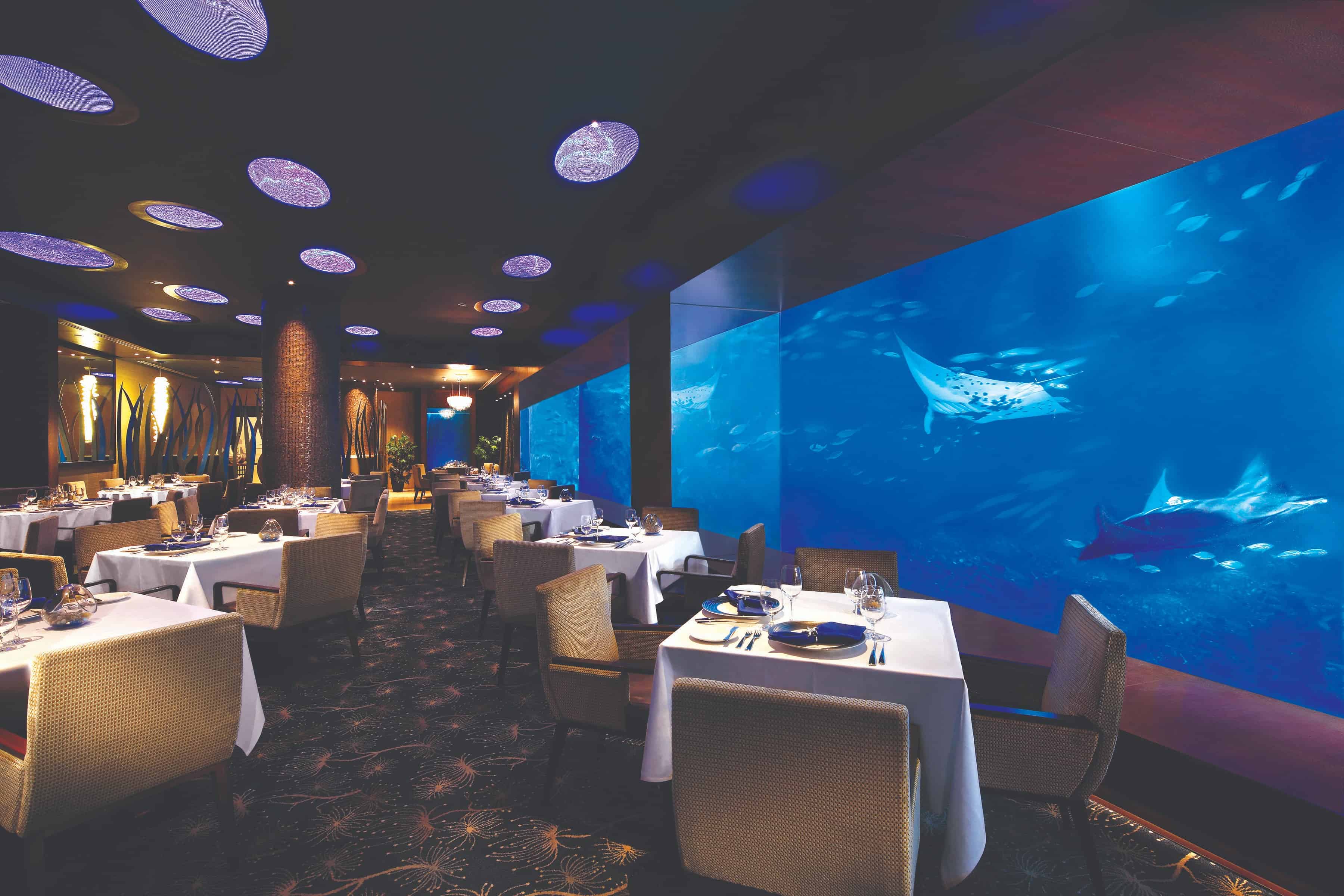 Serene. Secluded. Secretive. Perfect in the new world of social distancing. You drive into Sentosa Island, park in the basement carpark at Equarius Hotel, and head to the tucked-away entrance of Ocean Restaurant. The mood for the evening is further enhanced when you step into the dimly lit restaurant and gaze into the calming underwater world of S.E.A. Aquarium's fascinating marine animals. You can't help but leave your buzzing thoughts aside for a moment, and although the restaurant may be fully booked, the tables are well spread out for cosy tête-à-têtes and you will hardly notice the other diners.
While all that may whet the appetite, the new four-hands menu created by Chef de Cuisine Marvas Huang of Ocean Restaurant and Chef de Cuisine Tony Choo of Forest Restaurant makes it well worth the trip. Presenting a collaborative Modern Asian menu using sustainably sourced seafood, both chefs have decided to showcase ingredients that are true to their Asian roots, and more importantly, these ingredients are harvested and farmed sustainably without harming our oceans, shared Chef Huang.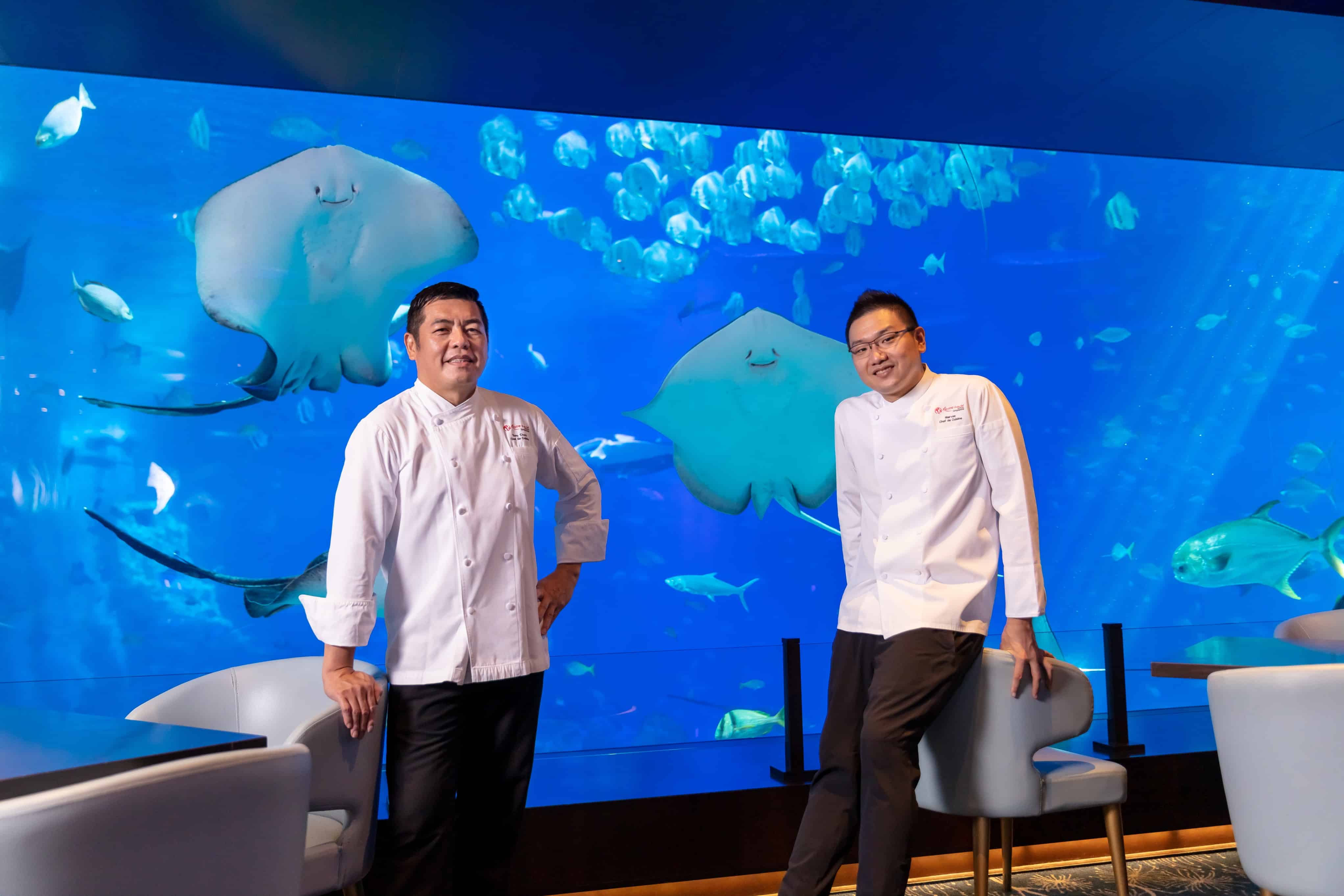 He elaborates, "As Ocean Restaurant is located in the S.E.A. Aquarium, we became acutely aware of the importance of marine conservation and caring for our oceans and marine life. Our first step is to consult our RWS Sustainability Committee and to draw up a list of ingredients top on the sustainable list for us to work with. From there, we zoomed in and shortlisted artisanal and environmentally responsible fisheries and farms all around the world and started sampling their products to create our menu."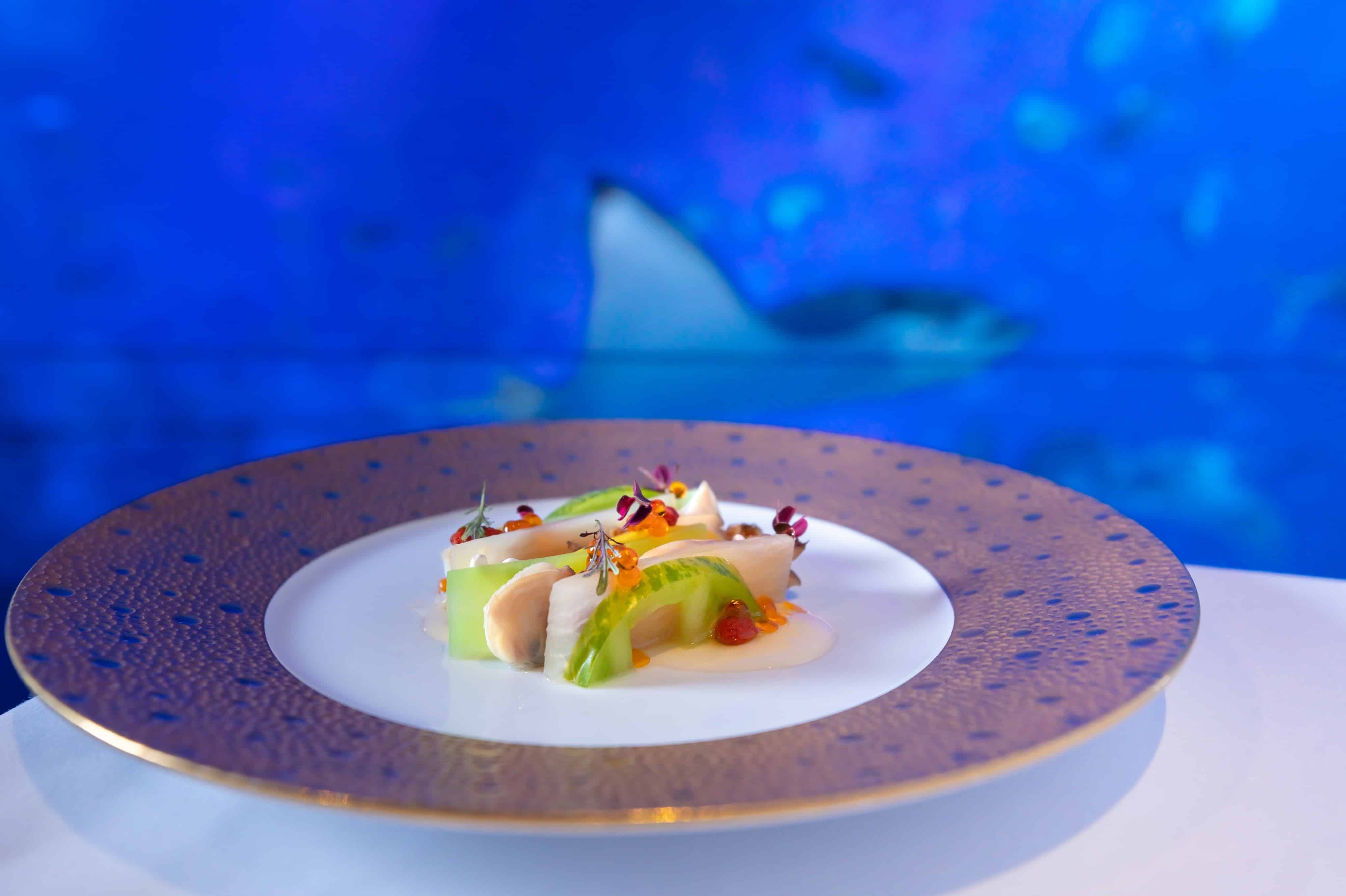 Inspired by this vision, the chefs have highlighted exquisite ingredients that were masterfully prepared for a flawless east meets west collaboration. To start, the Drunken "Yumbah" Abalone from Australia with Shao Xing, Wolfberries and Organic Vegetables were delicately presented, gently cooked to yield robust flavours with an Asian finish in the palate. Chef Huang shares, "These beautiful little gems were lightly steamed with shao xing and soaked inside a rice wine lees brine with wolfberries to enhance their taste and texture. It is then sliced, served with fresh artisanal heirloom tomatoes from France and dressed with the solution the abalone was marinated in, giving it a rich umami finishing. Lastly, it is topped with chili oil caviar which adds a little punch and distinctive Asian character."
A dish that aptly reflects Ocean's sustainability ethos is the Wok-seared Diver Scallop with Encapsulated Cucumber Apple, Shimeiji Mushrooms and Lobster Jelly. "We are not only conscious about the sustainability of our ingredients; we are also a firm believer in using secondary cuts, making sure nothing goes to waste. Our Diver Scallop dish is a strong example of our nose to tail cooking approach. Every part of the scallop was utilised. The muscle was seared; the scallop skirt was braised till soft and mixed with a Chinese-style vinaigrette of sesame oil, kombu and soy sauce; and everything else (roe, liver, smaller muscle that connects the main muscle with the shell) was made into a crispy jelly to give the dish an extra mouthfeel," says Chef Huang.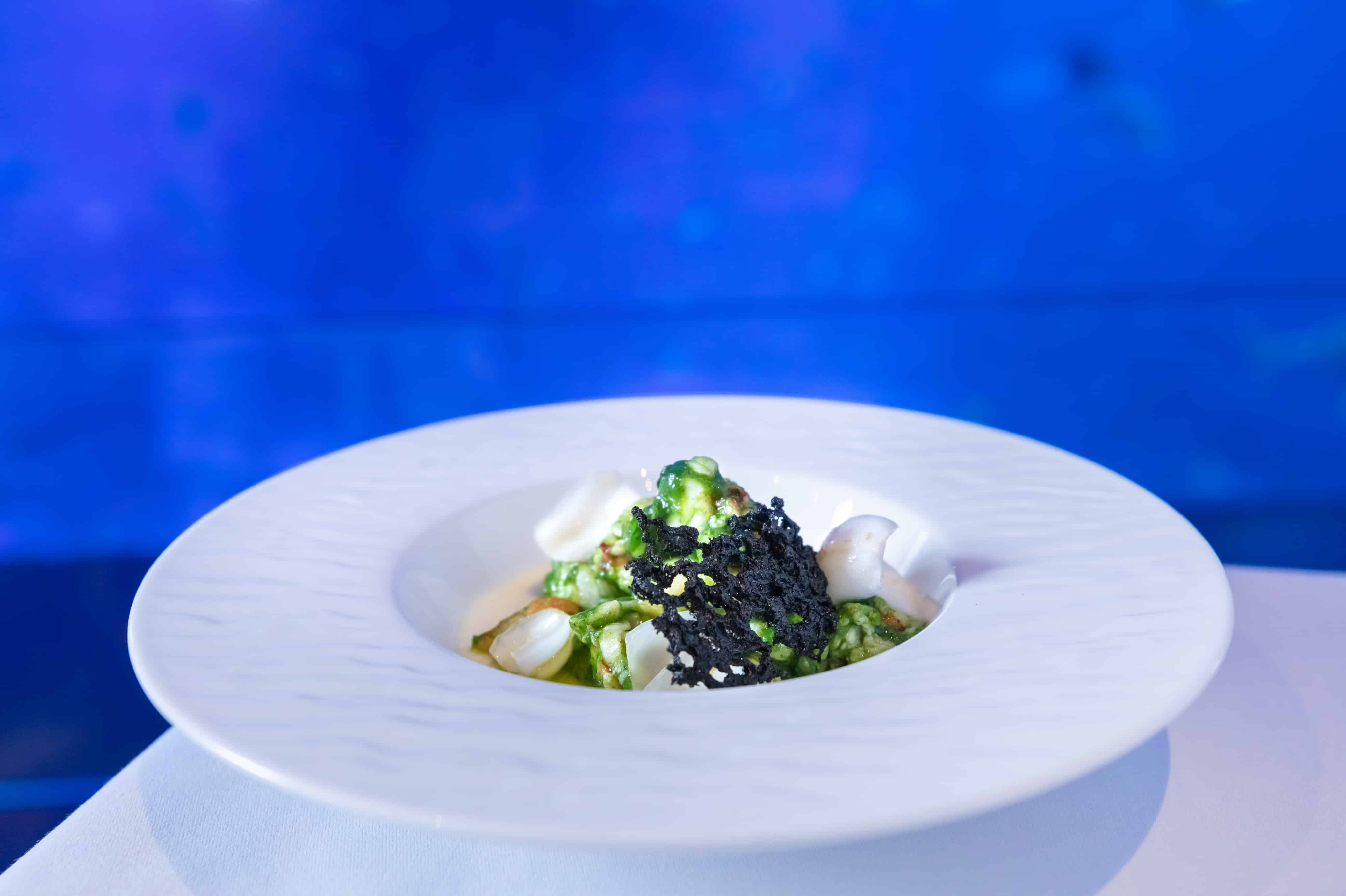 My favourite bites of the evening were the Boston Lobster with Steamed Ginger Egg White Custard and Chive Sauce and New Zealand Cod Fillet with Sake Sauce, Assorted Mushrooms and Vegetables. The former evoked memories of the humble steamed egg custard and was such a comfort to bite into, while the sweet lobster meat and firm texture elevated the mouthfeel for a satisfying finish. The 160 deg C oven-baked cod fillet was creamy and melt in the mouth, contrasted by the crunch of crispy fish skin and perked up by the slightly tart taste of the sake sauce.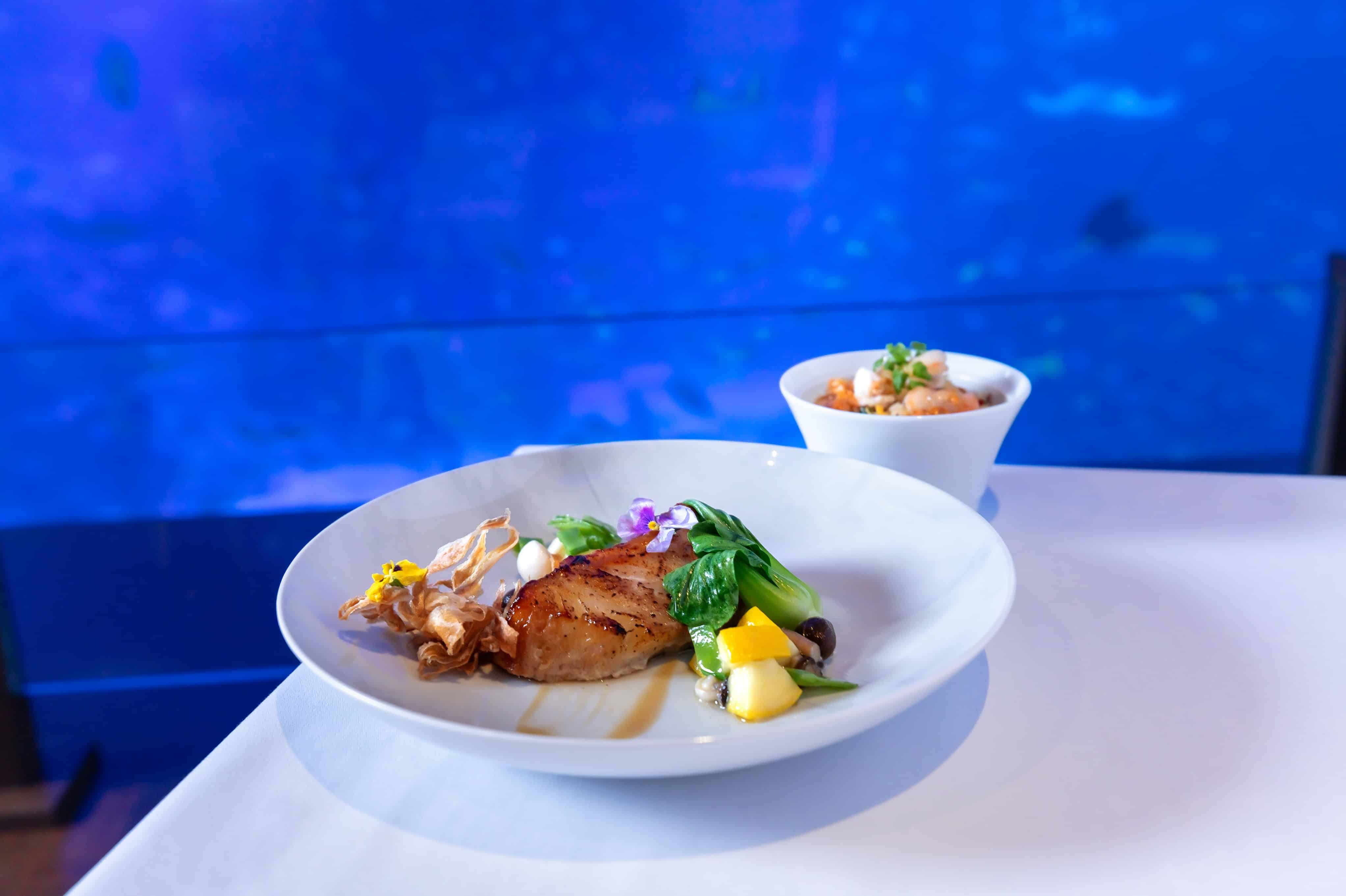 At Ocean, all seafood items on the menu are sustainably sourced. For instance, the restaurant uses Pink shrimps from Norway (MSC Certified); Kristal Caviar from France (Friend of the Sea Certified); and diver scallops from Hokkaido (MSC Certified). Seafood items are only selected if their farming, fishing and catching methods are approved and are deemed to have no negative environmental impact.
The dinner set menu is $138++ for five courses and $158++ for six courses. Till 4 September 2020, Ocean Restaurant is extending a complimentary glass of Prosecco as well as Instagram-worthy marine-themed desserts for the little ones with each order of the four-hands set lunch and dinner menu. Reservations may be made online.
Resorts World Sentosa, Equarius Hotel, West B1M Carpark. Tel: 6577 6869