No-fuss gourmet cooking
· 6 July 2020
·
Food
Planning a chef-worthy meal is easy with prepped and par-cooked ingredients.
It's impressive to plan and cook a gourmet meal from scratch, but not everyone is able to spare the time to look up recipes they like and to shop for the ingredients. These ready-to-go meal packages come with ingredients that are prepped or par-cooked, all nicely apportioned for you, with meats already rubbed and marinaded This cuts down your prep time significantly. Get home, drop your bags, fire up the stove and reheat or cook according to instructions. It's an easy way to recreate chefs' dishes, leaving you with more time to chill over that after-dinner drink.
Four Seasons Hotel Singapore
The latest Gourmet at Home collection by Four Seasons Hotel Singapore offers sumptuous dishes that are a cinch to prepare, but no less exquisite in taste. From homemade soups such as Spiced Carrot and Ginger, and Summer Peas, to hearty mains such as Provencal Seafood Stew, Braised Mediterranean Octopus and Basque Braised Chicken Thighs, a multicourse dinner is yours for the pickings. A variety of sauces, rustic sides and pasta completes the Gourmet at Home experience. A variety of sauces, rustic sides and pasta completes the Gourmet at Home experience.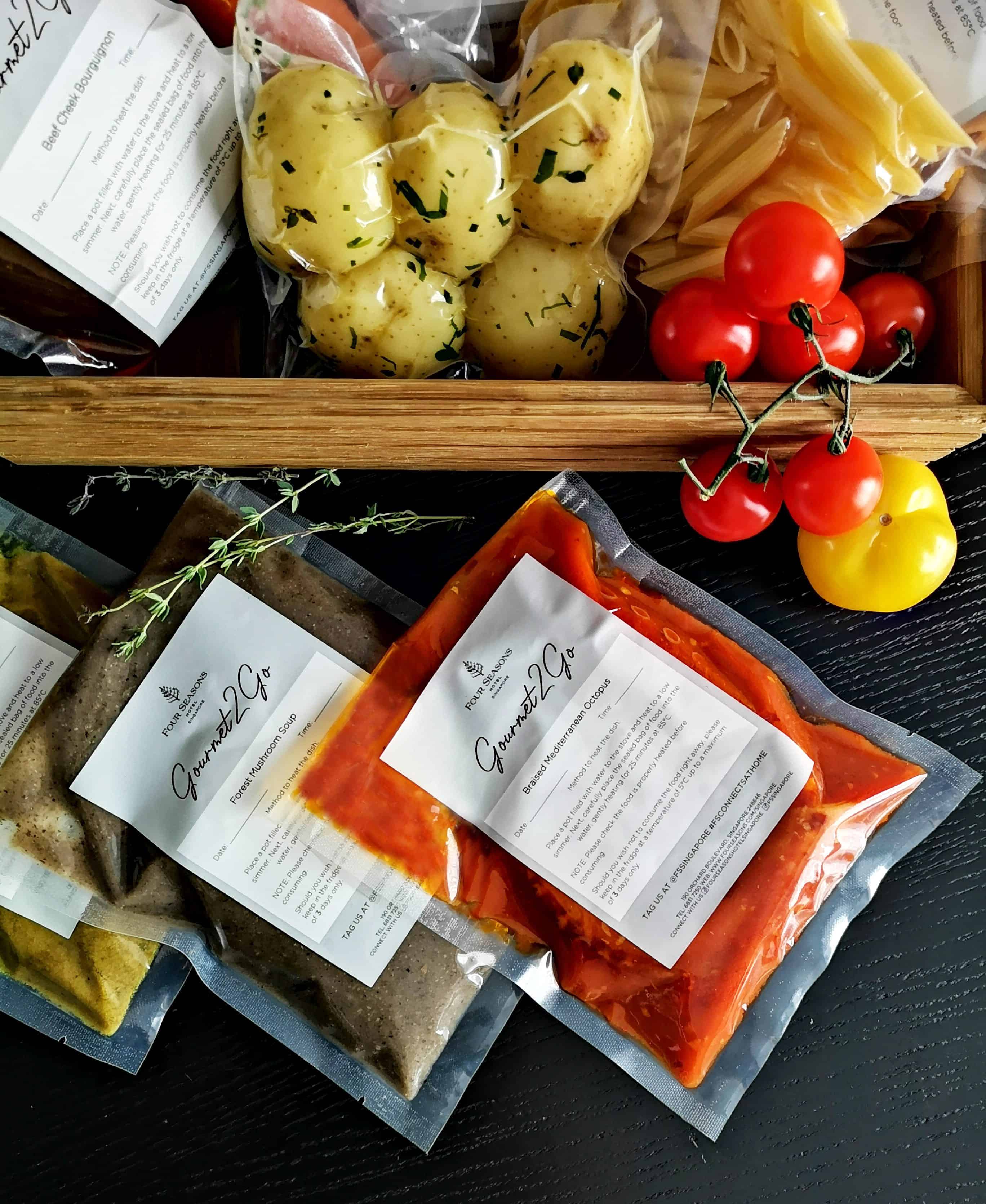 One of my favourite dishes was the Basque Braised Chicken Thighs with smoked paprika and olives; the meat was very tender and moist, making for a perfect bite when scooped up with a generous serving of the flavour-packed sauce. The pièce de résistance was one of Chef de Cuisine Kamarl John's favourite 12-Day Dry Aged Beef cuts (uncooked), which include the Westholme Wagyu Striploin MBS 6 and USDA Choice Ribeye. Mine came with black peppercorn sauce and tarragon and dill buttered new potatoes to round up a satisfying dinner that you can still say was home cooked.
Par-cooked and vacuum-sealed, each pack (excluding the 12-Day Dry Aged Beef cuts) comes with preparation instructions and can be ordered here.
Preludio
Celebrate the passage of time and triumph over difficulties with a feast by Preludio, the master of author's cuisine. Executive Chef Fernando Arévalo presents unique creations that are symbolic of freedom from conventions and perceptions. Besides dining in, his restaurant offers home cooks the opportunity to recreate dishes at home with ready-to-go ingredients from Preludio Shop.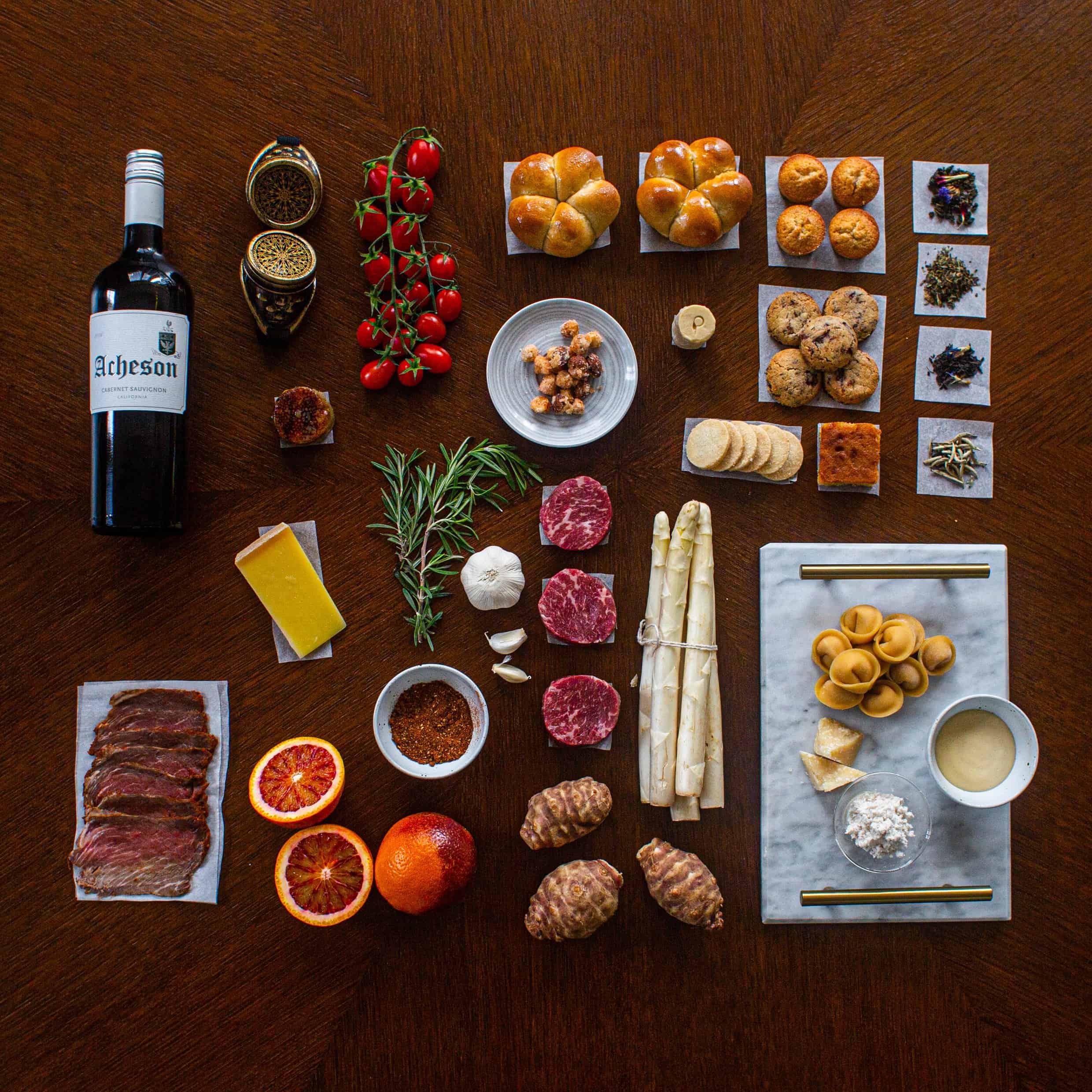 The Preludio Box (from $208) is packed with artisanal products that includes those featured in his signature dishes from the Chapter 1 and 2 menus. Serving two to three, the box includes La Cortina signature pasta ingredients with cooking instructions; Wagyu beef short rib with a marble score of 8, already rubbed and roasted with finishing instructions; Iberico Pork Presa marinated for 24 hours, slow roasted and sliced; foie gras pâté; a fruit and vegetable selection and aged Comté cheese. For two servings, the Preludio Mini Box (from $138) is available with a choice of either Wagyu beef or Iberico pork. Available for orders online.
Zafferano
Whip up an Italian comfort dinner with DIY meal kits from Zafferano. Head Chef Andrea De Paola and his team present a range of traditional dishes reworked with a contemporary approach.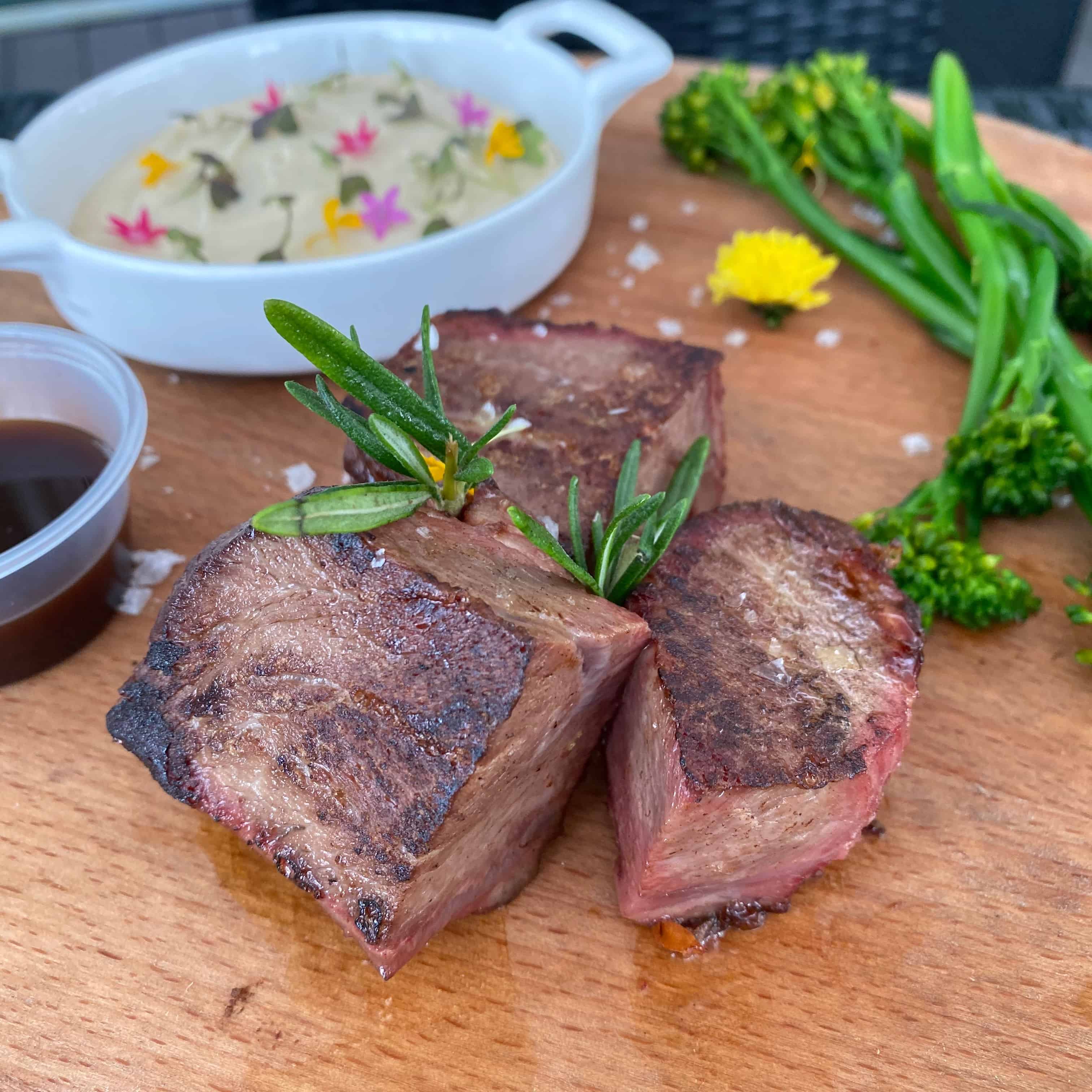 Highlights include starters such as the Eggplant Parmigiana ($18+) which comes with housemade San Marzano tomato sauce, fresh basil, and housemade basil oil, while the Langoustine ($26+) melds traditional Italian flavours with Japanese elements – deshelled Mozambique langoustine is paired with brown butter, sesame sauce, bagna cauda, colourful sesame seeds, and scampi mayonnaise. Choices of hearty DIY dishes include housemade pastas such as Casarecce Pasta ($18+) with truffle sauce and roasted mushrooms, and Red Wine Braised Beef Cheek ($32+) with potatoes mousseline, broccolini, and spicy oil. Main courses are available in sharing portions (for 2 to 3 persons), and are offered raw and fully seasoned in a baking tray, ready to be finished in the oven.
Available for orders here.
SHARE