Best bread & butter pudding in Singapore
A hearty and warming dessert, this old-fashioned English pudding remains an all-time favourite. We round up the best of the lot.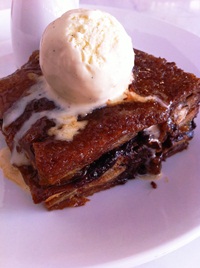 CLUB STREET SOCIAL
If there's one thing Club Street Social knows how to do, is take a good thing and make it even better. Case in point: its bread and butter pudding with Nutella. Four slices of white sandwich bread and ciabatta hug plump gold raisins and generous smears of hazelnut spread. Each layer is soft and custardy except the final one, which boasts an almost toffee-like crust. This is formed during the baking process, when all the goodness of the pudding seeps to the bottom of the pan and caramelises. A touch of butter is added just before the dessert is heated to order, and a scoop of vanilla bean ice cream follows right after. 5 Gemmill Lane. Tel: 6225 5043. Book a table at Club Street Social with Chope.
SIDEWALK TAVERN
"Hot beer, lousy food, bad service. Welcome," declares a humorous poster on the wall of Sidewalk Tavern, a casual, laidback eatery on East Coast Road. Thankfully, our bread and butter pudding was anything but a downer. Served with your own ice cream of choice (we asked for vanilla), the spongey pudding invited us to sink our teeth slowly into its soft texture, and its custard cream was rich without being cloying. 924 East Coast Road. Tel: 6448 5979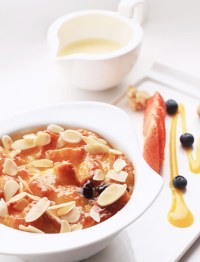 ROYAL PLAZA ON SCOTTS
The bread and butter pudding here is based on a 30-year-old recipe, which calls for homemade milk bread and two secret fillings. What the hotel is willing to let on, is the dry-baking method it employs. This does away with a water bath, and relies on the ingredients' moisture content and the oven's dry heat to cook the pudding through. The luscious dessert is available at Carousel's buffet counters, Heat ultralounge's à la carte menu, and for takeaway at Gourmet Carousel's bakery deli, but the best way to indulge is to order it through the in-room dining menu, and savour every morsel while cocooned in bed. 25 Scotts Road. Tel: 6737 7966
FOOD FOR THOUGHT
Food For Thought, nestling in the verdant Singapore Botanic Gardens, recommends its bread and butter pudding with vanilla sauce for the little ones. But we think parents would also be tempted to dig their spoons into the plump, fluffy pudding drenched with a copious amount of gooey, fudge-like vanilla sauce which threatens to spill out of the bowl. Almond flakes dot the dessert and add delightful nutty hints to the overall taste. #B1-00, Singapore Botanic Gardens, 1 Cluny Road. Tel: 6338 4848. Book a table at Food For Thought with Chope.
COFFEE LOUNGE
The Bread and Butter Pudding, a regular item at Goodwood Park Hotel's buffet at Coffee Lounge, is perhaps the most popular dessert item in the gourmet spread. The pudding had a little burnt crust, which gave it a toasty aroma, and the custard was less thick than the other bread and butter puddings we have tried, but it did not short-change us on its milky, sweet flavour. What we really liked, though, was the generous amount of raisins in the pudding, which lend the dolce lots of juicy, irresistible touches. We felt it was a like fruitcake soaked in creamy goodness. Goodwood Park Hotel, 22 Scotts Road. Tel: 6737 7411
DELICIOUS
[CLOSED]
Served as a sizable slice with a separate pitcher of vanilla sauce at the side, the bread and butter pudding here is dusted with powdery icing sugar and contains two variations of texture: it is more bready on the top and spongey in the middle. Subtle citrus notes enliven this decadent dessert. 6 Scotts Road, #B1-16 to 19 Scotts Square. Tel: 6636 0903
THE BAR & BILLIARD ROOM
The Bar & Billiard Room may have a satisfying Western-driven lunch and dinner menu but they have obviously saved the best for last. Make room for their bread and butter pudding that is available as part of the buffet offerings. Giving off an aroma of caramelised toast, the dessert is covered with regular squares of white bread browned to a golden colour. Dig all the way into the bottom of the pudding to find a layer of smooth as tofu custard beneath and plump raisins soaked in rum and amaretto for two days.
1 Beach Road, Raffles Hotel. Tel: 6412 1816.
Book a table at
The Bar & Billiard Room
with Chope
.
ONE NINETY
The secret to One Ninety's creamy and springy bread and butter pudding is that its croissant is first soaked overnight in milk before being baked slowly in a water bath with the other ingredients for one and a half hours. This bouncy and custardy pudding is also served with a thick vanilla sauce that accentuates the sweetness and creaminess of the dish. The dessert is not permanently featured on the menu but you can always make a special request to the staff when you are there. 190 Orchard Boulevard, GF Four, Seasons Hotel. Tel: 6734 1110.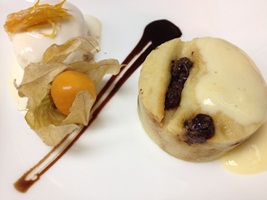 TABLE @ PIP'S
[CLOSED]
Table @ Pip's might have cut back on the sugar for their Butter and Bread Pudding but their dessert has all that it needs to satisfy a sweet tooth's craving. Inside the round-shaped pudding are chocolate chips and rum raisins, while shreds of sweet orange zest and strawberry sit on its top. The delectable pudding is poured with warm custard sauce, sprinkled with crushed walnuts, and served with vanilla ice cream with chocolate sauce. 17 Lorong Kilat #01-09. Tel: 6467 6867.
DE GRAND RESTAURANT
De Grand Restaurant serves its bread and butter pudding warm, topped with vanilla ice cream and garnished with berries. The combination of pudding and ice cream creates a sensation inside your mouth –  a mixture of hot and cold and burst of lusciousness. Santa Grand Hotel, Bugis 8, Jalan Kubor. Tel: 6298 8638.
Excerpt from the June issue of epicure.