Simple pleasures
Novus' gastronomic experience is centred on ingenious interpretations of classic European recipes. epicure puts their signature summer dishes to the test…
At Novus,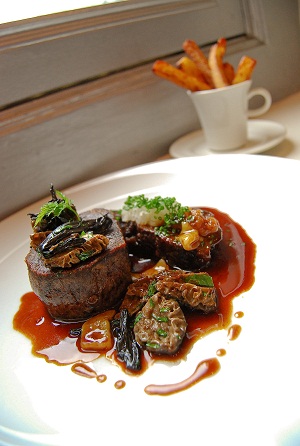 you get a glimpse of chef Stephan Zoisl's artistic flair in his Garden Salad ($18). It looks like a miniature Japanese tea garden, with ground olives forming a pebble trail and baby vegetables in red, purple and green colours. Another entrée not to be missed – the goose liver parfait ($22). The dollop of foie gras ice cream on truffle toast is addictively smooth and each bite becomes an olfactory extravaganza.
Meat lovers will be delighted with the Beef Variation ($50) which has a double treat of braised beef cheek and a tenderloin roast. To top things off, have a bite of the triple cooked fries – julienned potato strips which have undergone a lengthy process of flash frying, ice baths and baking at precisely controlled temperatures. The result is an excellent and crisp exterior.
Don't be deceived by the simple presentation of the Mille Feuille ($14). The layers of Crisp Filo pastry resting on a bed of candied nuts, apples and mascarpone is a delicate balance of flavours and certainly refreshes the palate. A simple scoop of handmade cassis adds zest to the dessert.
Each dish is accompanied with a short description of the food so you can better appreciate those tasty morsels. It seems Novus also believes in going the extra mile as every diner is presented with a complimentary sponge cake as they leave the restaurant.
At $38 for the 3-course executive set lunch, with its personalised service and a contemporary dining ambience, Novus ranks us as an ideal lunch spot in the city.
Call 6336 8770 for reservations.