Best pavlovas in Singapore
This dessert calls for a meringue with a light and crispy crust, and soft interiors. Here are the ones that passed our test.
THE MOOMBA
Most pavlovas seem out to compete with each other on sugary highs, but the dessert at The Moomba takes a different approach. Crowning  the white meringue is a scoop of palate-cleansing raspberry sorbet from New Zealand dairy manufacturer, Kapiti. When melted, the sorbet's pink juice soaks up the nuanced flavours of the generous smattering of almond flakes, kiwi slices, blackcurrants and strawberries, forming a delectable accompaniment to the vanilla taste of the meringue's shell. 52 Circular Road. Tel: 6438 0141
CEDELE 
We simply love the beautiful presentation of Cedele's Mixed Fruit Pavlova: fresh strawberries, kiwi slices, blackcurrants and whipped cream are held within a 'bowl' shaped by meringue's carapace, bringing to mind a large donut robed in thick sugar and stuffed with goodies in the middle.  The meringue is airy and light like a snowflake, crumbling gently in your mouth with just the slightest of bites. #01-10 Podium C, Plaza 8 @ Changi Business Park, 1 Changi Business Park Crescent. Tel: 6781 6098
BAROSSA
The Pavlova Bowl sits pretty with an assortment of strawberries, raspberries and blueberries—all thinly cut and tossed with fine shreds of fresh mint. Its shell has only a touch of sweetness, but the whole dessert is nudged to saccharine perfection with a light sprinkling of icing sugar over the red fruits. It's delicious enough to stand on its own but a refreshing mango sorbet takes the dish's juicy flavours to new heights and a scattering of candied pecans add a welcome crunch. #01-11 Esplanade Mall, 8 Raffles Avenue. Tel: 6534 5188
THE EXCHANGE
To say The Exchange took its cheeky humour beyond the framed portraits of finance villains Nick Leeson and Bernard Madoff on its walls is hardly a stretch. The kitchen, too, takes things a little less seriously by churning out a Pavlova that doubles up as a Baked Alaska. The meringue is blowtorched before serving and nestles atop an aromatic chilled cream specked with black dots of fresh vanilla pods. Blackberries, strawberries and raspberries are served in place of sponge cake. #01-05 Asia Square Tower One, 8 Marina View. Tel: 6636 1200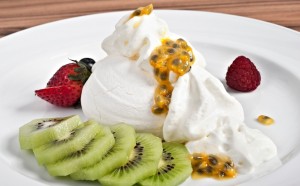 BRONTE
[CLOSED]
The dispute over whether Pavlova remains of Australian or New Zealand origin continues to loom large even at Bronte, where the meringue dessert straddles the divide with beads of tart passion fruit and slices of juicy kiwi. Softly whipped Chantilly cream drapes on the crisp shell, which breaks with the slightest of cracks to reveal pillowy marshmallow interiors.  8 Greenwood Avenue. Tel: 6219 9151
THE GARDEN OF EDEN
[CLOSED]
The Garden of Eden's pavlova impressed both our palate and eye for aesthetics. Thinly sliced fresh mangoes drizzled with mango gel are daintily arranged with passion fruit rocks made of white chocolate, modified tapioca starch and freeze-dried passion fruit. These tiny rocks extend beautifully on top of aerated crème anglaise, which is accompanied by a lime sorbet dotted with honey meringues that evaporate inside your mouth. 148 Neil Road. Tel: 6222 2119
ANTOINETTE
This pavlova from Antoinette's crêpes sucrées menu appears different from the usual cake-shaped pavlova. Vanilla crème Chantilly and crispy strips of French meringue ensconce a scoop of homemade passion fruit banana sorbet and flambéed caramelised banana slices, while a crêpe as its base and drizzle of chocolate sauce rounds off its aesthetics. The sweetness of its meringue and burned fruit goes perfectly with the flavour of the sorbet and chocolate syrup. #02-33/34, 333A Orchard Road, Mandarin Gallery. Tel: 6836 9527.
SWEET SWEET TOOTH
This Aussie Pavlova has a meringue with a thin crust that lets you dig inside to its chewy part easily. Half the meringue is generously filled with light and fluffy whipped cream that is crowned with kiwis, strawberries and bananas, and dressed with passion fruit pulp sauce. 6 Raffles Boulevard #B1-0, Marina Square. Tel: 6336 0828
DISTRICT 10
Baked in 90°C for an hour, the Pavlova from District 10 has a crispy shell that unveils a luscious soft core. Its meringue is laced with strawberry salsa, garnished with blueberries and raspberries, and topped with handmade passion fruit sorbet. The refreshing taste of the sorbet augments the sweetness of the pavlova, creating a toothsome taste that lingers inside your mouth. #01-15/16/17 UE Square Shopping Mall. Tel: 6738 4778. Book a table at District 10 with Chope.
BOOMARANG BISTRO & BAR
Boomarang's Pavlova comes with a tantalising meringue—a cross between brittle nougat and hardened candy floss. With a light twist of the fork, the milky white shell breaks to reveal a chockfull of flavoursome whipped cream, all ready to be mixed up with a fruit berry compote, fresh kiwis and strawberries. #01-15 The Quayside, 60 Robertson Quay. Tel 6738 1077
Excerpt from the April issue of epicure.