Gorgeous mooncake boxes that are too pretty to throw away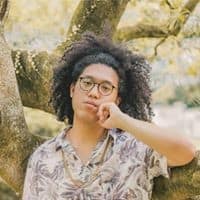 · 13 August 2019
·
Food
These stunning mooncake gift boxes can be repurposed into storage boxes or as display pieces, long after you've enjoyed the tasty treats within.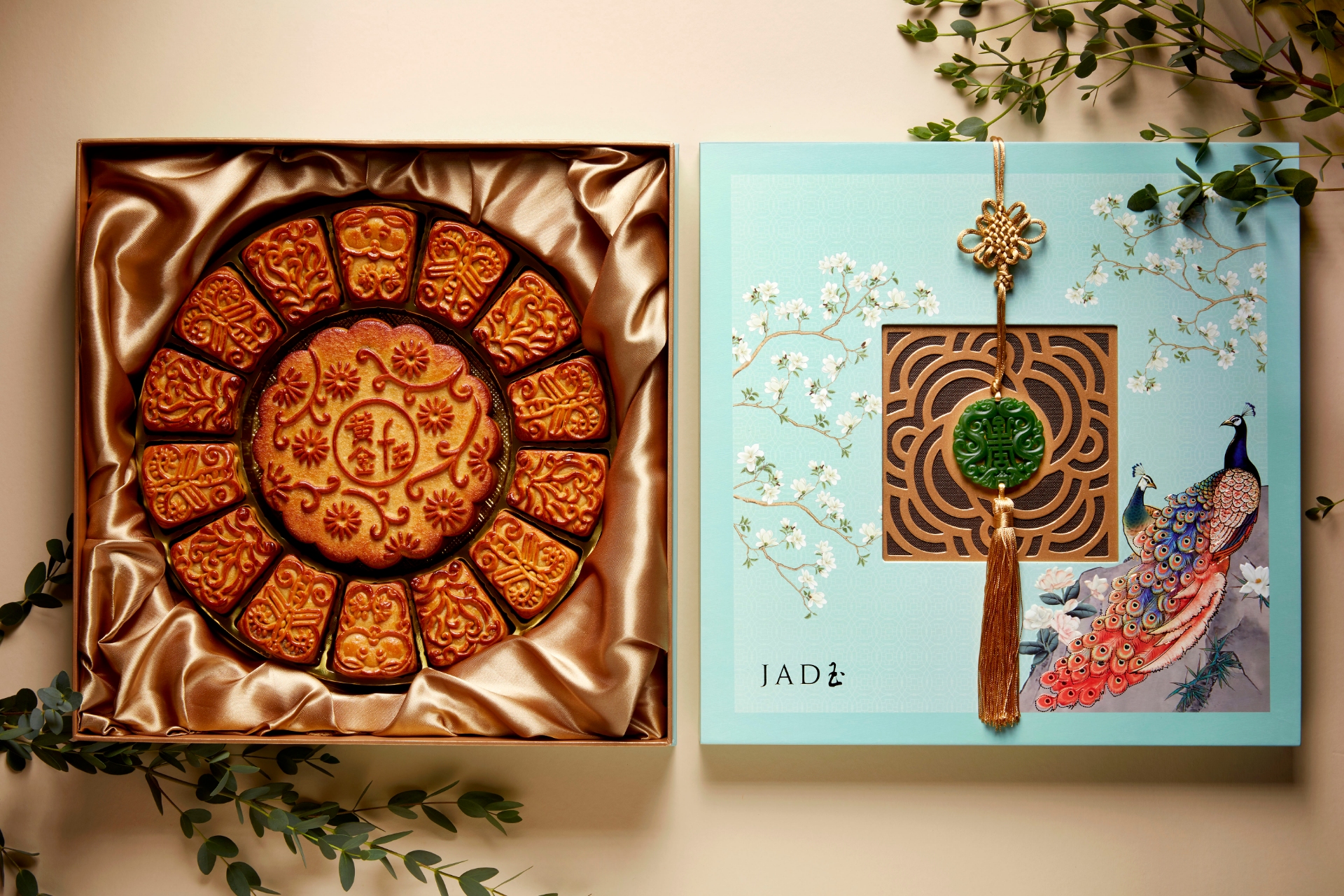 It's no secret that a significant portion of what we pay for mooncakes goes towards the fancy packaging. Each year, hotels and restaurants vie for consumer attention with increasingly elaborate or innovative designs. We've selected a list of the most eye-catching mooncake boxes to mark the season. Not only are they ideal as corporate gifts, they are perfect as decorative storage.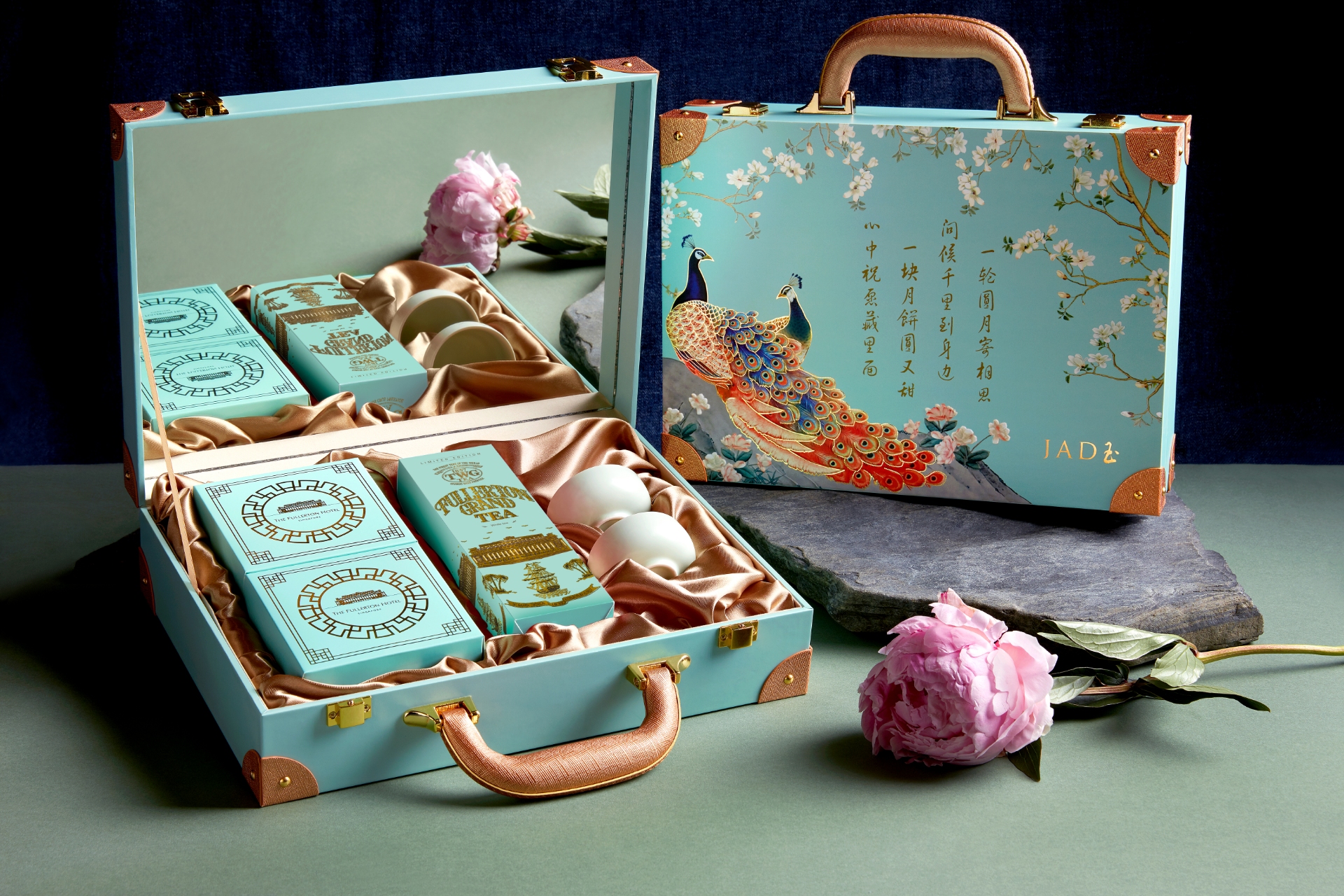 The Fullerton Hotel Singapore
The mooncakes from Jade restaurant at The Fullerton Hotel Singapore are not only delicious, they come in an ornate packaging; vibrantly coloured and gold bordered peacocks adorn the turquoise or red boxes.
What catches our eye, however, is the Fullerton Limited Edition Mooncake Box ($238). Resembling a quaint miniature luggage bag, the box sports many of the same design elements as their regular boxes but is enhanced with Chinese calligraphy in gold print. The box comes with a choice of a bottle of Veuve Clicquot Yellow Label Champagne or TWG Fullerton Grand Tea, along with two types of baked mooncakes.
Available until 13 September. Tel: 6877 8943. Online: shop.fullertonhotels.com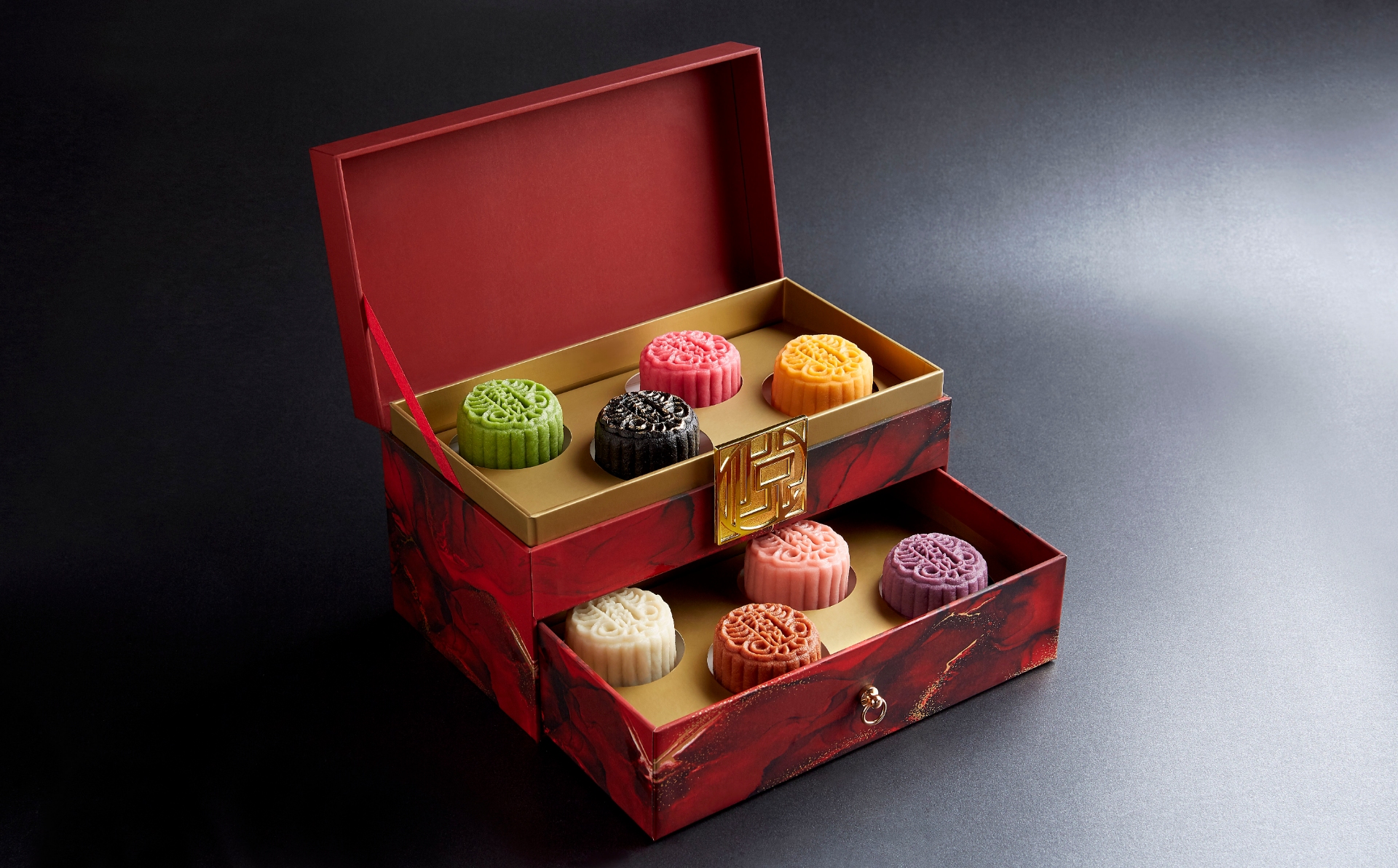 Grand Hyatt Singapore
Grand Hyatt's snow skin mooncake box ($80 for eight) is great for the indecisive foodie; you can choose any combination of eight flavours. The mooncakes are housed inside intricate, marble patterned turquoise or red two-tiered box. With an eye-catching golden clasp for the top compartment and pull out drawer for the bottom, the box makes for a good display for trinkets and baubles.
The new flavours to look out for this year include the trendy Brown Sugar Milk Tea Truffle, which contains gula melaka infused Asam tea, and the Matcha with Red Bean Truffle. Two of their most popular snow skins from last year's collection makes a comeback as well: Acai Berry Truffle and Black Sesame and Walnut Truffle. The former impresses with the complex tang of the superfood, balanced with sweet crème-de-cassis.
Available until 13 September. Tel: 6887 5492. Online: store.grandhyattsingapore.com
The Ritz-Carlton, Millenia Singapore
Here's one for those who love nothing more than a clean, organised desk: the mooncakes from The Ritz-Carlton come in a box that doubles up as a stationary holder. Opening up the magnetic flaps reveals several functions, including a magnetic calendar, miniature photo frame and slots for three fountain pens. After the mooncakes have been consumed, you can fill up the side drawers with staples and Posts-It notes.
The hotel's traditional baked and snow skin mooncakes are housed in a classic red and luxe gold box respectively. We recommend the new White Lotus Seed Paste with Black Sesame ($78 for four) for the former, and the Assorted Mini Snowskin Martini ($78 for eight) for the latter, which includes the new Orangetini flavour.
Available until 13 September. Tel: 6434 5190. Online: www.rcmooncake.com.sg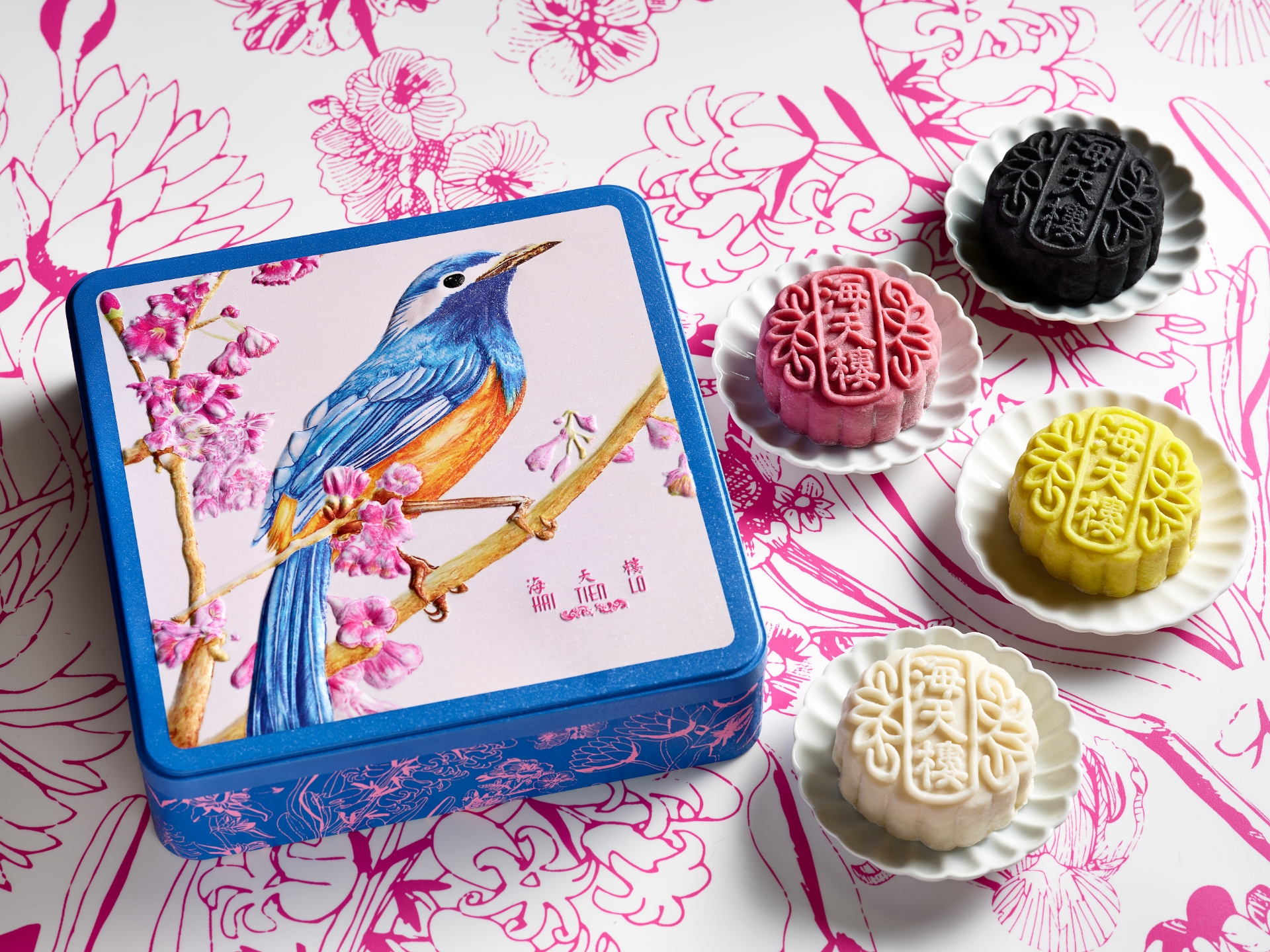 Pan Pacific Singapore
Enjoy Hai Tien Lo's mooncakes this season and you will be contributing to a good cause. Two alumni with autism from Pathlight School's Artist Development Programme are behind the designs that adorn each box. 'Bird and the Blossom" by Selena Seow, featuring stark colours and three dimensional details, is displayed on the lid, while the pattern works of Nurul Amirah Binte Zain's 'Botanical' grace the sides. Botanical will also be featured on a special tote bag ($15).
Pan Pacific will contribute $1 from every mooncake box sold and $10 from each tote bag to the Autism Resource Centre, which runs Pathlight School. While you're at it, savour Hai Tien Lo's new snow skin mooncake flavours ($68.80 for four) as well as the Gianduja Yuzu and Coconut Pineapple.
Available until 13 September. Tel: 9009 5936. Online: pacificmarketplace.com.sg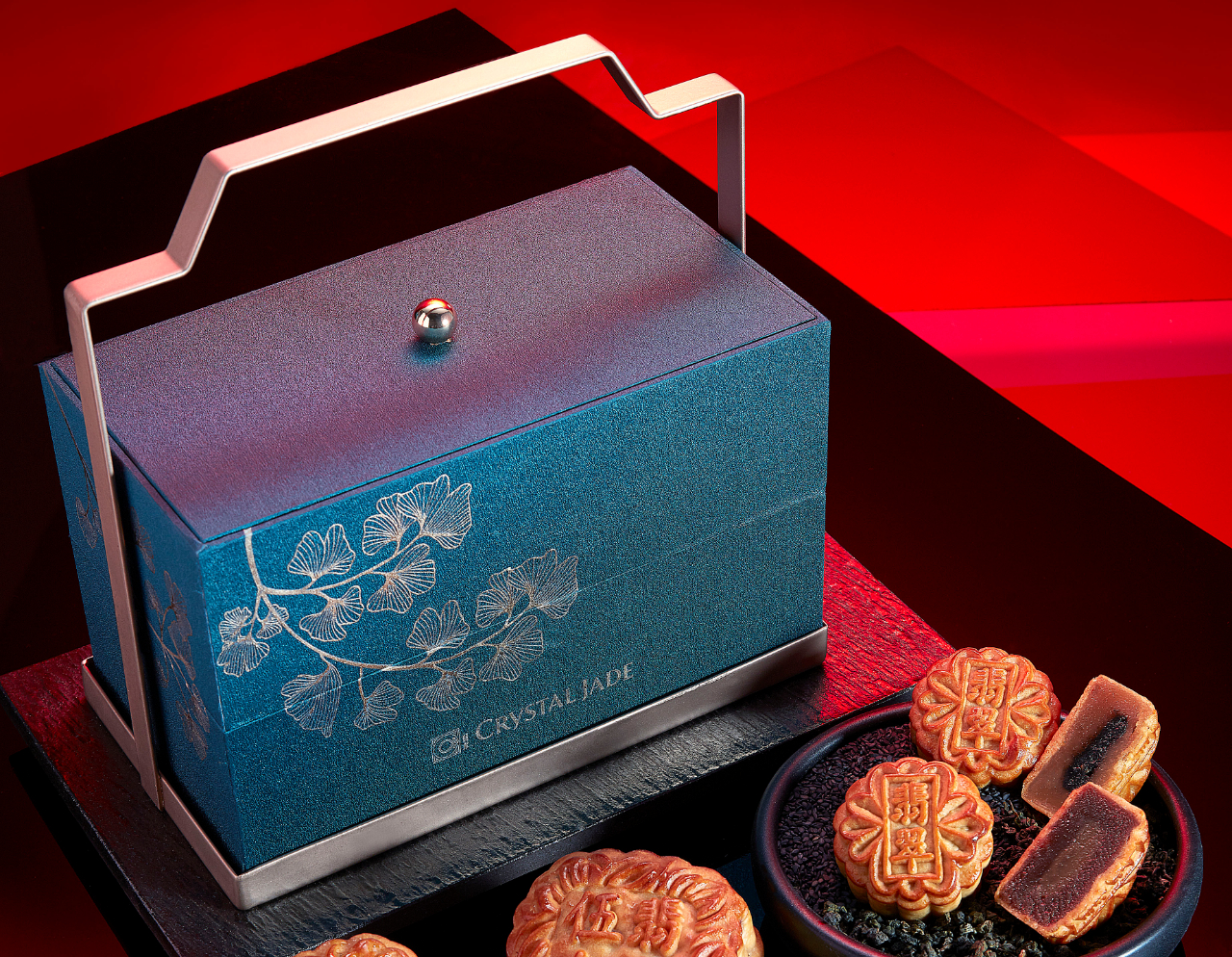 Crystal Jade
Crystal Jade sticks to tradition with their mooncakes and boxes. Only baked mooncakes, such as the Classic Assorted Nuts and Chicken Ham ($62 for four) and new mini Oolong Pu'er and Black Sesame ($68 for eight), are on offer this year, and will be placed in a palatial style box. Largely inspired by food carriers that were used during the imperial era, each two-tiered teal box is embellished with golden gingko tree motifs.
The regal looking box is slightly heavier than most mooncake boxes, so it makes for a presentable gift. Besides using it to store jewellery, the carrier portion can be removed and used as a planter for succulents and other small plants, a clever idea, we say.
Available until 13 September. Online: www.crystaljade.com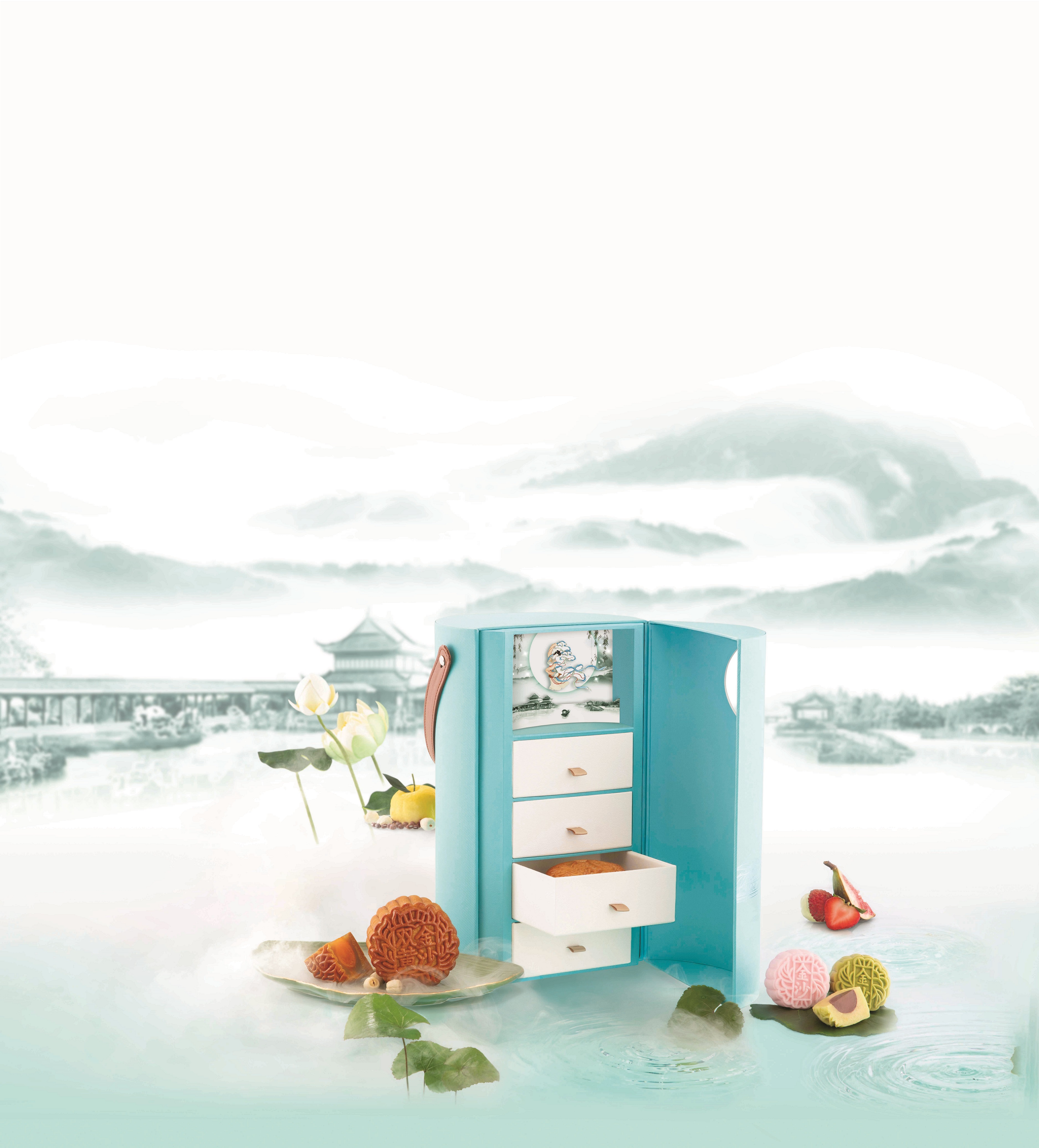 Marina Bay Sands
The hotel's mooncake set ($80) draws attentionto what kids love doing most during Mid-Autumn Festival: toting lanterns. The cylindrical, celeste blue box comes with a brown leather strap, and is adorned with a white traceout of the Marina Bay Sands towers. Open the box and it reveals an image of Chang'e, the Chinese goddess of the moon, within a moonlit sky with Chinese folk melodies inscribed by the side.
The four ivory hued drawers within contain either a baked mooncake or two snowskins each. New flavours in the baked variety include the subtly tart Yuzu White Lotus Mooncake and the Brown Sugar Chinese Longan Mooncake. Snow skin fans can indulge in the new Strawberry Lychee, Honey Fig Passion, and Coffee Avocado.
Available until 13 September. Online: www.marinabaysands.com/mooncake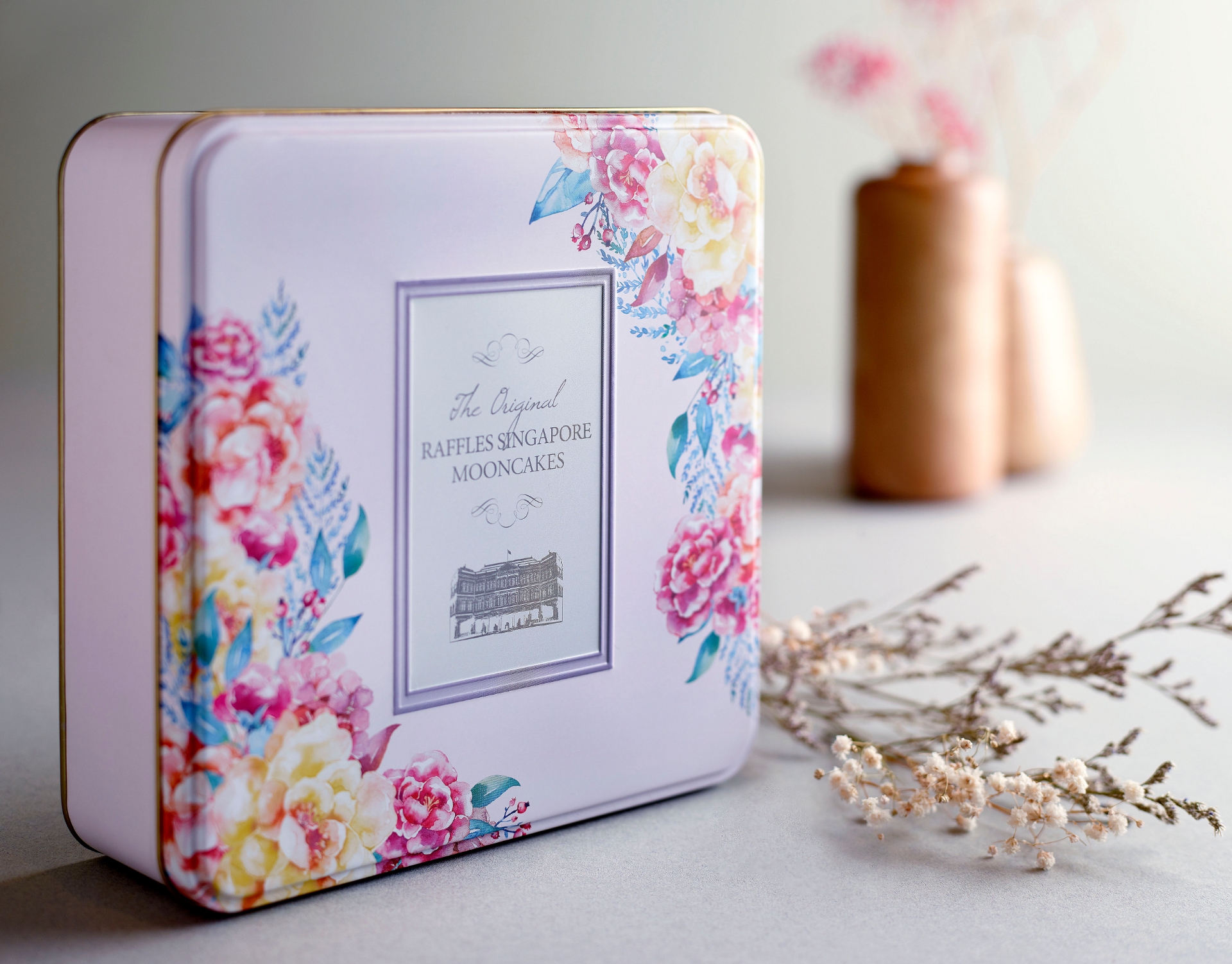 Raffles Singapore
We can't talk about stunning mooncake boxes without mentioning the ones from Raffles Singapore. After all, it could be argued that the trend of ever escalating mooncake box designs was started by their signature metal tins. And with its recent reopening, the legendary Raffles Hotel mooncakes are back. The perennial favourite of Champagne Truffle Snowskin and other flavours make a return, along with the introduction of a new Avocado and Mango Yuzu Snowskin.
This year, the metal tin comes in a pretty-in-pastel lilac shade, with watercolour-esque illustrations of peony flowers and dainty wild berries; the centre of the tin features the iconic Raffles Hotel facade.
Available until 13 September. Online: rafflescelebrations.com.sg
SHARE