But first, wine: The rise of wine-focussed destinations for sophisticated palates in Singapore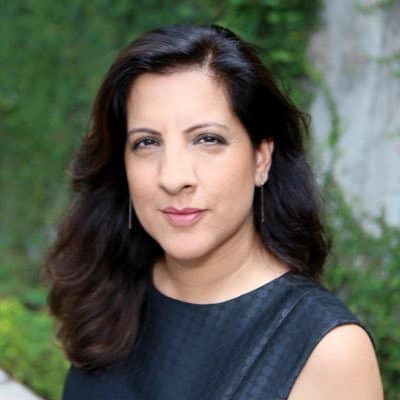 · 17 April 2022
·
Dining
Wine sheds its snobbery at these two new wine bars helmed by passionate sommeliers and Singapore's top chefs
2021 will be remembered as a year of closures and restricted openings. It was also a year of creative ventures which saw two wine-centric bars open, conceptualised by Singapore's top chefs and seasoned sommelier teams.
Wine at these venues is not stuffy, but approachable and unencumbered, and ranges from orange to blush, natural to classic. For nosh, expect top-notch plates, designed with wine in mind and served in a casual-chic setting.
In the heart of ever-evolving Club Street, chef-owner Andrew Walsh of Cure fame has opened his fourth venture, a chilled and approachable wine room. Director of operations and seasoned sommelier Amir Solay helms the eclectic wineprogramme with a selection of off-the-beaten-track wines and a smattering of classics thrown in for good measure. Expect to find Dom Perignon 2008 listed alongside biodynamic producer Christophe Mignon's meunier-based Champagne.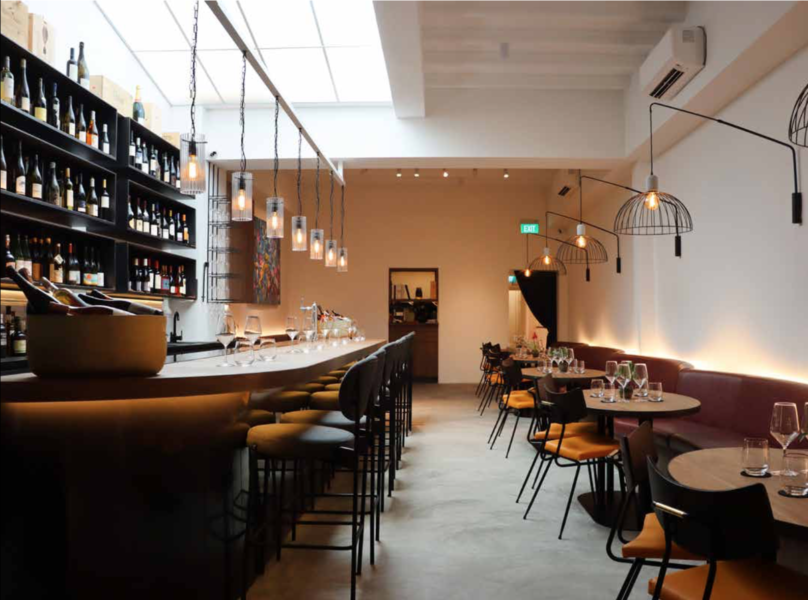 The backbone of the wine list is biodynamic, organic, and natural wines. In addition, there are two new categories that Solay boldly introduces: amphorae and underwater. "We are not the first ones to bring underwater wines in Singapore, but we are the first ones to push it," Solay shares candidly. The crusty bottles are on display and beg an explanation. Solay is all too happy to oblige.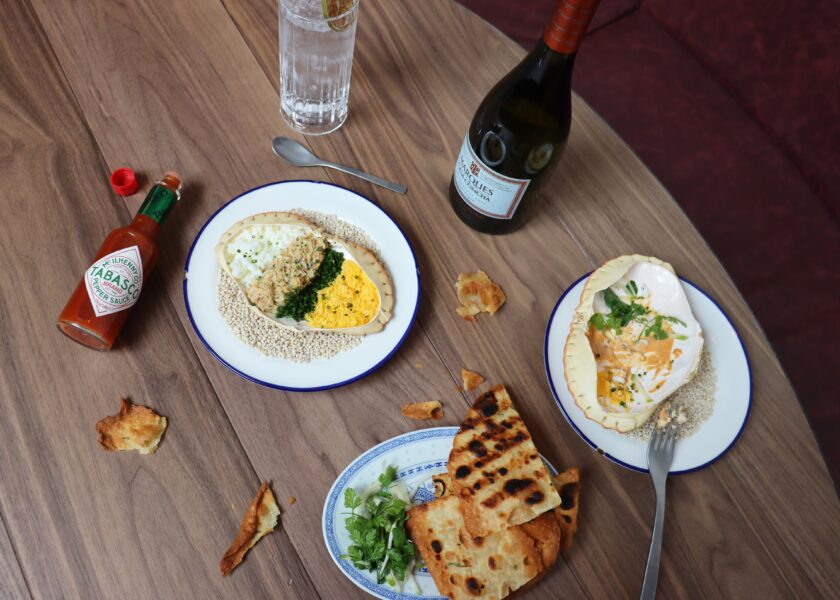 In this niche practice, inspired by shipwrecks and the wine found within, bottles are lowered deep onto the seabed in metal cages and aged anywhere from four to 36 months.
The lack of light, constant temperature, pressure, and waves create a unique ageing environment for wines and enhance their colour and minerality. Vina Maris Carchelo 2016, sourced by Solay, is one such wine submerged 40 metres deep in the Mediterranean Sea. "The underwater ageing method appeals to the curious, those seeking something new," Solay says.
The industry veteran also designs his own amphorae (conical clay jars) and showcases them to pour the wines for guests, like Chateau Kefraya Amphora collection 2018 from the Bekka Valley, to create an immersive experience.
Affectionately referred to as Dato by the sommelier community, Solay was encouraged by Singapore's evolving wine tastes: "When I first started 20 years ago, people didn't even know how to pronounce merlot." In the last ten years, people started asking for chardonnay and of late, he says, guests have asked him for "a natural wine producer who makes a chardonnay."
The wine bistro has been doing resounding business since its opening in September. "The five-pax rule is working well for us," he says enthusiastically, adding that clients have come back multiple times to try more wines and bring their friends with them. This year, he plans to add another 40 wines to his existing 160 bottles of reds, whites, oranges, and blush wines.
View this post on Instagram
The accompanying nosh combines the two facets of Club Street effortlessly. "The food and wine menus came at the same time as we cooked and tasted the wines to see if the marriage was on par," says Walsh, who is the founder and CEO of Cure Concepts. He has entrusted head chef Ho Jun Yip (ex-Butcher Boy) to drive the culinary direction, delivering an unfussy and eclectic menu.
The Hasselback potatoes – crisp, slightly charred and loaded with crunch – are a great place to start. Alternatively, try the chickpea panisse served with whipped creamy burrata and salsa verde. The unphotogenic whole turbot on the bone basted with cafe de Paris butter melts in your mouth and is nicely offset by the endive and Cashel blue cheese Waldorf salad.
Club Street's cheese selection has garnered fans of its own. Walsh shares, "The cheese programme is doing amazing from people stopping at the bar counter for a glass and some cheese and cured meats to nibble on." He plans to extend the menu and showcase it on the bar as soon as Covid restrictions subside. Solay, on the other end, is planning guest sommelier nights, free-flow pet-nat (short for pétillant naturel in French, meaning natural sparkling) brunches, and a high tea with samovar tea service with Linzer cookies and more wine.
The "Champagne trolley" is the perfect example of the vibe Fool wine bar is going for. A crémant from Patrick Piuze in Chablis, grower Champagne by Jean Josselin and a sparkling cider by Eric Bordelet are presented unadorned on a wiry handheld carrier. The sommeliers wear t-shirts, not suits, and don a military green canvas apron embellished with assorted sewn-on patches. The atmosphere is cool, edgy, and unpretentious.

Chef-owner Rishi Naleendra and sommelier Vinodhan Veloo come together at Fool – the tongue-in-cheek wine bistro which refuses to take itself seriously. The duo has worked together at two Michelin-starred restaurants, Cloudstreet and Kotuwa, and developed a strong connection along the way. When Cheek Bistro – Naleendra's first venture – closed, they turned the venue into a wine bistro.
The wine carrier in question is inspired by Veloo's travels: "I noticed it in the Loire valley. We would go into the underground wine cellars and walk around collecting bottles to taste in these carriers," he recalls.
The seasoned sommelier continues his artistic wine menus streak here, as witnessed first in Kotuwa. It is an eclectic magazine format with catchy sections like "Lost In Translation", "Champagne Showers" and "Betting On Climate Change".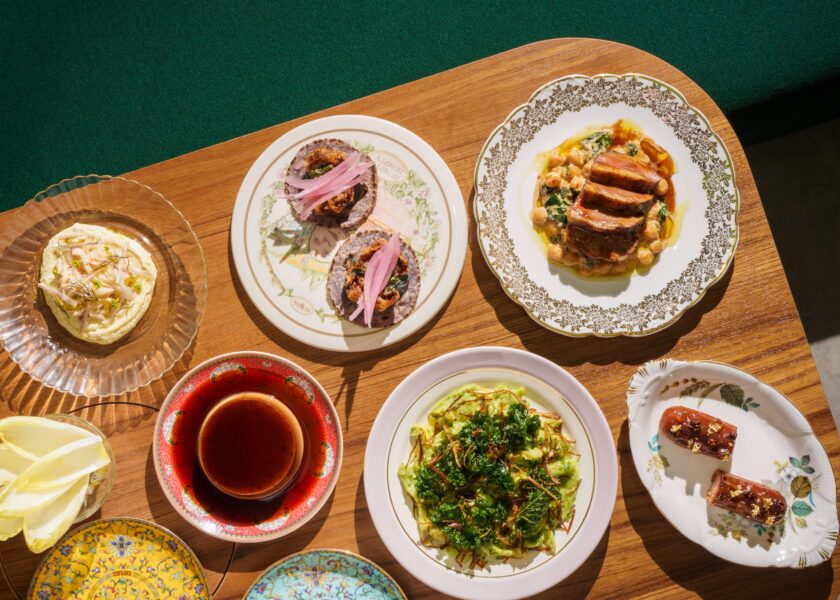 "'Lost In Translation' is a reference to the movie. It is based on a list of grape varieties that are very difficult to pronounce," Veloo informs as he lists Assyrtiko and Xinomavro from Greece and Hárslevelú from Hungry.
"Champagne Showers" explore the boastful Champagne references found in hip-hop songs and list Cristal by Louis Roederer, Veuve Cliquot and Moët Chandon. "'Betting On Climate Change" is very popular rhetoric. It's a list of wines that would not have been a thing if not for climate change," Veloo continues. Case in point, English sparkling wine and syrah from Baden, Germany.
Veloo was clear from the outset on not creating another natural wine bar. "Natural wines are like a gateway wine. It's got a lot of people into drinking wines," he shares. "They have become much more informed and realise that there are more exciting and stable wines out there."
The beverage service is led by Wolfgang Knipp, who spent two years at Cloudstreet before moving to Fool. The plates extend the theme set by wine. Equally casual and fun, Naleendra found inspiration in wine. "We pretty much went the other way and asked what would be good to eat with wine?"
With a talented chef at the helm, it's difficult not to exercise creativity. "It's a little elevated. We like to keep people on edge," says Naleendra modestly.
The dark rye rolls with a subtle umami-flavoured vegemite butter start you off. Must-haves include the innovative Spaetzle Cacio e Pepe, charred baby romaine with a green goddess sauce and hazelnuts, and grilled Freemantle octopus served with a squid ink zhoug sauce.
View this post on Instagram
However, the calling card of Fool is wine. "Food will always be important at Fool," says Naleendra. "But the most important thing for us for guests to go on that wine journey with Veloo."
"But First, Wine" first appeared in the Feb/Mar 2022 print edition of epicure.
SHARE