Get your drinks from coffee and cocktail robots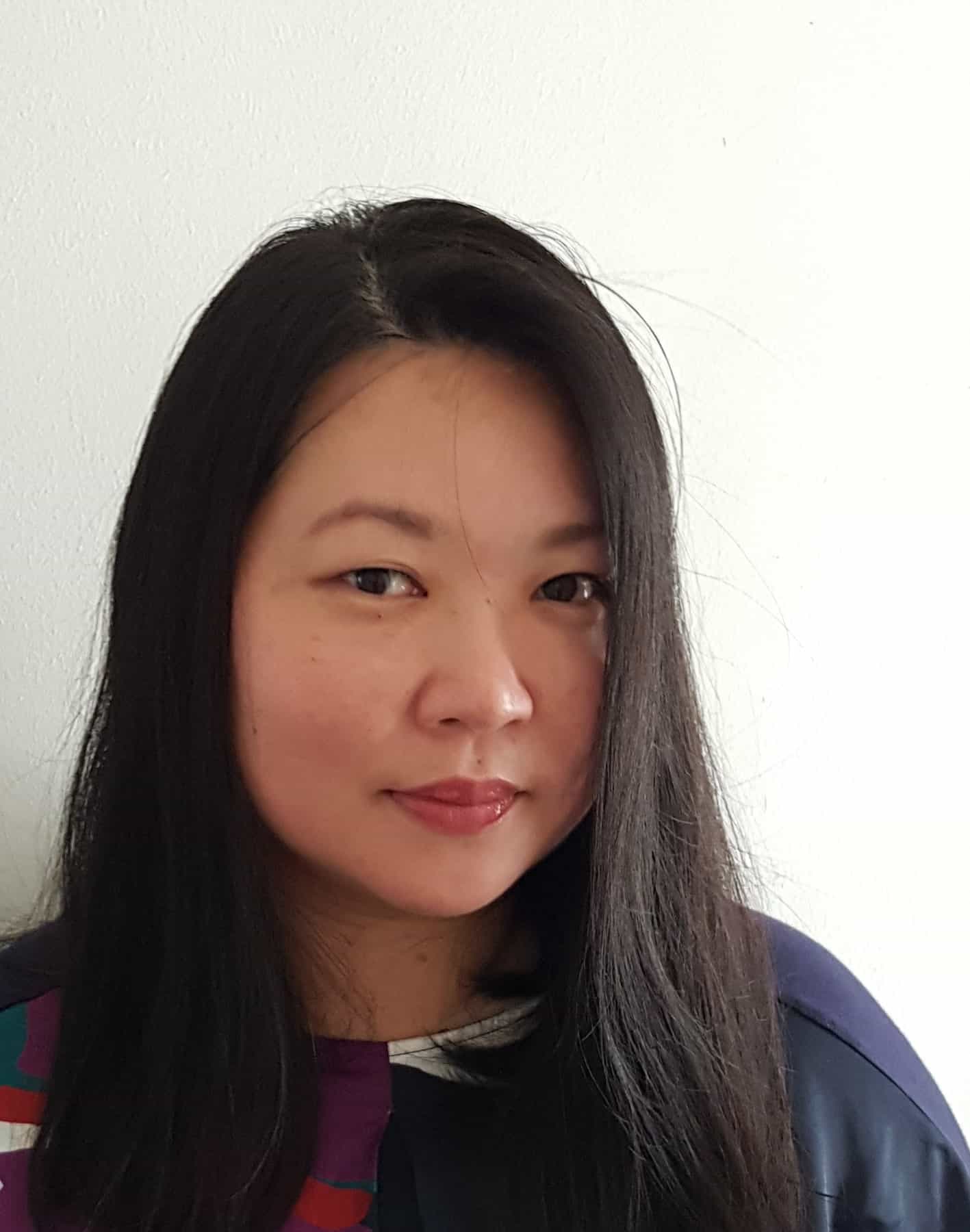 · 19 February 2021
·
Drinks
Meet Ella and Ratio, the captivating robotic baristas who'll pour a flat white or shake up a tom yum martini
Fancy a negroni or kopi siu dai from your 'friendly' neighbourhood robot? Two Singaporean-led companies have raised the stakes in F&B automation technology by introducing fully operational robot barista cafes in late 2020. While some robot barista companies may have started earlier in the game, such as Texas-based Briggo in 2011, the potential for robotic technology is booming, evinced by Crown Technologies' recent deal with East Japan Railway to bring rollout of Ella across its network of 1,657 train stations in Japan.
As digitalisation is hailed in F&B to address concerns such as limiting physical human interaction, the increasing costs of rent and shortage of labour, it also raises questions about how it will affect the industry in turn. Will robots replace real life baristas, bartenders and chefs one day as human skills become replaced? What about the environmental cost as such machines increase the amount of disposables used? At this early stage, we won't know the answers yet, but for now, it's fun and novel to watch these robotic arms in action. In case you missed it, here's what you need to know before checking out the caffeine bots.
Ella
First commercial operations: 2020
Founder: Keith Tan, Crown Technologies
Current locations: Crown Coffee, #01-22, CT Hub 2, 114 Lavender Street and atrium of Plaza Singapura, 68 Orchard Road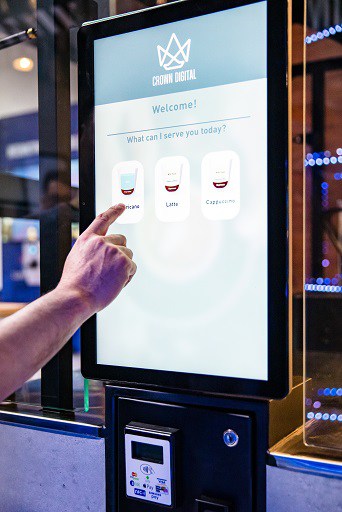 Ease of use: You can order your coffee remotely, using a mobile app if you are on the way to the machine and want to beat the queue, or use the touchscreen menu if you're there in person. The uncomplicated interface and range of payment options (a tap from my ezlink card took just seconds) make it a breeze to order, pay and then wait for your coffee.
Beans: Arabica beans from Buscaglione Coffee, a Rome-based modern roastery established in 1899.
Serves: Coffee, though Ella's modular set-up is able to localise its offerings for tea and cocoa as well, depending on the audience where it's placed. Each kiosk is capable of serving 200 cups per hour, which is four times faster than a human barista. Prices start from $3.50 for an Americano, $4 for a cappuccino and $4.50 for a double shot flat white. The coffee comes in a sturdy paper cup and with its creamy milk and good quality beans is far superior to vending machine coffees – just don't expect any latte art.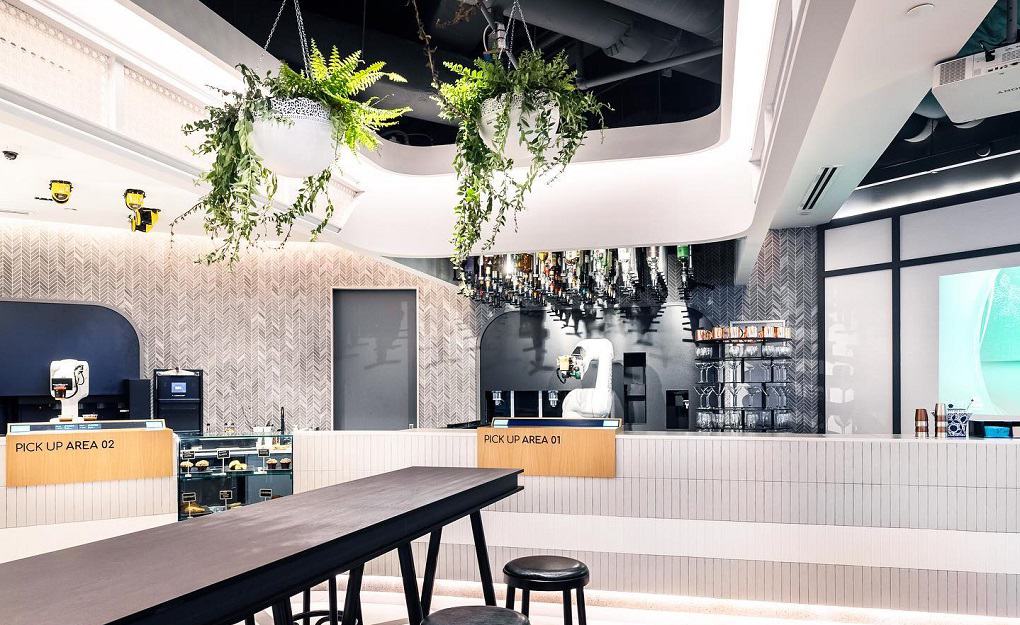 Ratio
First commercial operations: 2018 in China, 2020 in Singapore
Founder: Gavin Pathross, Ross Digital
Current location: #05-06 The Centrepoint, 176 Orchard Road (co-located with JustCo)
Beans: A collaboration with Singaporean company Common Man Roasters for the unique Ratio Blend comprised of 50% Santo Antonio, Brazil and 50% Samambaia, Brazil beans, and a brighter Blend 53, comprised of 50% Finca El Hato, Guatemala and 50% Kayon Mountain, Ethiopia.
Kopi: To differentiate themselves, Ratio is also a painstakingly trained tao chiew (kopi brewer), which will brew the coffee from scratch in a traditional long spout pot and sock, then tarik (pull) it to the right consistency.
Ease of use: Ratio wants you to customise your drinks to your preference, hence the Ratio app is equipped with sliders to add or decrease shots, adjust syrups and sweetness, and choose from different beans. These can be saved to your preference for future orders. On the touchscreen at the self-ordering kiosks, you can make straightforward drinks orders with the easy interface.
Serves: As a self-billled "world's first robotic lounge and cafe", the space is dominated by three Ratio robots – one for Nanyang styled kopi, and the other two for western coffee, beers and cocktails. It's a cafe by day and lounge by night, with over 50 hot drinks and cocktails, which you can enjoy at a handful of built-in tables and chairs for patrons' use. A small menu of food from pastries and sandwiches to cakes round out the offerings. Unlike the unmanned Ella, Ratio is helped along by a human ratio-logist, who helps to garnish the cocktails and clear the tables. The kopi and coffee are somewhat strong, and will be served in sturdy paper cups. The cocktails are properly mixed and chilled, and served in proper glassware. The longer preparation for cocktails means that you get more of a show as the robotic arms shake, wriggle and move across a more complicated route to collect the ice and glassware for your drink.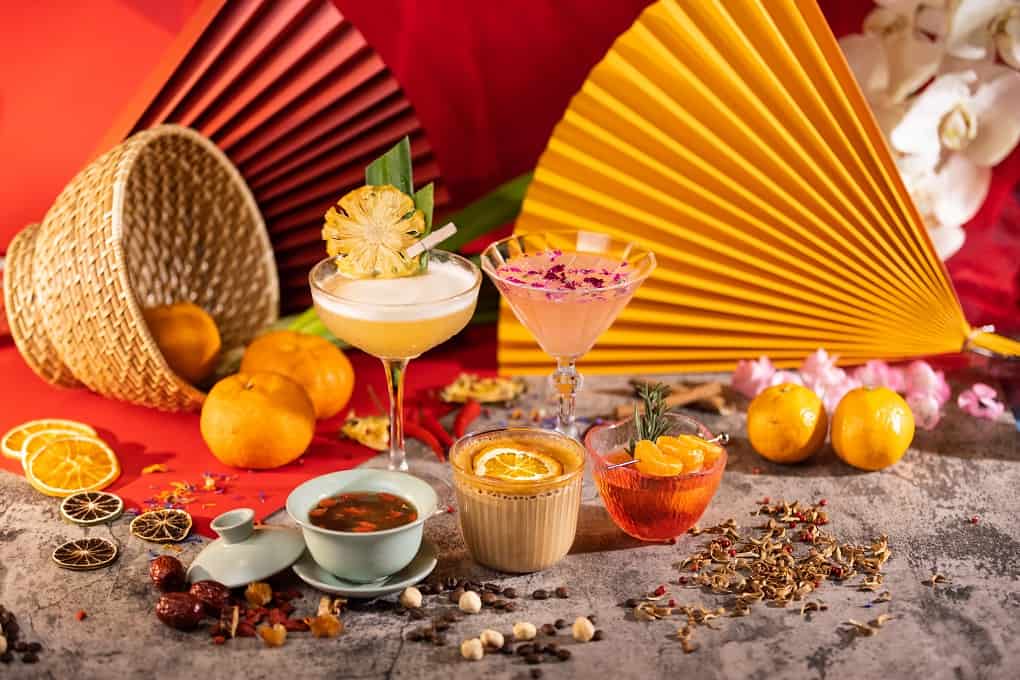 CNY promos (till 28 Feb): Cocktails such as Prosperity Negroni ($14) with tangerine, and Longevity Sour Plum Cha ($16) with dark rum, longan red date tea and dash of pei pa koa. The Abundance Mandarin Hazelnut Latte ($4.90) also gets an infusion of mandarin and hazelnut flavours.
SHARE