Get into festive spirits at these new bars
From CNY to The Prohibition era, these new venues transport their guests into experiential spaces with innovative drinks.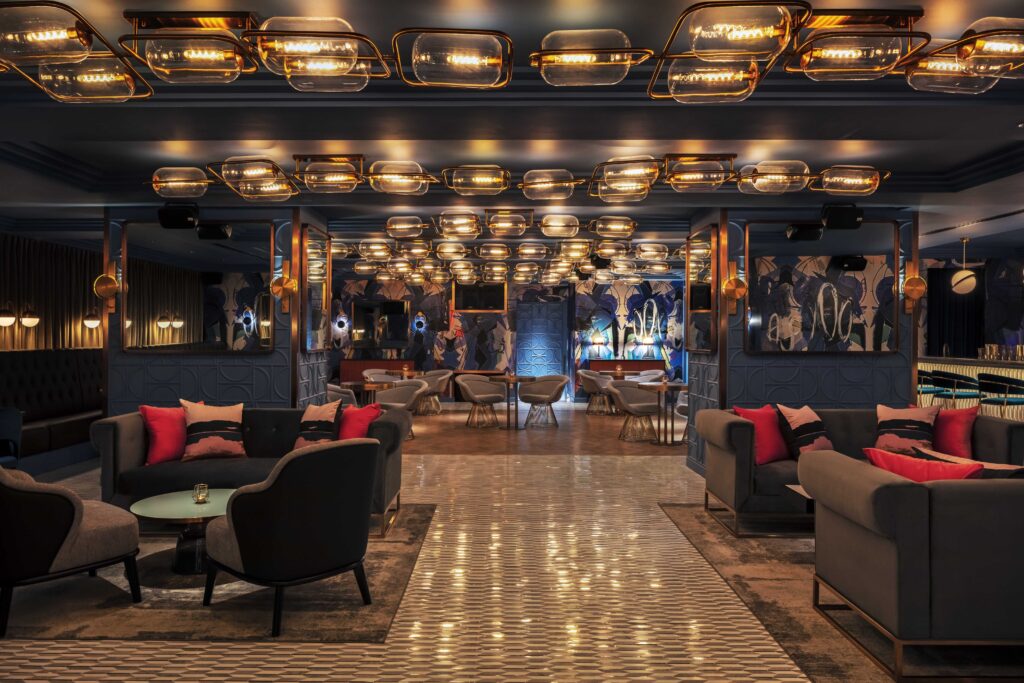 Club 5
The newly renovated Club 5 promises a 1920s-inspired world and it delivers. Brass-finished glass doors open up to a welcoming bar with tungsten lamps lined across the ceiling. The brass and nickel finishing are offset with plush leather and velvet chairs and the new Club 5 at PARKROYAL on Beach Road evokes the world of Great Gatsby in all its glory.
Head Sommelier Ong Jun Han brings innovation and an Asian twist to his drinks. He starts us off with his aromatic rendition of the classic G&T, 20 Houses Tonic($18) presented with a cardamom pod and a slice of orange zest. Next, the cocktail journey moves to an Arab Street-inspired Nasi Lema'rgrita ($20). A play on the traditional margarita, it features house-made coconut tequila with chilli-padi infused pandan syrup and is served with fried peanuts and anchovies.
Jun Han sought inspiration from the neighbourhood's history and pays homage to Bugis Junction with a blush pink creation, Boogie Street ($22). The innocuous drink packs a punch with robust notes from mezcal, agave and apricot brandy. Club 5 brings in Asian-inspired bar nibbles. Our favourites were the homemade Wagyu Satay with Hazelnut Dip ($12) and Crispy Lamb Ribs with Mint Sauce ($15) serve as delicious accompaniments to the curated and inspired cocktail menu.
PARKROYAL on Beach Road, 7500 Beach Road. Tel: 6506 5666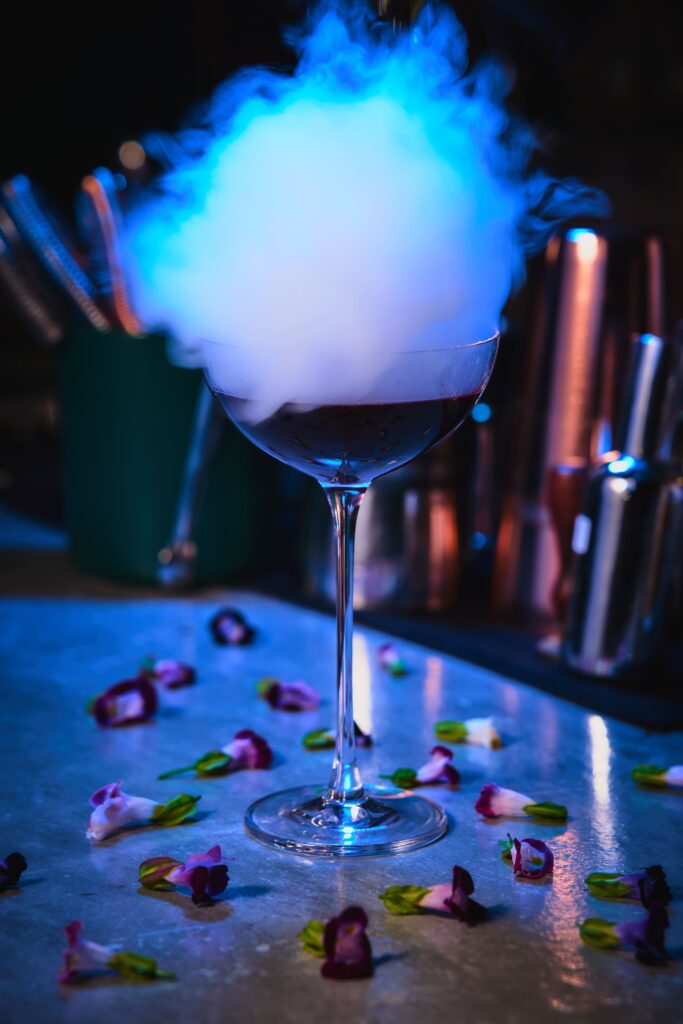 Beats, Bites and Cocktails
Bukit Pasoh has a new bar in its midst. Beats, Bites and Cocktails or BBC, brings the beats from DJ Shigeki, cocktails from Dee Atan and bites created by Chef Max Levy.
Caroline Tan and Douglas Williams helm the new venture and bring years of F&B experience with them. Dee Atan, (formerly at IB HQ), leads the bar with curated artisanal alcohols and mixers. He brings a bit of showmanship in Purple Rain($25), a hibiscus and butterfly pea infused gin cocktail and delivers a flawless classic Black negroni ($22) crafted with Sicilian amaro, Averna and Campari.  To serve as a stark contrast, he presents a White Negroni ($25) with Arvesølvet aquavit replacing the gin and Luxardo white bitters in place of the Campari.
BBC invites the non-drinkers and health-conscious patrons with an extensive selection of non-alcoholic drinks. "We put the same level of thoughtfulness … into selecting the non-alcoholic options as we would an amazing gin," says Douglas William, Co-founder of BBC. The bar offers Copenhagen Sparkling tea, a delightful substitute to sparkling wine, Nahe based alcohol-free Kolonne Null wines and a range of Seedlip non-alcoholic spirits.
The bites take shape in the wood and charcoal-fired Bertha oven, which created the deliciously flaky Bertha Ash biscuits($12). The biscuits are served with Longan Honey Miso Marinated Foie Gras and use the ash from the oven to act as the rising agent. The Wagyu Beef Cubes ($8) are addictive bites served with PX sherry grilled tomatoes and pepper reduction.
Not ones to hang their hats on a successful launch, BBC has much in store for 2021. They are collaborating with guest bartenders, like Edward Koh from Bar Stories in January and Chef Max Levy, from Okra Hong Kong, plans to refresh the menu throughout the year.
8 Bukit Pasoh Road, Singapore 089822. Tel:  6221 3880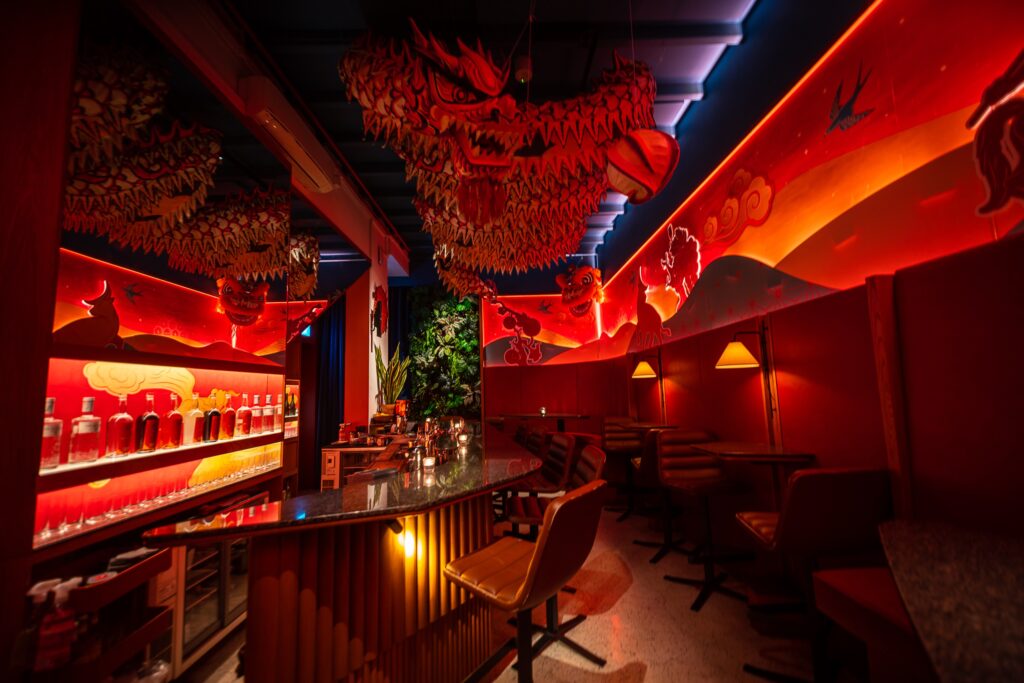 Junior The Pocket Bar
Adding cheer to the Chinese New Year festive spirit is a limited-run pop-up in collaboration with Rémy Martin from 27 January to 27 February. Back for the second year, Junior features decadent themed cocktails such as Rolling for Prosperity ($25), a pineapple tart in cocktail form with Rémy Martin VSOP, pineapple, spiced brown butter rum and lemon, served with a flaky pineapple tart on the side; and Ang Bao Na Lai ($25) which invites fortune and luck with The Botanist Dry Gin, lychee, grapefruit, lemon and rose, garnished with strawberry dust.
The mood comes alive in a vibrant ambience, complemented by interiors decked out with bright colours and the artworks of the Ox, Rémy Martin's signature Centaur, vineyards and Cognac barrels. The ideal choice of drink to begin the experience is with two pours of Rémy Martin XO served with a braised oxtail tart to welcome the Year of the Ox.
Moreish treats accompany the drinks, and you can't go wrong with Duck Wrappers, servings of pan-seared duck breast accompanied by house-made plum sauce, pickled carrot and daikon ($19); or Pie Tee Cups with braised pork belly and curly spring onion ($17).
6 Ann Siang Hill. Tel: 8121 1462.