Fleur de Miraval debuts in Singapore paired with Sushi Kou's omakase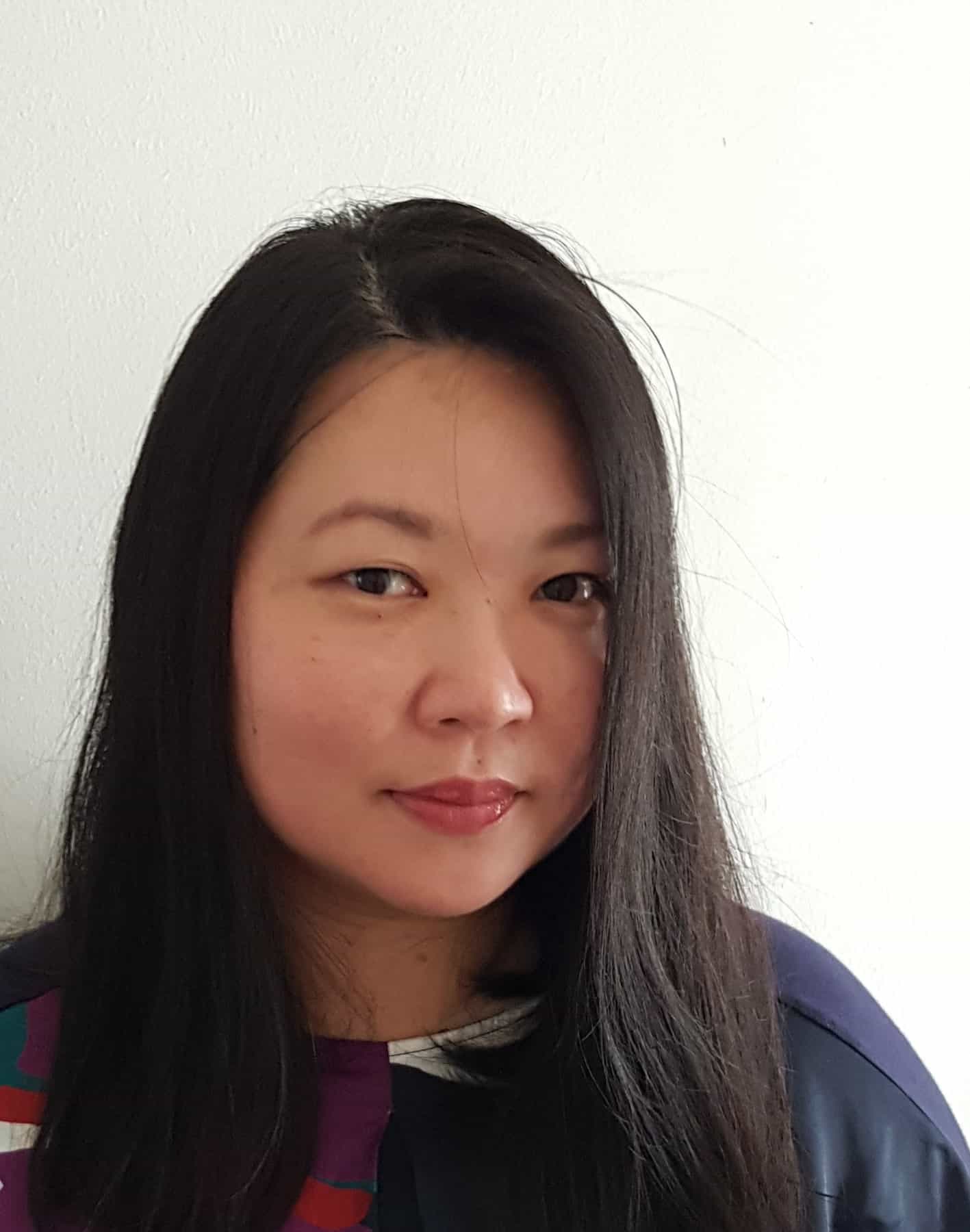 · 19 December 2020
·
Drinks
Very limited bottles of the high-end Brad Pitt-Angelina Jolie Rosé Champagne are now available
The secret Champagne project by the celebrity ex-couple Brad Pitt-Angelina Jolie launched on 15 October this year, and just two months later, we can lay claim to 240 of its 20,000 bottles in Singapore.
With most of the bottles snapped up already, you'll find less than 40 bottles left at three places – on retail at Grand Cru, at wine bar Park 90, and for in-house dining at omakase restaurant Sushi Kou.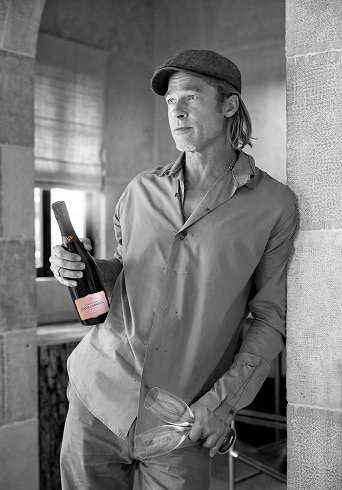 Named Fleur de Miraval, the new Champagne house is the only one devoted to Rosé Champagne, and is a collaboration between Jolie-Pitt, the Perrin family and the Péters family behind Pierre Péters grower-style Champagne. The collaboration continues the relationship between Jolie-Pitt and the Perrin family of Château de Beaucastel, who together make sparkling Provence Rosé at Château Miraval.
Unlike the more affordable Château Miraval wine which is accessible for everyday drinking, the limited edition Fleur de Miraval was launched at €340. It's a blend of 75% Chardonnay and 25% Pinot Noir, aged on lees for a relatively short three years, and with a crisp dosage of 4.5g/L. The bottles are lacquered black in order to protect the delicate contents against damaging light rays. In order to preserve the nobility of the 75% Chardonnay, which are mainly (but not all) from Grand Cru vineyards around Le Mesnil-sur-Oger, a gentler saignée method was used with young Pinot Noir to achieve a lighter, brighter pink hue and more aromatic notes. The result is a very different Rosé, one where the Chardonnay is still dominant.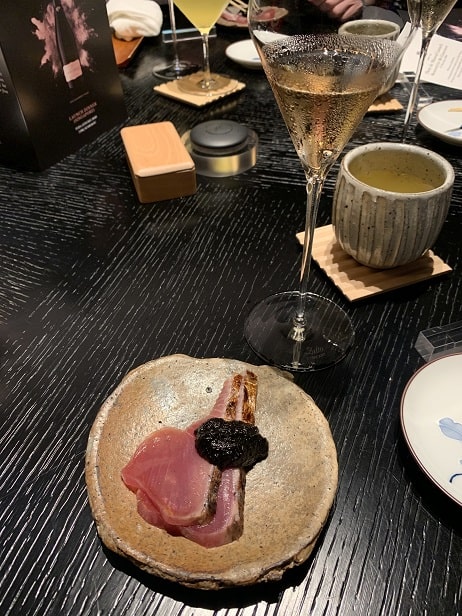 At Sushi Kou where we enjoyed the Kou seasonal omakase ($450) together with Fleur de Miraval ($680, dine in), the Champagne's elegance and crisp notes were showing in harmony with the restaurant's exquisite 10-course sushi and 5-course dishes. Chef Yoshio Sakuta's seasonal white fish 'carpaccio' with Alba white truffle, for instance, struck the most delicate balance with the Champagne, as the clean flavours of the fish and salinity of the Champagne complemented each other effortlessly.
In other dishes, the tangy notes of raspberry and pink grapefruit in the bubbly served to refresh the palate after the rich soy and umami notes of other dishes such as the smoked bonito with seaweed soy sauce, and Japanese grouper shabu shabu with ponzi and yuzu kosho.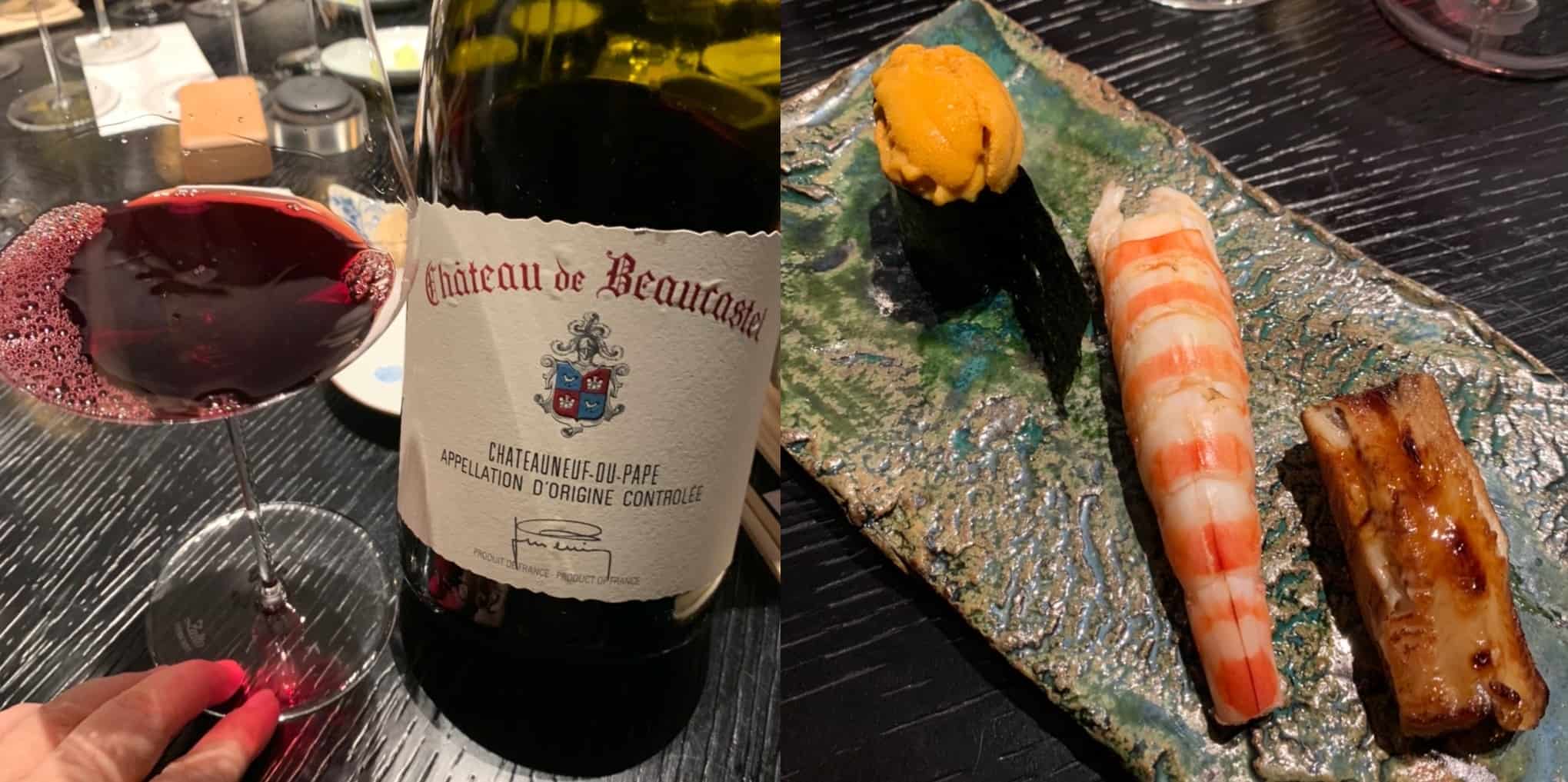 Head sommelier Makoto Iwabuchi (formerly at Gaggan) also took the chance to serve Château de Beaucastel's Châteauneuf du Pape, a full bodied yet vibrantly silky and savoury red that did not overpower when served with grilled anago or even sea urchin. But ultimately, the Champagne was the most versatile to pair throughout the dinner, especially when sipped with the freshly grilled nodoguro, or blackthroat sea perch. When diners gently push the fish against warm vinegared rice to release its aromatic oils, the fatty white flesh releases its deep flavours, an ideal foil for the crispness of the bubbly.
Sushi Kou is at #01-13/14 Holiday Inn Orchard, 11 Cavenagh Road. Tel: 8591 1933
SHARE