An Authentic German Christmas at Brotzeit
· 16 November 2023
·
Dining
Indulge in traditional German flavours this year-end with Brotzeit's seasonal Christmas menu and exclusive promotions.
Germany may be known for its Oktoberfest celebration, but Christmas – or Weinachten as it is known locally – is an equally enchanting affair, celebrated with unique traditions and food.
From as early as November, Christmas markets spring to life all across the country, peddling festive ware and treats such as stollen (fruit cake), lebkuchen (gingerbread), and belly-warming mugs of glühwein (mulled wine). Food is a big part of the celebration in homes as well, where families gather to enjoy traditional, home-cooked meals such as roasted goose, pork, and sausages, accompanied by sides of potato dumplings and red cabbage.
From now until 7 January 2024, experience some of these dishes and revel in the spirit of a German Christmas at Brotzeit, as the popular restaurant chain presents a slew of authentic and seasonal delights.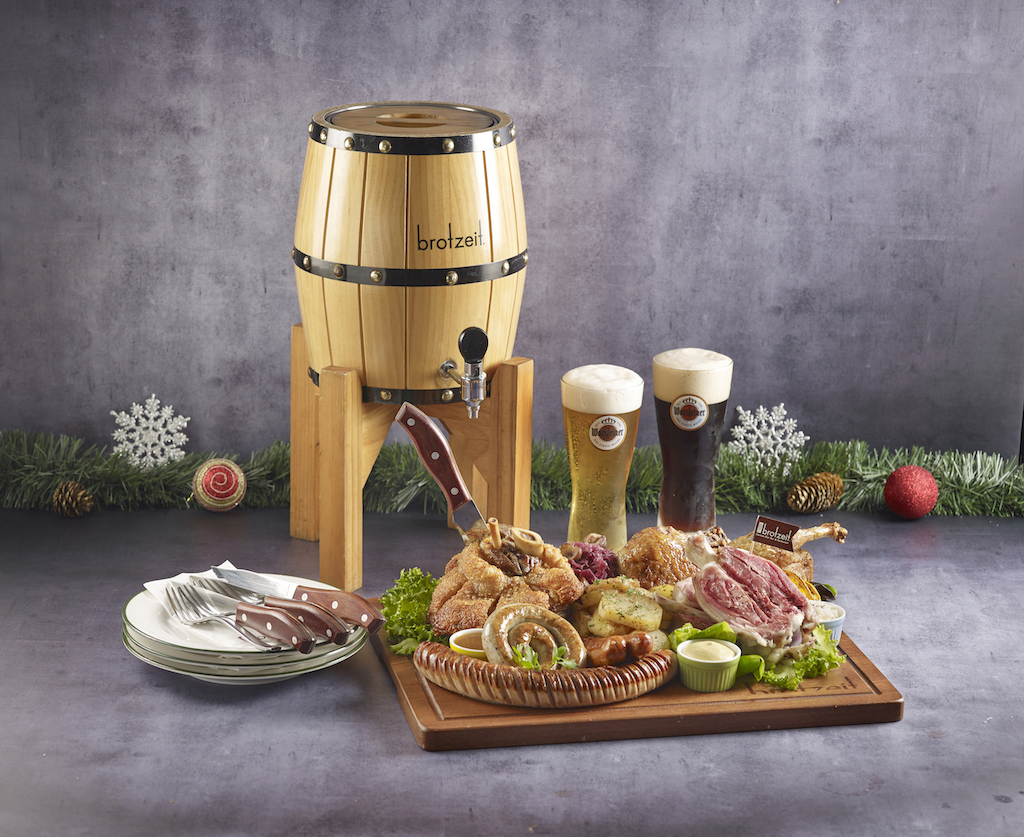 The Christmas menu stays true to the German palate with a selection of meat-focused dishes. Start with Oma's Kartoffelsuppe ($15), a warm and comforting potato-leek soup filled with chunky pieces of frankfurter sausage and garden peas.
Hearty mains consist of Berliner eisbein ($32), pork knuckles that are brined and boiled, then served with parsley potatoes, sauerkraut, and horseradish to cut through the richness. One can never go wrong with classics like the bratwurst ($25), which comes in a hefty 250g portion served alongside roast potatoes and sauerkraut; as well as Weihnachtsschinken ($26), cured Christmas ham with brussel sprouts, mashed potatoes, and honey-mustard sauce. Poultry fans are not left out: Brotzeit's Halbe ofenfrische Bauernente ($38) features a succulent roasted half duck with red cabbage, chestnuts, and potato dumplings, rounded off with duck gravy.
For a bit of everything, get the Weihnachtliche Festtagsplatte ($145), which is good for four to six people. Laden with protein, the platter includes the restaurant's signature pork knuckles, which are slow roasted until tender with its crispy, crackling skin providing a divine contrast of textures; as well as Berliner eisbein, classic bratwurst, Thüringer sausage, roasted half duck, and spicy chicken sausages.
Wrap up the meal with Nuss-Kaiserschmarrn ($25) or Emperor's Pancake, said to be a favourite of former Austrian emperor Franz Joseph I. Sweet and lightly caramelised, these fluffy, shredded pieces of pancake are topped with hazelnuts, cinnamon, and berries, in portions good for two.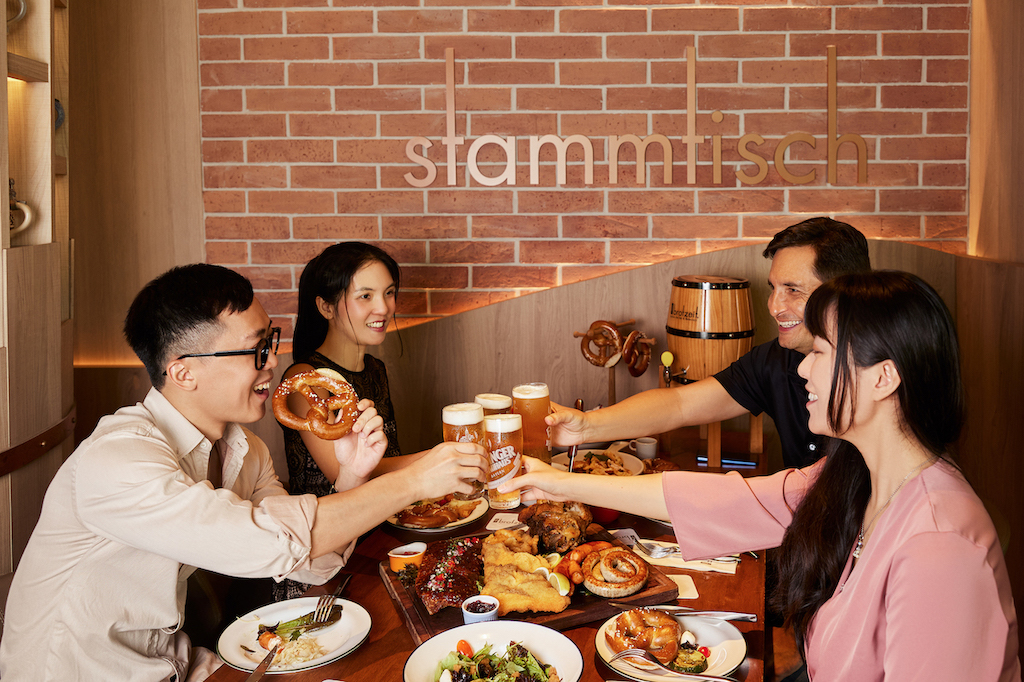 Beer is a hallmark of German cuisine, and there's plenty to go around at Brotzeit, enjoyed on its own or paired with its Christmas dishes. The Warsteiner Premium Pale Lager offers a perfectly balanced, clean-tasting beverage with hints of barley malt and a mild, hoppy bitterness, while the Warsteiner Premium Dunkel is an excellent dark amber beer, robust, with satisfying notes of roasted malt and subtle bottom fermenting yeast notes.
For those who prefer indulging in festivities from the comforts of their own homes or offices, Brotzeit provides island-wide delivery service.
More reasons to celebrate
With four outlets across the island, Brotzeit offers the perfect venue to celebrate Christmas and year-end dinners with friends and family. The restaurant chain's spacious interiors and semi al fresco spaces are also suitable for corporate events and year-end parties, comfortably accommodating groups from 16 up to 220 persons.
Book a slot for the St Nikolaus Brunch on 3 December at Brotzeit Vivocity, where diners can enjoy a free flow of seasonal favourites such as the restaurant's signature pork knuckle, Berliner eisbein, Christmas ham, and Kaiserschmarrn, in addition to an authentic Christmas grazing table of mandarin oranges, walnuts, peanuts, chestnuts, and gingerbread.
There's plenty of entertainment lined up too, with a live band playing Christmas songs and soulful jazz tunes to liven up the afternoon. Make the event a special one for the young ones, as parents can bring gifts for their children, which Santa Klaus will handout during the brunch (simply leave a special note when making a reservation).
The brunch is priced at $45++ per adult and $25++ per child (6 to 12 years old), with children aged below six dining for free. For $68++ per person, you'll also get a three-hour free flow of beverages that includes Erdinger, Warsteiner, Prosecco, house wines, Glühwein, Apfleschorle, sparkling water, and soft drinks. Other brunch dates lined up include 26 November at Brotzeit Westgate, and 10 December at Brotzeit Katong.
For more information and a full list of upcoming events and promotions, visit https://brotzeit.co/promotion/winterseason/.
SHARE