Marguerite restaurant blooms at the Flower Dome, Gardens By The Bay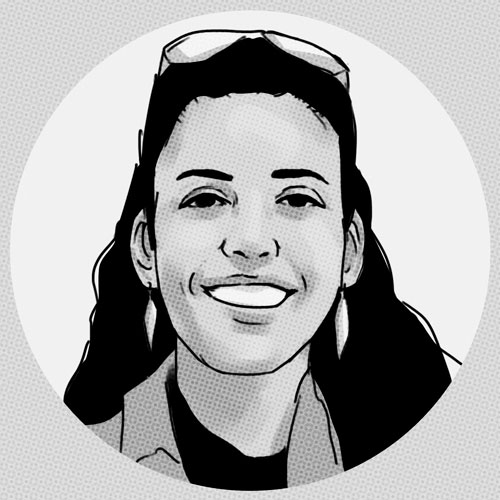 · 23 December 2021
·
Dining
The new restaurant by chef-owner Michael Wilson celebrates with the season's best through a combination of craft, provenance and produce
Embracing a sleek, new elevated approach to fine dining, Marguerite serves as an expression of Wilson's experience and his evolution from chef to chef-owner. His attention to detail such as using gorgeous handcrafted wooden vessels that provide a platform for the restaurant's snacks, and the uneven, rough-edged plates and ceramics that are a showcase for his creations, allow each course to proudly champion craft and craftsmanship from the hands of local and international artisans. The sublime fine-dining experience is wholly complemented by top-grade service that has become somewhat of a rarity in Singapore, helmed by general manager Ashwan Suppiah.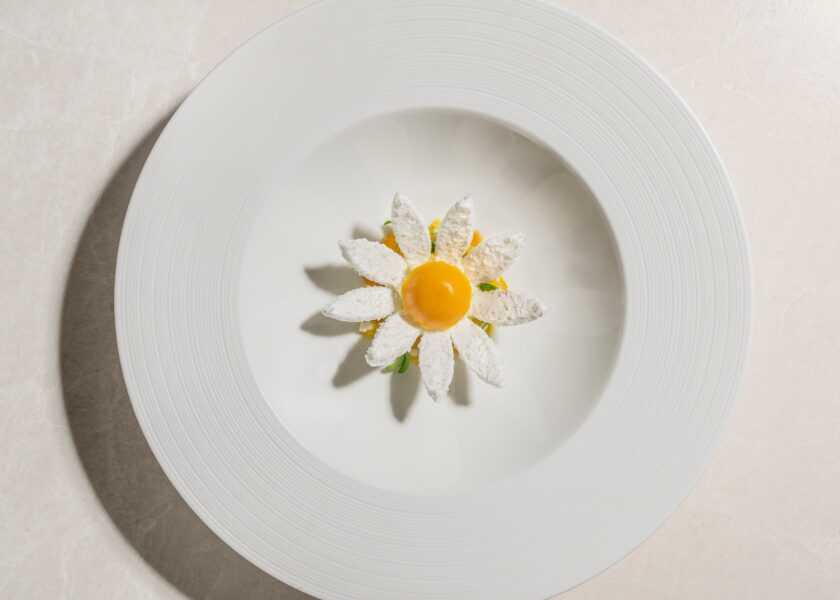 Situated amid the lush garden surrounds of the Flower Dome occupying the former Pollen premises, Marguerite's seven-course tasting menu ($228++) can be paired with fine wines ($198++) or with a unique, non-alcoholic temperance beverage programme of clarified juices and fermented teas ($88++) which match the same complexity as their alcoholic counterparts. For instance, juiced Granny Smith apples are infused with shiso and later with hay to mimic a Sauvignon Blanc to pair with the Smoked Eel course; Caramelised Gala apple and verjuice are cooked with celeriac, clarified and infused with oak chips to resemble a lighter version of Chardonnay paired with Ora King Salmon; Apricot, Pineapple and Chamomile jun tea reveal itself as a formidable Faux Sauternes partner for the Sunchoke dessert.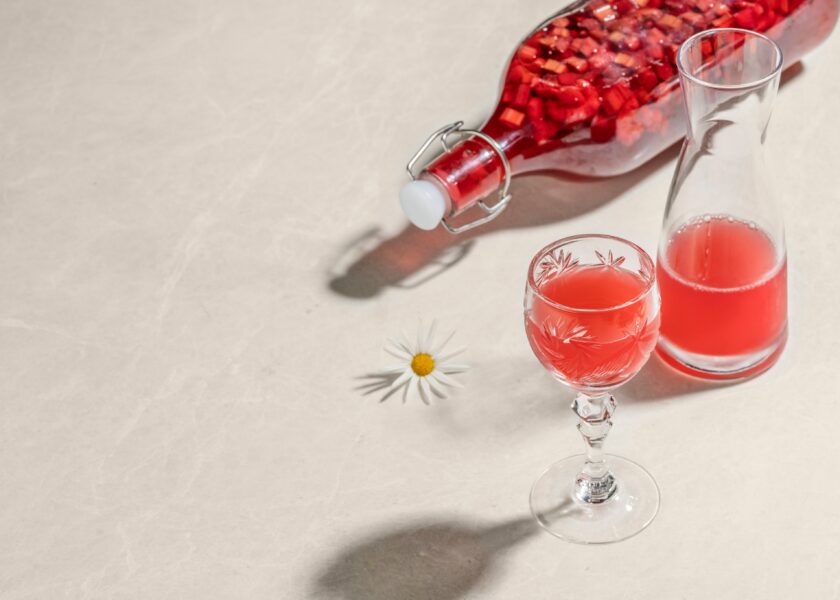 A trio of kitchen islands placed within the dining room bring an element of culinary theatre straight to your table and it is a pleasure to watch the team move in perfect harmony despite the many moving parts. "Our food is a culmination of our life experiences, working and eating across the globe. Deceptively simple and familiar creations at first glance belie layers of textures, flavours and temperatures that aim to surprise upon closer look. I'm so excited to share this with you," says Australian-born, Michelin-starred Wilson.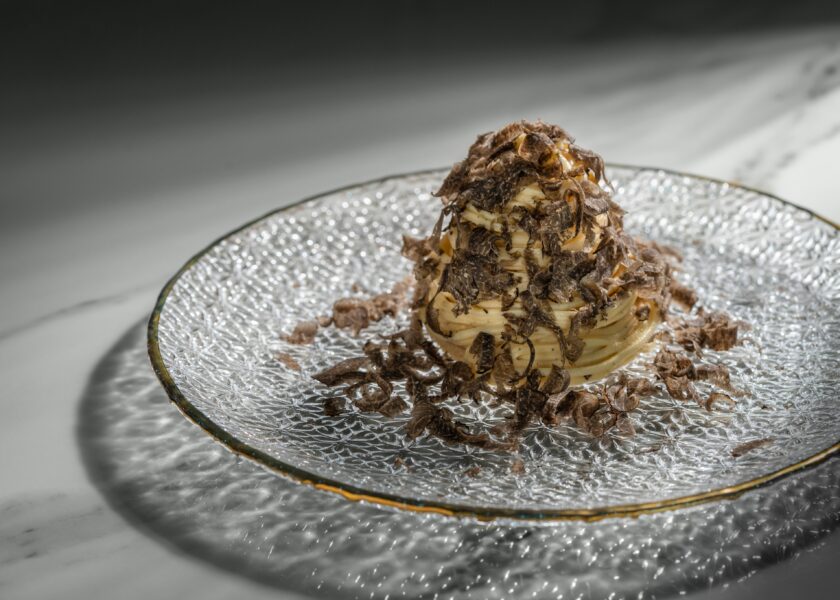 At the 46-seater space (including 10-person Private Dining Room), Wilson skilfully extracts, concentrates and intensifies flavours from a host of ingredients, bringing them together as beautiful compositions on a plate. Wilson's focus on respecting the produce and showcasing the best of each ingredient in each course is perfectly executed by chef de cuisine Herman Lim, resulting in creations that look deceptively simple, but reveal depth and differing layers of textures, flavours and temperatures with each bite.
Dining at Marguerite opens with a spectacular quartet of Snacks, featuring a chic Foie Gras Cornetto; a genius Watermelon Ravioli filled with goat cheese and pistachio; Hokkaido Scallop in a delicate, sea-urchin-custard-filled potato tart shell; and the unique Black Trumpet Cigar seasoned with a housemade mushroom garum. Visual appearance alone sets the tone for the exciting evening ahead.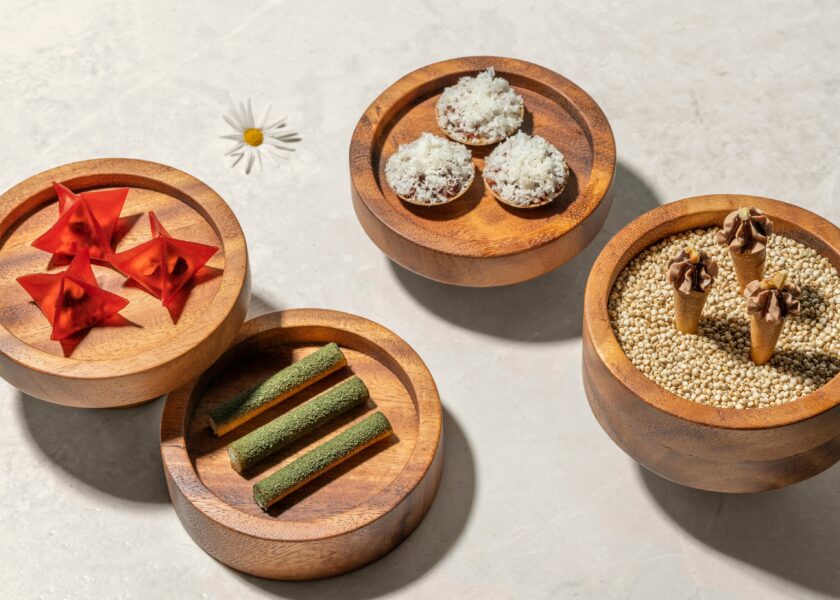 Likewise, it's hard not to be impressed with the subsequent Spelt Sourdough encrusted in black and white sesame seeds, served with homemade house-churned butter, sea salt, Papa's Grove EVOO (a blend of Koroneiki and Manaki olive varieties from the Greek Peloponnese region) and wild oregano (sourced from the same Greek olive orchards).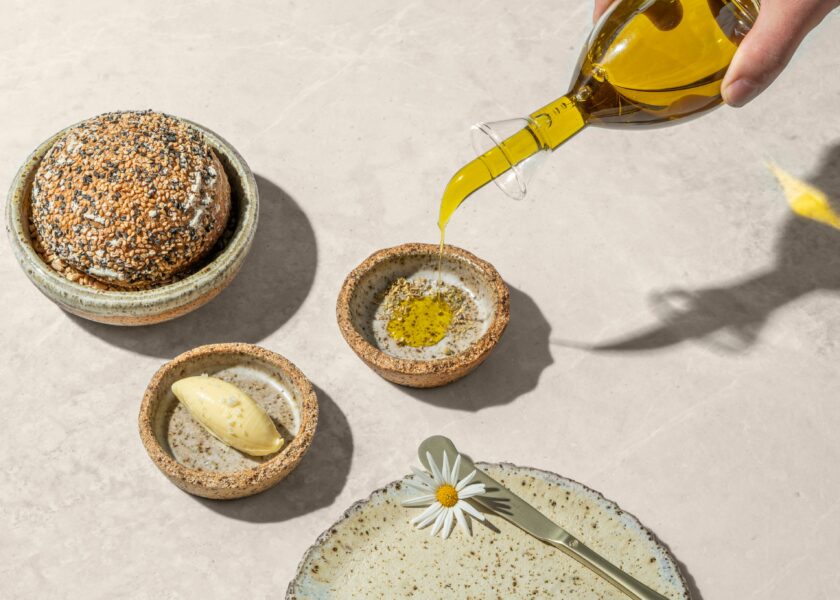 The first course of Smoked Eel, Oyster Leaf, Horseradish Ice Cream and Amur Caviar is Wilson's nod to the classic fish and wasabi pairing, presenting eel from the Catalonian waters of the Ebro Delta, smoked and rubbed over with seaweed vinegar and dill oil. Raw Granny Smith apple matchsticks and an oyster leaf add freshness before the dish is crowned with a savoury horseradish gelato and Amur caviar.
Wilson's second course showcases a celebration of vegetables in season, highlighting the versatility of the humble heirloom carrot. Paired with pickled baby carrots and served with crisp shards of yeast and a vibrant sauce of juiced sand carrots and Valencia oranges, Wilson finishes his creation with an intense marigold oil, with the latter being an ode to the first time he saw marigold flowers hanging in the doorway of his future in-laws' house in India just before meeting them for the very first time.
Inspired by a legendary Wanton Soup Wilson tasted while working in Shanghai many years ago, his Langoustine Fagottini, Kohlrabi and Consommé course features Scottish langoustine-filled parcels paired with charcoal roasted kohlrabi floating atop a smoked consommé, finished with sea lettuce and Espelette pepper.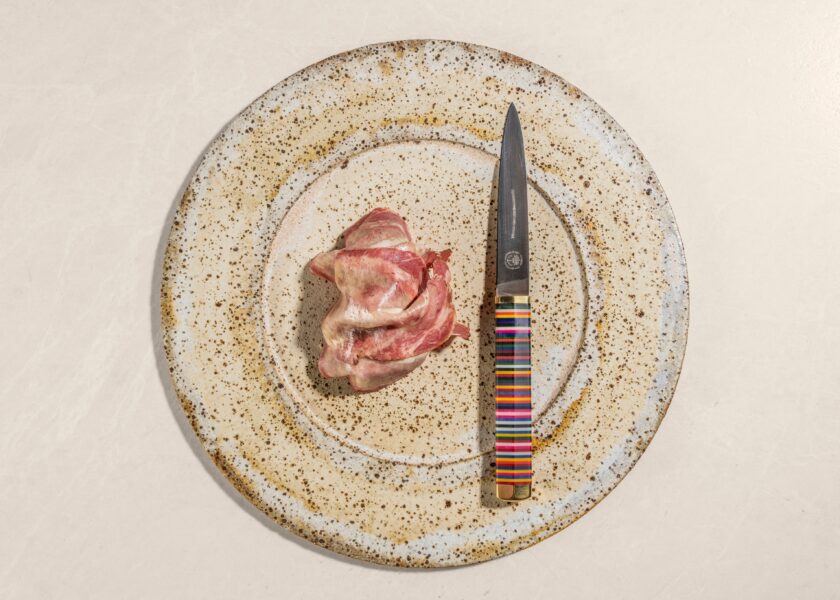 Ora King Salmon and Black Angus Beef make up the final two courses of the tasting menu before making way for the house-fermented Raspberry and Rhubarb jun tea, served in place of the usual palate cleanser and pre-dessert, cleverly marking the smooth transition from savoury to sweet.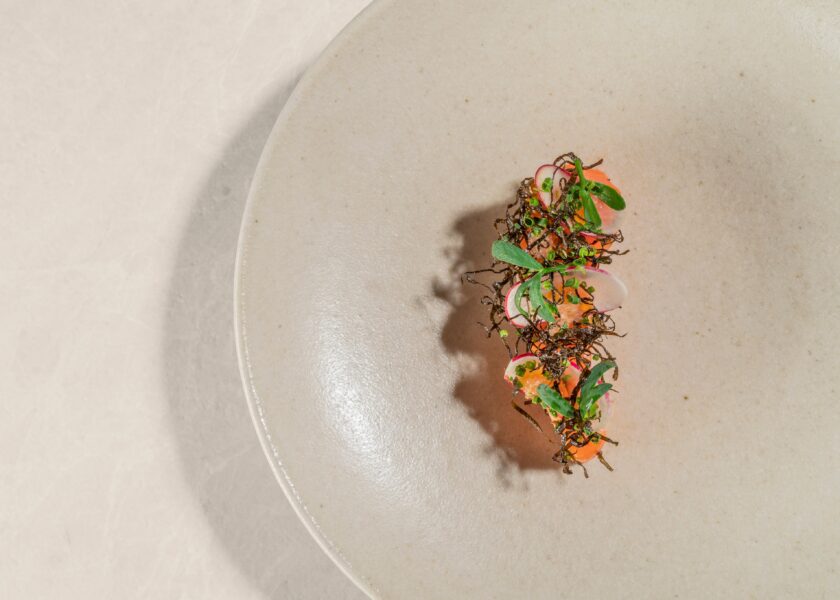 As a literal nod to the restaurant's namesake, the Tropical Fruit Vacherin is presented in the delicate form of a Marguerite flower, featuring coconut-flecked meringue petals encasing a yoghurt bavarois and mango-passionfruit sorbet centre, finished with notes of pineapple, young coconut, a ginger flower-kaffir lime leaf oil and a final garnish of baby coriander.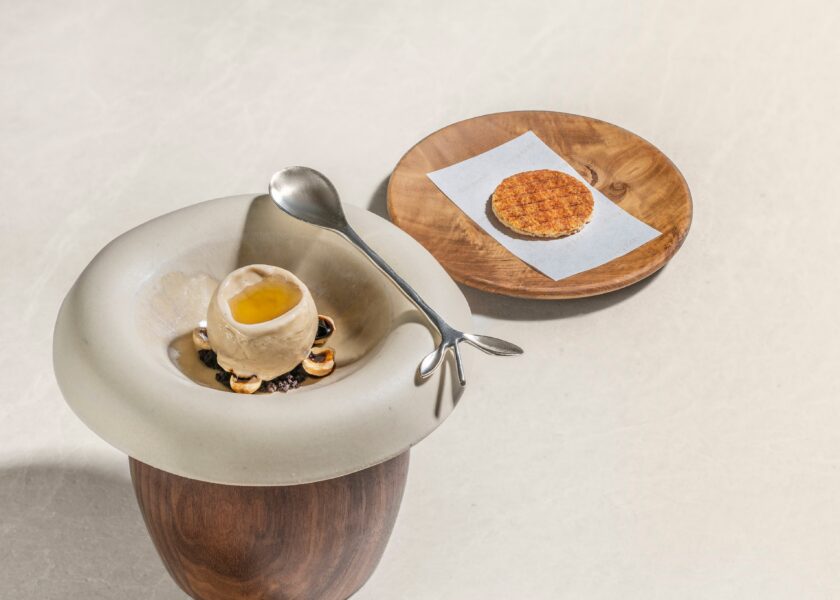 Finally, Sunchoke gelato atop a cocoa and coffee soil finished with Piedmont hazelnuts, 20-year balsamic vinegar and a coffee oil beautifully mark the end of the tasting menu. But that doesn't mean that the meal is over. Presented trolley-style and served on an embellished crystal plate just as Wilson would have had at his nan's house come a gorgeous medley of Mignardises, such as Sour Cherry Pâte De Fruits; Financiers seasoned with fennel seed; Macaron with 18-month aged comte cheese and apple chutney; Tasmanian mountain pepper chocolates; and Strawberry Marshmallow biscuit (a nod to the Iced Vovo Chef Michael loved eating growing up), to name just a few choices.
With a moniker inspired by the cheerful and welcoming daisy flower that it is, Marguerite is a must-visit fine dining venue that showcases the seasons' best, celebrating through a celebration of craft, provenance and produce.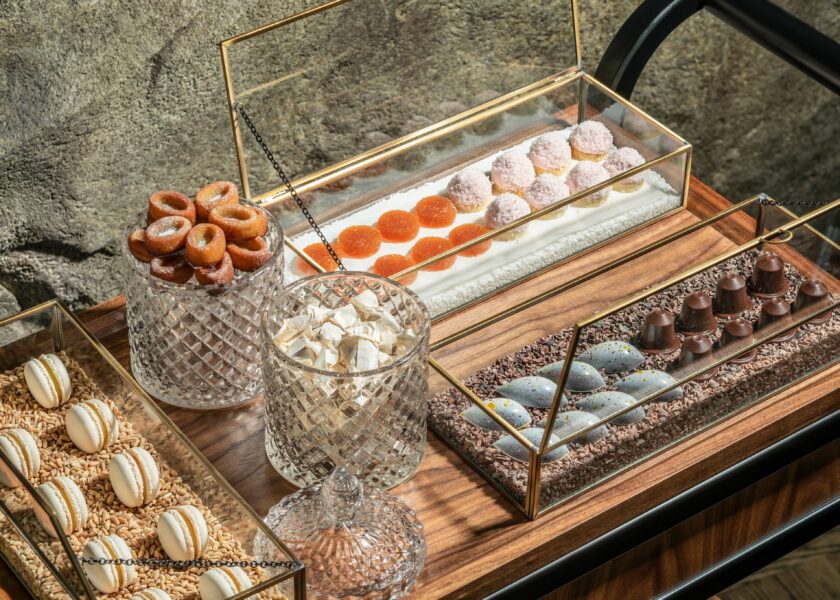 From 24 to 26 December, indulge in Wilson's festive 5-course tasting menu ($288++ per person) inclusive of a glass of Boizel, Brut Réserve Champagne, with well-loved signatures including his Dry Aged Silver Hill Duck paired with a foie gras stuffed Duck Neck Sausage alongside his signature Mont Noir among other new creations such as the butter poached Blue Lobster with cauliflower puree, burnt butter and hazelnuts. The dining experience also includes a complimentary buggy service and access to the Dome pre- or post-meal to enjoy the festive floral Poinsettia Wishes display.
Flower Dome at Gardens by the Bay, 18 Marina Gardens Drive, #01-09 Flower Dome, Singapore 018953. Tel: 6604 9988
SHARE