Celebrating Farm Feasting with local homegrown produce at Open Farm Community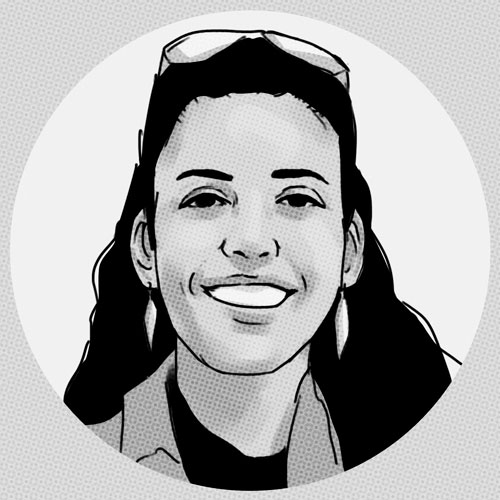 · 13 December 2021
·
Dining
Head chef Oliver Truesdale and sous chef Phoebe Oviedo champion the locavore movement with Southeast Asian kampong-style feasting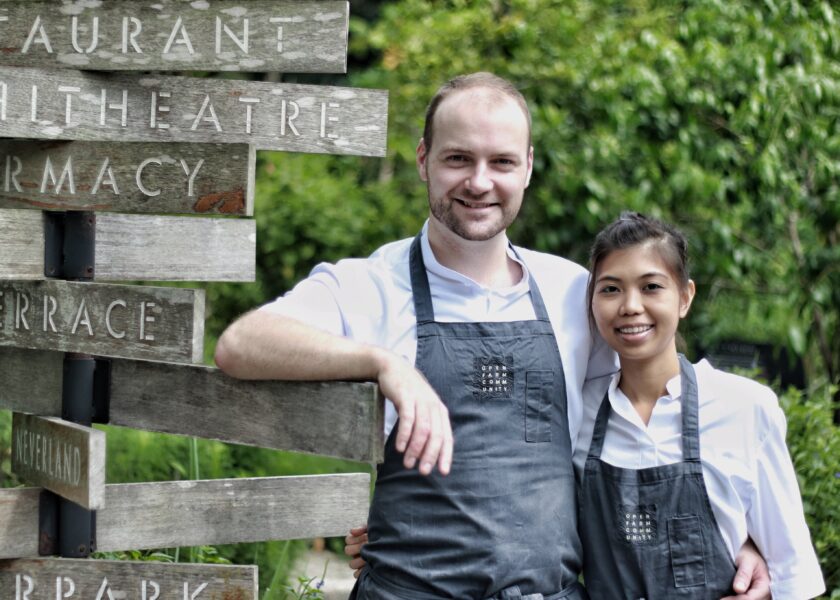 Michelin Plate-awarded Open Farm Community (OFC) by the Spa Esprit Group is built within one of Singapore's pioneering urban farming concepts where it perfectly positioned to showcase its philosophy of championing the locavore movement.
"We started OFC six years ago with the ambition of reconnecting urban Singaporeans with the food they eat – that hasn't changed. But today, we find ourselves disconnected even on the dining table as we navigate the dining restrictions that have been brought about by the pandemic. We want to fix that, through conversations sparked by and around the food we consume, in a feast that brings us closer to one another, as well as to the source of our food," shares Spa Esprit Group's founder and chairman Cynthia Chua.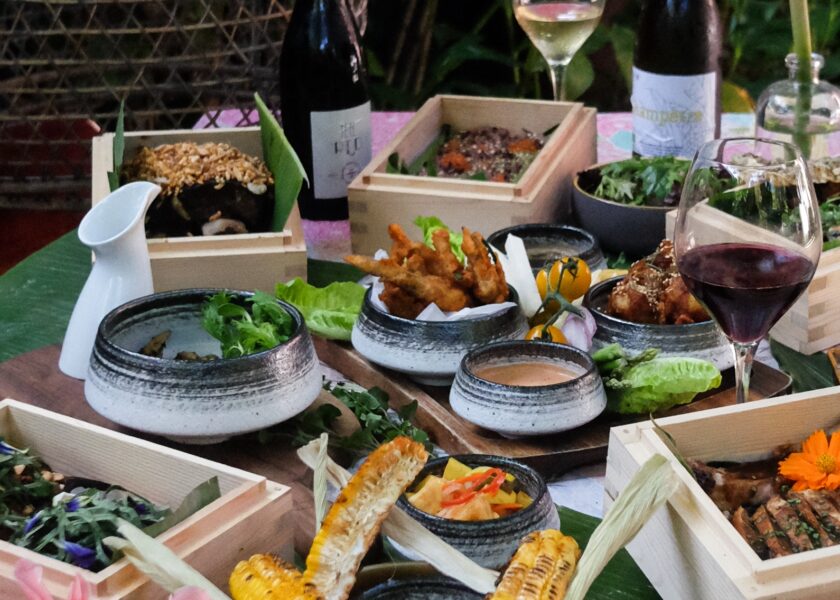 Hence the launch of OFC's Farm Feast, a new family-style tasting menu specially designed to nourish the soul and reinvigorate relationships on the dining table between friends, families, diners and their food over sumptuous sharing plates. Ideated as a celebration of homegrown produce and inspired by the convivial way of kampong dining, the Farm Feast features inventive, communal dishes that best showcase ingredients sourced from close to home, all served in a kampong dining-inspired manner to capture the wholesomeness of traditional Southeast Asian dining.
Carrying through the practice of keeping dishes as local as possible, the core of its Farm Feast lies with a proud use of produce that are predominantly sourced from a close and trusted network of local suppliers. In a continued bid to support the urban farming ecosystem, fresh greens and herbs are procured from a long-running partnership with Edible Garden City among other local farms, while proteins are sourced to ensure they are sustainably produced and humanely farmed, with a select handful of harvests that are lovingly grown at the on-site garden.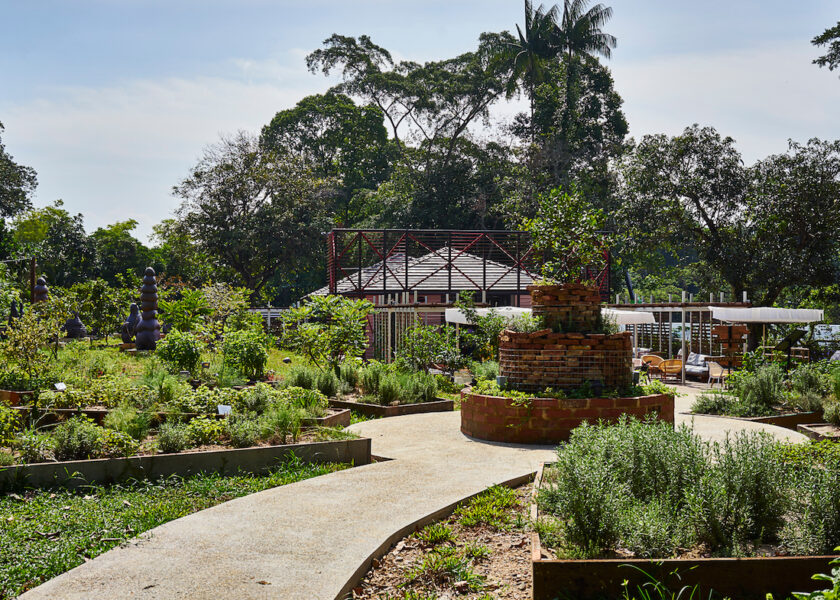 Presented as a table of sharing plates, each feast can cater to as little as a table for two and more, serving up an array of snacks, starters, mains, house-made accompaniments and desserts that can be easily adjusted to any group size for a nourishing meal. Further defined by a minimal waste policy, Truesdale and his team have made it a point to utilise every part of the produce by repurposing commonly discarded trimmings into unsuspecting accompaniments.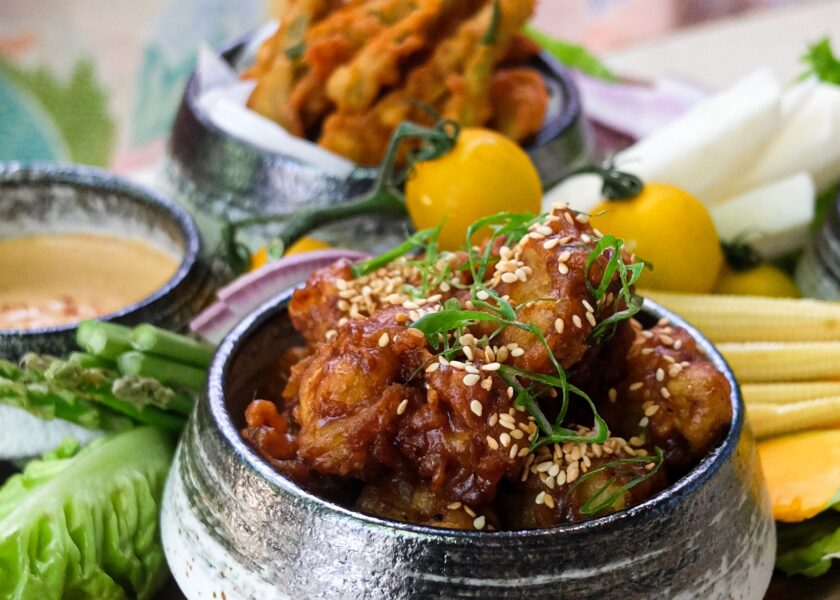 Expect a mix of European-styled plates weaved with an Asian familiarity, all accompanied by an array of local accompaniments served alongside the mains. They are inspired by local dining idiosyncrasies of embellishing every meal with a bowl of rice, sauces and pickles. Each Farm Feast is served with a blend of ancient grains and seeds with fresh herbs and house-made pickles such as QJ's Kimchi, a reinvented take on the Korean staple by fermenting trimmings and off-cuts of vegetable and fruits such as broccoli stems and a mix of melon rinds in spice.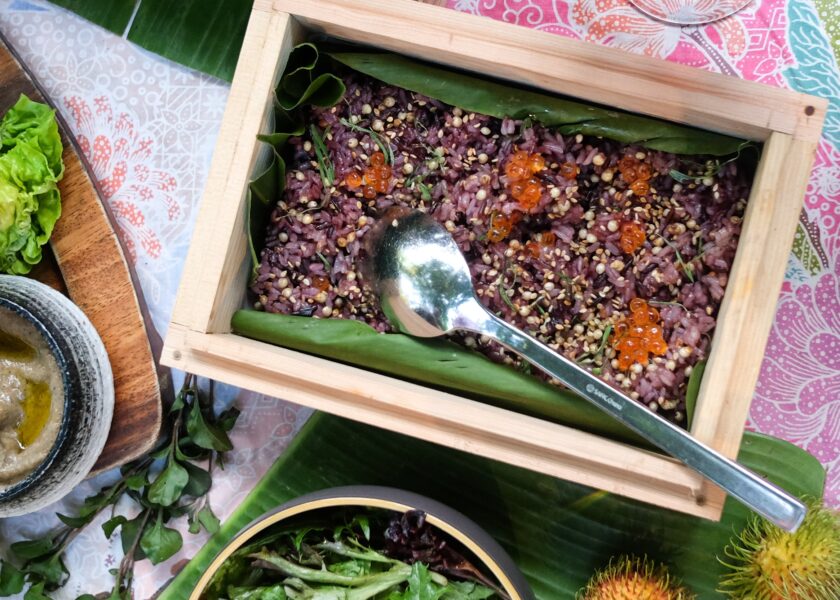 One of the Feast's starters in rotation include the OFC Farm Sweet Corn Ribs featuring house-farmed corn blistered simply on the grill and served with a side of green peppercorn, shichimi and olive oil for a slightly spicy dip; or the moreish Cauliflower Wings for battered florets sauced in tamarind miso with finishing sprinkles of sesame and green onions.
Another of our favourite (and very popular crowd-pleaser) is the vibrant SG Grown Radishes where raw purple adult and baby radishes are served with dollops of cultured cream and sourdough crumble. It's local raw food at its best.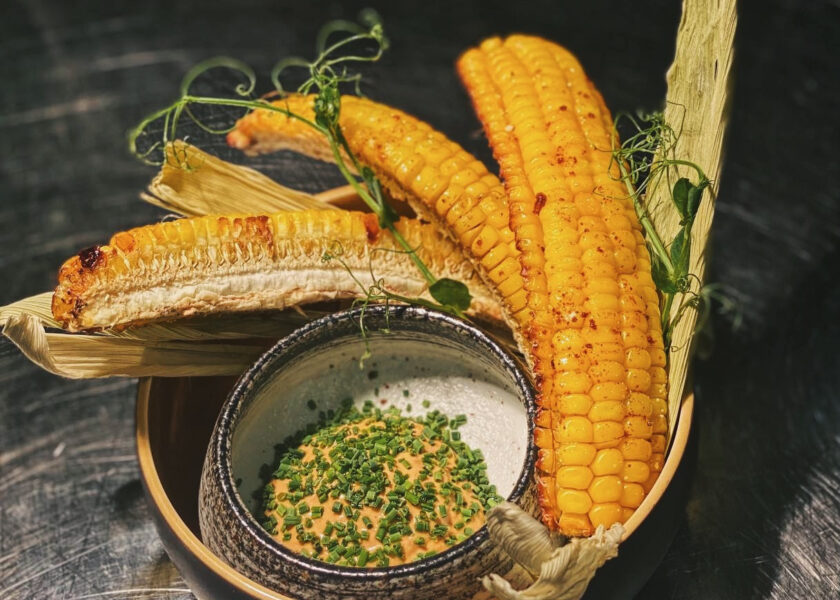 For mains, a choice of hearty signatures await. Grassfed NZ Short Ribs features a bone-in club that is roasted till perfectly tender, then doused in a Mexican mole sauce with three varying treatments of Singapore onions –caramelised, pickled and deep-fried.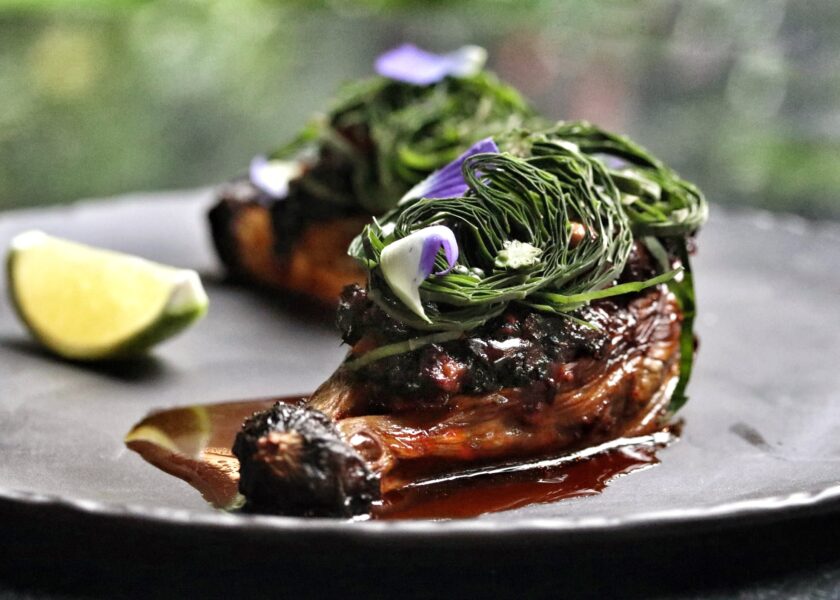 Pescetarians will like the steamed Tiberias Barramundi accompanied by smoked mussels cream, smoked ikura and puffed pulut hitam (black glutinous rice). Finally for vegetarians, the signature Braised Local Eggplant stuffed with green jackfruit and fermented black bean sauce is a must-try, as are the Kin Yan Mushroom Ravioli for mushroom-filled shells dressed with dehydrated eryngii (king trumpet mushroom) "Bacon", sauteed mushrooms and potato crumble.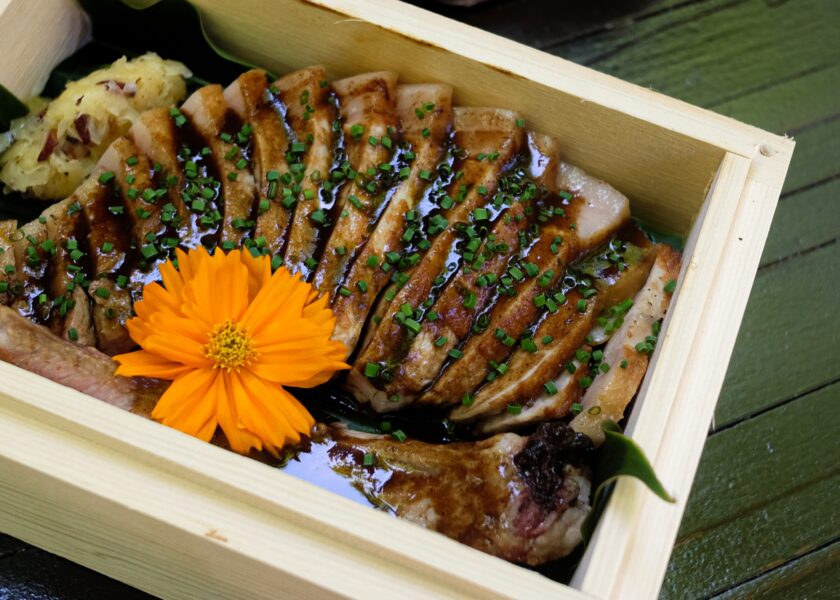 Close the feast on a rotating palate-cleansing pre-dessert sorbet (we had refreshing cucumber), and finish with a decadent chocolate dessert made from single origin beans from neighbouring countries.
The Farm Feast is available from 6pm to 9pm daily and priced at $88 per person for dinner (it requires whole table participation). Natural wine pairing add-on option is available at $40 for three glasses by Drunken Farmer.
130E Minden Road, Singapore 248819. Tel: 6471 0306
SHARE