Mod-Middle Eastern meets contemporary Australian and a new drinking experience at Fat Prince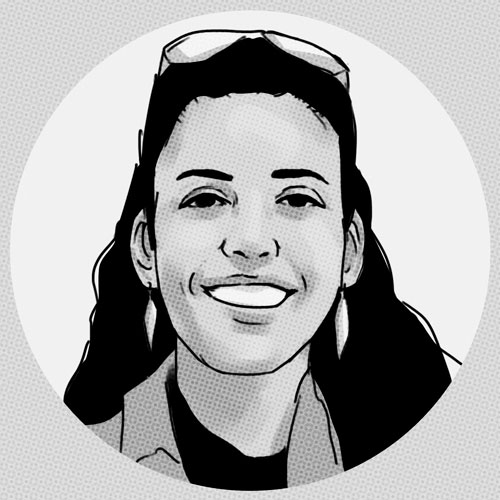 · 14 December 2021
·
Dining
Celebrating its fifth year, Fat Prince brings more vibrant flavours and a whole new, fresh direction to its chic venue
New chef de cuisine Simon Bell (most recently senior sous chef at David Myers' Adrift before joining the Dandy Collection in April this year) redefines modern Middle Eastern with his simple and clarified South Australian approach, flanking a new menu that is as familiar as it is unrecognisable. His approach builds on Fat Prince's journey thus far, making the cuisine lighter, brighter and fresher now.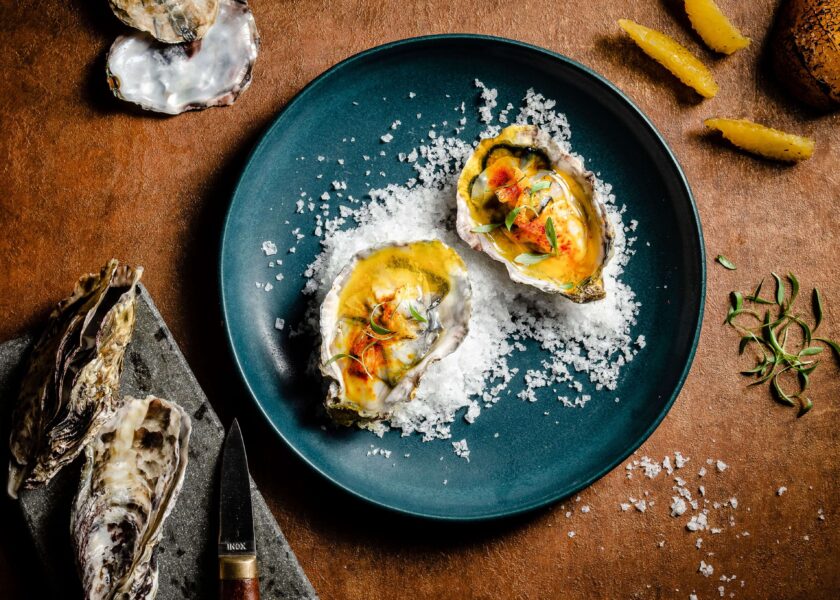 Bell uses everything from the herbaceous to the acidic to lighten and brighten robust meats, mezze and sides. The Chilled Oysters ($16), for instance, are inspired by the Aegean Coast and South Australia's Riverland region. Complementing the fresh oysters is a fresh, citrus topping of saffron, coriander cress and charred orange segments that flawlessly balance the briny ocean notes.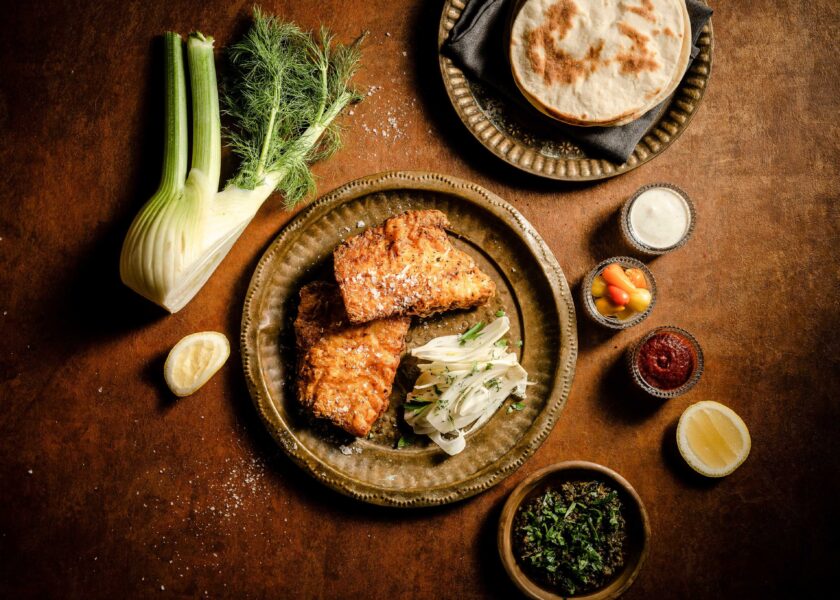 Showcasing the heart of the house – the pit oven – the Pit Smoked Aubergine ($19) with tahini and mint is a must-have. We loved the depth of smokiness and char against the smoothness of the eggplant. Following a short sear right on hot coals, the vegetable is peeled then left to relax in the warmth of the oven, away from direct heat. The result is a sublime, smoky smooth aubergine, lightened with a fresh take on harissa in the form of a raw salsa, instead of the usual spice paste.
Likewise, the Smoked Wagyu Beef Rib ($32) is another mezze safe of unnecessary frills, tastefully presented with just a wedge of lime and a saucer of sweet, sharp, barbecue sauce-like date & pickled Aussie-style onion ketchup, perfect for communal sharing.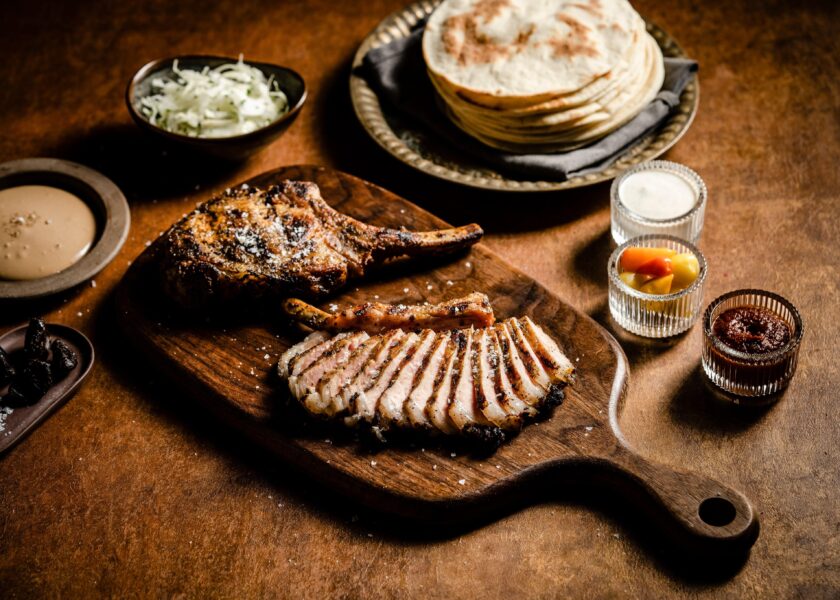 A popular house favourite is the Adana Kebab Tartare 2.0 where steak tartare meets typical Turkish street food – definitely upscale and elevated. Served with wagyu, turkish pepper, and charcoal cured yolk, it's very hard to stop at just one bite with this one. Another fun new condiment is the herb-speckled coconut labneh, smeared on butternut pumpkin, flavoured with spices and smoke.
New on the Built section of the menu is the hearty Tagine Spiced Chicken ($48) with green olive, preserved lemon and parsley. A longer spice prep intensifies the tagine-cooked flavours, beautifully culminating in a perfectly cooked bird and its complementing spiced gravy.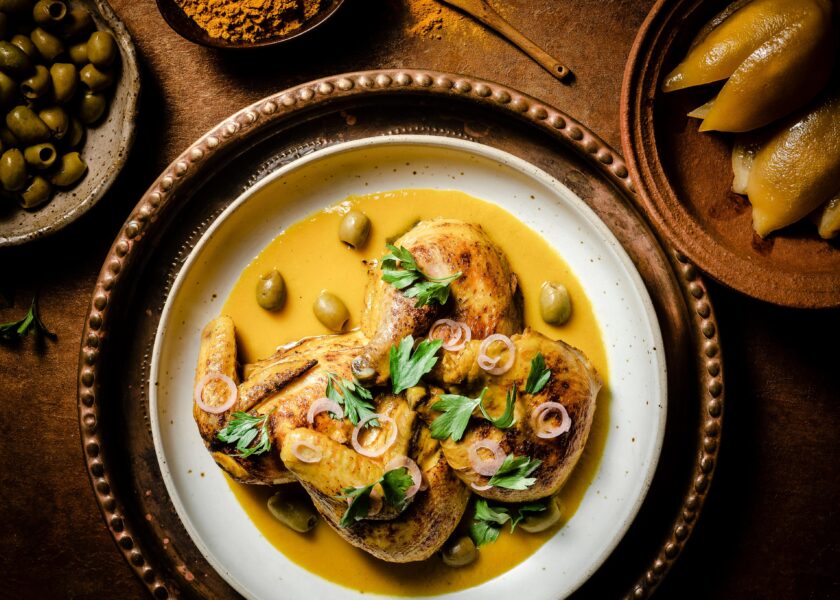 For the DIY Build It main section (served with pita and Turkish chillies), we highly recommend the super crispy down-under inspired Battered Cod ($25/100g), served with chermoula and a vibrant fennel slaw, while the Pit Smoked Pork Ribeye ($31/100g) comes with black garlic sauce and a cabbage slaw. For a new take on a traditional dish, the Pit Roasted Pumpkin ($16/100g) marries the sweetness of slow cooked pumpkin with rich, creamy coconut that is in turn, lightened with parsley, thyme, dill, and mint. For crunch and acidity, lightly pickled cucumbers and a squeeze of lime does the job.
A small selection of sides (from $15) is also available to pair with the mains to bring fresh, acidic notes to the palate. Choose from Broccoli Salad, Marinated Mushrooms and Cos Lettuce Heart.
Finally, despite all the infinite grazing, you have to keep room for dessert because the selection has been expanded too. If you only have space for one creation more, go for the Meringue. Spiked with rosewater and peppered with sumac, the floral aroma notes are layered with passionfruit curd and Fanta ice cream, finished with Bell's ode to the Wizz Fizz: a rain of orange and rosemary sherbet.
But if space is not an issue, choose from the Rosewater Pavlova, the Flourless Chocolate Cake, or the Housemade Ice Cream Sandwich ($15) which boasts Turkish coffee ice cream sandwiched between gingerbread cookies. Bell also includes a vegan dessert option with the candy bar-shaped Olive Oil Sorbet, freckled with pink peppercorns and a citrus bouquet that accentuates the fruity notes of olive oil.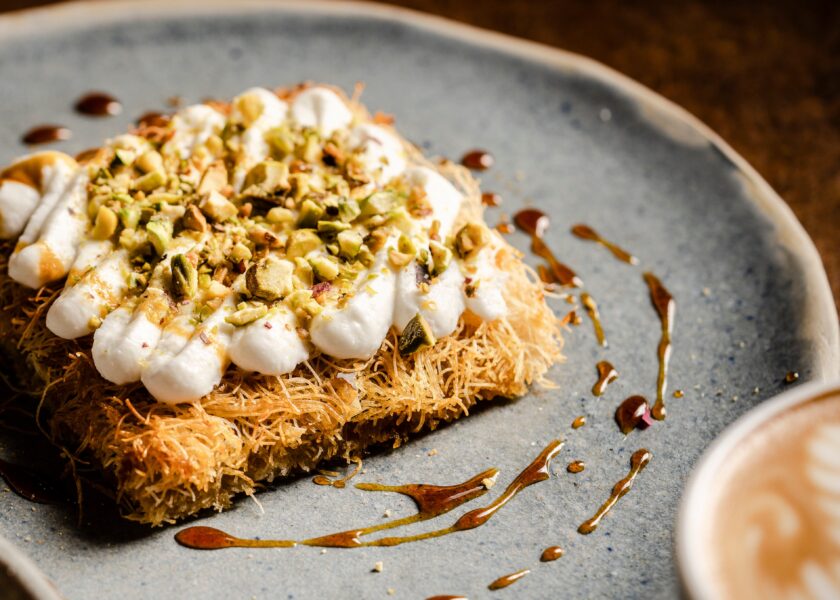 In addition to the new menu, Fat Prince is also celebrating A New Way to Journey Through Koktails, helmed by Bar Manager, Agnes Kuan and Fat Prince's Bartender, Scarlet. Diners can look forward to a better drinking culture and a more rounded experience with a brand new selection of tipples offering full, half, and no proof drinks, each with a creative koktail name that tells a story behind a concoction. Kuan makes her own zero proof spirits for her cocktails, using unconventional ingredients like spices and vegetable trimmings in her creations.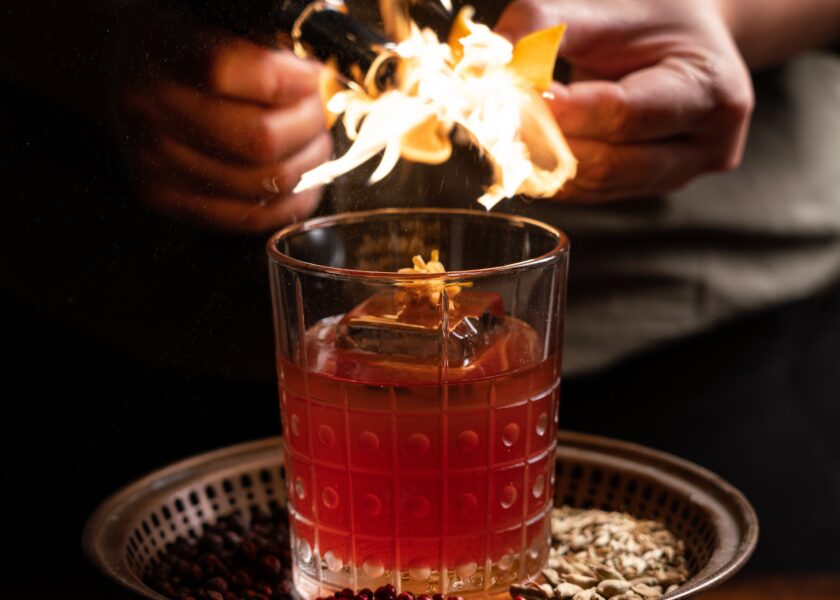 For instance, Travel In The Reeds ($22) features a pandan-infused version of Margarita, brilliantly shaken with aquafaba from the kitchen's huge store of canned chickpeas. Fez Finds a New Butler ($18) makes way for a Negroni with housemade zero proof spiced Gin and sweet Vermouth, mixed with Campari. With The Way to Wicked ($12), the kiwi fruit is paired with housemade zero proof gin, cucumber cordial and lime juice.
Mary's Clearly Mythical Cure ($12) presents a "cleaned up" version of the classic Bloody Mary, flanking clarified tomato juice, agave syrup and a drop of truffle oil. Stories of Scarlet In A Souq ($22) see olive brine fat washed Vodka and umami Vermouth with plum liqueur and Makgeolli (Korean rice wine) for balance and a rounded, plum-filled finish on the nose. Spice Is A Verb ($24) takes a twist on the classic Old Fashioned with smoked date butter fat washed whiskey, as well as smoked date and wolfberry syrup.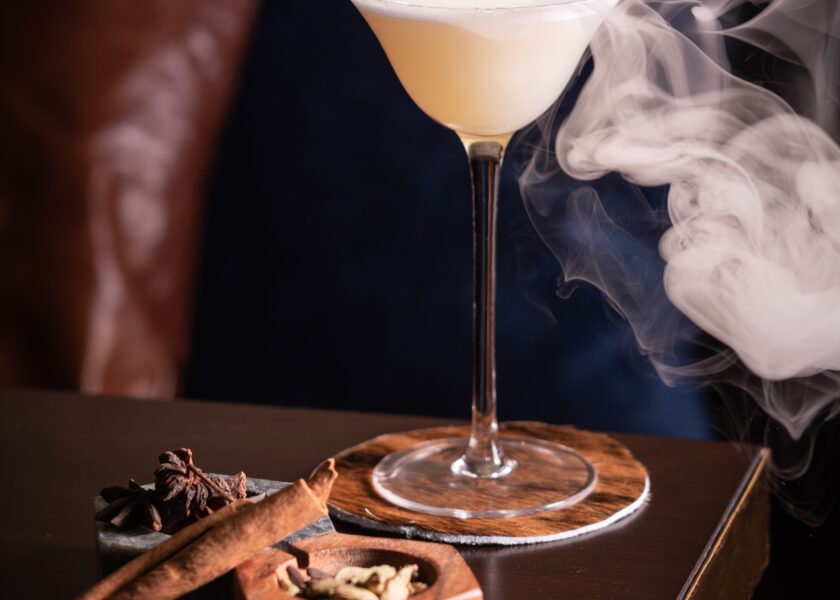 48 Peck Seah Street, Singapore 079317. Tel: 6221 7794
SHARE