Club Street is now home to a bigger and bolder boCHINche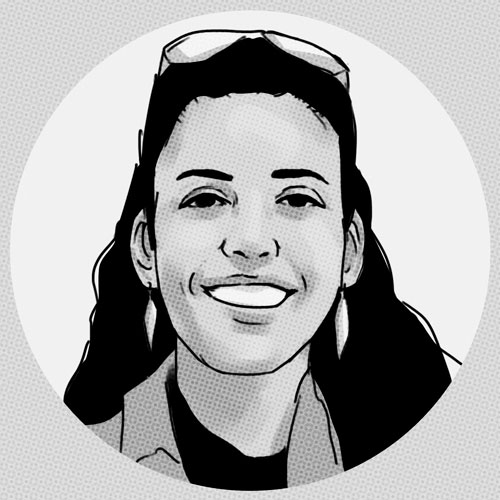 · 27 September 2021
·
Dining
Singapore's foremost Argentinian steakhouse has a new "meating" spot with a new menu and modern makeover
After five years of calling Amoy Street home, Argentinian steakhouse boCHINche by local lifestyle collective Spa Esprit Group has moved to a new location on the hip Club Street stretch. Diners can look forward to a larger space and a fresh look inspired by tribal design, an open kitchen and grill that flanks the entire length of the restaurant, and a refreshed menu designed by head chef Fabrice Mergalet to bring the age-old steakhouse experience to the modern age.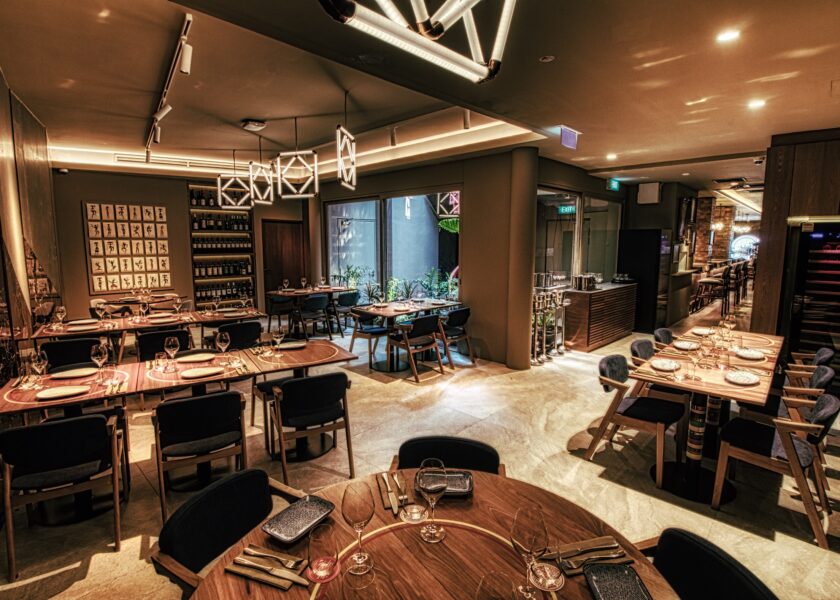 In addition to its traditional grilling technique over charcoal to achieve a lightly charred crust and smoky aroma that best highlights the natural flavours of the beef, the refreshed menu also offers brand new protein options cooked using modern cooking techniques such as sous vide, lacto fermentation, and infusions to create new dishes with unexpected ingredient and flavour combinations.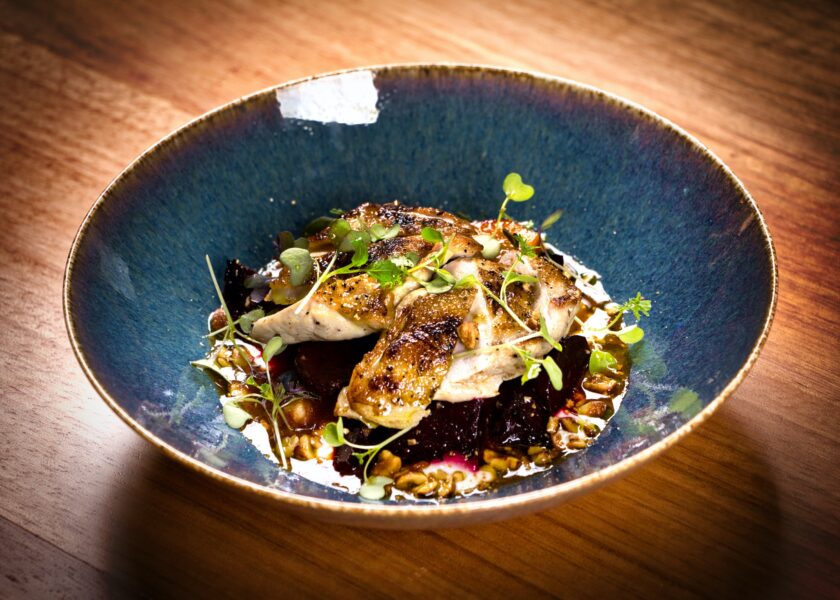 We spoke with Cynthia Chua, founder and chairman of Spa Esprit Group, to find out more about the brand new outfit.
What new additions can diners expect on the menu?
With the new location we wanted to offer diners a refreshed menu that elevates the age-old steakhouse experience. Beyond our prized steaks, we've used modern cooking techniques to create new dishes with unexpected ingredient and flavour combinations, which has resulted in substantial starters that feature lighter, brighter flavours and more varied protein options. There is now a good selection of seafood, cheese and vegetables available as starters and sides to balance out the wide offerings of steaks on the menu.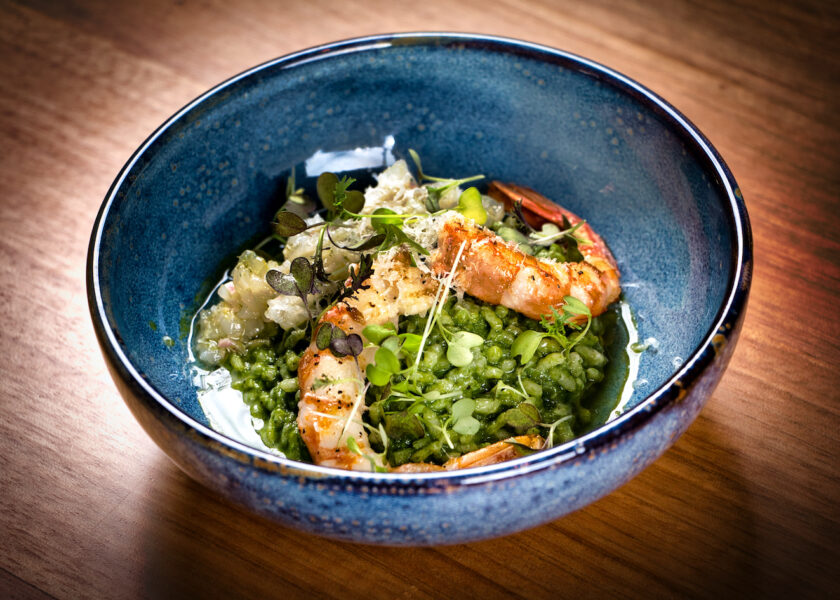 In terms of produce and culinary inspiration, we've also cast a wider net beyond Argentina and Latin America, to draw freely from culinary traditions and source the best produce from across the world – including high quality cuts of beef. Today, BoCHINche offers a proud selection of carefully selected, grass-fed beef imported directly from Argentina, Australia, New Zealand, USA and Japan. In terms of wines, we have also curated a balanced selection of natural wines from Drunken Farmer to go along with the bold, traditional Malbecs that boCHINche has been known for.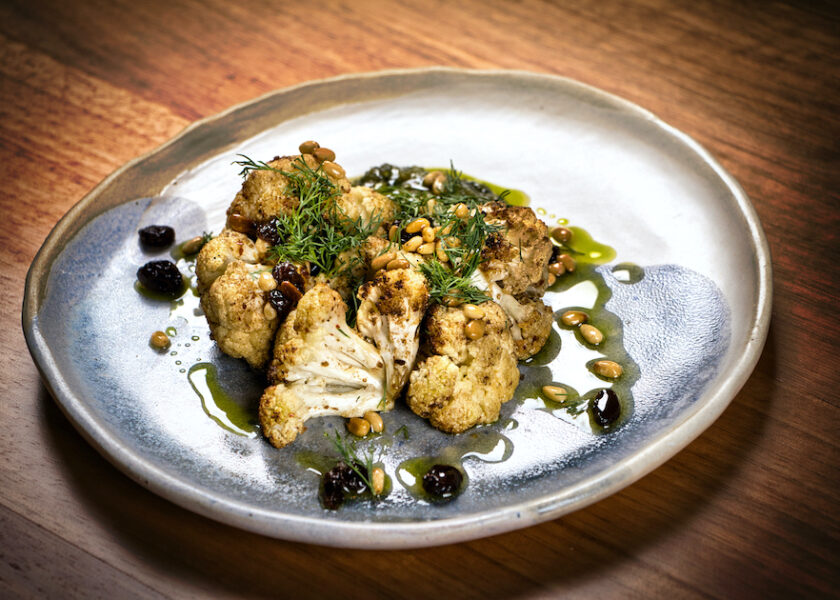 Why do you prefer wet-aging some of your meats as opposed to dry-aging?
I appreciate both dry and wet aging techniques as they result in different flavours and textures. At Bochinche, our Argentinian beef are wet-aged as it is a very typical method of handling Argentinian beef. In Argentina, they tend to consume beef that is just slaughtered and at its freshest.
While most of our beef from other countries are dry-aged, we also dry-age some of the cuts in our own dry-aging fridge, coating it with a layer of beef tallow for better flavour development. Our grass-fed Argentinian beef is wet-aged to give you a more tender cut that is juicy and more vibrant in flavour. As for the dry-aged cuts, they tend to be more intense in flavour and have more bite. At Bochinche, we curate our beef so that our customers are able to enjoy and explore a selection of different textures and flavours.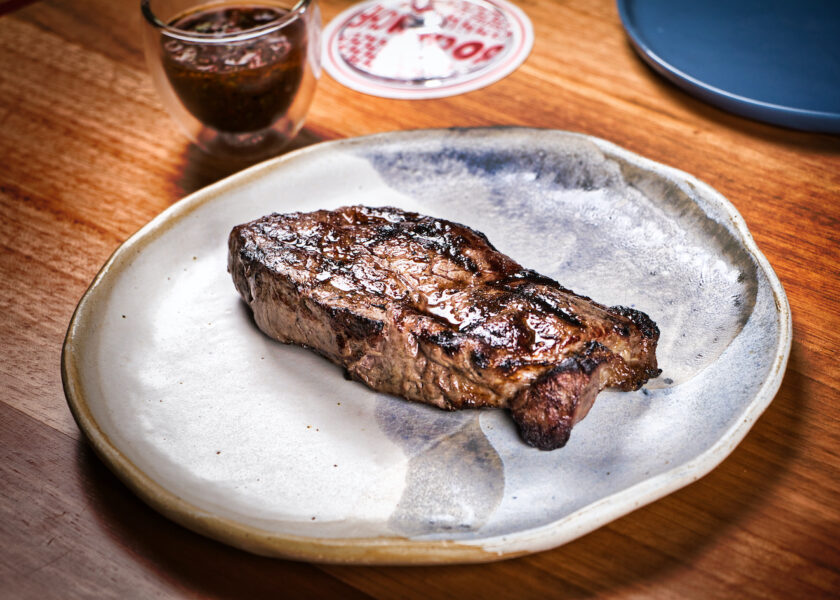 Which beef cut in particular on the menu is your favourite and why?
The Vintage Galiciana bone-in Striploin (MBS 3+) is one of our favourites and perfect if you're hankering for a rich, beefy flavour. We source this cut from Gippsland, Australia, but it's of a breed that originated from the Galican region of Spain where farmers have been deliberately breeding older animals for their deeper, more complex flavours.
These cattles have been grazing on pastures for at least five years, which gives them a remarkable yellowish hue, well-muscled texture and a distinct beefy flavour. We take it one step further by dry-aging the beef in-house using a traditional method by adding a coat of beef tallow, which enhances the aging process while introducing new dimensions of flavours. We also love our Argentinian steaks for their juicy and tender texture as well as subtle but flavoursome taste.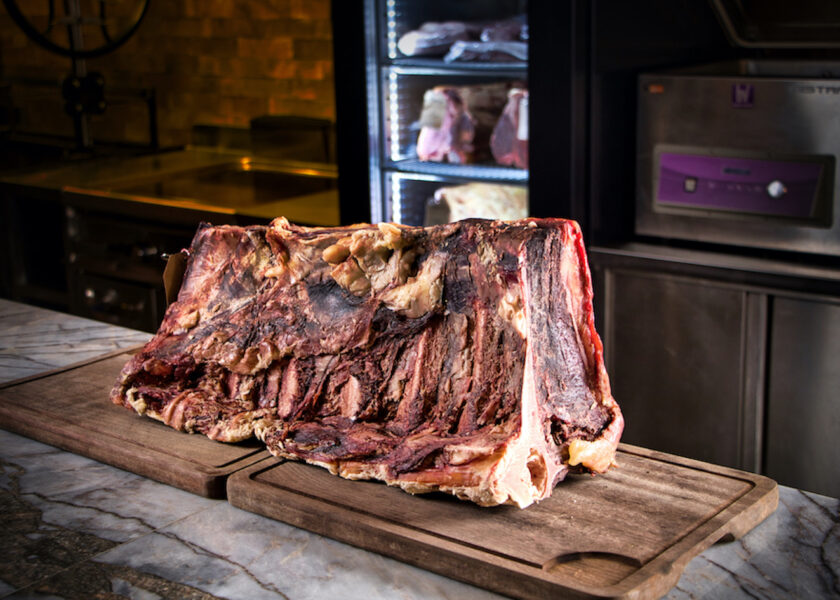 What inspired the African tribal decor and "marbled" walls?
The interior design for the new Club Street location was largely inspired by tribal design and art, with Soviet modernist influences as well as strong wooden and marble elements. The previous location had a signature blue and white colour palette that grew synonymous with the brand, and after five years, we wanted to start on a fresh slate with a composition that is colourful and fun this time, grounded with clean, elegant lines of marble and wood. The large dark red marble panels were chosen as they resembled the texture of well-aged meat, and we've featured them heavily throughout the space, with interesting use of texture and angular patterns by cutting the marble slab at angle to place seamlessly across concrete grey walls.
They're also featured in a window art display that hangs each slab that is custom cut to the shape of meat. Elsewhere, we've created a textured façade by cladding it with panels of rustic recycled wood pieces. Geometrically shaped lights add a fun, angular pattern throughout the space, while table legs are wrapped with colourful tribal prints and topped with pops of red and yellow. It's a playful balance between elegant and quirky with fun.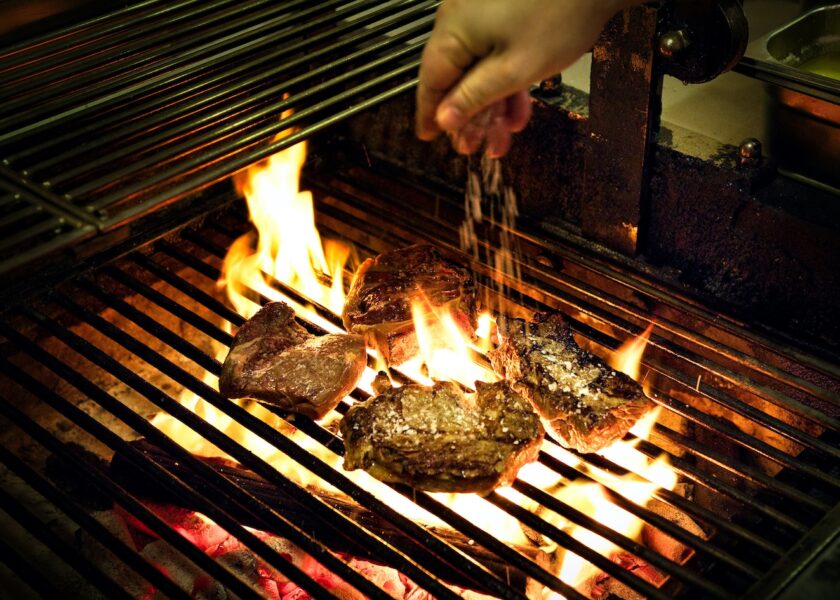 27 Club Street, Singapore 069413
SHARE