Crystal Jade Hong Kong Kitchen and Crystal Jade La Mian Xiao Long Bao Launch Plant-Based Dishes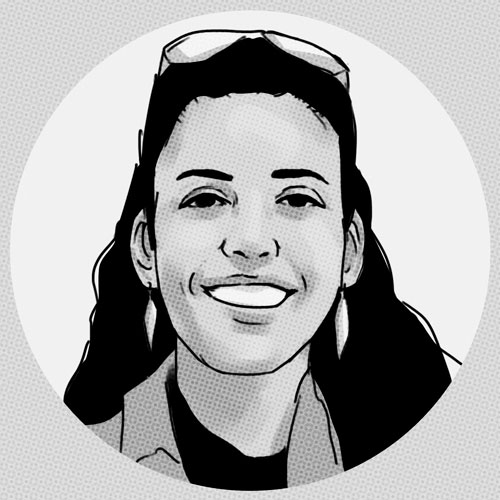 · 27 September 2021
·
Dining
Meat-free dishes using plant-based proteins courtesy of Green Monday are now available at Crystal Jade Hong Kong Kitchen and Crystal Jade La Mian Xiao Long Bao
Driven by the growing preference for cleaner eating and plant-based options, Crystal Jade has collaborated with award-winning sustainability champion Green Monday to create the specially curated plant-based menu. Group executive chef Martin Foo and his team researched extensively with different plant-based meats to determine their best options, before finally selecting plant-forward brands OmniMeat, Beyond Meat and Heura for their perennial favourite creations.
"Given that more customers are keen on meat-free options and with the rise and availability of quality plant-based meats, we wanted to make these alternatives more accessible to our customers, and so there is something for everyone and all can dine together at our restaurants," shared Cynthia Yee, general manager of Crystal Jade Group Singapore.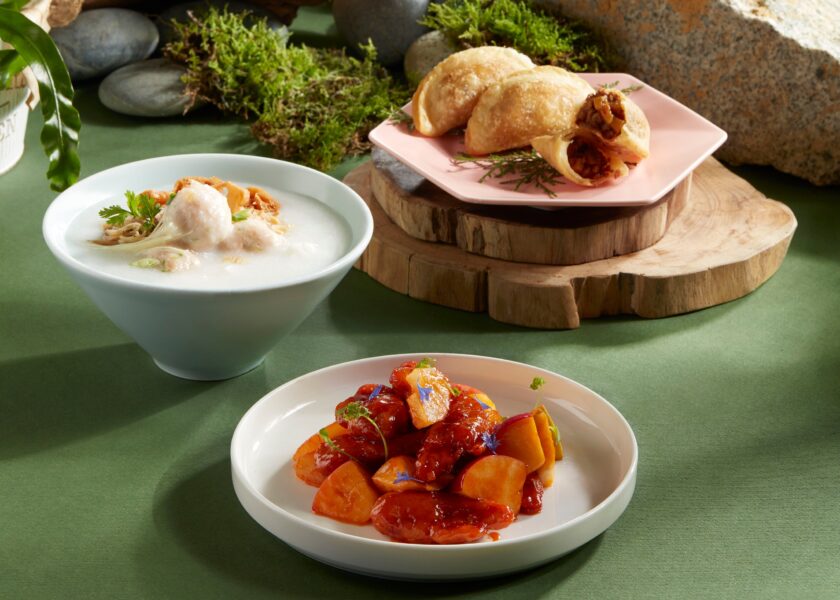 David Yeung, founder and CEO of Green Monday (a multi-pronged social venture model aimed at shifting the public towards sustainable living through practical transitions), and creator of OmniFoods (the all-purpose plant-based meat venture) added, "The partnership of Crystal Jade and Green Monday is the epitome of plant-based innovation meeting classic Chinese culinary. We hope that through this adapted menu of well-loved dishes, diners will see the benefits of going meatless, and eat kinder for themselves and for the environment."
Synonymous with Cantonese dim sum, noodles, congee and wok-fried specialities from Hong Kong cuisine, diners can look forward to a selection of six plant-based dishes at Crystal Jade Hong Kong Kitchen. Steamed Crystal Dumpling with Preserved Olives and OmniMeat ($6.30 for three pieces) showcase tasty nuggets enveloping minced OmniMeat accentuated with chopped preserved olive leaves and sweet snow peas.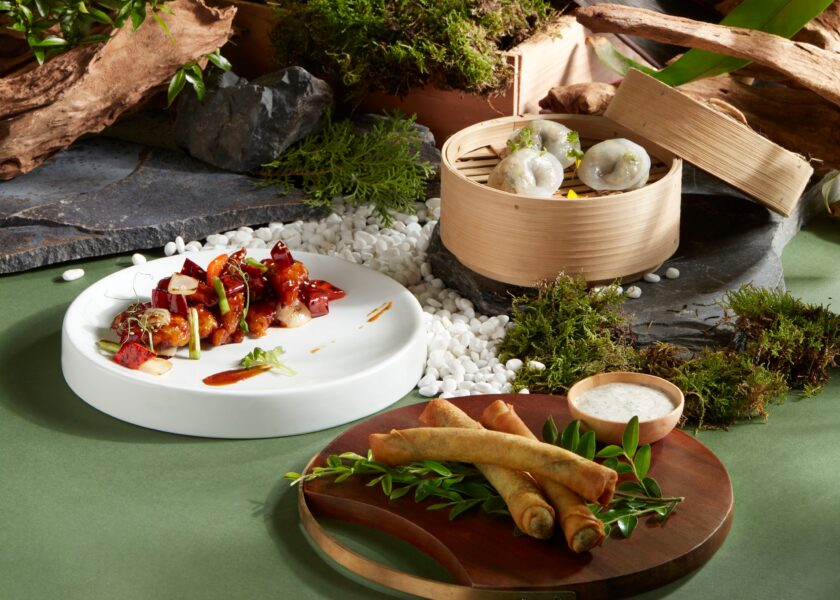 Another dish we recommend is the Sweet & Sour Heura Chicken with Assorted Fresh Fruits ($16.80) comprises generous pieces of golden-brown deep fried Heura "chicken" cloaked in a tantalising sweet and sour sauce with fresh cut fruits such as guava, apple, and pineapple. For a slightly more fiery rendition, General Tso' Heura Chicken ($16.80) is a choice pick with heat imparted by dried chillies.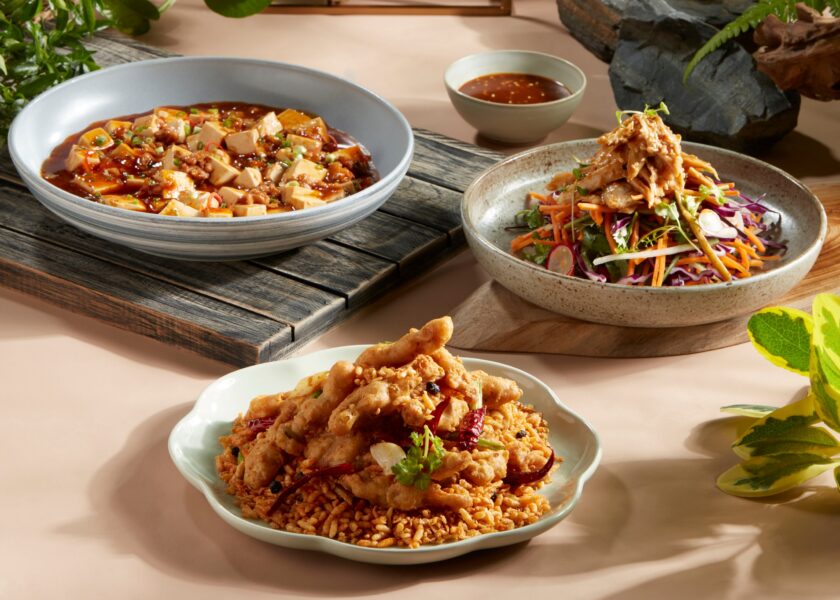 Other additions include a samosa-like Crispy Black Pepper Beyond Beef with Potato Dumpling ($6.80 for three pieces), Handmade OmniMeat Ball Congee with Preserved Vegetable and Shredded Mushroom ($9.80 per person), and a moreish Deep-fried Spring Roll wrapped with Stem Chives and Beyond Beef served with Truffle Mayonnaise ($6.80 for three pieces).
Over at Crystal Jade Jiang Nan & La Mian Xiao Long Bao where hand-pulled noodles and northern Chinese specialties take centre stage, plant-based lovers can look forward to the chilled and refreshing Shredded Heura Chicken Salad in Szechuan Style ($8.80); Ma Po Beancurd with Minced OmniMeat ($14.80) and Deep-fried Heura Chicken Fillet with Crispy Minced Garlic ($18.80).
A dish not to be missed is the plant-based version of their Signature Dan Dan La Mian with Minced OmniMeat ($11.80 per person), crowned with luscious minced OmniMeat gravy. For those who seek more heat, the Pan-fried Mala Bun with Beyond Beef ($6.80 for three pieces) and OmniMeat Dumpling with Homemade Hot Chilli Vinaigrette ($8.80 for six pieces) are other must-tries. 
More information available here.
SHARE