Chefs on the forefront of modernising Cantonese cuisine, Part 2: Bill Fu of Bao Li Xuan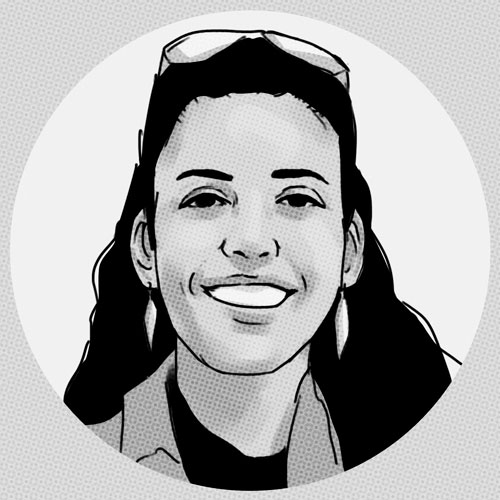 · 21 July 2021
·
Dining
We speak to executive Chinese chef Bill Fu of two-Michelin-starred restaurant Bao Li Xuan, Bvlgari Hotel Shanghai about his vision and take on where Cantonese cuisine is headed
Executive Chinese chef Bill Fu of two-Michelin-starred restaurant Bao Li Xuan, Bvlgari Hotel Shanghai, is no stranger to Michelin stars, having previously garnered a star for Lai Heen restaurant at The Ritz-Carlton, Macau. His culinary competence is a result of over 25 years of dedication as the veteran chef displays a knack for using unconventional ingredients like bottarga and yuzu in Cantonese cuisine while adhering to traditional Chinese cooking techniques and presenting his dishes in a contemporary manner.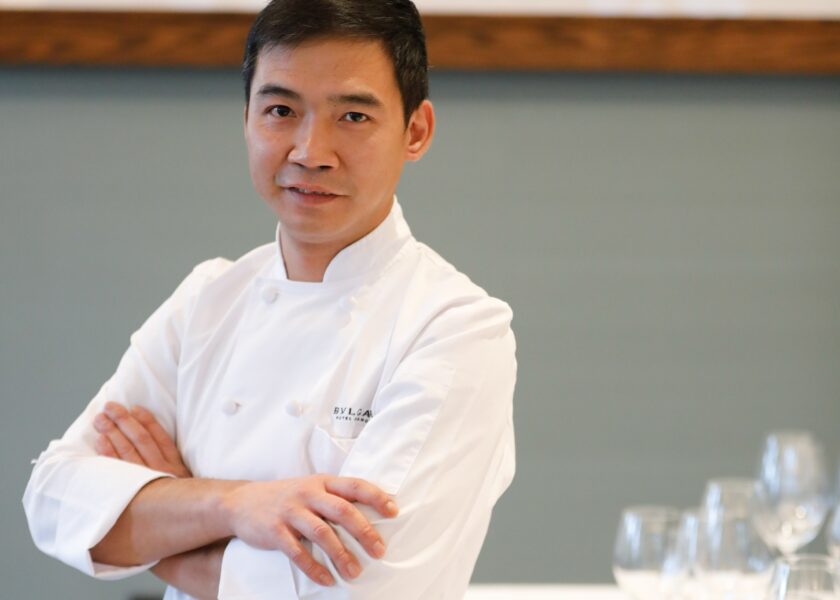 We caught up with Chef Fu to learn more about his cooking ethos and culinary journey so far.
How would you describe your Cantonese cooking style and philosophy?
Growing up in a family of traditional Cantonese chefs, I was influenced by Cantonese culinary culture from a young age. This exposure led me to start working at restaurants at a tender age, where I gained substantial culinary knowledge and skills in an intense and fast-paced environment. I would say that I was trained and embedded with all the basic skills related to authentic Cantonese cuisine, which helped me to build a strong foundation – just what I needed for my culinary development thereafter. I believe that the key to Cantonese cuisine is authenticity, allowing the ingredients to shine by bringing out its natural and delicate flavours.
What is your personal vision for Cantonese cuisine? How far along would you say you have achieved this vision in your culinary journey?
My vision is to keep promoting Cantonese cuisine, and to continue trying to fine-tune the quality of Cantonese cuisine. There are comments that the presentation of Cantonese dishes is not as elegant as other fine dining cuisines. Apart from working on food presentation, I have been trying to find the optimal timing for cooking various dishes to achieve the best taste.
Temperature and level of doneness are vital for the perfect taste. I believe that serving food that is perfectly cooked, with beautiful presentation will help to spread the word of Cantonese cuisine, given that people tend to take photos of their food and share them on social media before eating. From my point of view, I feel that mastering your technique and ensuring the quality of your dishes is the way to go – if a chef wants to continually refine his craft and fulfil his vision in his culinary journey.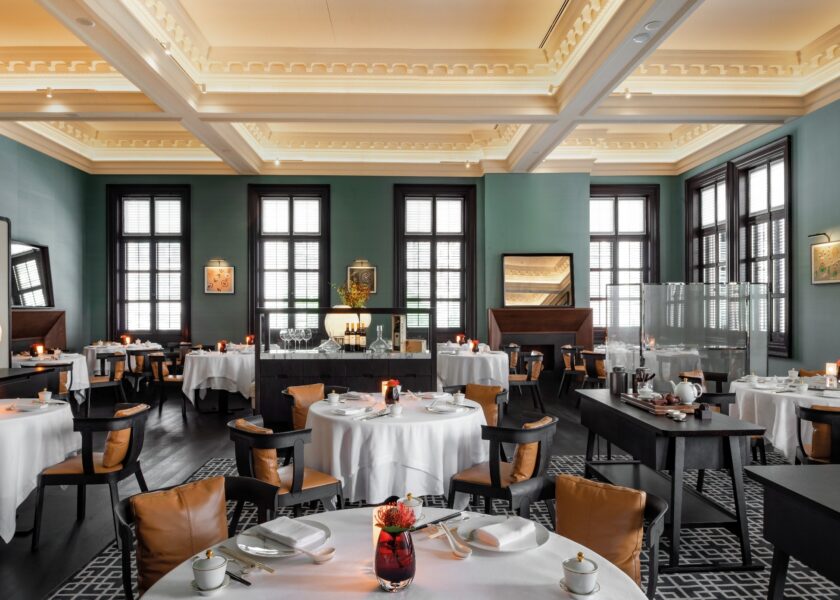 What is your secret to gaining not one, but two coveted Michelin stars?
The secret is hard work and dedication – which I learnt from chef Paul Lau, my mentor and the chef of two-Michelin-starred Tin Lung Heen at Ritz Carlton Hong Kong. He is the most important person in my career. His dedication to daily operations and cooking impacted me greatly – I remember when I used to work with him, he was always the first person to come into the kitchen to do thorough checks, ensuring that everything is ready and up to standard before the day starts. I definitely emulated his working style.
Another thing that I do very often is putting myself in my customers' shoes, and I always pose the same question to my team, "Are you willing to pay for the dishes that you cook?". I believe these questions motivate us to upkeep the high standard of our offerings.
In your opinion, what are the top three challenges that prevent Cantonese gastronomy from achieving more prominence on the global stage?
I am happy to see that many culinary schools are built to educate the younger generation of chefs. However, due to the nature of the job, which requires a lot of hard work and facing high pressure on a consistent basis, some of the young chefs cannot persist. I feel that it is quite a pity. Secondly, I observe that many Cantonese restaurants are experimenting with new techniques and ingredients, which I am personally open to and interested in.
At the same time, I do not want to lose elements of authentic Cantonese cooking. The market for Cantonese cuisine is highly competitive, hence some restaurants will probably be influenced by different external elements, such as customer requests, local preferences and market demands. This contributes to the evolution of Cantonese cuisine. I respect all the experimental approaches and contemporary styles, but I personally want to deliver my creations done in authentic Cantonese style.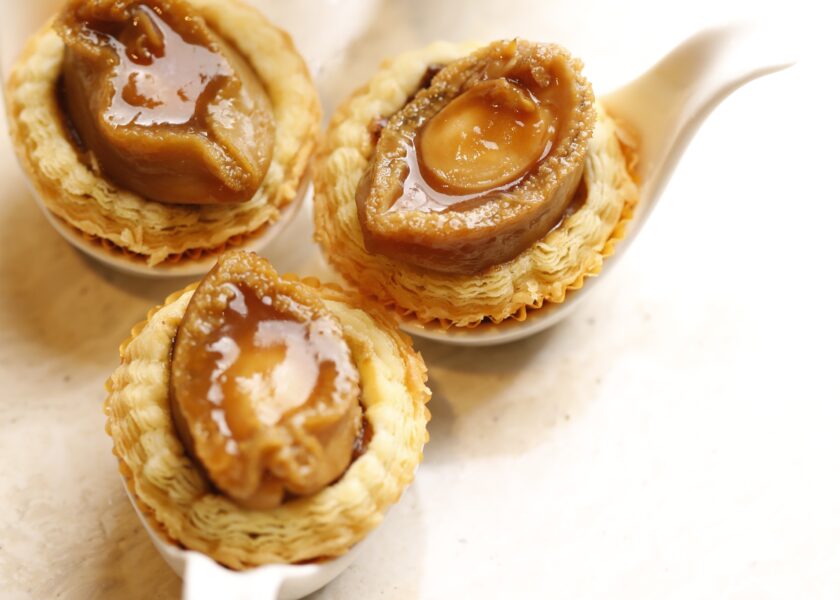 How can Cantonese restaurants continue to attract young chefs to maintain high culinary standards?
There are now many new culinary schools around, which is a good thing. I think students can understand and learn to appreciate food culture and cuisines in these culinary schools, which can in turn deepen their passion to work in the industry. That being said, I still believe that working and getting hands-on experience is still more important than just studying in culinary school. I think culinary competitions are important too as they act as platforms to encourage young chefs to improve their skills. I find it heartening to communicate with them, witnessing their passion for the craft and hearing their perspectives.
Homemade tofu and scallops with bottarga in claypot or pork ribs with yuzu and black garlic – tell us how you came upon incorporating unconventional ingredients in your menu?
As a chef, I enjoy going to different restaurants and trying different cuisines. The dish (Braised Bean Curd with Scallops and Bottarga) that you mentioned is a great example. Traditional tofu dishes can be quite plain, so here at Bao Li Xuan, we select premium soy beans and drain all its impurities through various procedures.
To enhance the simple flavours of tofu, I experimented with different ingredients and finally decided on scallops and bottarga. This combination effectively brings out the soft and delicate texture of tofu. I am currently working on other creations as well, inspired by my recent trip to Macau, where I tasted sardine in oils, the trendiest food in the market at the moment. I intend to create a new dessert for our menu, incorporating sardine, oils and other ingredients.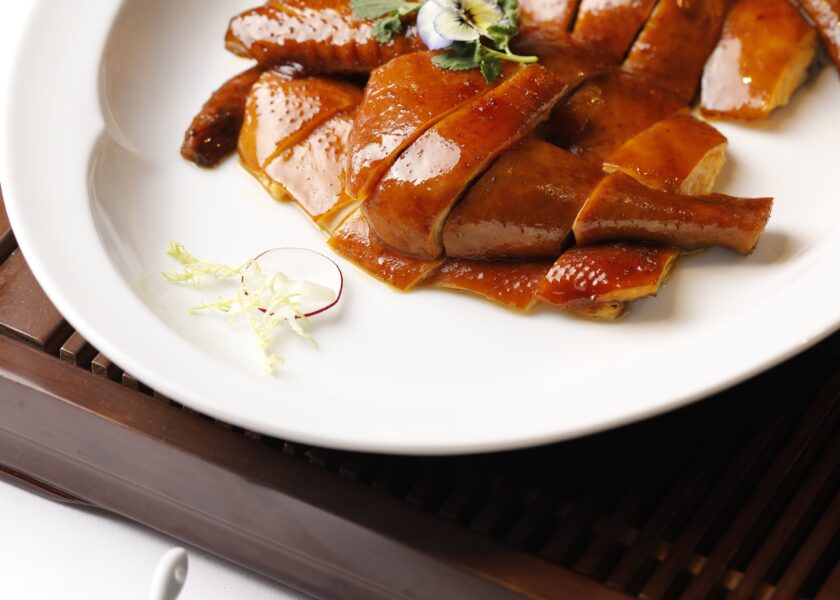 Can you share some latest or upcoming creations or initiatives with us?
I am paying more attention to the health benefits of the dishes I cook. I hope my cuisine can taste delicious, and is also healthy for my customers. Therefore, it is vital I select my ingredients very carefully. For instance, one of my customers once told me that he would love to enjoy the desserts on our menu, but due to his diabetes, he is unable to. This conversation inspired me to look for alternatives to replace white granulated sugar that we typically use in desserts with other healthier options. After doing some research, we found a type of sugar that is suitable for people with diabetes. I believe that small initiatives like these can help raise the standard of our restaurant.
What can first-time guests expect and experience when dining at Bao Li Xuan that is different from other Cantonese restaurants?
I vividly remember my first visit to the restaurant when I received the invitation to join the team – the architecture of the historical building and the design of the dining area left a deep impression on me. Bao Li Xuan is located in the Chamber of Commerce Shanghai, which has a very rich history and holds so much meaning with the beautiful heritage of Shanghai's Golden Age. By contrast, the adjacent Bvlgari Hotel represents the contemporary Italian lifestyle. The juxtaposition of these two distinct styles corresponds with each other perfectly in a unique way.
I remember meeting a Japanese chef who runs a Cantonese restaurant in Tokyo once who left a deep impression – in order to learn more about Cantonese cuisine, he decided to learn our Cantonese dialect. His dedication is truly admirable – and whenever we spoke or texted each other, he would always converse with me in Cantonese.
I believe food is culture so I spend a lot of time trying to understand the culture of Shanghai's Golden Age and the rich history behind the Chamber of Commerce Shanghai. I am currently curating a menu that exemplifies the unique style of the restaurant, but also aligns with the brand of the Chamber of Commerce Shanghai. I hope that customers can enjoy the dining experience with a "taste of the timeless" at Bao Li Xuan.
SHARE