A Refreshed Dining Experience at Fat Prince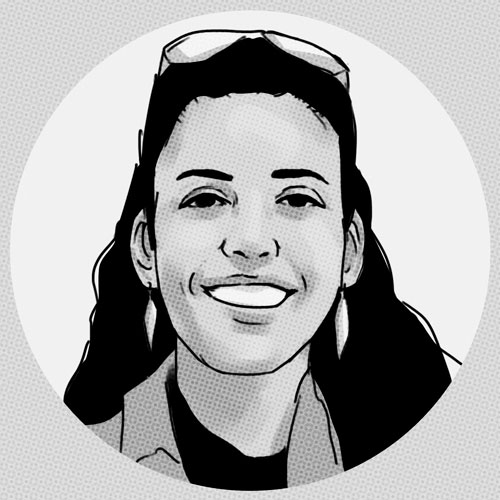 · 14 May 2021
·
Dining
Fat Prince – The Dandy Collection's Modern Middle Eastern restaurant – offers a new and refreshed dinner menu in addition to its contemporary kebabs, hearty mezzes and larger sharing dishes
Start the grazing with classic Chickpea Hummus, Smoked Sicilian Olives and Fried Cauliflower, while enjoying new additions to the mezze menu such as the rich Kingfish Crudo ($22), with dry brined, cold smoked kingfish fillets served with burnt orange gelee, pickled shallots, and sweet poached radish. An emerald green watercress puree provides an earthy, delicately bitter backdrop to this starter.
Another new house favourite we recommend is the Roasted Bone Marrow ($19) topped with walnut crumble and sun-dried tomato pesto, accompanied by chili lavosh crackers for crunch.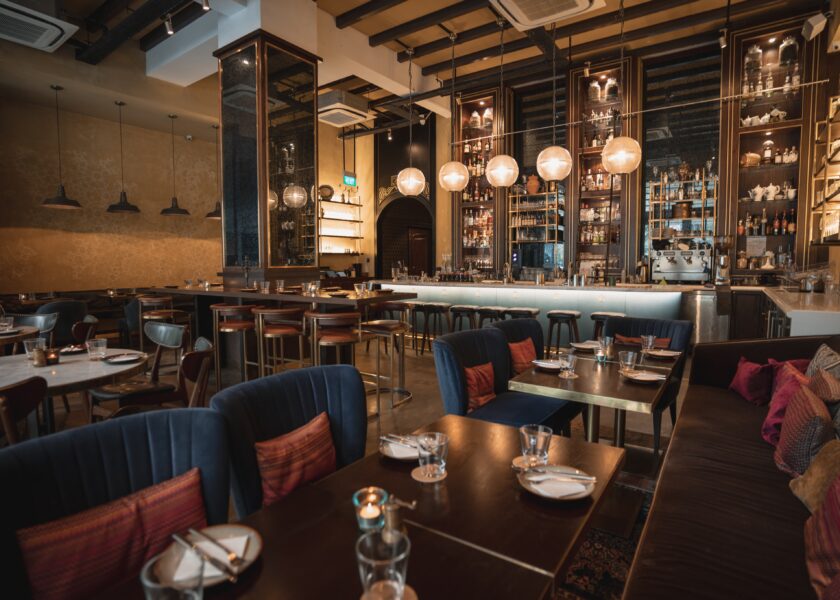 epicure spoke to Rohit Roopchand, CEO of The Dandy Collection (which also runs restaurants Neon Pigeon and Summerlong) about the new menu and the inspiration behind it.
What's the vision behind the new brunch and dinner menus compared to the previous offerings?
Our new Dinner menu celebrates how far we've come and looks forward to what's next. In developing our menus and dishes, we're always interested in playing with ingredients, flavours, textures, while staying thoughtful and mindful about the entire experience of dining, drinking, and socialising at Fat Prince.
The newly introduced "Build It" section on the dinner menu is a great example of that. People don't come to Fat Prince to be "served", they come to hang out – and here, it's served up in a way that's fun and gets everyone involved in creating their own experience.
Central to the "Build It" section are the Wagyu Beef Cheek ($29/100g), Fried Turbot ($31/100g), and Celeriac Shawarma ($14/100g), offering something for everyone. Each of these are served with unique toppings, hot pitas, along with condiments of za'atar yoghurt, pickled yellow chilli, and harissa sauce. Guests are encouraged to dive in and 'build' kebabs with any combination imaginable.
The beef cheek main is marinated with Aleppo and Turkish peppers, chilli and garlic, before being cooked in the restaurant's earth pit oven for a long, slow smoke. The cheek is best enjoyed with pickled shallots, beef jus, a sprinkle of pomegranate and parsley walnut crumble in a warm pita.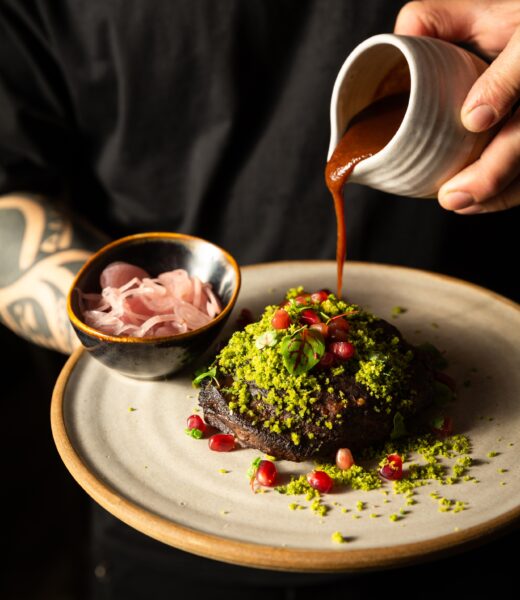 The hearty Celeriac Shawarma ($14 per 100g) is rubbed with a heated blend of spices and roasted for up to two hours in the earth pit oven until sweet and tender. This dish comes with pickled red cabbage and a sauce of celeriac trimmings, perfumed with truffle.
The new Fried Turbot ($31 per 100g), served with lentil shorba and a watercress aioli, is marinated with yogurt, and coated in an aromatic white, black, and Aleppo pepper-spiced flour before being deep fried.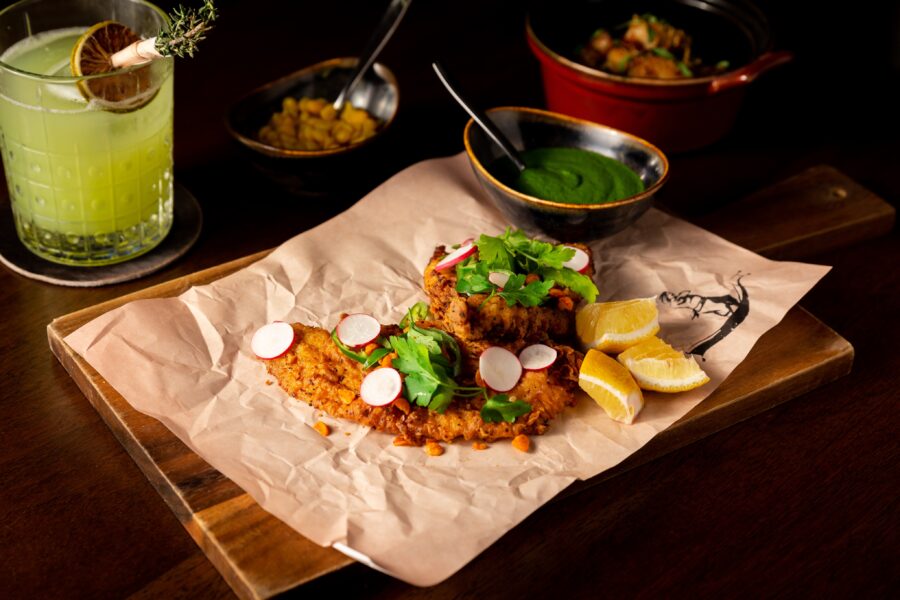 Tell us the inspirations behind some of the menu choices.
A number of mezzes on the menu are returning "hits". After four and a half years, we've built a sizeable library of recipes and dishes that are well-loved by our guests. In bringing some of these dishes back we took the opportunity to see how we could elevate them. A previous iteration of the New Zealand Clams ($22) featured mussels – both are bivalves, but we went with live clams this time for their naturally sweet and briny profile. The final dish is a wholesome plate of fresh clams, house-made merguez sausage, and potatoes in a rich shellfish stock with saffron-tinged cashew cream.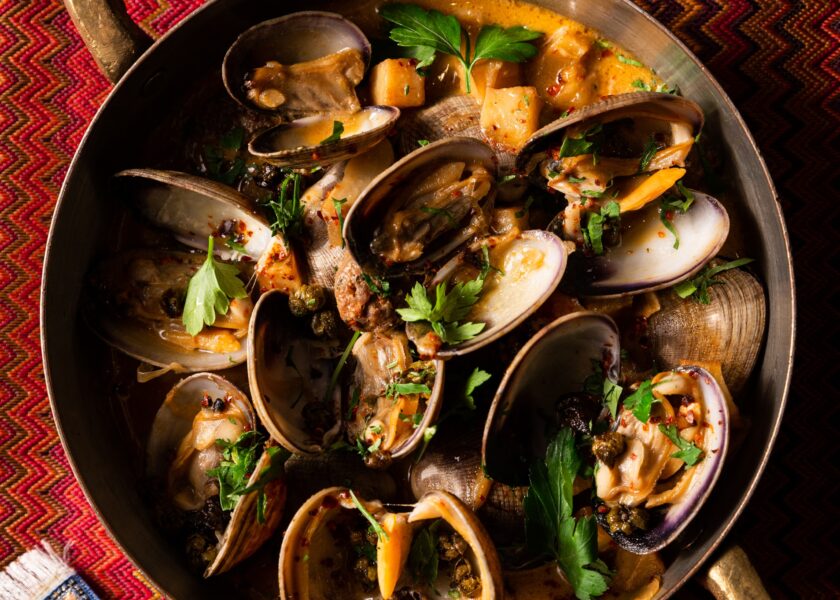 As for our new mezzes, such as the Roasted Bone Marrow ($19), balance is key. The silky marrow is paired with a sun-dried tomato pesto and walnut crumble for texture – it's all about adding a little bit of complexity on the plate.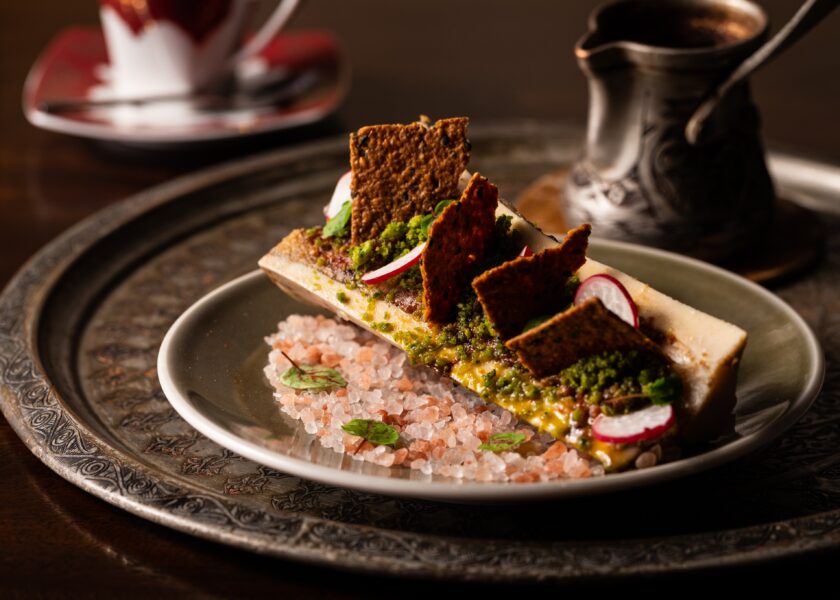 What's the inspiration behind some of the new Koktail offerings?
Fat Prince's koktail program features an entirely new selection of flavours, marrying the rich spices and luxurious Ottomani flavour profiles to darker spirits, along with using teas and other floral options for eclectic creations. Some highlights include Rosa, prepared with bivrost arctic gin, mezcal, spiced wine, and bitters; and The Fez – a smoky number with wild turkey rye, apricot, lemongrass, and citrus.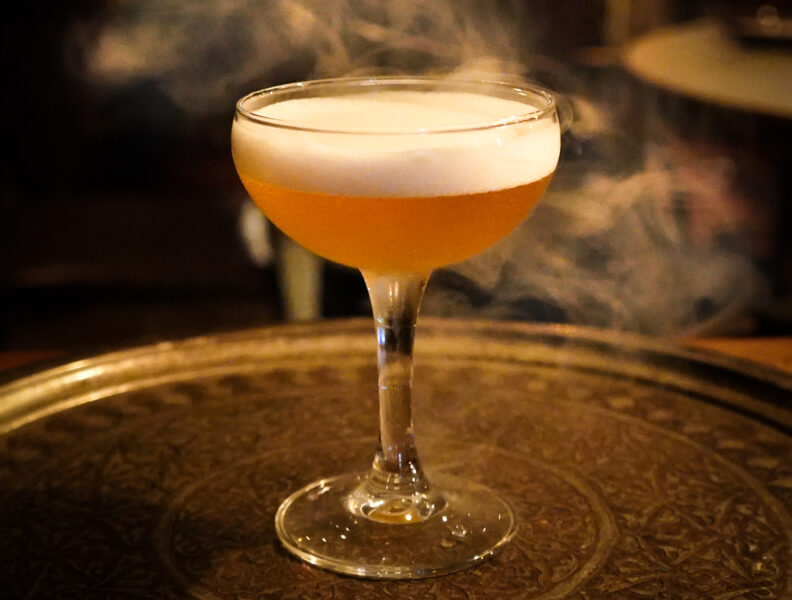 More than spice-forward dishes
Chef de Cuisine Simon Bell says, "Middle Eastern food can often be thought of as being spice-forward. But it is all that and more. We're working towards fresher, lighter, more vibrant plates and offerings – this means being even more intentional, thoughtful, and creative with our use of ingredients.
Sounds good to us. For instance, Making for light, refreshing pairings with the heavier, meaty mains are sides, including Arabic Mixed Greens ($15) and the new Mushrooms & Farro ($18), featuring roasted maitake and pickled shimeiji on an umami-rich plate of farro, simmered in mushroom stock.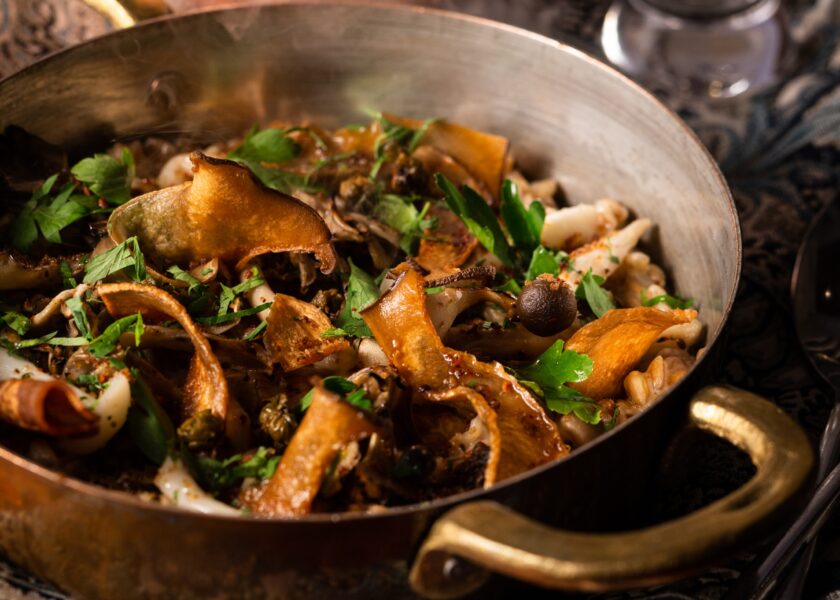 The team also has plans to launch a refreshed Brunch menu later this year too, but you really can't go wrong with the current lazy weekend four-course Fat Funky Brunch either ($49/including one koktail; $69/ 2-hours free flow). off with a choice of one dip between the Roasted Cashew Hummus with roasted cashew gremolata and smoked paprika; or the Artichoke & Herb Hummus, a blend of braised artichoke puree, chickpeas, and white wine vinegar with spiced pumpkin seeds.
For the Mezze & Salad course, we highly recommend going with either the Fried Cauliflower with white bean puree, black olive and and jalapeno hot sauce instead of zhoug; or the moreish Shishito Peppers with a gorgeous anchovy and balsamic walnut crumb.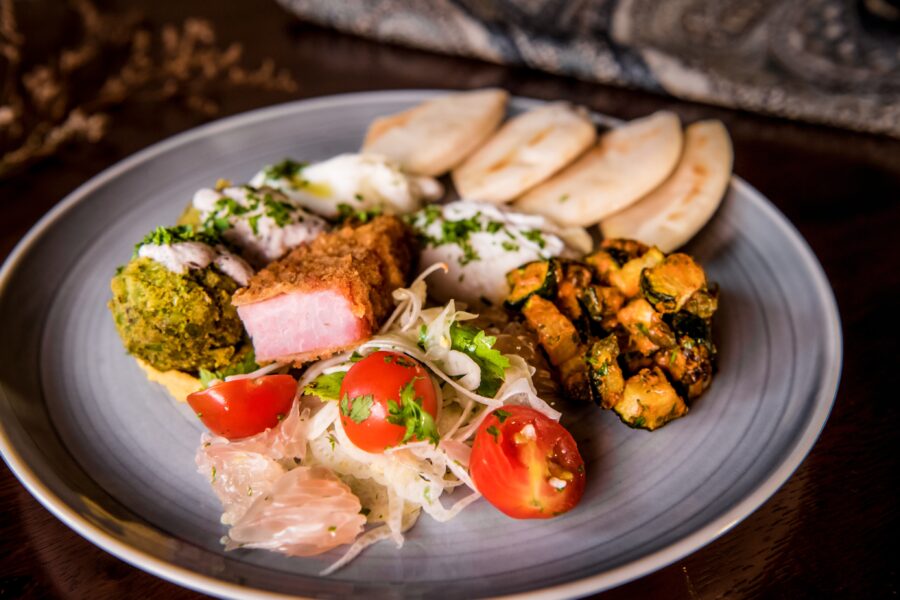 Finally, mains offers a selection of several interesting options including the Fatteh Breakfast with poached eggs, mihalic, falafel, tahini, toasted pita; Lamb Chorizo Cassoulet flanking smoked tomato, canneneli beans, broken eggs; and the unique Adana Beef Cheek complete with root vegetables, fried egg, toasted pita.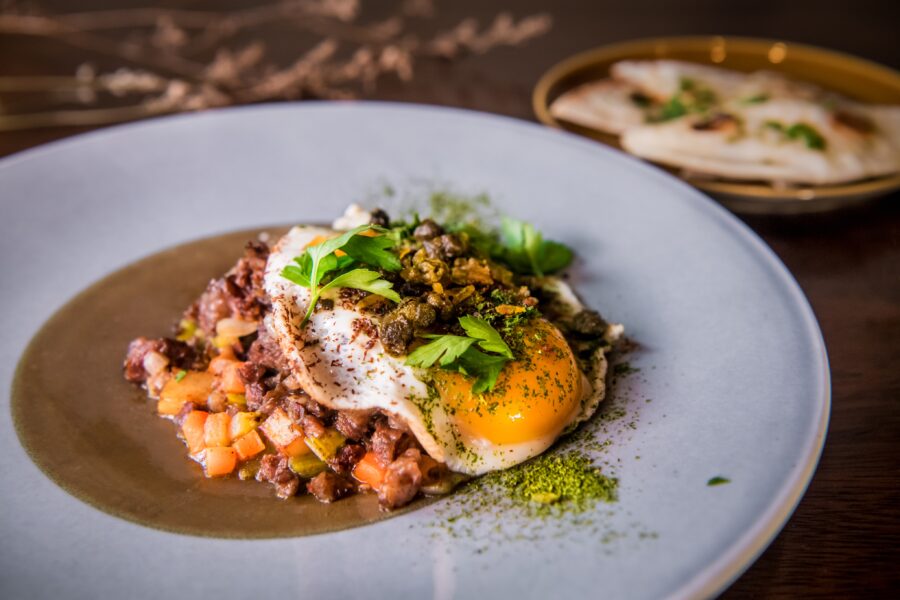 And if you can't get to Fat Prince, Fat Prince will come to you via their House Party. There's no prepping, cooking or cleaning involved whatsoever. Each package for a minimum of five diners includes plates, glasses, cutlery, serviette, coasters, cookies, Fat Prince playlist, candles, pepper grinders, candelabra, frankincense oil burners and condiment trays. Need we say more?
48 Peck Seah Street, Singapore 079317. Tel: 6221 7794
SHARE